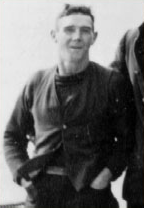 Alfred Buchanan Cheetham (1867-1918)
Biographical notes
Morning - relief ship for the Discovery 1902
Third officer and boatswain Nimrod 1907-09
Boatswain, R.N.R. Terra Nova 1910-13
Third officer Endurance 1914-17, age 47 at the start of the expedition
---
Alfred Cheetham - Alf
6 May 1867 - 22 August 1918
Born in Liverpool in 1867, his family moved to Hull about ten years later, at the time Hull was a great fishing port and Cheetham ran away to sea as a teenager working in the fishing fleet of the North Sea. He became a merchant navy boatswain working out of Hull and a Royal Naval Reservist.
He became a merchant navy boatswain working out of Hull and a Royal Naval Reservist. Alf married Eliza Sawyer and they produced 13 children.
Cheetham first went to Antarctica on the Morning, the relief ship for Scott's Discovery expedition in the austral summers of 1902-3 and 1903-04. He met Shackleton who was invalided home on the second voyage and was invited on his Nimrod expedition as boatswain and third officer. He held the same roles on the Terra Nova and again with Shackleton on the Endurance. While on the Terra Nova expedition, he had volunteered to help search for Scott and his missing south pole party in 1913, but had been turned down as he was a married man with children.
Alf Cheetham was an old hand on Antarctic expeditions when he joined the Endurance at the age of 47, it being his 4th voyage in 12 years. He was well known for his positive attitude and was a popular member of crews on which he served.
A popular and cheerful member of crews on which he served, Frank Worsley (captain of the Endurance) called him "a pirate to his fingertips".
On return from the Antarctic he enlisted in the Mercantile Marine and while serving as second Officer on the S.S. Prunelle on Thursday 22nd August 1918, at the age of 51, his ship was torpedoed in the North Sea by a German U-Boat. Alf went down with the ship, he was the second of the men of the Endurance to be killed in the Great War.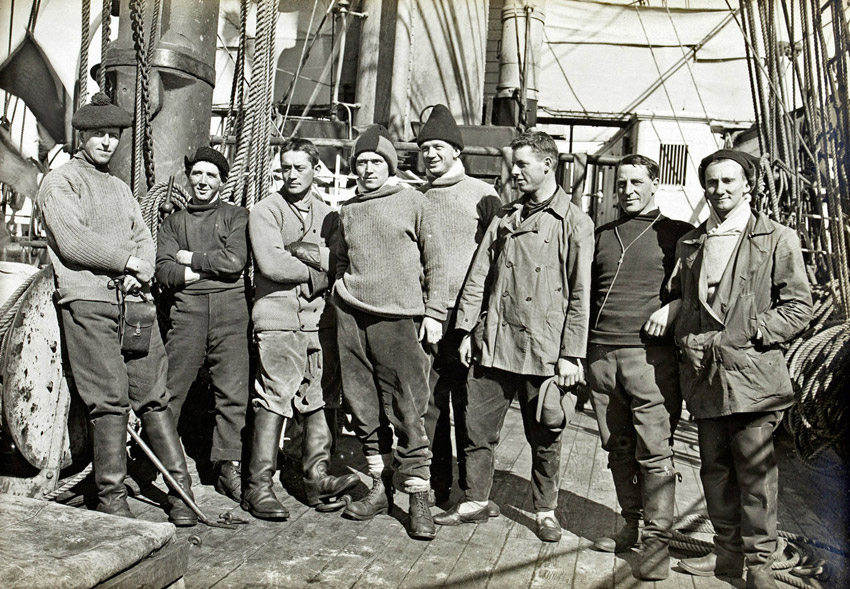 Cheetham 2nd from left with the officers on the deck of the Terra Nova 1912 - l to r: Dennistoun, Cheetham, Rennick, Drake, Williams, Pennell, Bruce, Lillie
---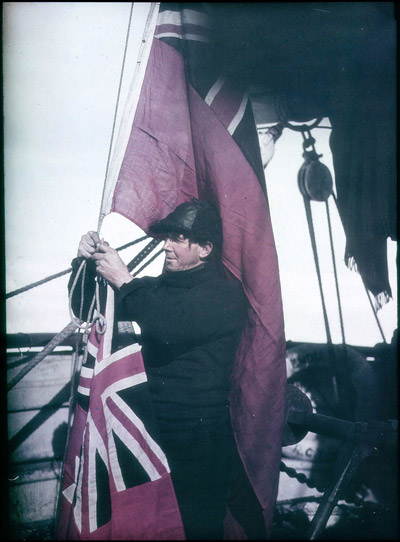 References to Alf Cheetham in Shackleton's book "South!" buy USA buy UK
Three emperor penguins made their appearance in a lead west of the ship on May 3.

"Kerr and Cheetham fight a valiant action with two large birds. Kerr rushes at one, seizes it, and is promptly knocked down by the angered penguin, which jumps on his chest before retiring. Cheetham comes to Kerr's assistance; and between them they seize another penguin, bind his bill and lead him, muttering muffled protests, to the ship like an inebriated old man between two policemen. He weighs 85 lbs., or 5 lbs. less than the heaviest emperor captured previously. Kerr and Cheetham insist that he is nothing to the big fellow who escaped them."

My anxiety, as a matter of fact, was groundless. I will quote Worsley's own account of what happened to the Dudley Docker:

"As it was we shipped several bad seas over the stern as well as abeam and over the bows, although we were on a wind.' Lees, who owned himself to be a rotten oarsman, made good here by strenuous baling, in which he was well seconded by Cheetham. Greenstreet, a splendid fellow, relieved me at the tiller and helped generally. He and Macklin were my right and left bowers as stroke-oars throughout. McLeod and Cheetham were two good sailors and oars, the former a typical old deep-sea salt and growler, the latter a pirate to his finger-tips. In the height of the gale that night Cheetham was buying matches from me for bottles of champagne, one bottle per match (too cheap; I should have charged him two bottles). The champagne is to be paid when he opens his pub in Hull and I am able to call that way. . . . We had now had one hundred and eight hours of toil, tumbling, freezing, and soaking, with little or no sleep. I think Sir Ernest, Wild, Greenstreet, and I could say that we had no sleep at all. Although it was sixteen months since we had been in a rough sea, only four men were actually seasick, but several others were off colour. "

A strong south-westerly wind was blowing on October 20 and the pack was working. The Endurance was imprisoned securely in the pool, but our chance might come at any time. Watches were set so as to be ready for working ship. Wild and Hudson, Greenstreet and Cheetham, Worsley and Crean, took the deck watches, and the Chief Engineer and Second Engineer kept watch and watch with three of the A.B.'s for stokers.
---
---
References to Alfred Cheetham by Cherry-Garrard in "The Worst Journey in the World"
On July 15 (lat. 0° 40' N., long. 21° 56' W.) we crossed the Line with all pomp and ceremony. At 1.15 p.m. Neptune in the person of Seaman Evans hailed and stopped the ship. He came on board with his motley company, who solemnly paced aft to the break of the poop, where he was met by Lieutenant Evans. His wife (Browning), a doctor (Paton), barber (Cheetham), two policemen and four bears, of whom Atkinson and Oates were two, grouped themselves round him while the barrister (Abbott) read an address to the captain, and then the procession moved round to the bath, a sail full of water slung in the break of the poop on the starboard side.

Nelson was the first victim. He was examined, then overhauled by the doctor, given a pill and a dose, and handed over to the barber, who lathered him with a black mixture consisting of soot, flour and water, was shaved by Cheetham with a great wooden razor, and then the policemen tipped him backwards into the bath where the bears were waiting. As he was being pushed in he seized the barber and took him with him.

Wright, Lillie, Simpson and Levick followed, with about six of the crew. Finally Gran, the Norwegian, was caught as an extra - never having been across the Line in a British ship. But he threw the pill-distributing doctor over his head into the bath, after which he was lathered very gingerly, and Cheetham having been in once, refused to shave him at all, so they tipped him in and wished they had never caught him.
---
Landmarks named after Alfred Cheetham
Feature Name: Cheetham Ice Tongue
Feature Type: glacier
Latitude: 75 45S
Longitude: 162 55E
Description: A small ice tongue on the E coast of Victoria Land between Lamplugh Island and Whitmer Peninsula. It projects eastward into Ross Sea. The tongue appears to be nourished in part by Davis Glacier and partly by ice draining from Lamplugh Island and Whitmer Peninsula. First charted by the BrAE, 1907-09, under Shackleton - Nimrod expedition.
Variant Name(s) - Cheetham Glacier Tongue, Cheetham Ice Barrier Tongue.




Feature Name: Cape Cheetham
Feature Type: cape
Latitude: 70 18S
Longitude: 162 42E
Description: An ice-covered cape forming the NE extremity of Stuhlinger Ice Piedmont. First charted by members of the BrAE, 1910-13, who explored this coast in the location assigned on maps of the ANARE (Thala Dan), 1962.
Other Crew of the Endurance Expedition
Bakewell, William - Able Seaman
Blackborow, Percy - Stowaway (later steward)
Cheetham, Alfred - Third Officer
Clark, Robert S. - Biologist
Crean, Thomas - Second Officer
Green, Charles J. - Cook
Greenstreet, Lionel - First Officer
Holness, Ernest - Fireman/stoker
How, Walter E. - Able Seaman
Hudson, Hubert T. - Navigator
Hurley, James Francis (Frank) - Official Photographer
Hussey, Leonard D. A. - Meteorologist
James, Reginald W. - Physicist
Kerr, A. J. - Second Engineer
Macklin, Dr. Alexander H. - Surgeon
Marston, George E. - Official Artist
McCarthy, Timothy - Able Seaman
McIlroy, Dr. James A. - Surgeon
McLeod, Thomas - Able Seaman
McNish, Henry - Carpenter
Orde-Lees, Thomas - Motor Expert and Storekeeper
Rickinson, Lewis - First Engineer
Shackleton, Ernest H. - Expedition Leader
Stephenson, William - Fireman/stoker
Vincent, John - Able Seaman
Wild, Frank - Second in Command
Wordie, James M. - Geologist
Worsley, Frank - Captain
Other Crew of the Terra Nova Expedition
Abbot, George Percy - Petty Officer, R.N. - 1, 2, N
Atkinson, Edward L. - R.N. - surgeon, parasitologist - 1, 2, D, P, S
Balson, Albert - Leading seaman, R.N.- 1, 2
Bowers, Henry Robertson - Lieutenant - 1, 2, D, C, Po
Browning, Frank Vernon - Petty Officer - 1, 2, N
Campbell, Victor - Lieutenant, R.N. - 1, 2, N
Cheetham, Alfred B. - Boatswain (Bosun), R.N.R.
Cherry-Garrard, Apsley - Assistant zoologist - 1, 2, D, C, S
Crean, Tom - petty officer, R.N. - 1, 2, D, P, S
Debenham, Frank - Geologist - 1, 2, iW, iiW
Dickason, Harry - Able Seaman - 1, 2, N
Evans, Edgar - petty officer, R.N. - 1, iW, Po
Evans, Edward R.G.R. - Lieutenant, R.N. "Teddy Evans" - second in command, and Captain of the Terra Nova - 1, D, P
Girev (Geroff), Dmitriy - Dog driver - 1, 2, D, P, S
Gran, Tryggve - ski expert - 1, 2, D, iiW, S
Lashly, William - chief stoker, R.N. - 1, 2, P, S
Levick, G. Murray - Surgeon, R.N. - 1, 2, N
Lillie, Dennis Gascoigne - Biologist on the ship
McLeod, Thomas F. - Able seaman - 1, 2
Meares, Cecil H. - in charge of dogs - 1, D, P
Oates, Lawrence - Capt. 6th Iniskilling Dragoons - 1, D, Po
Ponting, Herbert G. - Camera artist - 1
Priestley, Raymond E. - Geologist - 1, 2, N
Omelchenko, Anton - Groom - 1
Scott, Robert Falcon - Commander, R.N. - Expedition leader - 1, D, Po
Simpson, George - Meteorologist - 1
Taylor, T. Griffith - Geologist - 1, iW, iiW
Wilson, Edward Adrian - chief of scientific staff and biologist - 1, D, C, Po
Wright, Charles Seymour - Physicist - 1, 2, iW, P, S
Key:
1 - first winter
2 - second winter
iW - first western party
iiW - second western party
N - northern party
D - depot laying for south pole journey
P - south pole party
C - winter journey to Cape Crozier
S - search party for south Pole party
Po - reached South Pole
Biographical information - I am concentrating on the Polar experiences of the men involved. Any further information or pictures visitors may have will be gratefully received. Please email - Paul Ward, webmaster.

What are the chances that my ancestor was an unsung part of the Heroic Age of Antarctic Exploration?
Ernest Shackleton Books and Video