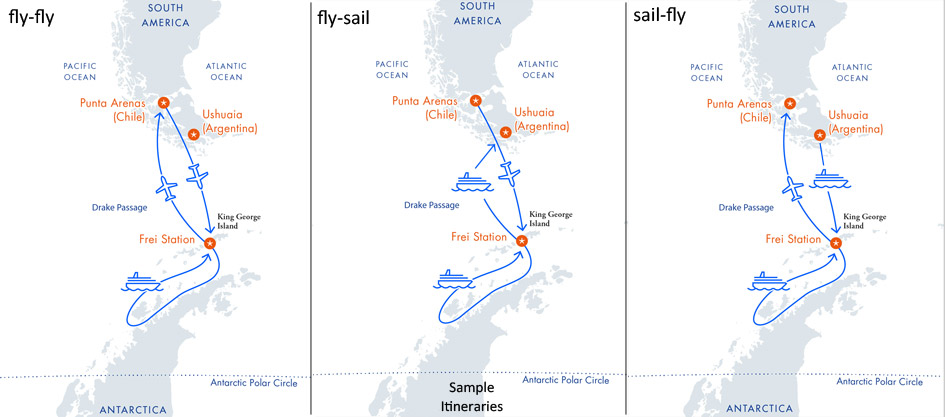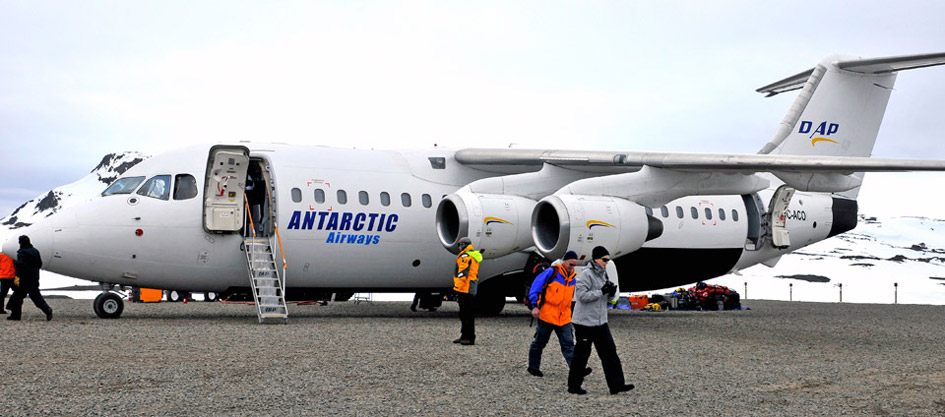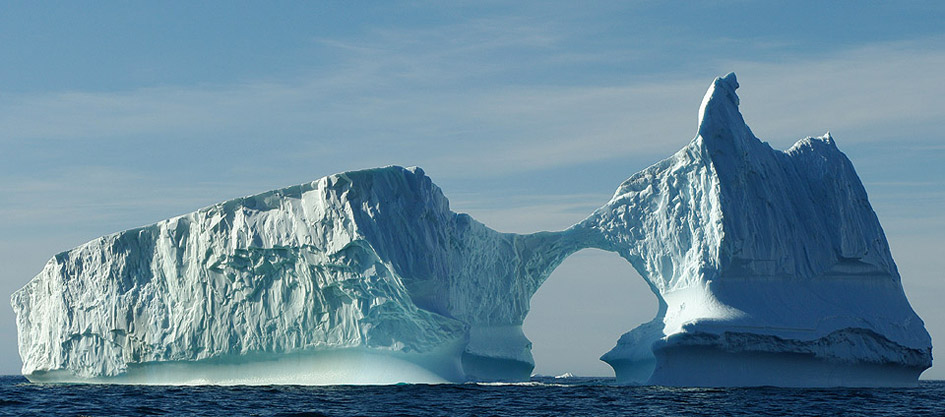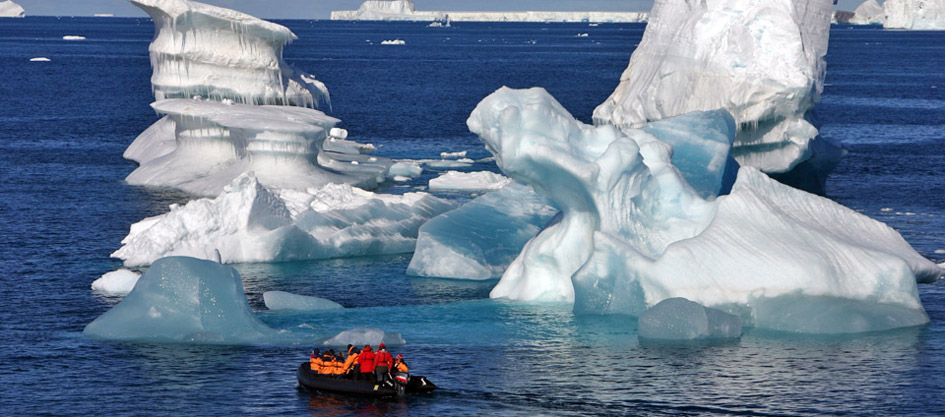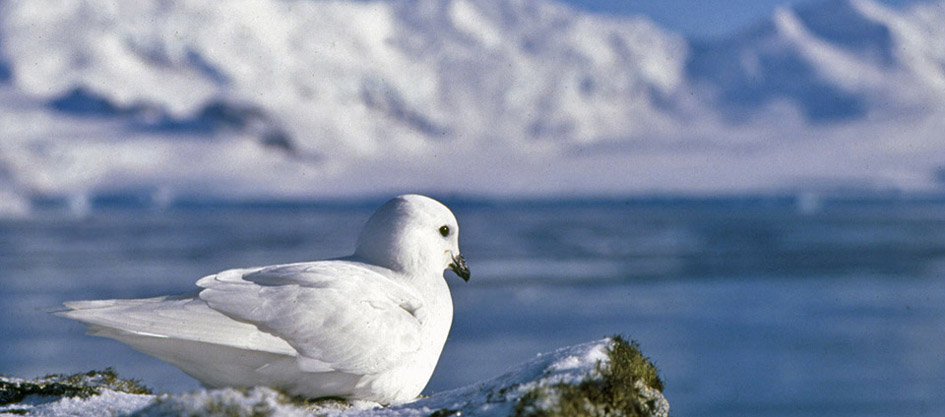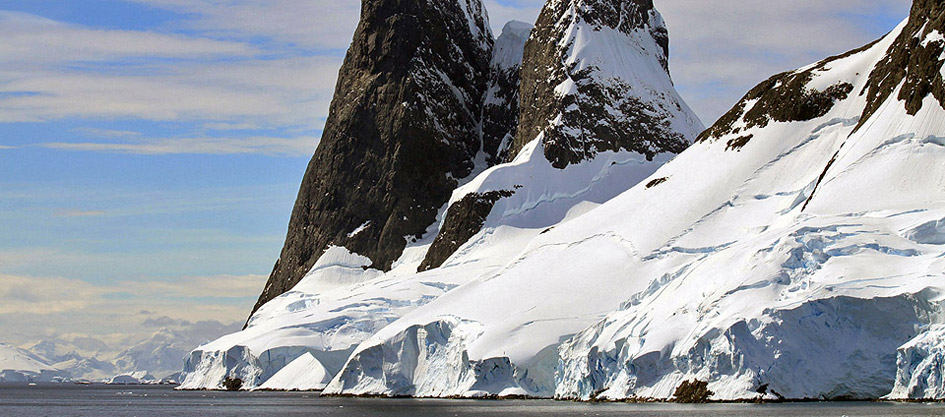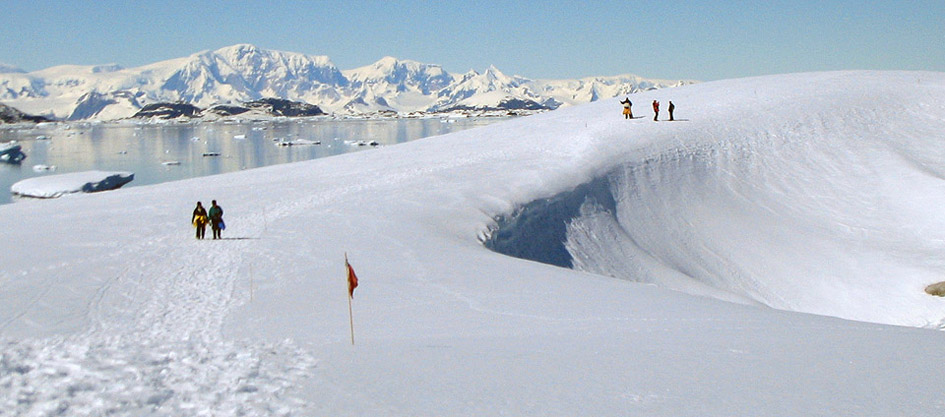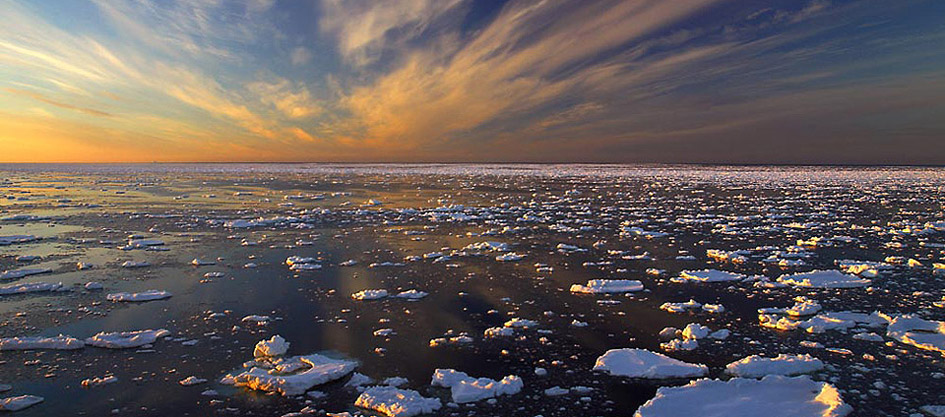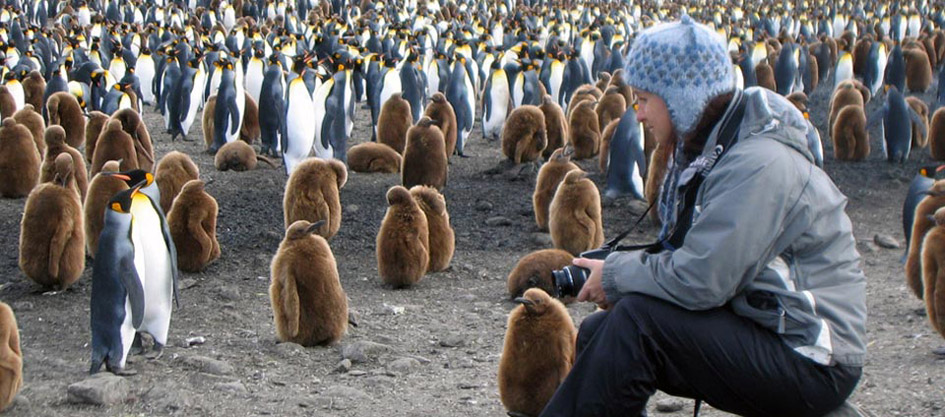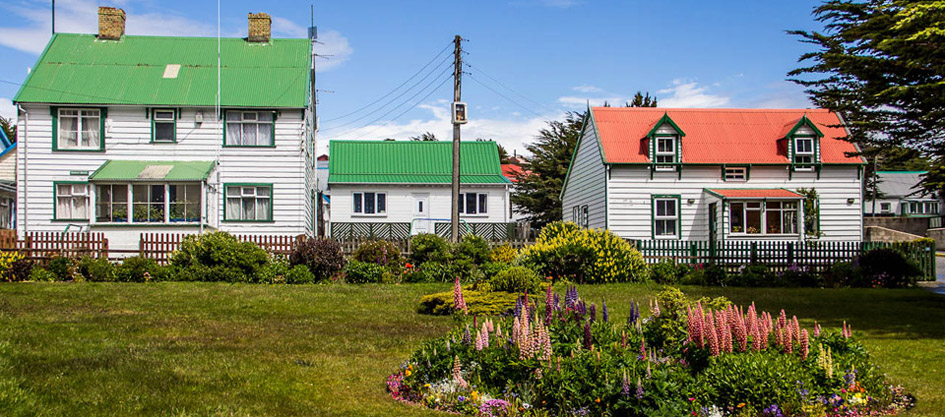 Fly to Antarctica
Air Cruise - Fly / Sail
Information: Antarctic travel basics | more travel details | fly to Antarctica | FAQ's | Request Contact | clothing | boots
Regions: Antarctic Peninsula | South Georgia | South Shetland Islands | Falkland Islands
8, 9, 10, 11 days - Fly both ways from Punta Arenas, Chile
6, 7, 12, 13, 16 days - Fly one way from/to Punta Arenas, Sail the other from/to Ushuaia
14, 24 days - Fly across the Drake Passage, sail back and fly from the Falkland Islands
Departures: Over 50 between early November 2020 and early March 2021
---
Testimonials
|
Ship types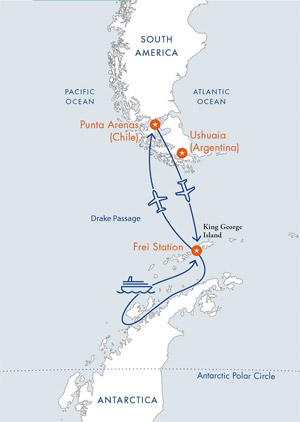 Flights to Antarctica

An increasingly popular way to visit Antarctica in recent years is the Fly-Cruise option whereby passengers board a charter flight in Tierra del Fuego and fly to King George Island in the South Shetland Islands in about two hours where they then board their ship.
This avoids the traditional way of getting to and from Antarctica by ship which takes about two days each way to cross the Drake Passage.
The return journey can be the same, or there the possibility of making one leg by air and the other by sea. Either fly down and sail back or sail down and fly back. The South American airport for the journey/s is Punta Arenas in Chile while the seaport is Ushuaia in Argentina.
Fly-cruises voyage around the South Shetland Islands and the Antarctic Peninsula
, the most accessible regions of Antarctica, where spectacular scenery abounds as well as all kinds of Antarctic wildlife, penguins, whales, seals and all manner of other sea-birds. There are many opportunities for landings ashore to visit wildlife colonies and walk amongst spectacular landscapes, you can expect daily landings once in Antarctica.
For the 2020-2021 season we have eight cruise ships taking part with over 50 cruise departures -
Ship types
Greg Mortimer - expedition ship - 120 passengers
Hebridean Sky - luxury expedition ship - 75 passengers
Magellan Explorer - expedition ship - 73 passengers
National Geographic Endurance - expedition ship - 126 passengers
National Geographic Explorer - luxury expedition ship - 148 passengers
Ocean Adventurer - expedition ship - 132 passengers
Ocean Nova - expedition ship - 67 passengers
World Explorer - luxury expedition ship - 140 passengers

---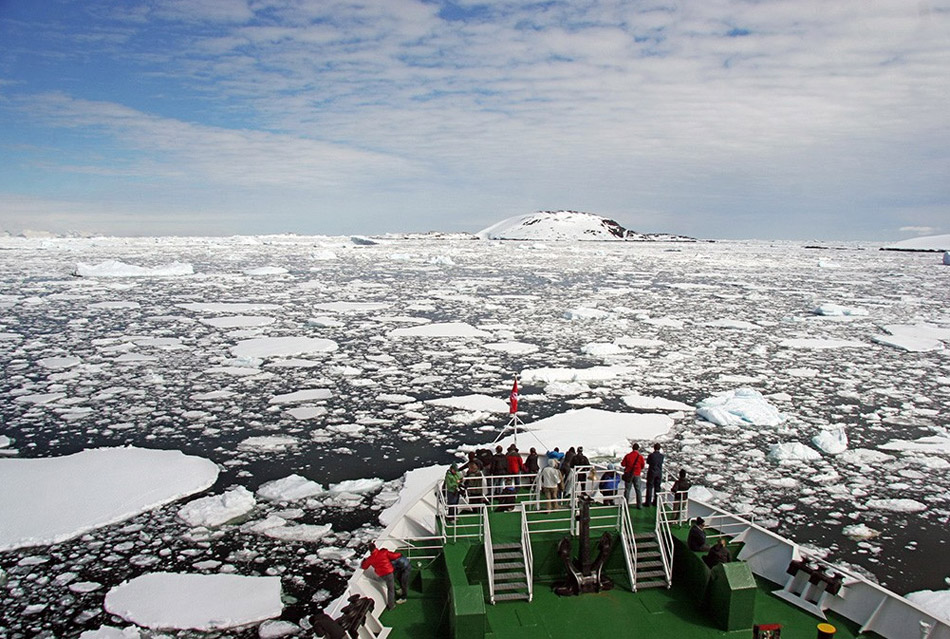 ---
---
A variety of trips of varying durations make it more likely you will find the perfect combination of date, length and ship. Many cruises provide optional
camping
ashore for a night and/or
kayaking.

You arrive in Antarctica at the airstrip of the Chilean Presidente Frei station on King George Island, the largest island of the South Shetlands group. This is part of the Scotia arc 75 miles (120 kilometers) to the north east of the Antarctic Peninsula. It is the unofficial capital of Antarctica in that it has ten national research stations and a semi-permanent population of about 500 people largely on the small ice-free area of the Fildes Peninsula at the south-west tip of the island.
The population is described as semi-permanent in that it is fairly steady at 500, though people come and go quite frequently, spending from a few months to a year or two. It is the only place in Antarctica with something like a normal human population, Presidente Frei station has families living there and even a small school.
King George Island is also home to a Russian Orthodox church with its own priest and the world's most southerly lighthouse. It is the site of an annual Antarctic Marathon.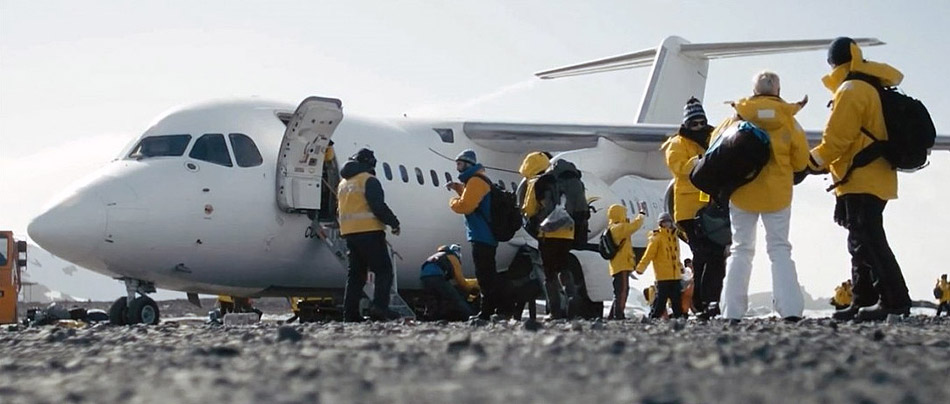 Sample Fly-Cruise Trips to Antarctica, 2020-21 season
Trip
Antarctica Peninsula
Classic Air-Cruise
Antarctic Express
Air-Cruise
Antarctica, Falklands
and South Georgia
Ship
Ocean Nova
Akademik Sergey Vavilov
Akademik Ioffe
Days
8
14
Pax
67
126
Dates
12/07/20, 12/17/20, 12/22/20, 12/27/20, 01/17/21, 01/22/21, 01/27/21, 02/11/21
11/27/20
Notes
Fly / Fly
Fly South / Fly North
6 days in Antarctica, equivalent of 11 day traditional ship cruise, optional kayaking
Fly / Sail
Fly across the Drake Passage, sail back and fly to / from Falkland the Islands. optional kayaking.
Price
$11,495 - $21,995
$16,290 - $32,150
Prices are per person based on sharing a cabin of usually two, rarely three berths.
contact our travel partners who will help you find the best cruise for your requirements
Advantages and Disadvantages of Fly-cruise v Cruise-only Trip to Antarctica
Advantages


Avoid crossing the Drake Passage by ship - this can be a very rough crossing which for some may prevent going to Antarctica at all if sea-sickness is a problem.


Time saving - two sailings across the Drakes Passage saves about 4 days in all meaning that is possible to go to Antarctica without spending so much time travelling, either a shorter trip, or more time spent there.
Disadvantages

You don't get to cross the Drake Passage - there is something special about arriving in Antarctica by ship where the weather and ice change slowly over a longer period, spotting albatrosses following the ship, the first ice-bergs, the first penguins and seals porpoising alongside.


Delays to your trip - While no Antarctica Fly and Cruise departure has yet been cancelled due to weather conditions, some departures have experienced delays of up to three days. The current estimate is that the chances of delay are in the range of 5-10%. Ships can operate in conditions in Antarctica that leave aircraft grounded.
---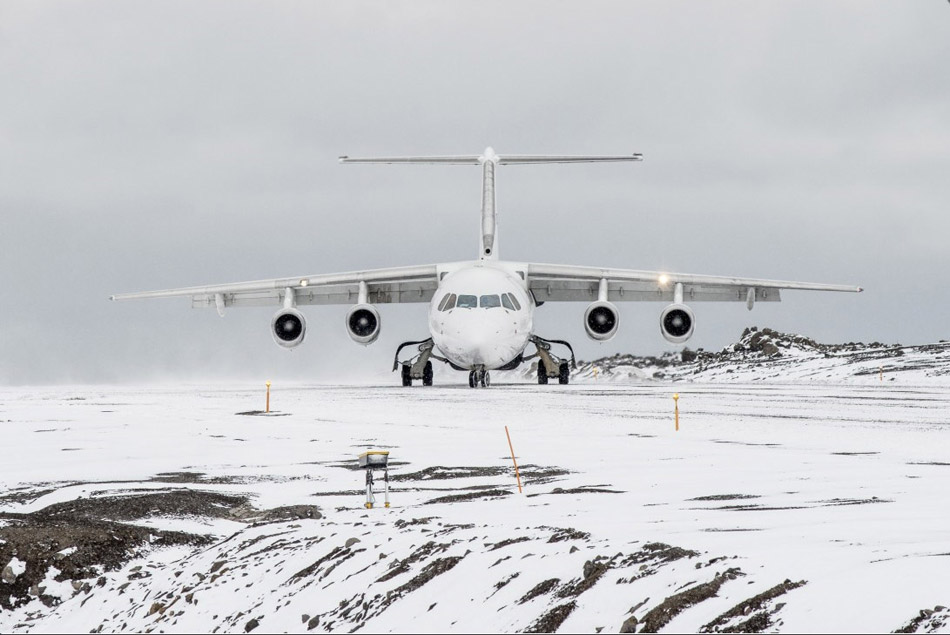 ---
It is important that prospective participants understand that weather conditions could impact the operation.
Should weather delay a departure, contingency plans will be put into operation. There is also the possibility of the return leg being delayed so flexibility should be allowed when returning home. We are not responsible for any itinerary changes.
Getting There & Getting Home:

Arrive in Ushuaia on Day 1, no later than 4 p.m. Boarding is between 3 p.m. and 4 p.m. Boarding will close at 4 p.m. A tight time-schedule connection with an Antarctic expedition is not recommended. Therefore, it is strongly recommended that a flexible air ticket be held for your journey home. In addition, we strongly advise against booking a departing flight on the same day as the return flight from Antarctica.
The Aircraft:
Usually used are 70 passenger BAE 146-200 manufactured in the United Kingdom by British Aerospace and equipped with 4 turbofan Honeywell engines. It is a high-wing aircraft with very short runway requirements which makes it particularly suited for this kind of destination. It is operated by Aerovias DAP, which has more than 20 years of experience of flying in Patagonia and Antarctica. Substitute aircraft however may be used as necessary.
Luggage Weight Restriction:
Due to the limited carrying capacity of the aircraft, participants in the Antarctica Fly and Cruise programs can only carry 20 kg/44 lb of personal luggage, including carry-on. This weight restriction is enforced strictly. Note that hand luggage will be weighed as well as checked baggage. Softsided luggage is recommended. Some ships will loan heavy and bulky items such as waterproof boots, you should check with your ship as to what is provided.
Included:

Accommodations onboard ship, in accordance with cabin chosen. Often a one night hotel stay both pre and post flight to Antarctica with transfers are provided, check with your tour operator as to what is included for your particular trip.
Not included:
Airfare to/from Punta Arenas, Chile, visa and/or passport expenses, arrival and departure taxes, if applicable, transfers, lodging and meals other than those offered in the program, mandatory evacuation insurance, recommended travel insurance, personal expenses, such as laundry service, telephone calls, use of Internet or other means of communication, etc. gratuity to ship's crew at the end of the voyage.
Contingency Plans:

Some departures in the past have experienced delays. Based on past experience, the estimated chance of delay is very low, in the range of 5-10%. Still, it is important that prospective participants understand that weather conditions could impact the operation. Travelers are responsible for any expenses associated with the rescheduling of airline tickets or onward travel plans. Should weather delay a departure, a Contingency Plan will be put into operation. In the unlikely event that the flight from Antarctica cannot operate due to unfavorable conditions, whether at point of origin and/or at the destination, a contingency plan applies.
Return Flight: (Flight from King George Island to Punta Arenas) In case the return flight to Punta Arenas is moved forward, passengers will disembark the ship and fly to Punta Arenas up to one day earlier than indicated in the itinerary. On arrival, accommodation will be provided. All other inclusions will remain per the original itinerary. In case of a delay on the return flight to Punta Arenas from Antarctica, passengers onboard the ship will continue cruising to nearby places until the return flight to Punta Arenas is authorized. Full board and all excursions are included. No refund will be extended for any reason whatsoever.
---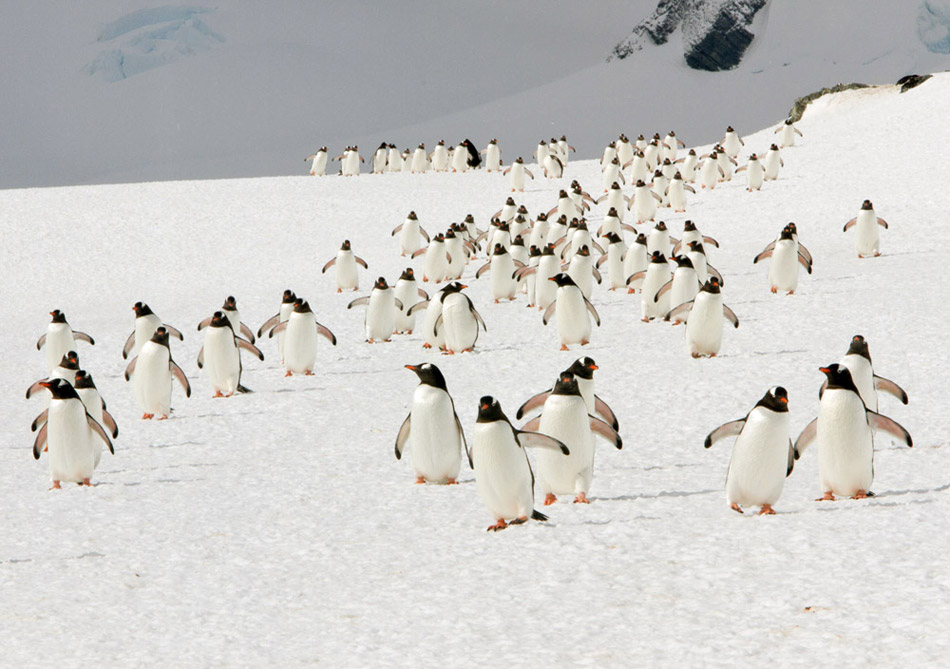 ---
Contact me about
a trip to Antarctica!
Please complete the form
and an Antarctic Expert will contact you
Please note - we cannot help directly to
find employment in Antarctica,
please do not use this form to request any other information than for Antarctic tourist trips
2020 - 2021 Season
Departures from late October 2020 to early March 2021
133 trips - unique combinations of ship + itinerary
30 ships - 50 to 530 passenger capacity
281 departures
$4,795 to $99,990, twin cabins from $5,210 per person
6 to 35 days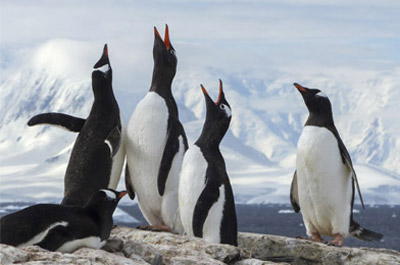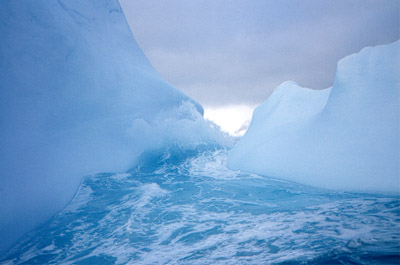 ---
Picture credits: Slider top page:
Houses in Port Stanley picture courtesy of Alex Petrenko used under CC BY SA 3.0 licence / Aircraft on the ground picture courtesy of LBM1948, used under CC BY SA 4.0 licence.