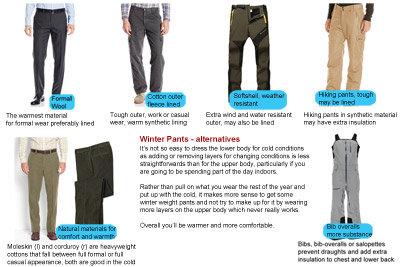 Winter Pants
Mid layer insulation
In cold weather the legs are often the most poorly insulated part of the body, while warm tops and coats get a look in, as often as not, the same pants are pulled on as at any other time of the year. We can do better than that and make a big overall difference to warmth and comfort.

This is the US page | Go to UK page

---
Winter pants basics - Much of the time your pants are going to be an outer layer, so they need to be wind resistant. A degree of stretch aids comfort with thicker material as does a soft lining material or brushed inner surface. Tight is bad as it constricts the circulation and doesn't allow for an insulating air gap.
Your legs aren't part of the body core, so when it's cold blood circulation can be cut down somewhat to reduce heat loss, but they do have a large surface area and so will lose a lot of heat and feel cold in the process. Your perception may be that it isn't so bad or you may be able to ignore the fact that your legs are cold, but they will be losing a lot of heat that will make you feel cold overall. The usual approach of another top layer makes less difference than doing something about those thinly insulated pants.
---
---
---
---
---
---
---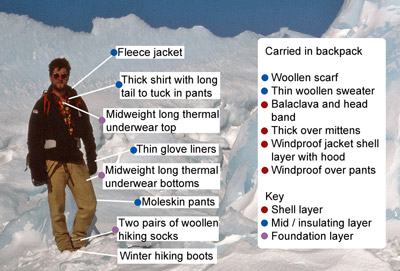 An Antarctic Scenario - layering for versatility
This is me in Antarctica on a mild and calm late winters day at about -15C (+5F). The sun and lack of wind meant it felt unusually warm for a short while, with the potential for the wind to get up and temperature to go down especially when the sun started to set as it did early in the afternoon. This is a realistic use of cold weather gear, in the worst weather it is dangerous to go far outside, so people generally stay on base.
We went out on a trip to some icebergs frozen into the sea-ice. This entailed a 3 mile very rugged overland hike to get to the edge of the sea and then more hard work over a couple of miles of broken flat sea-ice with a substantial snow covering.
This was a day of varied temperatures, changing wind speed, and different activity levels, hard uphill walking and then easier on the flat. There was always the possibility that some hardcore Antarctic weather could arrive in a pretty short time that we needed to be prepared for. The clothing had to be versatile for changing conditions and up to the job of fending off the worst the weather might bring.