Cecil Henry Meares - in charge of dogs, Russian interpreter (1877 - 1937) - Biographical notes
---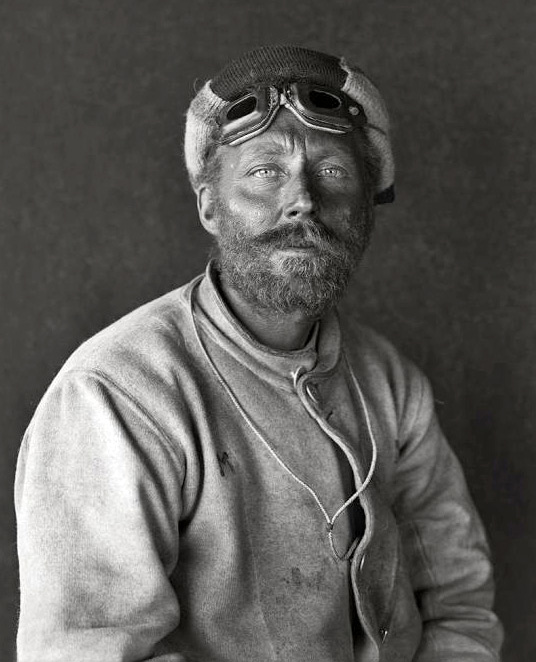 Born in County Kilkenny, Ireland, the son of a British Army officer and educated in Scotland and England, Meares was an adventurer who followed his own path. He had left school at 17 and prior to Scott's expedition had been a British army officer, had fought in the Boer war had been an observer in the Russo-Japanese War and a surveyor in Manchuria, during which time there are suggestions that he may have been engaged in intelligence and diplomatic work, he had been in Peking during the Boxer Uprising.
Meares had also been a fur trader in the wildest and furthest flung parts of Russia and travelled to a number of little visited places such as Tibet until his companion was killed at which point he returned to England and volunteered for Scott's expedition.
Scott's by-the-book naval command structure didn't sit too comfortably with him.
He was tasked by Scott to buy 34 dogs and 20 ponies for the expedition, he knew little about ponies though went to Siberia as instructed to obtain them and transported them to New Zealand.
Oates who was in charge of the ponies in Antarctica described them as:
"greatest lot of crocks I have ever seen".
Meares took part in depot laying journeys with the dogs, scouting and moving stores about from camp to camp, though in Early 1912 he resigned for reasons that are not clearly recorded, he returned home on the Terra Nova in March that year on its summer relief voyage. Scott hints that he may have been awaiting news brought by the ship and he may have returned to England following the death of his father.
He was "unavailable" for for further work after resigning and before leaving, a period of two months when his skills were required, jobs he would have done were carried out by others, notably Cherry-Garrard and Girev's trip to "One Ton Depot" leaving at the end of February where they awaited Scott and the Polar Party.
In the First World War Meares served in the Corps of Interpreters, and as a Royal Naval Volunteer Reserve officer in the Royal Naval Air Service. He was married in 1915. Following the end of the war, he went to Japan as part of the British Air Mission, to advise the Japanese Naval Air Service, he was presented with the Order of the Sacred Treasure Third Class and a sword as a result of this work. Shortly after this he moved with his wife to Victoria, British Columbia, Canada where he died in 1937. Following the death of his wife, his sword, medals, books, a sled flag, and papers went to the BC Provincial Museum in 1976 - here
---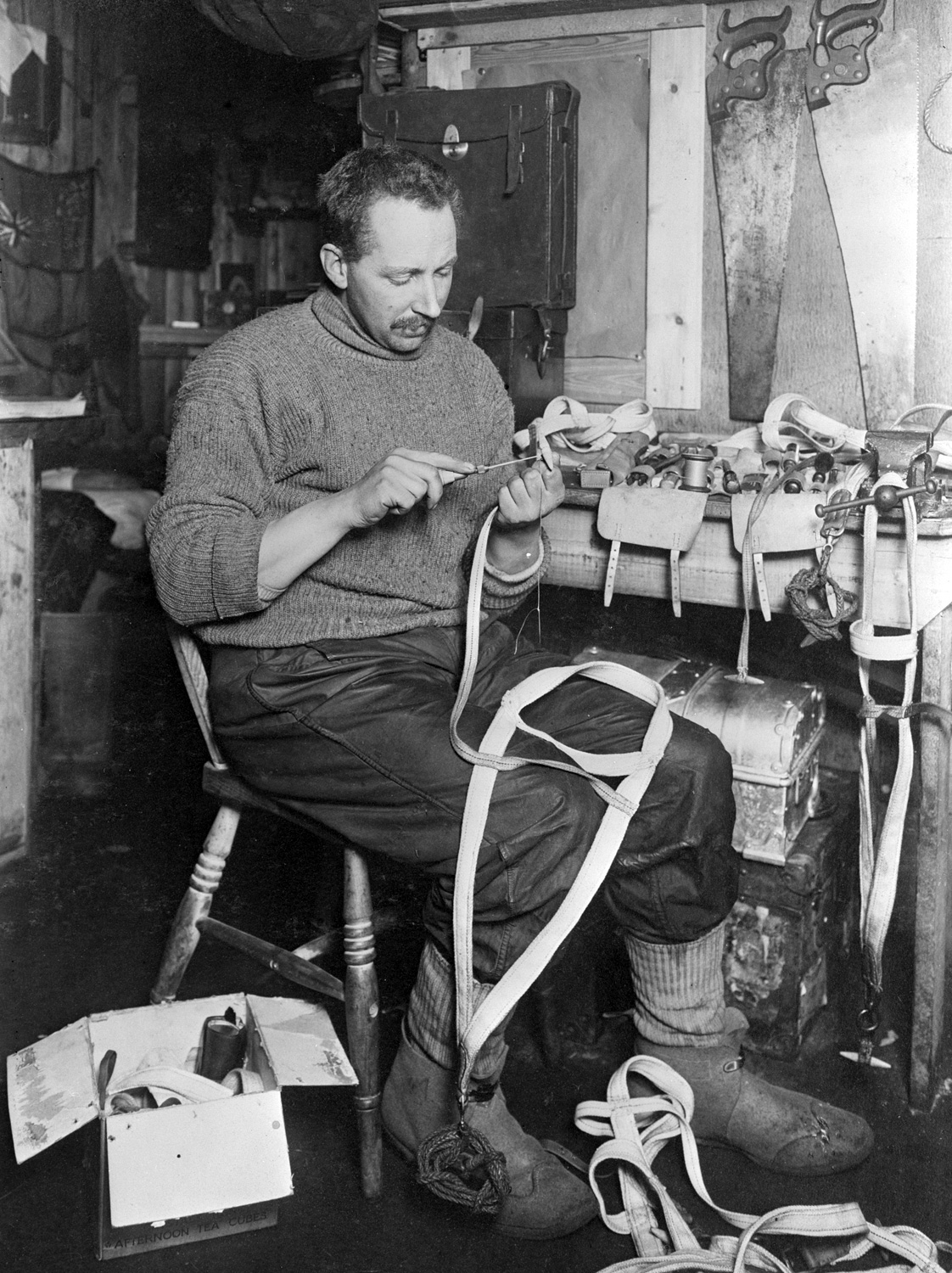 Cecil Meares making a dog harness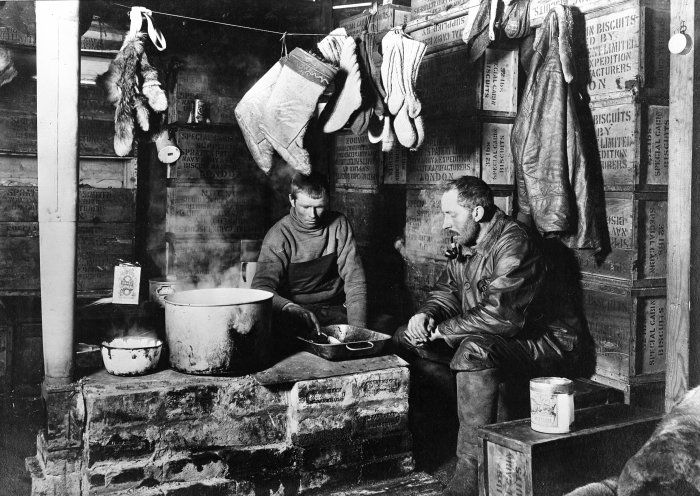 Cecil Meares and Dmitrii Girev
by the blubber stove Discovery Hut, at Hut Point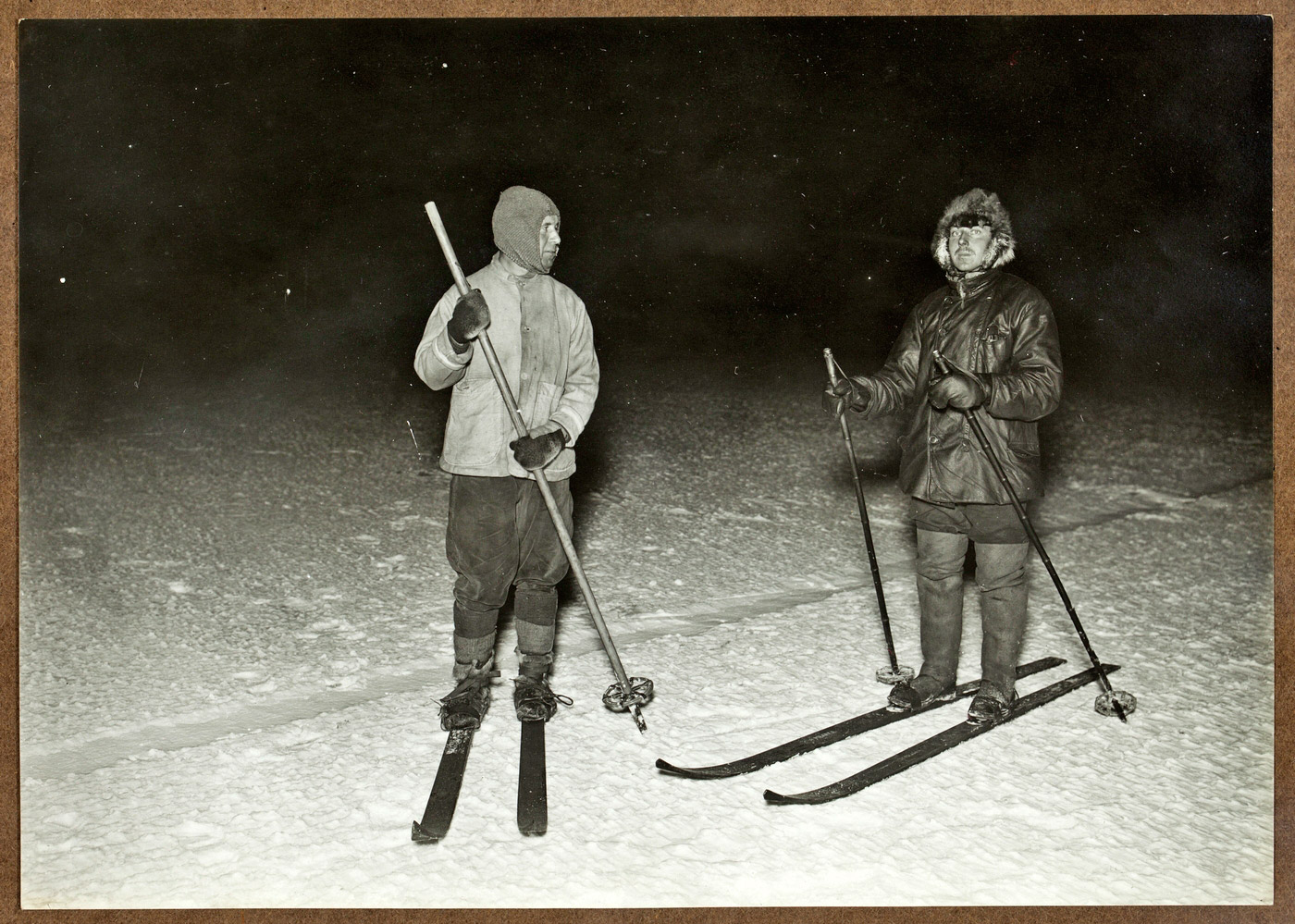 Oates and Meares
by flashlight on sea ice 4 June 1911
---
Landmarks named after Cecil Meares
Feature Name: Meares Cliff
Type: cliff
Latitude: 71°12'S
Longitude: 168°25'E
Description: An angular coastal cliff that rises to 600 m, located 5.5 mi WNW of Nelson Cliff along the N coast of Victoria Land. First charted by the Northern Party, led by Campbell, of the British Antarctic Expedition (BrAE), 1910-13. Named by Campbell for Cecil H. Meares who had charge of the dogs on this expedition.
Biographical information

- I am concentrating on the Polar experiences of the men involved. Any further information or pictures visitors may have is gratefully received. Please email - Paul Ward, webmaster.

What are the chances that my ancestor was an unsung part of the Heroic Age of Antarctic Exploration?