Cruises to Antarctica Including Other Locations
options: Falkland Islands, South Georgia, South America, Chilean Fjords, Tristan da Cunha, St. Helena, Cape Town
Cruises that visit Antarctica for part but not the whole trip
15 - 37 Days | Departures from October to March inclusive | From: $5,800
A trip to Antarctica and/or the sub-Antarctic island of South Georgia can be included as a part of a cruise if you want a taste of the deep south without it being the only destination of the trip. These trips are longer than most Antarctic-only cruises, so are ideal if you have the time available and want to experience some of the lesser visited, more remote and isolated places that the South Atlantic has to offer.
---
---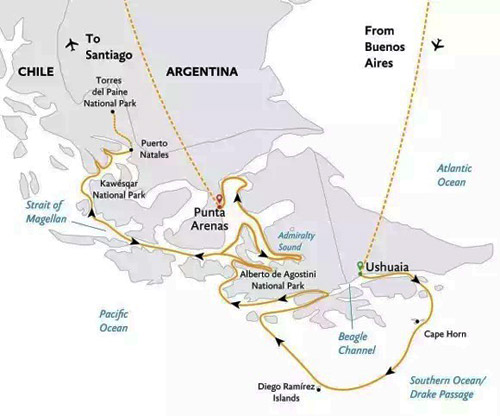 Antarctic Peninsula and Remote Atlantic Islands
- Tierra del Fuego, Antarctic Peninsula, South Georgia, Gough Island, Tristan da Cunha, St. Helena. Wildlife, history, remote oceanic islands. 33 days on board a
research ship
from $11,000 - (23 days from $6,700 without the Antarctic Peninsula element) - March 2018.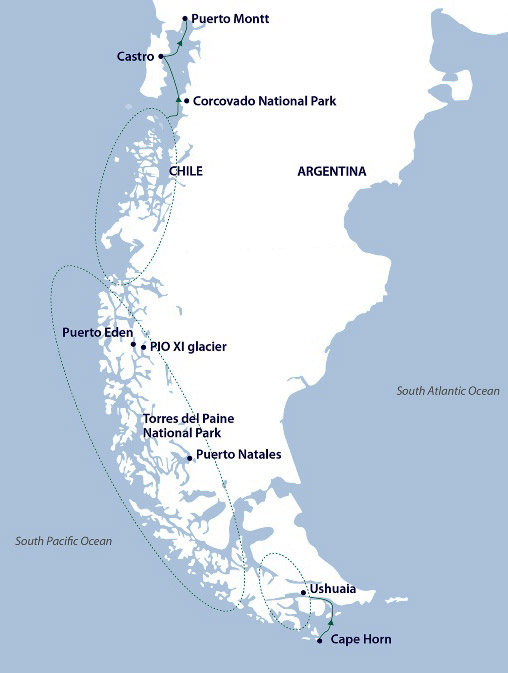 Chilean Fjords and the Antarctic Peninsula
- Wild and glacial Tierra del Fuego, then across to the Antarctic Peninsula for a different kind of wilderness and array of wildlife. 15 days on a
comfortable scenic exploration vessel
from $9,055, 5 departures between Nov 2017 and Feb 2018.
Contact our travel partners who will help you find the best cruise for your requirements
---
---
Similar Trips
Atlantic Odyssey - South Georgia and Atlantic Islands - 23 or 28 days - March 2018 - from $5,800
Atlantic Odyssey + Antarctic Peninsula - 33 days - March 2018 - from $11,000
Antarctica + Chilean Fjords - 15 or 16 days - departures Nov 2017 - Feb 2018 - from $8,796
Antarctica + Falklands + Chilean Fjords - 17 or 18 days - departures Oct 2017 and Feb 2018 - from $9,320
Contact our travel partners who will help you find the best cruise for your requirements
---
Sample Itinerary
Cape to Cape
Vessel: Le Lyrial Antarctica - Luxury Expedition Ship
22 days - $11,670 to $31,710 - Departure Mar 2018
Rate Includes: Tierra del Fuego National Park excursion; 24-hour room service; soft drinks and open bar (pouring wines, house champagne, and alcohol except premium brands); parka; gratuities. Subject to change without notice.
Day 1: Ushuaia, Argentina
Considered to be the southernmost city in the world, Ushuaia is the capital of Tierra del Fuego, lying at the very tip of Argentina looking out over the Beagle Channel. This surprising little town of 45,000 people is surrounded by mountains and fertile plains. Tierra del Fuego's forests cover the lower slopes of the Andean mountains which are crowned with snow-capped peaks - a unique and unforgettable sight.
Day 2: At Sea
As you sail to the Falkland Islands, your lecture series will begin, educating you about the wildlife, environment and history of the Falklands, South Georgia and the Antarctic Peninsula. Sea birds may accompany your ship and provide excellent wildlife viewing opportunities.
Day 3 - 4: Falkland Islands
Conquered, abandoned, recaptured and coveted, the Falkland Islands (Las Malvinas) had a romantic history until the war of 1982. This remote archipelago, near the tip of the South American continent is home to beauty that is unique in the world. The relief of these islands was carved over the centuries by the harsh and very windy climate. Yet, the Falkland Islands are home to a fantastic range of wildlife, the last sanctuary of the elegant albatross soaring graciously against the blue sky, with colonies of elephant seals basking at the foot of rocky cliffs.
Day 5 - 6: At Sea
Sailing to South Georgia, you will notice a drop in temperature as you cross the Antarctic Convergence, a natural boundary where the warmer waters of the north meet the cooler waters of the south, creating a zone abundant marine life where whales feed.
Day 7 - 9: South Georgia
South Georgia is an unparalleled destination within Antarctica. This sub-Antarctic region is a peak emerging from the Scotia Arc, an underwater mountain chain that extends from the Andes to the Antarctic Peninsula. Salisbury Plain will be the arena for the most memorable and the most authentic display of nature.
At the heart of this wildlife haven, on the beaches of the bay, a colony of approximately 250,000 king penguins has taken residence. In the midst of all these orange-headed couples, fur seals try to beat a path to feed with their young. Under the southern sun that lights this glacial plain, spectacular flocks of birds fly on the wind.
Visit Grytviken, a former Norwegian whaling station, and follow in the footsteps of the great explorer Sir Ernest Shackleton and visit the tiny cemetery where he is buried. After Roald Amundsen conquered the South Pole in 1912, Sir Ernest Shackleton turned his attention to what he considered to be the last great challenge in Antarctica: The crossing of the continent from the Weddell Sea to the Ross Sea via the Pole. To achieve this he organized the Endurance expedition. This expedition was dogged with bad luck and his ship, Endurance, was a prisoner of the ice for many months and was slowly crushed, obliging the crew to disembark. A series of adventures followed that would cement Shackleton's legend.
Explore Gold Harbour Island by Zodiac excursion. Everything you would expect to see is present at this site: magical landscapes, a majestic blue-tinged glacier, and waterfalls sparkling in the sun, pouring down. The beach here is made of volcanic black sand, heading out towards a milky blue sea. The beach swarms with wildlife, colonies of king penguins, fur seals and elephant seals.
Day 10 - 13: At Sea
Settle into life on board and the ship's many comforts as you sail to Tristan Da Cunha.
Day 14: Tristan Da Cunha
Explore Tristan da Cunha, a volcanic and mountainous land, remarkable for its 2,000 meter peak.
Day 15: Nightingale Island
Experience Gough Island, a UNESCO World Heritage site and home to one of the world's largest seabird colonies.
Day 16: Gough Island
Discover Nightingale Island, a refuge for many penguins.
Day 17 - 20: At Sea
Settle into life on board and the ship's many comforts as you sail to Cape Town.
Day 21: Cape Town, South Africa
Day 22: Cape Town, South Africa
Disembark the vessel.
Sample Itinerary
Antarctica, Falkland Islands & Chilean Fjords
Vessel: Midnatsol - Scenic Exploration Vessel
17 days - $9,834 to $21,588 - Departures from Oct 2017 to Feb 2018
Rate Includes: Charter flight from Santiago to Punta Arenas; one pre-cruise hotel night in Santiago with breakfast; transfer from the hotel to the airport in Santiago; transfer from the airport to the ship in Punta Arenas; gear on loan (waterproof rubber boots); and a wind- and water-resistant jacket. Subject to change without notice.
Day 1: Santiago, Chile
Arrive in Santiago, explore the city at your leisure and spend the night at your included hotel.
Day 2: Santiago / Punta Arenas
Fly to Punta Arenas, and transfer to the ship to embark the vessel. Later, enjoy a welcome dinner and meet fellow travelers.
Day 3 - 5: Chilean Fjords and Cape Horn
Start you morning cruising past Isla Tucker, famous for its colony of Magellanic penguins, birds, dolphins, and sea lions. The captain and his crew show their navigation skills as you sail through the narrow Canal Gabriel. Gazing will be your favorite activity in the Chilean fjords. They are extremely deep, and surrounded by very high mountains. You might not see a single person on shore, just endless wilderness.
Your crew will select a fjord to explore in more depth by small boat for a closer look at the region's amazing nature and wildlife. When ranking all the mythical places on Earth, Cape Horn is high on the list. Before the Panama Canal, seafarers had to pass this infamous, rocky island in order to cross from one side of the Americas to the other. If the weather is favorable, attempt to go ashore on Cape Horn. However, this area is known for high seas and challenging conditions.
Day 6: At Sea
Once across the Antarctic Convergence the air becomes crisper and colder. From deck you start seeing Antarctic penguins and icebergs, and maybe even whales too!
Day 7 - 10: Antarctic Peninsula
Welcome to one of the most remote areas of the world. Whale watching opportunities abound here. Enjoy close encounters with wildlife and glaciers, and old whaling stations and their relics.
Among the places you will experience are the South Shetlands and Cuverville Island, home to a large colony of Chinstrap penguins. Neko Harbour is beautifully located in the innermost part of Andvord Bay and Paradise Harbor got its descriptive name from the whalers during the last century.
Staggeringly photogenic and blessed with some of the most spectacular Antarctic scenery imaginable, Half Moon Island is a glittering gem. Go ashore with the expedition team and get close to seals and thousands of penguins. Enjoy hiking, kayaking (additional fee applies), and visiting the most stunning landscapes. On board, there will be exciting lectures and "scientific experiments" for the Young Explorers of Antarctica.
Day 11: At Sea
Enjoy a day at sea, recapping your experiences, exchanging stories, photos, and films with your fellow adventurers; have fun in the Explorer Room or simply relax on deck.
Day 12 - 14: Falkland Islands
Today you will arrive in Stanley, the capital of the Falkland Islands. Enjoy exploring this small, quaint town by foot today. Later, visit Neew Island, known for its white sand beaches and turquoise water. Except for the temperature, it could easily be mistaken for a Caribbean island.
Pass an old shipwreck on your way ashore to enjoy a day among the penguins, seals, and elephant seals. Choose from several optional excursions to see the penguins, hike through the beautiful landscape, or kayak in the pristine waters.
Day 15 - 16: At Sea
Cross the Drake Passage and sail along the coast of Argentina. Spend time with new friends, your friendly expedition team and crew, and enjoy the farewell dinner on the last evening.
Day 17: Montevideo, Uruguay
Disembark the vessel.
Contact our travel partners who will help you find the best cruise for your requirements