Apsley Cherry-Garrard - Assistant zoologist
(1886 - 1959) - Biographical notes
Assistant zoologist Terra-Nova 1910-13
---
Apsley Cherry-Garrard -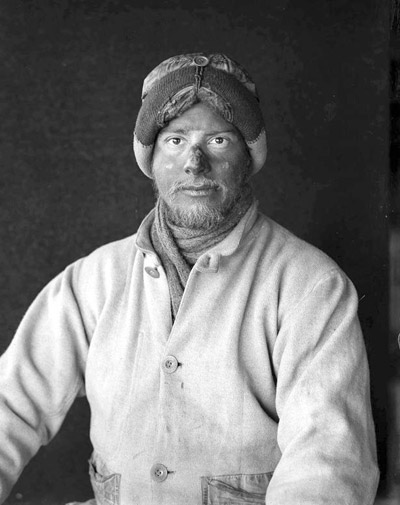 Cherry
2nd January 1886 - 18th May 1959
Born in Bedford, England as Apsley Cherry, the Garrard was added later when his father inherited a large country estate, which Apsley himself inherited in 1907 on the death of his father.
The second youngest member of the expedition at 24. Cherry-Garrard was rejected initially by Scott, he then made another application with the promise of a £1,000 payment towards costs, though again was rejected. He decided to donate the money anyway, so Scott with persuasion from Wilson took him on as assistant biologist despite his lack of a scientific background.
Most famous for his widely acclaimed book about the journey he made with Bowers and Wilson to Cape Crozier to retrieve an emperor penguin egg in the continuous night of the depths of the Antarctic winter, The Worst Journey in the World, published in 1922, and considered to be a classic of travel writing and by many to be the best travel book ever written.
He was involved with depot laying in January-March 1911 as preparation for the south pole attempt later in the year. Starting in November 1911 he accompanied Scott's Polar Party by leading a pony called Michael pulling a sledge. Cherry made it as far as the top of the Beardmore Glacier before being sent back with his team, as they got closer to the pole, there were supplies for a ever smaller number of men.
Before Scott left for the pole he gave orders to be met on the 1st of March 1912 at 82 or 82.30 degrees south by a dog team with supplies to help their return to the base. For a variety of reasons it fell to Cherry-Garrard to do this and along with Dmitriy Girev he set off on this journey on the 26th of February, reaching a place called "One Ton Depot" on the 3rd of March, at the time Scott was 60 miles south of this point (3 days by dog team), they remained in the area until the 10th of March before returning due to a combination of poor weather and lack of dog food.
Scott and the surviving members died 11 miles south of One Ton Depot on the 29th of March. Cherry continued with his scientific work through the winter and was part of the team that found the bodies of Scott, Bowers and Wilson in their collapsed tent on the 12th of November 1912.
Cherry-Garrard suffered from mental and physical health issues for the rest of his life that arose at least partially from his experiences in Antarctica. He blamed himself for not venturing further south from One Ton Depot when he might have encountered Scott, Bowers and Wilson and been able to save them.
---
---
---
---
References to Apsley Cherry-Garrard by Scott in "Scott's Last Expedition"
Cherry-Garrard is remarkable because of his eyes. He can only see through glasses and has to wrestle with all sorts of inconveniences in consequence. Yet one could never guess it--for he manages somehow to do more than his share of the work.

Cherry-Garrard is another of the open-air, self-effacing, quiet workers; his whole heart is in the life, with profound eagerness to help everyone. 'One has caught glimpses of him in tight places; sound all through and pretty hard also.' Indoors he is editing our Polar journal, out of doors he is busy making trial stone huts and blubber stoves, primarily with a view to the winter journey to Cape Crozier, but incidentally these are instructive experiments for any party which may get into difficulty by being cut off from the home station.

The Crozier Party returned last night after enduring for five weeks the hardest conditions on record. They looked more weather-worn than anyone I have yet seen. Their faces were scarred and wrinkled, their eyes dull, their hands whitened and creased with the constant exposure to damp and cold, yet the scars of frostbite were very few and this evil had never seriously assailed them. The main part of their afflictions arose, and very obviously arose, from sheer lack of sleep, and to-day after a night's rest our travellers are very different in appearance and mental capacity.

Cherry-Garrard is slightly puffy in the face and still looks worn. It is evident that he has suffered most severely - but Wilson tells me that his spirit never wavered for a moment.

I am afraid Cherry-Garrard and Keohane are the weakness of that team, though both put their utmost into the traces.
From Cherry-Garrard's own book, "The Worst Journey in the World"
March 1912: Since there was no depot of dog-food at One Ton it was not possible to go farther South (except for the one day mentioned above) without killing dogs. My orders on this point were perfectly explicit; I saw no reason for disobeying them, and indeed it appeared that we had been wrong to hurry out so soon, before the time that Scott had reckoned that he would return, and that the Polar Party would really come in at the time Scott had calculated before starting rather than at the time we had reckoned from the data brought back by the Last Return Party.

From the particulars already given it will be seen that I had no reason to suspect that the Polar Party could be in want of food. The Polar Party of five men had according to our rations plenty of food either on their sledge or in the depots. In addition they had a lot of pony meat depoted at Middle Glacier Depot and onwards from there. Though we did not know it, the death of Evans at the foot of the Beardmore Glacier provided an additional amount of food for the four men who were then left. The full amount of oil for this food had been left in the depots; but we know now what we did not know then, that some of it had evaporated. These matters are discussed in greater detail in the account of the return of the Polar Party and after.

Thus I felt little anxiety for the Polar Party. But I was getting anxious about my companion. Soon after arrival at One Ton it was clear that Dimitri was feeling the cold. He complained of his head; then his right arm and side were affected; and from this time onwards he found that he could do less and less with his right side. Still I did not worry much about it, and my decision as to our movements was not affected by this complication. I decided to allow eight days' food for our return, which meant that we must start on March 10.

---

November 2nd 1912, 5 a.m. Biscuit Depot. Atkinson, Dimitri and I, with two dog-teams, left Hut Point last night at 8.30. We have had a coldish night's run, -21° when we left after lunch, -17° now.
November 12th 1912, Nearly mid-day. 11-12 miles south of One Ton. We have found them - to say it has been a ghastly day cannot express it - it is too bad for words. The tent was there, about half-a-mile to the west of our course, and close to a drifted-up cairn of last year. It was covered with snow and looked just like a cairn, only an extra gathering of snow showing where the ventilator was, and so we found the door.

.........

Oates' death was a very fine one. We go on to-morrow to try and find his body.

.........

Then Atkinson read the lesson from the Burial Service from Corinthians. Perhaps it has never been read in a more magnificent cathedral and under more impressive circumstances - for it is a grave which kings must envy. Then some prayers from the Burial Service: and there with the floor-cloth under them and the tent above we buried them in their sleeping-bags - and surely their work has not been in vain.

That scene can never leave my memory.

.........

Two of us entered, through the funnel of the outer tent, and through the bamboos on which was stretched the lining of the inner tent. There was some snow - not much - between the two linings. But inside we could see nothing - the snow had drifted out the light. There was nothing to do but to dig the tent out. Soon we could see the outlines. There were three men here.

My diary goes on:

Midnight, November 12-13. I cannot think that anything which could be done to give these three great men - for great they were - a fitting grave has been left undone.

A great cairn has been built over them, a mark which must last for many years. That we can make anything that will be permanent on this Barrier is impossible, but as far as a lasting mark can be made it has been done. On this a cross has been fixed, made out of ski. On either side are the two sledges, fixed upright and dug in.

The whole is very simple and most impressive.

.........

It is all too horrible - I am almost afraid to go to sleep now.

November 15. Early morning. We built a cairn to mark the spot near which Oates walked out to his death, and we placed a cross on it.
---
Landmarks named after Apsley Cherry-Garrard
Feature Name: Garrard Glacier
Type: Glacier
Latitude: 84°70'S
Longitude: 169°35'E
Description: A glacier in Queen Alexandra Range, draining eastward from the neve between Mount Lockwood and Mount Kirkpatrick and entering Beardmore Glacier S of Bell Bluff. It appears that British Antarctic Expedition (BrAE) (1910-13) applied the name "Garrard Glacier" to the feature which had been named Bingley Glacier by Shackleton in 1908. The area was surveyed by New Zealand Geological Survey Antarctic Expedition (NZGSAE) (1961-62), who retained Bingley Glacier on the basis of priority and reapplied the name Garrard Glacier to this previously unnamed feature.
Feature Name: Mount Cherry-Garrard
Type: Summit
Latitude: 71°18'S
Longitude: 168°41'E
Description: A peak at the seaward end of the divide between Simpson Glacier and Fendley Glacier, on the N coast of Victoria Land. Charted by the Northern Party, led by Victor Campbell, of the British Antarctic Expedition (BrAE), 1910-13.
Feature Name: Cherry Icefall
Type: Glacier
Latitude: 84°27'S
Longitude: 167°40'E
Description: A small, steep icefall on the S side of Barnes Peak in Queen Alexandra Range, descending toward Beardmore Glacier. Originally named "Cherry Glacier" by the British Antarctic Expedition (BrAE) (1910-13), for Apsley Cherry-Garrard, zoologist with the expedition. The name has been amended on the recommendation of the New Zealand Geological Survey Antarctic Expedition (NZGSAE) (1961-62) to be more descriptive of the feature.
Other Crew of the Terra Nova Expedition