Captain Lawrence Edward Grace Oates
(1880-1912) - Biographical notes
In charge of ponies - Terra Nova 1910-13
---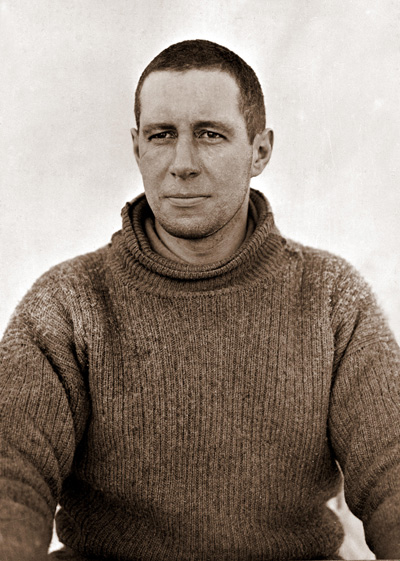 Born London in 1880 into a wealthy family, Oates attended Eton College for two years before attending an army "crammer" school and joining the army in 1898. He served in the Boer War with distinction, a gunshot wound to his left leg left it an inch shorter than the right. Sometimes known as "Titus".
He applied to Scott to join the Terra Nova Expedition and was accepted because of his expertise with horses, his role was to look after the 19 ponies intended for sledge hauling. Oates contributed £1,000 (worth about £109,000 in 2017) to the expedition. He was rather disparaging about the quality of the ponies that Scott had bought, of Scott's lack of expertise in his endeavour and at times of Scott himself. Nonetheless he was selected as part of the 5 man South Pole Party. After reaching the pole and finding Amundsen's flag and tent already there, Oates weakened more quickly than the others on the way back, in particular he suffered from frost bitten feet. On the 15th of March 1912, Oates told his companions he could go no further and suggested they left him in his sleeping bag as he was slowing them down considerably, they refused and he managed a few more miles but his condition worsened.
Lawrence Oates walked into the history books when on March 17th 1912, after going to sleep hoping not to wake, he awoke to once again find a blizzard blowing and the temperature at -40C (-40F).
His last words were: "I am just going outside and may be some time."
Oates' feet were too bad to get his boots on, so he walked out to his death in his socks, it was the day of his 32nd birthday. His body was never found, in November 1912 a cairn was erected with a cross inscribed: "Hereabouts died a very gallant gentleman, Captain L. E. G. Oates, of the Inniskilling Dragoons. In March 1912, returning from the Pole, he walked willingly to his death in a blizzard, to try and save his comrades, beset by hardships."
17 March 1880 - 17 March 1912
---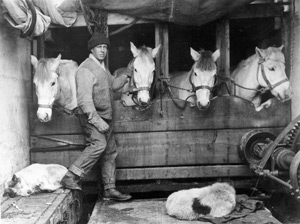 Captain Lawrence Oates with some of the ponies
taken to Antarctica by Scott on board the Terra Nova.
---
Landmarks named after Lawrence Oates

Feature Name: Oates Piedmont Glacier

Type:
Glacier
Latitude:
76°25'00S
Longitude:
162°35'00E
Description:
An extensive lowland ice sheet E of the Kirkwood Range, occupying the whole of the coastal platform between the Fry and Mawson Glaciers in Victoria Land. Surveyed in 1957 and named by the New Zealand Northern Survey Party of the Commonwealth Trans-Antarctic Expedition (CTAE) (1956-58).
Feature Name: Oates Coast

Type:
Beach
Latitude:
69°30'00S
Longitude:
159°00'00E
Description:
That portion of the coast of Antarctica between Cape Hudson and Cape Williams. The eastern portion of this coast was discovered in February 1911 by Lieutenant Harry Pennell, Royal Navy (RN), commander of the expedition ship Terra Nova during the British Antarctic Expedition (BrAE), 1910-13.
Oates Canyon
- An undersea canyon on the continental rise east of Iselin Bank named in association with Oates Coast.
Oates Bank
- A bank name proposed by Dr. Steven C. Cande, Scripps Institution of Oceanography. Named in association with Oates Coast.
Biographical information

- I am concentrating on the Polar experiences of the men involved. Any further information or pictures visitors may have is gratefully received. Please email - Paul Ward, webmaster.

What are the chances that my ancestor was an unsung part of the Heroic Age of Antarctic Exploration?