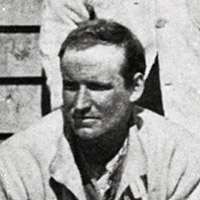 Priestley, Raymond Edward - Geologist
(1886 - 1974) - Biographical notes
Geologist Nimrod 1907-09
Geologist Terra Nova 1910-13
---
Raymond Priestley
20th July 1886 - 24th June 1974
Born in Bredon's Norton near Tewkesbury, England the son of a grammar school headmaster, Priestley studied Geology at Bristol University.
He joined Shackleton's Antarctic Nimrod Expedition (1907-09) at the end of his second year studying geology at university, he worked closely with renowned geologists, Philip Brocklehurst and and Edgeworth David. He collected mineral and biological samples and was part of supply depot laying teams for Shackleton's attempt on the South Pole in 1909. In November 1908 he spent three days in a blizzard sleeping outside the tents in his sleeping bag due to a lack of space inside. As the blizzard progressed, he gradually slipped down the glacier they were on nearly falling off the end to his death.
Priestley was recruited by Scott for the Terra Nova expedition when the ship called at Sydney on the way south where he was working on the geology report for the Nimrod expedition.
He was part of what was intended to be an Eastern Party of 6 men led by Campbell to carry out scientific work, but failing to find a landing site, they returned westward again coincidentally meeting Roald Amundsen on the Fram in the Bay of Whales. Unable to find a suitable eastern landing, Campbell's party became the Northern Party, building a hut and wintering at Cape Adare in 1911, he was the only civilian member of this group, the others being naval men.
---
---
The following summer in January 1912, they were transferred 250 miles south by the Terra Nova to Evans Cove (closer to the expedition base hut) with enough sledging rations for six weeks and two weeks provisions for six men with the intention of staying two weeks before being picked up again. Heavy sea ice conditions meant that the ship could not reach them and they had to over-winter again. Unprepared and woefully under resourced, their tents having been damaged by a gale, the team dug an ice cave on a place they later called Inexpressible Island and a miserable winter ensued, rations were extended with the occasional seal or penguin that could be killed. They left at the end of winter on the 30th of September 1912, walking towards Cape Evans, crossing 200 miles of sea ice to arrive on the 7th of November when they were informed of the deaths of Scott and the South Polar party.
Before leaving Antarctica, Priestly took part in a ascent of Mount Erebus, the world's southernmost active volcano.
Priestly served in WW1 with distinction being awarded the Military Cross, he remained in the army until 1920. In the same year he was awarded a BA at Cambridge for his research work and writings on glaciers, 15 years after beginning to study for a degree at Bristol!. Also in 1920, he co-founded the Scott Polar Research Institute in Cambridge with fellow Terra Nova expedition member Frank Debenham. Priestley had a long administrative university career holding many academic and government posts in Australia and England. He was Vice-Chancellor of the University of Melbourne, later the Vice-Chancellor of the University of Birmingham (1938-52) he was knighted in 1949.
Despite retiring in 1952, he served variously as Chairman of the Royal Commission on the Civil Service, deputy Director of the Falkland Islands Dependencies Survey (which later became the British Antarctic Survey), and president of the British Association for the Advancement of Science (1956). He returned to Antarctica in 1956 and 1959.
---
---
References to Raymond Priestley by Cherry-Garrard in "The Worst Journey in the World"
On the ascent of Mount Erebus:
At a point about 9000 feet up, Priestley, Gran, Abbott and Hooper started to make the ascent to the active crater on December 10. They packed the tent, poles, bags, inner cooker and cooking gear, with four days' provisions, and reached the second crater at about 11,500 feet, to be hung up by cloud all the next day. At these altitudes the temperature varied between -10° and -30°, though at sea-level simultaneously they were round about freezing-point. By 1 a.m. on the 12th the conditions were good - clear, with a southerly wind blowing the steam away from the summit. The party got away as soon as possible and reached the lip of the active crater in a few hours. Looking down they were unable to see the bottom, for it was full of steam: the sides sloped at a steep angle for some 500 feet, when they became sheer precipices: the opening appeared to be about 14,000 paces round. The top is mostly pumice, but there is also a lot of kenyte, much the same as at sea-level: the old crater was mostly kenyte, proving that this is the oldest rock of the island: felspar crystals must be continually thrown out, for they were lying about on the top of the snow; I have one nearly 3 1/2 inches long.

Two men went back to the camp, for one had a frost-bitten foot. This left Priestley and Gran, who tried to boil the hypsometer but failed owing to the wind, which was variable and enveloped them from time to time in steam and sulphur vapour. They left a record on a cairn and started to return. But when they had got 500 feet down Priestley found that he had left a tin of exposed films on the top instead of the record. Gran said he would go back and change it. He had reached the top when there was a loud explosion: large blocks of pumice were hurled out with a big smoke cloud; probably a big bubble had burst. Gran was in the middle of it, heard it gurgle before it burst, saw "blocks of pumiceous lava, in shape like the halves of volcanic bombs, and with bunches of long, drawn-out, hair-like shreds of glass in their interior." This was Pele's hair. Gran was a bit sick from sulphur dioxide fumes afterwards. They reached Cape Royds on the 16th, the very successful trip taking fifteen days.
---
Landmarks named after Raymond E. Priestley
Feature Name: Priestley Peak
Type: summit
Latitude: 67°12'S
Longitude: 050°23'E
Description: Peak between Mount Pardoe and Mount Tod on the S side of Amundsen Bay in Enderby Land. Sighted on Jan. 14, 1930, by British Australian and New Zealand Antarctic Research Expedition (BANZARE) under Mawson.
Feature Name: Mount Priestley
Type: summit
Latitude: 75°11'S
Longitude: 161°53'E
Description: A mountain, 1,100 m, rising at the N side of David Glacier, 5 mi SW of Mount Bellingshausen, in the Prince Albert Mountains of Victoria Land. First mapped by the British Antarctic Expedition (BrAE), 1907-09,.
Feature Name: Priestley Glacier
Type: glacier
Latitude: 74°20'S
Longitude: 163°22'E
Description: A major valley glacier, about 60 mi long, originating at the edge of the polar plateau of Victoria Land and draining SE between Deep Freeze Range and Eisenhower Range to enter the N end of the Nansen Ice Sheet. First explored by the Northern Party of the British Antarctic Expedition (BrAE), 1910-13.
Feature Name: Priestley Neve
Type: summit
Latitude: 73°35'S
Longitude: 160°20'E
Description: The neve at the head of Priestley Glacier in Victoria Land. Named by the New Zealand Antarctic Place-Names Committee (NZ-APC) in about 1966 in association with Priestley Glacier.
Other Crew of the Terra Nova Expedition