Edgar Evans - Petty officer, 2nd class, R.N.
(1876 - 1912) - Biographical notes
Petty officer Discovery 1901-04
Petty officer Terra Nova 1910-13
---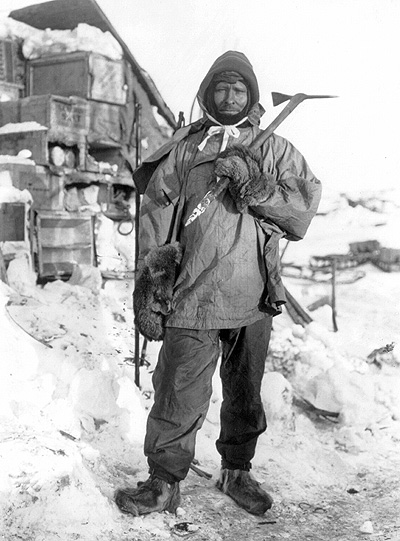 Born 1876 in Middleton, Wales, enlisted in the Royal Navy at 13 in 1891 and served on the same ship as Scott in 1899, Evans was a part of Scott's Discovery Expedition from 1901-1904.
He almost didn't make the Terra Nova expedition, falling into the sea while drunk on boarding the ship in New Zealand, Scott overlooked this and valued him highly.
Responsible for the sledges, tents and all the equipment that was taken by sledging parties, Evans made sure that it was all present and in good working order, a task at which he excelled. He was one of the five man South Pole Party with Scott.
Just before reaching the pole he cut his hand in an accident, the wound refused to heal properly and he continued to deteriorate both physically and mentally during the return journey suffering frostbite to fingers, nose and cheeks. He had a fall in a crevasse while descending the Beardmore Glacier causing a concussion from a head injury which rapidly worsened his condition.
On the 16th of February 1912 Evans collapsed and had to be temporarily left behind while the others in the party reached the next supply depot, on returning to get him Scott described him:
"He was on his knees, clothing disarranged, hands uncovered and frostbitten and with a "wild look in his eyes"."
He was taken to the tent on a sledge and put inside, he died during the night, there is no record of what happened to his body. He was 35 years old.
7 March 1876 - 17 February 1912
---
---
---
Landmarks named after Edgar Evans
Feature Name: Evans Glacier
Type: glacier
Latitude: 83°47'00´S
Longitude: 170°00'00´E
Description: A tributary glacier just S of Owen Hills, flowing E from the Queen Alexandra Range into Beardmore Glacier. Named by the NZGSAE (1961-62) for Petty Officer Edgar Evans, who died near here.
Feature Name: Evans Neve
Type: glacier
Latitude: 72°45'00´S
Longitude: 164°30'00´E
Description: A large neve which nourishes the Tucker, Mariner, Aviator, Rennick and Lillie Glaciers. Named for Edgar Evans of the BrAE, 1910-13, by the Northern Party of NZGSAE, 1963-64.
Feature Name: Evans Piedmont Glacier
Type: glacier
Latitude: 76°44'00´S
Longitude: 162°40'00´E
Description: A broad ice sheet occupying the low-lying coastal platform between Tripp Island and Cape Archer in Victoria Land. Circumnavigated in 1957 by the N.Z. Northern Survey Party of the CTAE, 1956-58.
Biographical information

- I am concentrating on the Polar experiences of the men involved. Any further information or pictures visitors may have is gratefully received. Please email - Paul Ward, webmaster.

What are the chances that my ancestor was an unsung part of the Heroic Age of Antarctic Exploration?