Layering for Skiing
Dress in layers for comfort and versatility on the ski slopes to cope with changing and unpredictable mountain weather and for differing activity levels.
Layering is the way to go when dressing for winter sports as it provides warmth while allowing flexibility for varying conditions. Layering doesn't mean wearing lots of thin layers, but wearing different layers that have a different purpose.
---

Base, Core (Foundation) Layer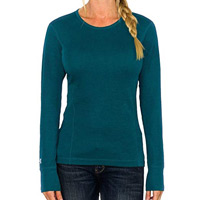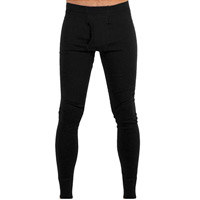 The layer next to your skin should be soft, comfortable and close fitting to wick any perspiration away quickly and leave you feeling dry in spite of your exertions.

Most of the year you probably don't give a lot of thought to your base layer and it doesn't make much of a difference what it is, in cold weather it needs to be insulating (obviously) but also able to remove any moisture to the outside to stop it building up, otherwise it can lead to feeling clammy and cold when your activity levels fall. Breathability becomes of the utmost importance.
Materials are very important here, with high quality merino wool being the gold standard in thermal underwear. It is a natural fiber, very soft and fine, very warm, great at wicking sweat away from the skin surface and with a natural resistance to odors.
Coming a close second are synthetic fibres often some propriety version of polyester which have nearly as good qualities as merino wool but tend to be less odor resistant.
Avoid cotton, it hangs on to moisture (we use it for towels!) and can even be potentially dangerous by making you cold and uncomfortable long after the activity is over, so don't use those cotton t-shirts you already have as your skiing base layer.
---
---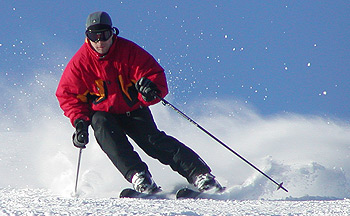 This'll be you in your cool new ski gear
Merino wool, not a budget option but it really does deliver performance-wise.
Men's | Women's | Boys | Girls
Sustainable merino monitored supply chains, recycled materials.
Smartwool | Icebreaker
All insulated base layers - all materials including synthetics, remember avoid cotton!
Men's | Women's | Boys | Girls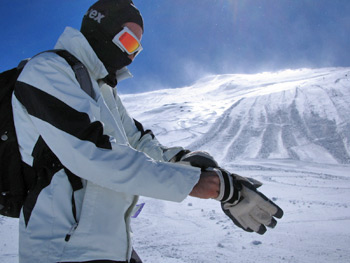 Ski gear should be flexible enough to cope with
changing weather and temperature without
being too bulky, this is achieved by layering and
carefully chosen accessories
Mid Insulation Layer/s
The most variable layer on a day by day basis, it can be your outer layer indoors or even outdoors in calm and sunny weather. You should have one or two lightweight insulation layers which can be taken off or put on quite easily if conditions change, this works better than a single heavier layer, it is a more versatile solution and air is trapped between the layers as well as within them adding to the insulation.
Fastenings are very useful for at least one of the layers, such as full or part zips, draw cords and cuff fastenings to allow for ventilation during activity, but then for all openings to be pulled closed while at rest and/or when it gets colder again.
You can get mid layers with a surface finish that are wind and water resistant to some degree to be used as the outer layer in less extreme conditions though this tends to make them somewhat incompliant and not so good as an inner layer when worn under a shell when it gets colder and windier again.
Synthetic fleece or natural wool are great materials for the insulating layer. Cotton is a bad choice as it is not such a good insulator, does not transmit moisture easily and is a liability when damp, acrylic also should be avoided as it doesn't insulate so well as fleece or wool so ends up less warm or thicker and bulkier for a given insulation level.
---
Tops
---
Bottoms
Pants don't need to be as flexible as your tops for changing conditions as there is not the same scope for adding or taking off layers, plus they don't cover as much of the body core as your top layers so don't feel so hot/cold. Like other winter pants, ski pants are usually the outer shell layer most of the time and worn as such in most conditions. They should be water resistant to shed snow thrown up by your skis or met on the way down in falls, and so they don't get damp from adhering snow that melts from your body heat. Fastenings towards the bottom make it easier to open them up to put ski boots on. They usually have extra insulation and a loose fit with perhaps a degree of elasticity for freedom of movement.
Bibs or bib overalls, also known as salopettes are very practical. They provide extra insulation to the body core at the front and back an prevent a gap appearing between jacket and pants where cold air and snow could get to.
---
The Outer or Shell Layer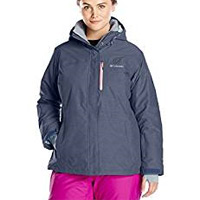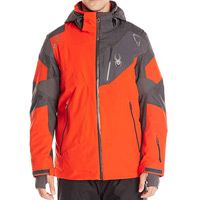 The outer or shell layer puts up directly with what the weather throws at it. So it needs to be windproof and at least water resistant. Fully waterproof isn't necessary for a ski jacket as if you don't have below zero temperatures, you probably aren't going to be doing much skiing, though it does make the jacket more useful in other walks of life as well.
The shell is usually also insulated, it may be simply be a "shell" without any extra insulation, though this is less common.

Close cuffs, elasticated or fastening keep out the cold and snow, waist length allows flexibility of movement and a draw cord at the bottom again keeps the cold and snow out. Closeable pockets give you somewhere to store gloves, hats, ski pass, wallet and other odds and ends without them flying out during the less than graceful moments (or while upside down by design).
"Venting zips" are something to look out for on higher end jackets, these are positioned under the arms and allow you to open them up to release heat without needing to take the jacket off, they are as effective as opening the whole of the front without the inconvenience of having it flapping about in the wind.
---

Lots of color choices
Accessories to Keep the Extremities Warm - Head, Hands and Feet
Fingers, toes and ears can get very cold very quickly and make you feel quite miserable, they also act like little radiators and lead to the loss of heat from the rest of the body. So don't ignore the extremities!
Feet - Socks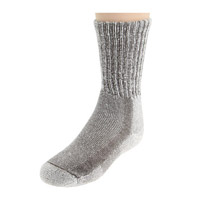 Ski boots have a hard insulated shell with significant insulation, too thick socks will make them tight, squash out the air and possibly restrict circulation which will make your feet cold. Ski socks should be long, not too thick and a single pair is enough.
A high % of wool, preferably merino will be warm, comfortable and wick away sweat effectively. Some synthetic content makes them harder wearing and some elastic material helps them stay up and not bunch up.
Men's ski socks | Women's ski socks | Boys ski socks | Girls ski socks
---
Hands - Gloves and Mittens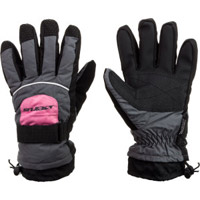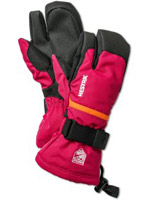 All things being equal, mittens will be warmer than gloves, though at the expense of dexterity
GlGloves and mittens should be waterproof, preferably with a breathable membrane such as gore-tex to avoid sweatiness and with patches on the palm and thumb to aid grip. A thin pair of glove liners is good, on their own in less cold conditions or to put under your main gloves or mittens when the thermometer drops.
Long wrists are always useful whether they are elasticated to go under a loose sleeve or loose to go over a tighter fitting sleeve as they prevent heat loss from an exposed wrist which can be quite uncomfortable, especially in contact with snow.
Men's ski gloves | Women's ski gloves | Kids ski gloves
If you suffer particularly from cold hands, heated battery powered gloves could be an answer, here.
---
Head
"When your feet are cold, cover your head"- Inuit saying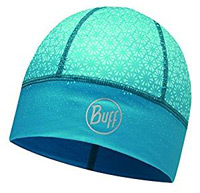 Your head is a major source of the loss of body heat, the brain needs a lot of blood flow and in heat retention terms it's like having a radiator on the roof. A quick and very effective way of staying warm is to put a hat on. You can put your hood up, though that restricts vision somewhat and tends to be quite noisy rustling next to your ears when you move.
Most people ski with a helmet on these days which provide a good degree of insulation and wind proofing themselves, though insulation coverage isn't the same as from a hat and you won't want to always be wearing your helmet.
To go under a helmet or hood, a clean shape is needed without bobbles or other sticky-out bits. A plain hat such as a beanie allows you to easily fit a helmet or pull a hood over them and the lack of bulk means they can slip into a pocket without taking up too much room.
Make sure hats cover the ears too or have ear-flaps that can be folded down when needed.
Headbands and balaclavas can also be very effective, headbands in less cold conditions to cover the ears from the wind and take up hardly any pocket space, while balaclavas can be rolled up and worn as a hat or pulled down to cover the neck and lower face.
Ski Hats - Adult | Kids' | Balaclavas
---
Neck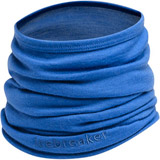 There are two reasons to address the neck region, staying warm and preventing snow getting in.
Staying warm isn't just a question of insulating your neck, but also of preventing air flow. Warm air inside your top layers will be pumped out with your movements to be replaced with cold air coming back in again. The neatest way of addressing these issues is with a neck gaiter or buff. This is a short tube of fleece material or merino wool that sits around your neck with the lower end inside your jacket and the upper end under or pulled over your chin when it can perform similarly to a balaclava in conjunction with your hat (or if you want to pretend to be a ninja). There's nothing to really touch them in the warmth-for-weight stakes functioning as a scarf with a fraction of the material and bulk.
They also protect against wind-driven snow (and snowballs, and the fall-out from making snow-angels).
All set? - ok, lets go!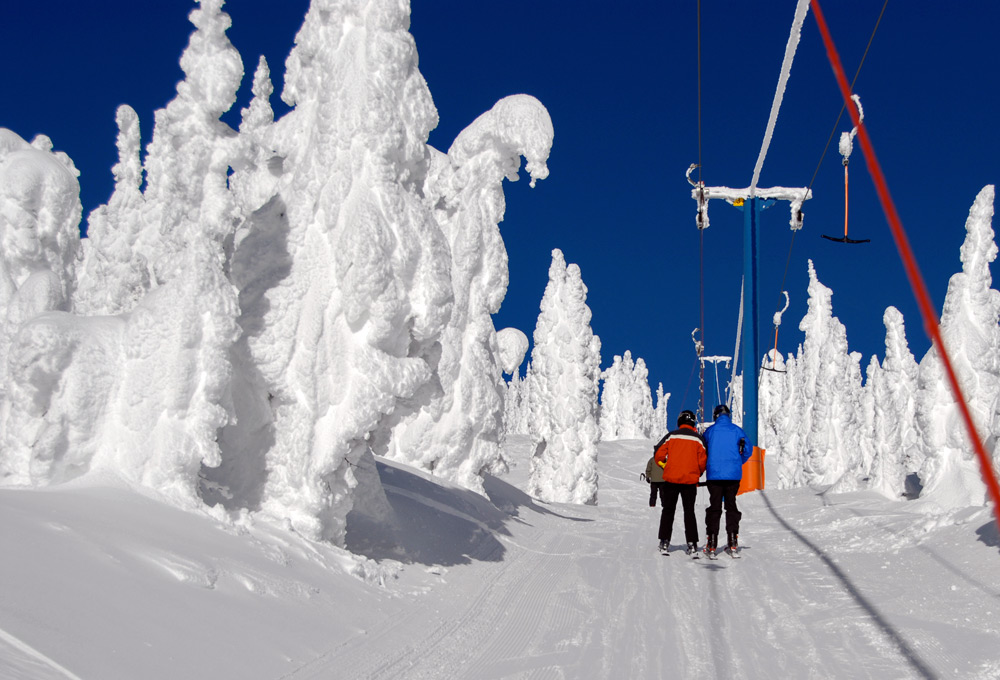 ---
Ski lift picture: FreeImages.com - QR9iudjz0s / Top of page banner picture: FreeImages.com - gardnose / red jacket skier: picture: FreeImages.com - Ludwa Odtam / skier putting gloves on: picture: FreeImages.com - Kostas Penlidis