Iceland is a geologically new country, the mid-Atlantic ridge goes right through it. The Arctic Circle skims the northern coast, and the Gulf Steam gives a milder climate than might be expected. Iceland has clean air in abundance and a landscape actively shaped by fire and ice alongside a Nordic culture of mythology, literature and Vikings.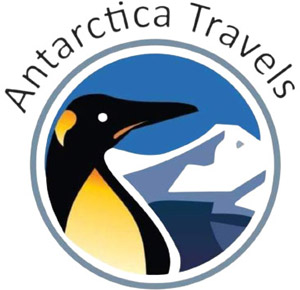 Iceland Travel Guide
Arctic Cruises with Cool Antarctica and Antarctica Travels.
2023: 20 cruise departures, June-Sept, 9-22 days
Information: Arctic travel basics | more travel details | request contact | clothing | boots
Regions: Canada | Greenland | Iceland | Svalbard and Spitsbergen | Antarctica
---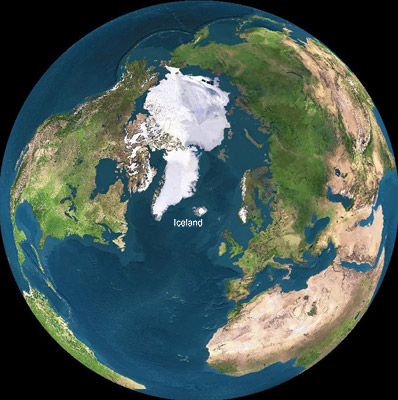 With a small population and isolated from other landmasses, Iceland is an adventurous place to visit.
---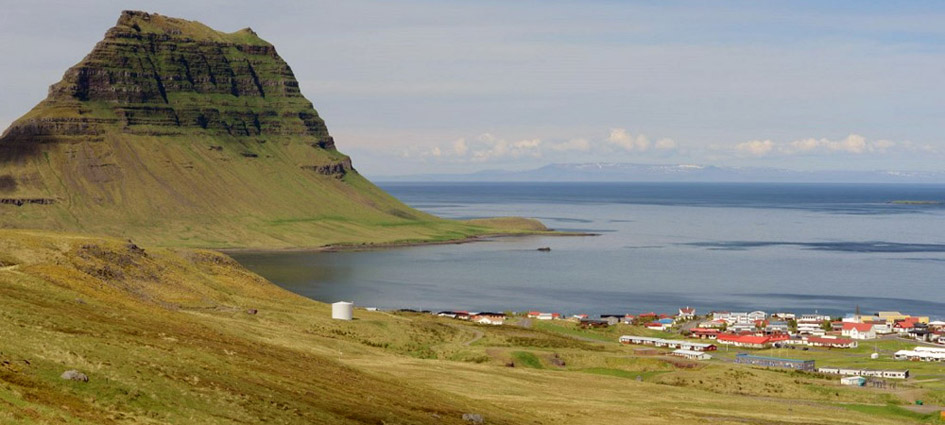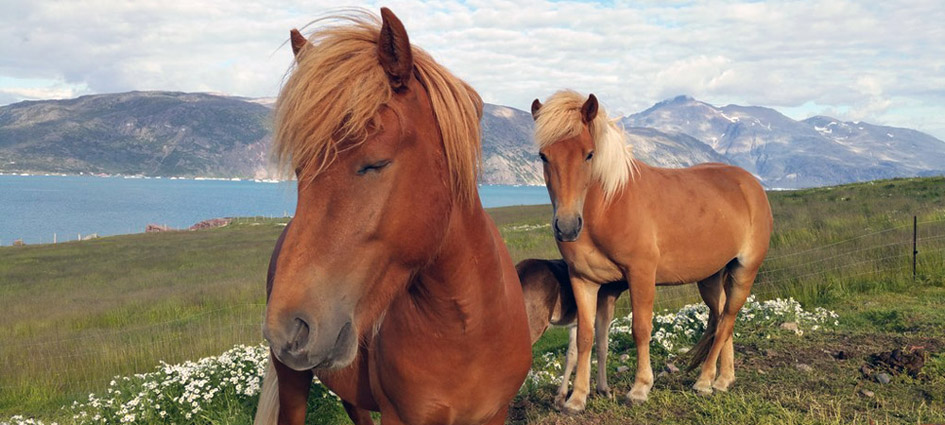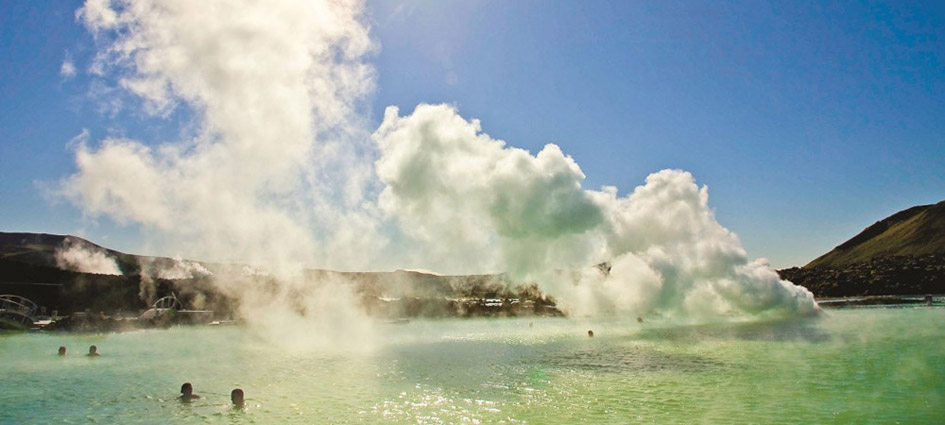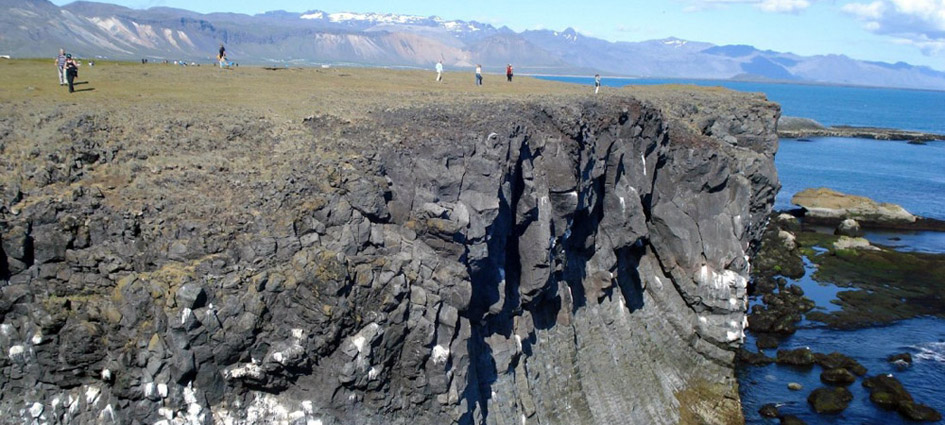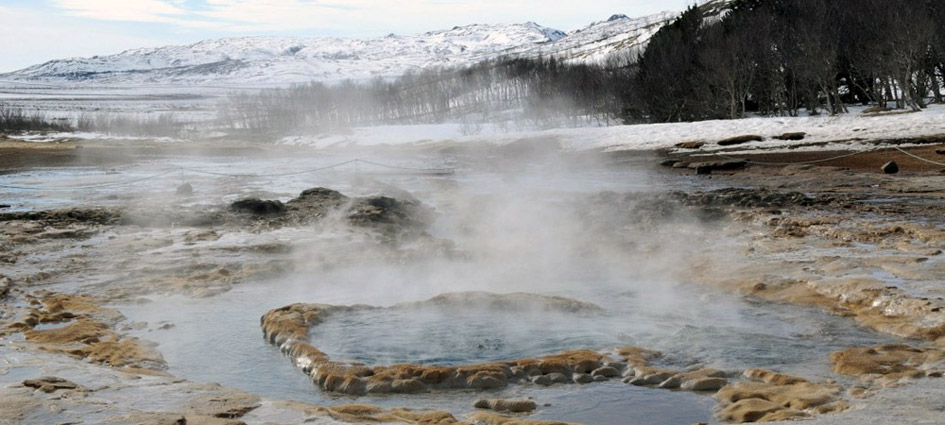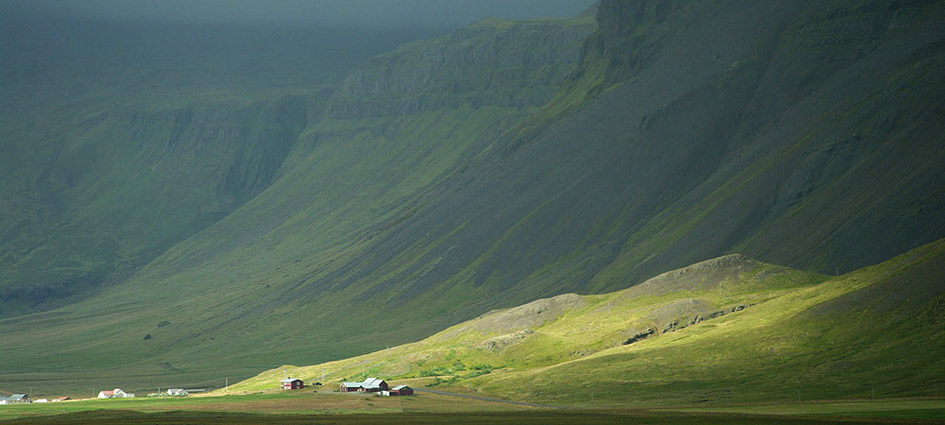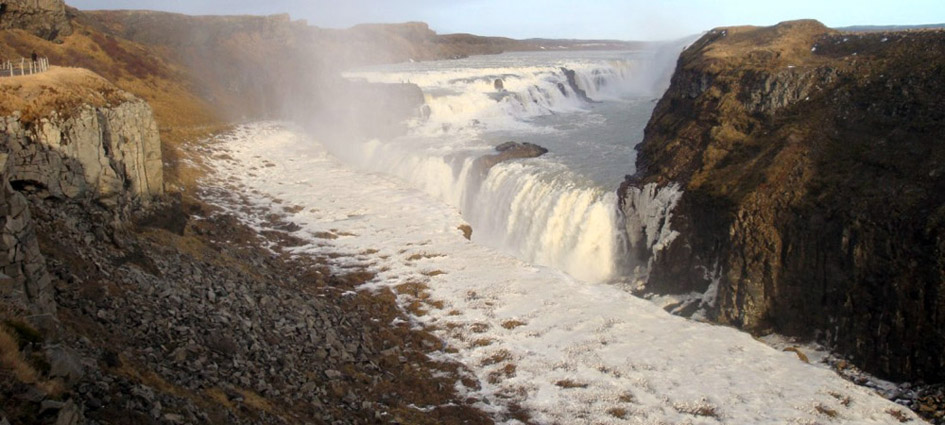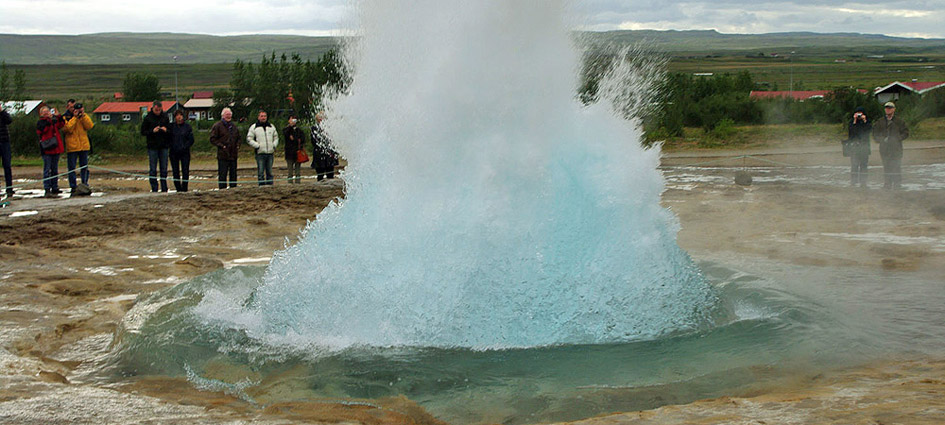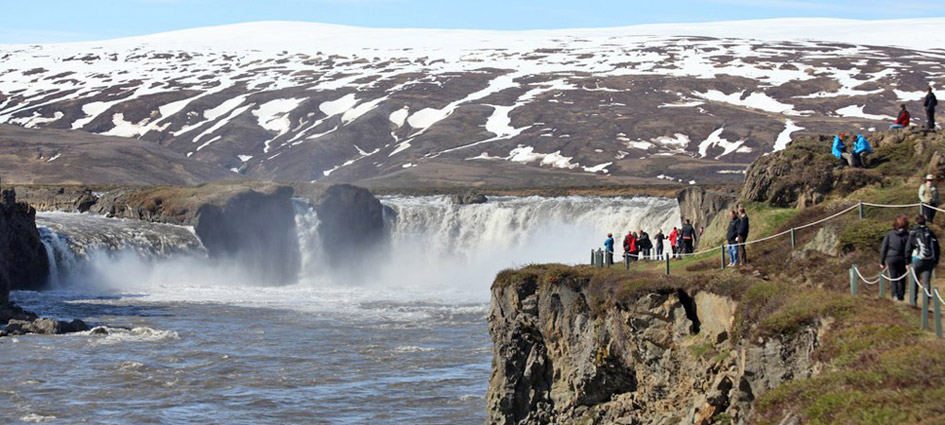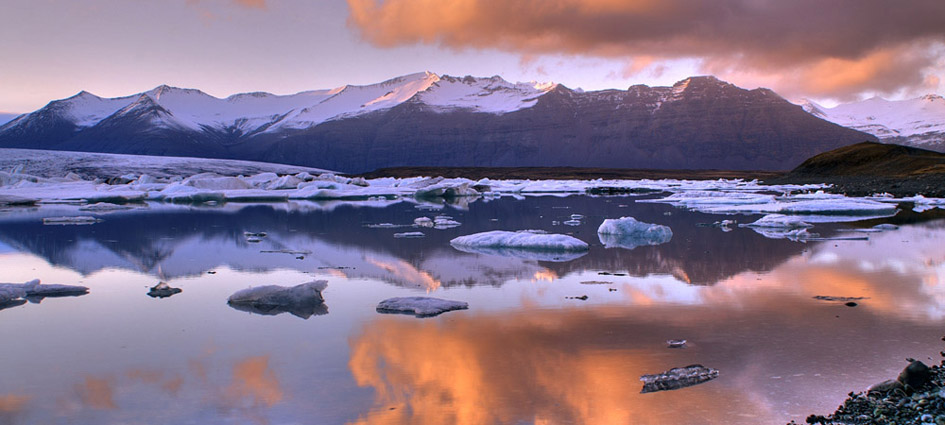 ---
The most sparsely populated country in Europe with about 372,000 people, Iceland has been settled since around 874 CE being populated from Norway and then later on from other Nordic countries. For centuries it existed on subsistence fishing and agriculture, it was one of the poorest countries in Europe up to the years following the Second World War. It has since found a post-war prosperity and is now one of the most developed and progressive countries. Tourism is a major economic activity with tourist numbers over a year being about 5 times the population.
Iceland sits on Mid Atlantic Ridge, the fault line stretching down the middle of the Atlantic Ocean where the North American and Eurasian tectonic plates are slowly moving apart.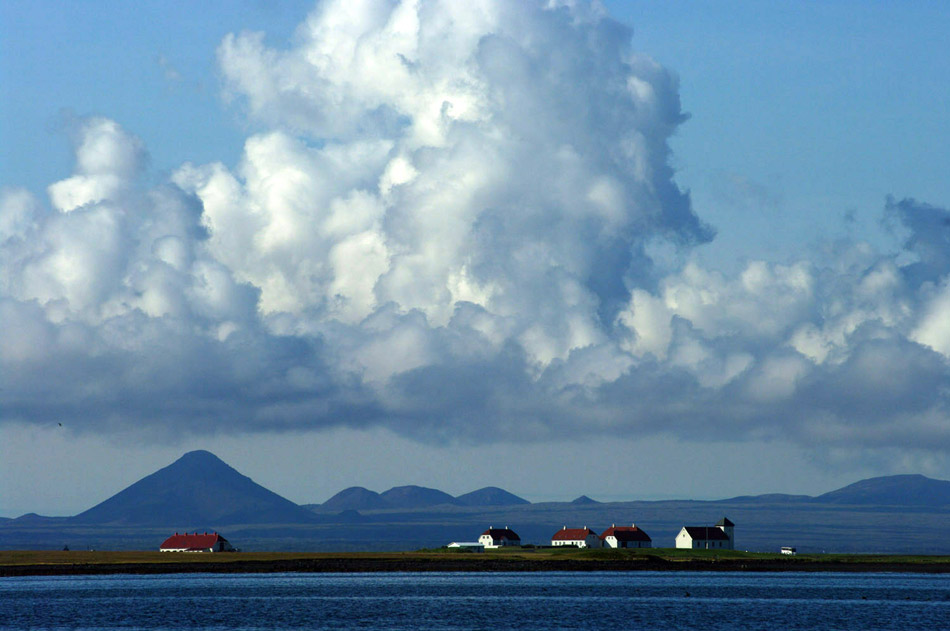 A view on the edge of Reykjavik
---
Places to visit in Iceland
Reykjavik
The capital city. You will almost certainly visit Reykjavik on a trip to Iceland, the main international airport at Keflavik is 30 miles (48 km) away. It is a city well worth visiting in its own right, very modern, forward thinking and European, blessed with many fine restaurants serving Icelandic cuisine and Icelandic takes on more familiar foods. It is small enough to reach many of the attractions within the city on foot. There are many places where you can book excursions for a single day or for longer trips of several days, whether bike tours, whale watching, wildlife adventures, horse riding, 4x4 trips and many that focus on visiting Iceland's enviable array of impressive natural scenery and sights. There are angling trips to fish for salmon, trout, char or sea fish, you can even dive or snorkel between two of the world's great tectonic plates with the North American plate to one side of you and the Eurasian plate to the other at Silfra in 100m+ visibility.
---
Thermal Swimming Pools
There is a lot of geothermal activity close to the surface over much of Iceland which is used either directly from hot springs or indirectly as a by-product from power generation to provide indoor and outdoor swimming pools that can be used year-round. The best known is the "Blue Lagoon" which being situated very close to Keflavik airport is often incorporated into a trip to Iceland on arrival or shortly before departure. The warm water is mineral rich and gives the opportunity to swim in a huge outdoor pool often steaming with its own warmth into the cold pure Icelandic air.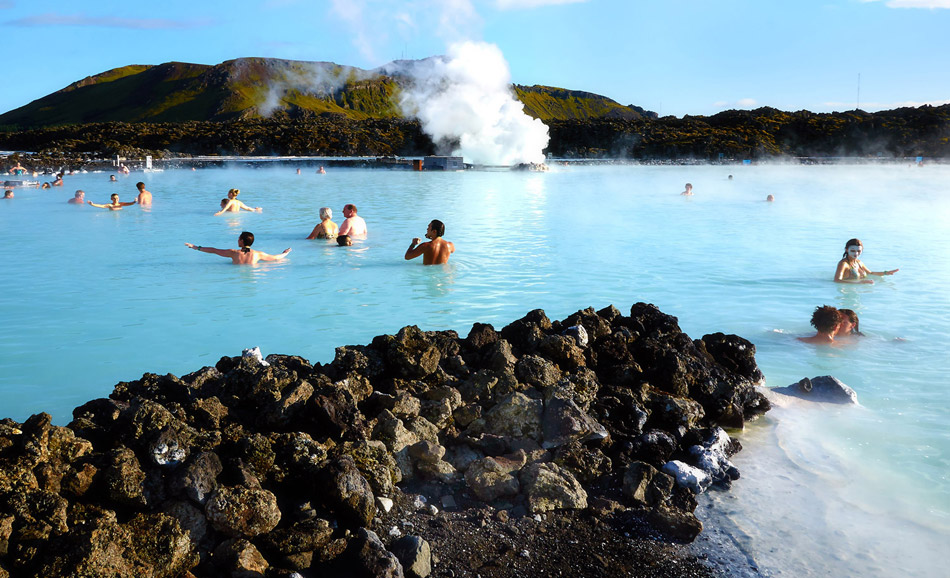 The Blue Lagoon near Keflavik airport
---
The Golden Circle
The name given to a circular tour from Reykjavik that lasts a day, typically made by coach and led by a guide. It takes in the huge double stepped waterfall of Gullfoss (Golden Falls), the Geysir geothermal area where you can see the original geyser ("geysir") that gave its name to all the others, this doesn't erupt quite so often these days though there are others around that go off on a regular basis such as Strokkor which throws a column of boiling water up to about 30m every ten minutes or so.
Thingvellir National Park is on the tour where you can walk between the North American and Eurasian tectonic plates at a place of great cultural and historical significance also as it is where the Althing, the National Parliament of Iceland was held from 930 CE, being actively used until 1798. The park was designated as a World Heritage Site in 2004.
Other attractions may be included in the tour depending on the time allowed and the operator who runs it.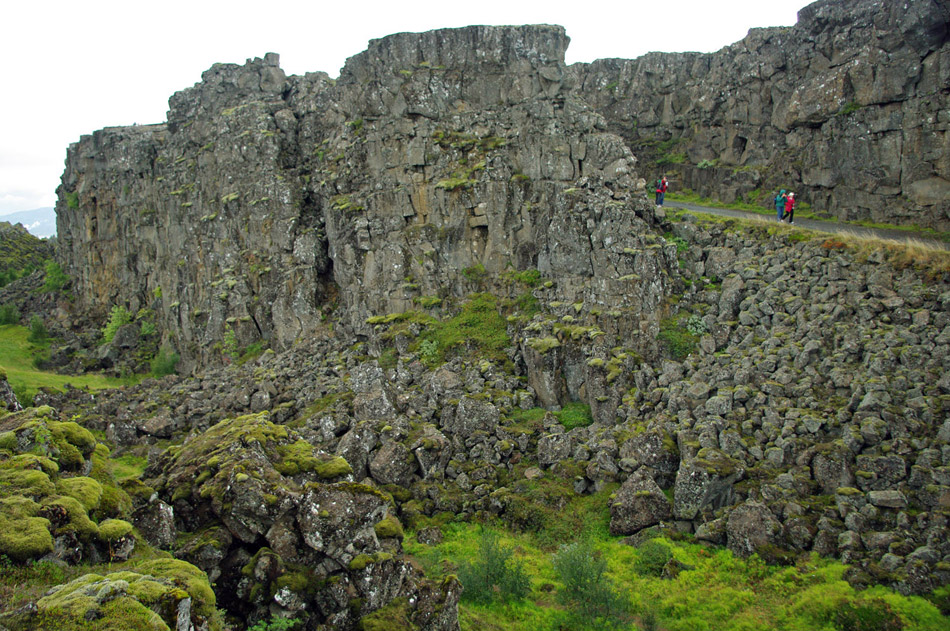 Thingvellir, the site of the old Icelandic parliament and where two continetal plates are slowly moving apart
---
Northern Lights
Iceland is an great place to see the Northern Lights or Aurora Borealis. As this is a natural phenomenon it cannot be predicted in time or intensity and so seeing the Aurora is a bit hit and miss. They are more likely to be seen at some times of year than at others. They are at a peak around the equinoxes, the 21st of March and the 21st of September. Outide of these periods, they are no more or less likely in the summer or winter months, though to see them clearly requires the sky to be dark, with over 21 hours of daylight in midsummer against just 4 and a half in midwinter, a winter aurora is far more likely to be visible than a summer one. September to April are reckoned to be the best times to see the Northern Lights.
---
Fire and Ice
Iceland is far enough north to have permanent glaciers and icecaps, they cover about 11% of the land area or 11,400 km2, the largest of these is the ice cap of Vatnajokull which alone comprises about 74% of the permanent ice area of the country, another twelve glaciers and ice caps make up the rest. There are glacier hiking tours and you can walk into ice caves as a part of an organized trip. The ice also of course provides for some very spectacular scenery and provides lakes and streams in the summer months that form from the melting ice.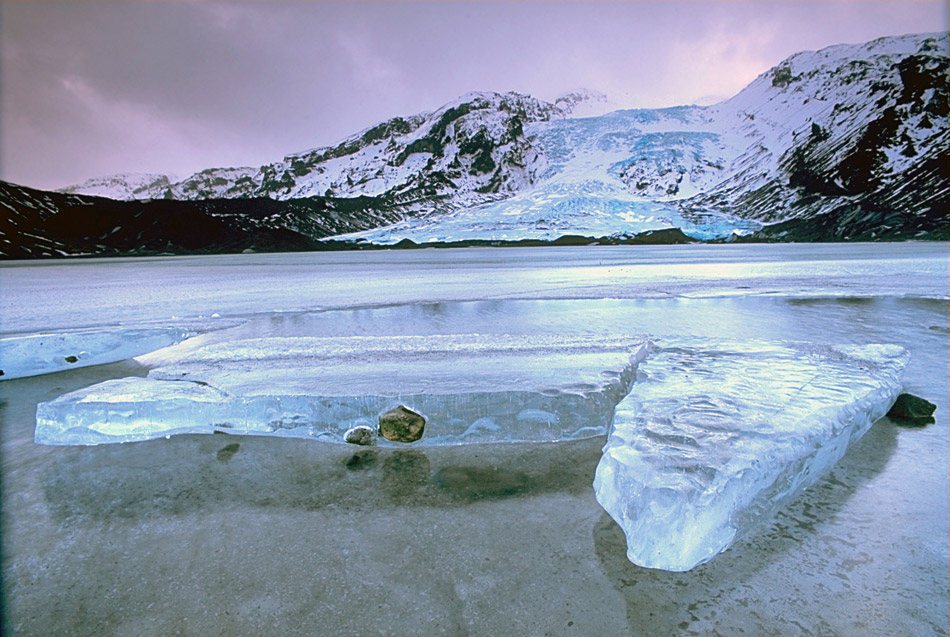 Eyjafjallajokull
Iceland is an island formed entirely from volcanic eruptions from a particularly large and active hot spot on the Mid-Atlantic ridge. About a third of all the magma that has erupted on the earth over the last 10,000 years came out onto Iceland. There are volcanic eruptions on average every four years. While actual eruptions are relatively rare and may take place in more difficult places to access when they occur, the effects of this volcanic activity can be seem almost anywhere in the country in the form of geysers, hot springs and the youthful (in geological terms) rock formations and flow patterns. Geothermal energy generates the majority of electricity used by the country.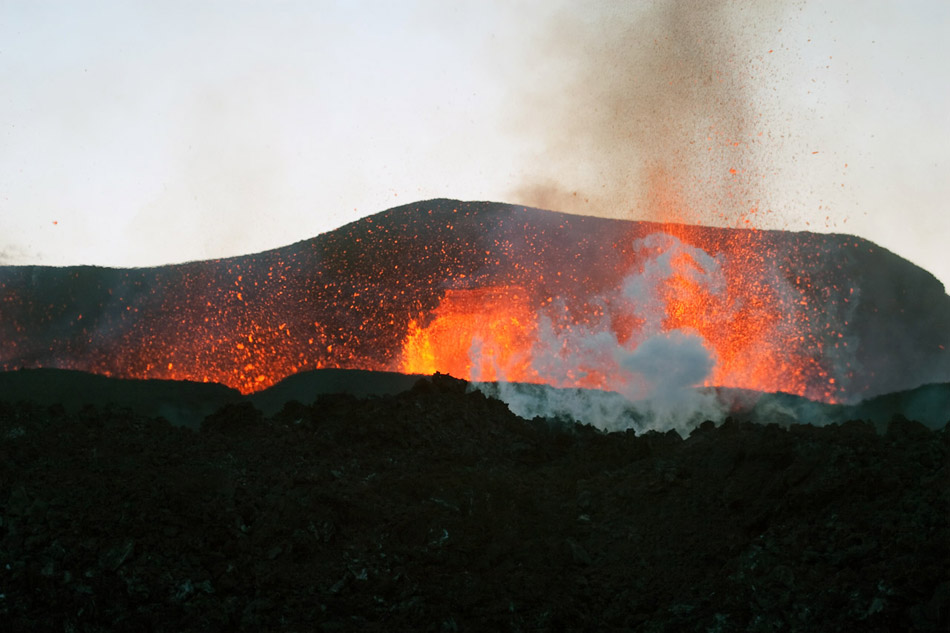 Fimmvorduhals, 26th March 2010
---
Iceland can be reached year round by flights from a number of airports in Europe, the USA and Canada. The flights take 3 hours from London, and 5 hours 30 mins from New York, flights from several European cities are direct and non-stop, from further afield in the world, connecting flights can be met at European airports. Iceland is a member of the Schengen Area, visas are not needed for the nationals of the EU/EEA/USA and many other countries to enter Iceland, total stay in the Schengen Area must not exceed three months in any period of six months. use this to check. There are no sea ferries, though many cruise ship itineraries include Greenland in part or as a whole of the trip, see below.
---
Sample cruises around or including Iceland:
Actual routes, landings and durations vary somewhat from season to season, trips can happen in either direction.
Iceland in Depth
9 days, Reykjavik to Reykjavik circumnavigation with excursions to sample Iceland's attractions.
2023 departures:
---
Northern Lights Explorer:
22 days, Kirkenes to Bergen, sail in a region known for the dazzling light show of the Aurora Borealis at a time of year when it is most likely to be seen. Norwegian coast, Jan Mayen, East Greenland, Iceland, Faroe Islands, ends in Bergen, Norway.
2023 departures:
---
In the wake of Celts and Vikings
13 days, Dublin to Reykjavik, Ireland, Scotland, Hebrides, Orkney, Shetland, Faroe, Iceland. Rugged landscapes, picturesque villages, evidence of Norse and prehistoric settlements, culture and friendly hospitality of remote islands. Highlands and islands, unrivalled natural beauty, nesting and migratory birds and Iceland, the land of ice and fire.
2023 departures:
contact our travel partners who will help you find the best cruise for your requirements
Last Minute Offers - Summer 2023 - Arctic Cruises
Iceland
Northern Lights
From $8,501
was $13,495
Early September
14 days / 13 nights
Northwest Passage
From $10,527
was $17,995
30th July to 15th Aug
17 days / 16 nights
Svalbard
Explored
From $6,634
was $12,367
6th to 13th June
8 days / 7 nights
Svalbard and Norway
From $5,649
was $10,649
6th to 19th August
14 days / 13 nights
Svalbard / Spitsbergen - Sample Arctic Cruises - 2023

Trip
Departures 2023
Highlights
Ships and Passenger Capacity
Prices USD*
Days
Departure port
Introduction to Spitsbergen
Historic sites, sea-ice, glaciers, wild flowers, lush tundra, walrus, polar bears, reindeer, huge sea bird colonies
$7,990 -
$12,351
10
North Spitsbergen
$4,000 -
$6.050
8
Spitsbergen Explorer
$8,991 - $16,111
12

Greenland - Sample Arctic Cruises - 2023

Greenland, Disko Bay
Spectacular scenery of west Greenland, Inuit culture, historic sites. Fjords, mountains and ice, seabirds, look out for humpback and minke whales.
$4,590 -
$6,590
8
In the Wake of Eric the Red - Iceland to Greenland
The course of Norse settlers, Disko Bay, glaciers, icebergs, Inuit culture, Ilulissat Icefjord UNESCO site, Nuuk.
$5,790 - $9,490
11

Canada - Sample Arctic Cruises - 2023

Northwest Passage, Canada and Greenland
Historic Canadian and Greenlandic sites, abundant wildlife, rich Inuit culture and dramatic icy landscapes. Polar bears, whales and walrus, tundra hikes.
$14,279 -
$21,095
16 or 17
Complete Northwest Passage, Greenland, Canada and Alaska
West Greenland, Baffin Island, NW passage to Alaska. Ilulissat Icefjord, stunning geology and fjords, Beechey Island, Franklin's expedition, musk ox, polar bears, beluga , walrus and narwhal.
$35,195 - $39,395
29
Trip
Departure Dates
Highlights
Pax
Prices USD*
Days
Departure port

Iceland - Sample Arctic Cruises - 2023

Iceland in Depth
Snaefellsnes Peninsula National Park bird cliff, geologically active region, cross the Arctic Circle, Heimaey.
$6,176 - $7,308
9
In the wake of Celts and Vikings.
Ireland to Iceland via Scotland, Shetland and Faroe. Giant's Causeway, Skara Brae, watch for spouting and breaching whales.
$8, 101 - $9,678
13
Jewels of the Arctic.
Iceland, Greenland and Spitsbergen.
Wildlife, musk ox, arctic hare and whales, Scoresby Sund the world's largest national park and fjord system, Glaciers, mountains and polar bears.
$10,816 -
$17,495
14 or 15
Notes
*
Prices
are based per person, the lowest price is usually for triple occupancy in a basic cabin, the highest for double occupancy in the best available suite.
Options
may be at additional cost and are usually booked when the cruise is booked - it may be too late once the cruise has started.
---
Contact me about my trip to the Arctic!
Please complete the form
and an Arctic Travel Expert will contact you
Departures from late May to September
Our partner company, Antarctica Travels, passionately help people to reach their ultimate destination.
All enquiries will be answered from our office in Patagonia, Argentina.
Dozens of trips
Unique combinations of ship + itinerary
Variety of ships - 108 to 199 passenger capacity
$4,000 to $72,495
7 to 29 days
Please note - we cannot help directly to find employment, please do not use this form to request any other information than for tourist trips
---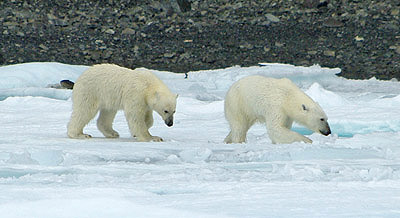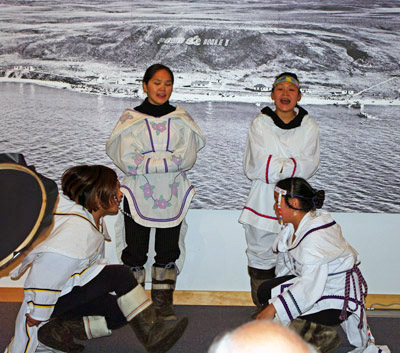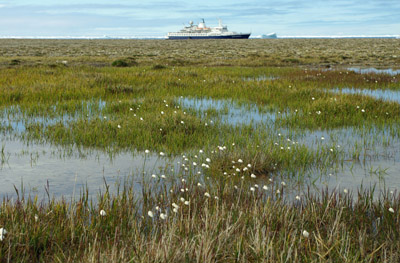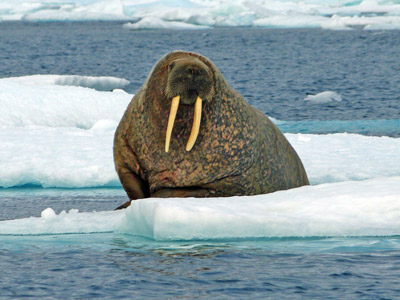 ---
Picture credits:
Blue Lagoon, by Moyan Brenn from Anzio Italy - used under CC2 Attribution Generic license | Aurora borealis 1, by Francisco Diez from Toronto Canada - used under CC2 Attribution Generic license | Aurora borealis 1, by Omar Smith - used under CC2 Attribution Generic license | Volcanic eruption, by Olikristinn, used under CC3 Attribution Unported license | Ice and lake, by Andreas Tille - used under GNU 1.2 license