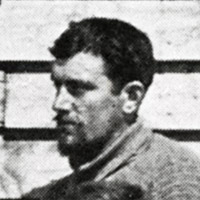 Browning, Frank Vernon - Petty Officer
(1882 - 1930) - Biographical notes
Petty Officer, 2nd Class, R.N. - Terra Nova 1910-13
---
Frank Browning
June 1882 - 1930
Born in Stockland, Devon, England and joined the Royal Navy as a Boy 2nd Class in June 1900 at age 18, made Petty Officer 2nd Class in November 1905, he was recruited to the Terra Nova Expedition from the Talbot, one of Lieutenant E. R. G. R. Evans (2nd in command on the expedition) old ships.
He was part of the Northern Party under Campbell, they spent one planned winter away from the main expedition base in s hut at at Cape Adare and another unplanned in an ice cave when the party could not be picked up due to heavy sea ice. Browning and Abbott constructed an entrance hatch to the cave from ski-sticks and ice blocks after the original snow construction kept collapsing bringing with it the threat of asphyxiation. He also came up with a "blubber lamp" along with Dickason to light the otherwise pitch black living quarters which was fuelled by fat from the few penguins and seals they managed to capture through the winter.
---
---
On return from Antarctica in September 1913 Browning was promoted to Petty Officer 1st class and continued his career with the Royal Navy. He saw action in the First World War in the battle of the Falklands in December 1914 on board the Carnarvon, he was promoted to Chief Petty Officer by the end of the war remaining enlisted until 1922. He lived in Torquay with his wife Marjorie and two children, Frank Ernest and Mary. He was presented the Antarctic medal at Buckingham Palace by King George V.
Died in 1930 and believed to have been of pneumonia in Henley-on-Thames where he was working as a chauffeur.
---
References to Frank Browning by Cherry-Garrard in "The Worst Journey in the World"
The cave is lighted up with three or four small blubber lamps, which give a soft yellow light. At one end lie Campbell, Dickason and myself in our sleeping-bags, resting after the day's work, and, opposite to us, on a raised dais formed by a portion of the floor not yet levelled, Levick, Browning and Abbott sit discussing their seal hoosh, while the primus hums cheerily under the cooker containing the coloured water which served with us instead of cocoa.
Priestley's diary

In such spirit and under very similar conditions this dauntless party set about passing through one of the most horrible winters which God has invented. They were very hungry, for the wind which kept the sea open also made the shore almost impossible for seals. There were red-letter days, however, such as when Browning found and killed a seal, and in its stomach, "not too far digested to be still eatable," were thirty-six fish.

Browning, however, who had had enteric fever in the past, had dysentery almost continually right through the winter. Had he not been the plucky, cheerful man he is, he would have died.

Dickason was half crippled with dysentery when they started, but improved. Browning, however, was still very ill, but now they were able to eat a ration of four biscuits a day and a small amount of pemmican and cocoa which gave him a better chance than the continual meat. As they neared Granite Harbour, a month after starting, his condition was so serious that they discussed leaving him there with Levick until they could get medicine and suitable food from Cape Evans.

But their troubles were nearly over, for on reaching Cape Roberts they suddenly sighted the depot left by Taylor in the previous year. They searched round, like dogs, scratching in the drifts, and found - a whole case of biscuits: and there were butter and raisins and lard. Day and night merged into one long lingering feast, and when they started on again their mouths were sore with eating biscuits. More, there is little doubt that the change of diet saved Browning's life. As they moved down the coast they found another depot, and yet another.
---
Landmarks named after Frank Browning



Feature Name: Mount Browning
Type:
Mountain

Latitude:
74° 37' 00.0" S
Longitude:
164° 03' 00.0" E
Description:
A mountain, about 762m high, at the northern end of the mountain mass dominated by Mt Abbott, at the western side of Terra Nova Bay, in Victoria Land. Probably first discovered by the NAE, 1901-04. Named by the Northern Party, led by Campbell, of the BAE, 1910-13. Named for Petty Officer Frank V Browning, RN, a member of the Northern Party.
Feature Name:

Browning Pass
Type:
Pass

Latitude:
74° 36' 00.0" S
Longitude:
163° 59' 00.0" E
Description:
Thought by Captain Scott's Northern Party of the BAE, 1910-13, to be part of the Campbell Glacier. There is however a divide to the east of the mouth of the Boomerang Glacier where the flow to the east of the divide enters the Campbell Glacier. Named by the Southern Party, NZGSAE, 1963-64, for Petty Officer Frank V Browning, RN, a member of the 1910-13 expedition's Northern Party.
Other Crew of the Terra Nova Expedition
Abbot, George Percy - 12N - Petty Officer, R.N.
Atkinson, Edward L. - 12DPS - R.N. - surgeon, parasitologist
Balson, Albert - 1 2 - Leading seaman, R.N.
Bowers, Henry Robertson - 12DCPo - Lieutenant
Browning, Frank Vernon - 12N - Petty Officer
Campbell, Victor - 12N - Lieutenant, R.N.
Cheetham, Alfred B. - Boatswain (Bosun), R.N.R.
Cherry-Garrard, Apsley - 12DCS - Assistant zoologist
Crean, Tom - 12DPS - petty officer, R.N.
Debenham, Frank - 12iWiiW - Geologist
Dickason, Harry - 12N - Able Seaman
Evans, Edgar - 1iWPo - petty officer, R.N.
Evans, Edward R.G.R. - 1DP - Lieutenant, R.N. "Teddy Evans" - second in command, and Captain of the Terra Nova
Girev (Geroff), Dmitriy - 12DPS - Dog driver
Gran, Tryggve - 12DiiWS - ski expert
Lashly, William - 12PS - chief stoker, R.N.
Levick, G. Murray - 12N - Surgeon, R.N.
McLeod, Thomas F. - 12 - Able seaman
Meares, Cecil H. - 1DP - in charge of dogs
Oates, Lawrence - 1DPo - Capt. 6th Iniskilling Dragoons
Ponting, Herbert G. - 1 - Camera artist
Priestley, Raymond E. - 12N - Geologist
Omelchenko, Anton - 1 - Groom
Scott, Robert Falcon - 1DPo - Commander, R.N. - Expedition leader
Simpson, George - 1 - Meteorologist
Taylor, T. Griffith - 1iWiiW - Geologist
Wilson, Edward Adrian - 1DCPo - chief of scientific staff and biologist
Wright, Charles Seymour - 12iWPS - Physicist
Key:
1 - first winter
2 - second winter
iW - first western party
iiW - second western party
N - northern party
D - depot laying for south pole journey
P - south pole party
C - winter journey to Cape Crozier
S - search party for south Pole party
Po - reached South Pole
Biographical information

- I am concentrating on the Polar experiences of the men involved. Any further information or pictures visitors may have is gratefully received. Please email - Paul Ward, webmaster.

What are the chances that my ancestor was an unsung part of the Heroic Age of Antarctic Exploration?