The Ross Sea & Historic Huts
Antarctic Cruise and Adventure Travel With Cool Antarctica and Ice Tracks
Ross Sea, Historic Huts, Ross Ice Shelf, McMurdo Station, Sub-Antarctic Islands
30 Days | Departure: 10/01/22, 08/02/22, 10/02/22 | From $23,000
Information: Antarctic travel basics | more travel details | fly to Antarctica | FAQ's | Request Contact | clothing | boots
Regions: Antarctic Peninsula | South Georgia | South Shetland Islands | Falkland Islands
---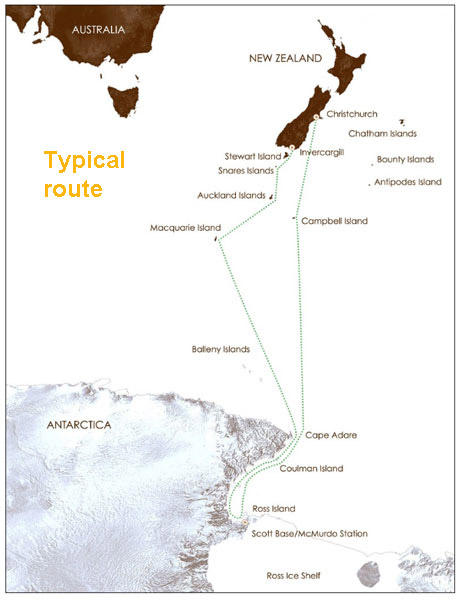 Trip Highlights: Ross Ice Shelf and Cape Adare, Emperor Penguins, Shackleton and Scott's Hut, Macquarie Island and Campbell Island.
Rates: $23,000 - $32,000
Introduction
The ultimate Antarctic voyage, this expedition includes the Sub-Antarctic Islands of New Zealand, as well as Macquarie Island, McMurdo Sound, and the Ross Ice Shelf. You will spend 10 days in the Ross Sea, with plenty of time ashore to soak up the scenery, wildlife-including the famed Emperor Penguin - and the history. Explore the seldom visited Possession Islands and Ross Island, and examine the eerily preserved artifacts of Scott's Discovery hut. Please note, the January departures will likely encounter quite a bit more ice, giving greater opportunity for spotting Emperor Penguins; whereas less sea ice in February will allow greater chance of visiting the historical huts.
Itinerary
Day 1: Invercargill
Travel to the city of Invercargill, New Zealand's most hospitable cities. On arrival, please transfer to the Kelvin Hotel (dinner, bed, and breakfast are included). During dinner at the hotel tonight, you will meet other expedition members.
Day 2: Port of Bluff / Embark
Enjoy a visit to the museum to view the Sub Antarctic display before transferring to the Port of Bluff, where you will board your ship. Settle into your cabin and join your Expedition Staff and the Captain for a welcome on board.
---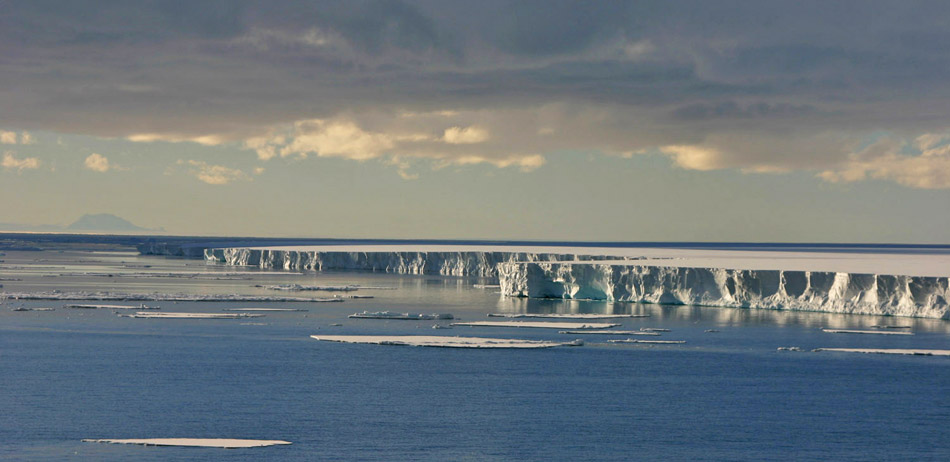 Drygalski Ice Tongue
---
Day 3: Snares - North East Island
The Snares is the first of the Sub Antarctic Islands that you will be visiting. It is an amazing island rich with seabirds around coast. You will arrive early morning; landings are not permitted so you will zodiac to the sheltered eastern side. The birds you'll be seeing while cruising the sheltered bays: Snares Crested Penguins, Tomtits, Fernbirds, Cape Pigeons, Antarctic Terns, White-fronted Terns and Red-billed Gulls. There is an estimated 6 million Sooty Shearwaters nesting on the Snares Islands. Bullers Albatross breed here from early January onwards.
Days 4-5: Auckland Islands
The Auckland Islands is one of the largest Sub Antarctic Islands. During your stay, you will visit Carnley Harbour and spend a day ashore on beautiful Enderby Island. Forested by gnarled and windswept rata, it has a low plateau of scrubland and cushion bog, and is home to the rare Hookers sea lion. In the forest behind the beach you find Bellbirds, Red-crowned parakeets and the friendly Tomtits. Beyond the Rata forest you will find Royal albatross nesting and the endemic Auckland Island dotterel. There is a good chance that you will see the endemic Flightless Teal at Derrycastle Reef. In Carnley Harbor if conditions are suitable, you have the opportunity to climb up to the SW Cape Shy Mollymawk or Albatross Colony, which provide spectacular views for great photo opportunities. For those who don't climb, there will be a zodiac excursion to explore parts of this magnificent harbor.
Day 6: At Sea
At sea you will have a series of lectures of the biology and history of the Sub Antarctic Islands and the Southern Ocean. The closer you get to Macquarie Island, the more abundant the birds will become. You will be at sea all day, another opportunity to see pelagic species, including Wandering Albatross Species, Royal Albatross, Shy and White-capped Albatross, and Light-mantled Sooty Albatross, among others.
Days 7-8: Macquarie Island
Macquarie Island, Australia's prized Sub Antarctic possession, is a small but impressive sliver of land supporting one of the highest concentrations of wildlife in the southern hemisphere. Millions of penguins of four different species (King, Rockhopper, Gentoo and the endemic Royal) breed here. Spend about two days observing the best wildlife areas on the island and visit the Australian scientific base. The King penguin rookery at Lusitania Bay is spectacular. Porpoises surround the zodiacs as a quarter of a million King penguins stand at attention on shore. Large groups of Elephant seals slumber on the sandy beaches and in the tussock grass further inland. Other wildlife includes Fur seals, four species of nesting albatross - Wandering, Black browed, Grey headed and Light mantled sooty, among other birds. Macquarie Island is certainly the richest wildlife area on your voyage -- a superb experience!
---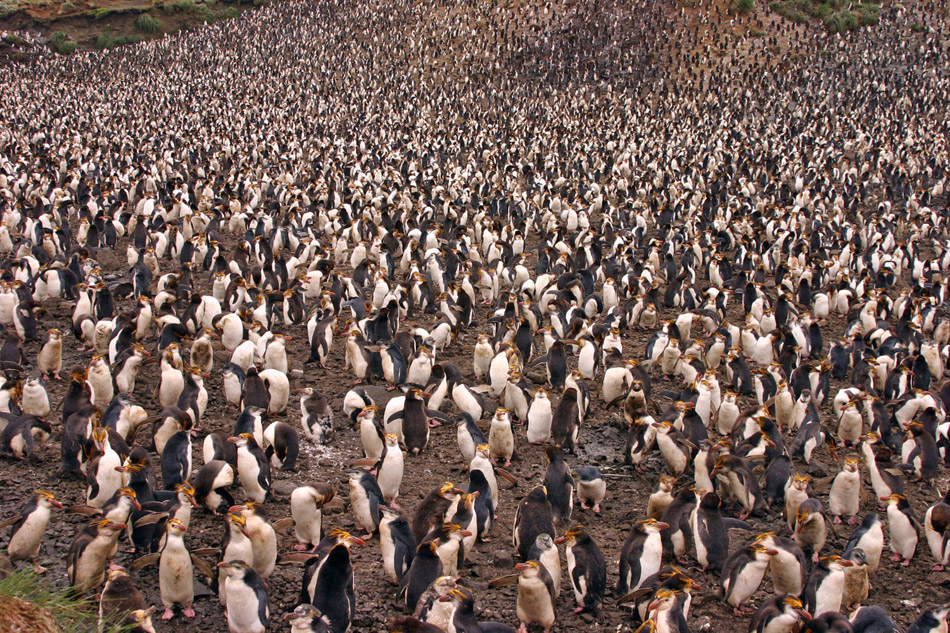 Royal penguin colony at Macquarie Island
---
Days 9-12: At Sea
Soaring Albatrosses and Petrels circle the vessel as you move through the Southern Ocean. Your lecture program will continue. Drifting icebergs are sighted, which are unique examples of natural sculpture. The captain will maneuver the ship close in for your first ice photography. There will be special celebrations as you pass the Antarctic Circle and into Antarctica's realm of 24-hour daylight!
Day 13 -22 - Antarctica's Ross Sea Region:
Due to the unpredictable nature of ice and weather conditions, a day-by-day itinerary in the Ross Sea is not possible, but you take advantage of every opportunity to make landings. Your program emphasizes wildlife viewing, key scientific bases and historic sites, as well as the spectacular scenery.
---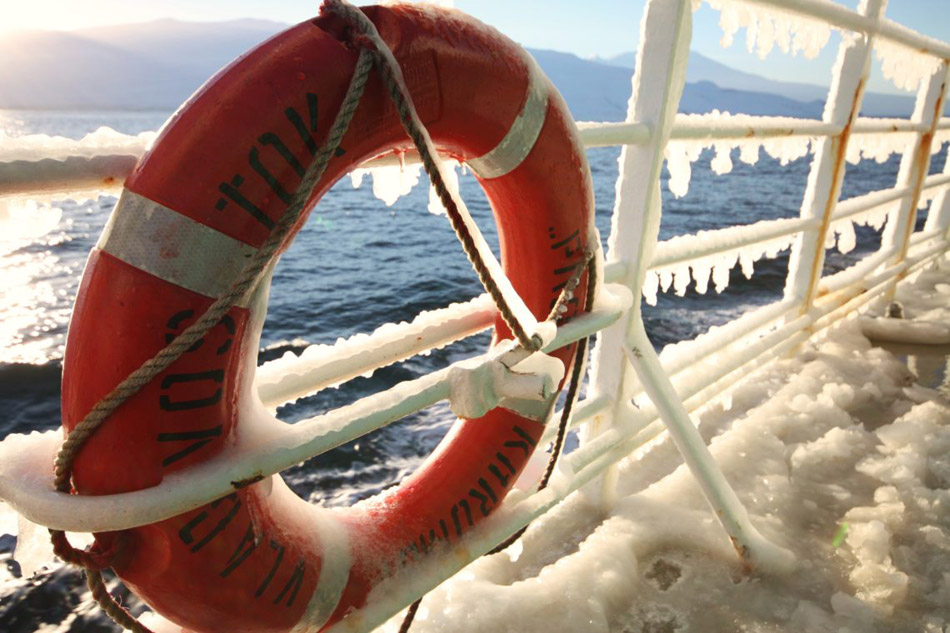 Iced up ship
---
You may visit the following areas, specific landings depend on ice and weather conditions:
Cape Adare
Views of the Admiralty Range herald your arrival (subject to local ice conditions) at Cape Adare, at the tip of the Ross Sea, the site of the largest Adelie penguin rookery in Antarctica. Blanketing the large flat spit that forms the cape is the huge rookery - an absolutely staggering sight. Surrounded by a sea of penguins, you will find Borchgrevink's Hut, built during the first expedition to winter over on the Antarctic continent in 1899. It is a fascinating relic of the "Heroic Age" of Antarctic exploration.

Cape Hallett
The enormous Admiralty Range heralds your arrival at Cape Hallett, near the head of the Ross Sea. The scenery here is wild and spectacular. Giant glaciers course their way down from the interior to discharge their icy load. Land at an abandoned base site, now home to large numbers of Adelie penguins and Weddell seals.

Terra Nova Bay
Surrounded by the spectacular Society Ranges is Baia Terr Nova, one of the most modern and attractive Italian summer research stations in Antarctica. The Italians conduct many streams of scientific research and also claim to have the best 'cafe espresso' in Antarctica!

Franklin Island
This rugged island is gouged by numerous glaciers and is home to a large Adelie penguin population.

Ross Island
Mount Erebus/Cape Bird/Shackleton's Hut/Scott's Hut(s) and visits to a scientific field station (Scott and McMurdo Stations are high on the wish list but ice, weather and station operational requirements often make them inaccessible). Ross Island was and is the "hub of activity" in the Ross Sea, dominated by Mt. Erebus, a monstrous active volcano named after the ancient Greek God of Darkness. The carefully preserved huts of the "Heroic Era" help make the history come alive. If you can reach the bases, get a modern perspective on Antarctic Research.

Ross Ice Shelf
This is the largest ice shelf in Antarctica, and the world's largest body of floating ice. This daunting spectacle prevented many early Antarctic explorers from venturing toward the South Pole. A natural ice barrier, it creates hazardous weather conditions. From Ross Island, you cruise eastward along the shelf front, with its 30-meter high ice cliffs continuing to the horizon. Imposing tabular icebergs sometimes calve from the ice shelf.

Possession Islands
These small, rugged islands lay offshore Cape Hallett and have only been rarely visited. An Adelie penguin rookery, numbering tens of thousands of birds, blankets Foyn Island. Here are further enjoyable opportunities to observe their busy activities, with the superb backdrop of the Admiralty Mountains across the water. Using zodiacs you can explore the unusual rock formations and caves around the coast.
---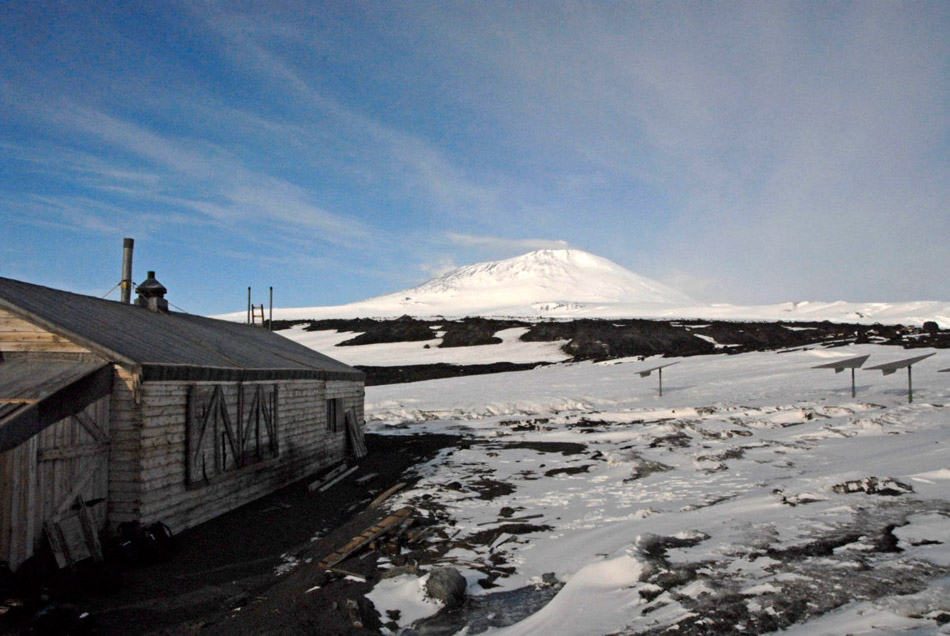 Mount Erebus Ross Island and Historic Hut
---
Day 23-26 - At Sea
Taking time to rest and enjoy shipboard life in the bar or library after the excitement and long daylight hours of the Antarctic, enjoy time for lectures on your final destination and for some pelagic bird spotting.
Day 27-28 - Campbell Island
You arrive at Campbell Island, a place of rugged scenery, unique flora and abundant wildlife. At Perseverance Harbour, an occasional refuge for Southern Right Whales who come here to calve, there is a now abandoned New Zealand meteorological station. The highlight of your visit is a walk to the hilltop breeding sites of Royal albatross. These magnificent birds have the largest wingspan in the world and are very approachable, making superb photographic subjects. The wildflowers, which have made a dramatic recovery since the removal of sheep, should also be in full flower.
Day 29 - At Sea
Relax and reflect on a remarkable journey, join your experts for a recap of highlights and enjoy a farewell dinner tonight.
Day 30: Invercargill - New Zealand
We disembark in the Port of Bluff and this adventure ends as we disperse to begin others. After fond farewells we transfer you to a central city point or to the airport.
---
Included:
Pre/Post cruise transfers.


One night hotel accommodation in a twin share room (incl. dinner/breakfast).


All on board ship accommodation, meals and all expedition shore excursions.
Not included:
All items of a personal nature.


Laundry, drinks and gratuities.


International/domestic flights, visas and travel insurance.
Antarctica Ross Sea Region - Sample Cruises - 2021 / 2022
Trip
Highlights
Prices USD*
Days
The Ross Sea and Helicopters, Antarctic Peninsula to the Ross Sea
East Antarctica, Ross Sea, Emperor Penguins, West Antarctica, Peninsula, Sub-Antarctic Islands.
$27,400 -
$39,500
33
The Ross Sea Region - Historic Huts
Auckland Islands, Macquarie and Campbell Islands, Explore the Ross Sea, Historic Huts, Ross Ice Shelf, McMurdo base.
$23,000 -
$32,000
30
Notes
*
Prices
are based per person, the lowest price is usually for triple occupancy in a basic cabin, the highest for double occupancy in the best available suite.
Options
may be at additional cost and are usually booked when the cruise is booked - it may be too late once the cruise has started.
---
Contact me about a trip to the Antarctic!
Our partner company, Ice Tracks
UK based and ATOL protected, will help you find the perfect trip to Antarctica, all enquiries will be answered from our office in Warwickshire, England.
Please complete the form
and an Antarctic Expert will contact you
Please note - we cannot help directly to find employment in Antarctica, please do not use this form to request any other information than for Antarctic tourist trips
Departures from late October to early March
Dozens of trips - unique combinations of ship + itinerary
Choice of ships - 108 to 139 passenger capacity
$8,050 to $40,000
10 to 33 days