The South Shetlands are usually visited as a part of a trip to the Antarctic Peninsula as they are directly on the sailing route from South America. The islands are frequently visited by tourist cruise ships and each has a different character.
South Shetland Islands
Antarctic Travel
Antarctic Cruises, Adventure Travel With Cool Antarctica and Antarctica Travels
---
Information: Request Contact | Antarctic travel | more details | fly to Antarctica | FAQ's | clothing | boots
Regions: Antarctic Peninsula | South Georgia | South Shetland Islands | Falkland Islands | Arctic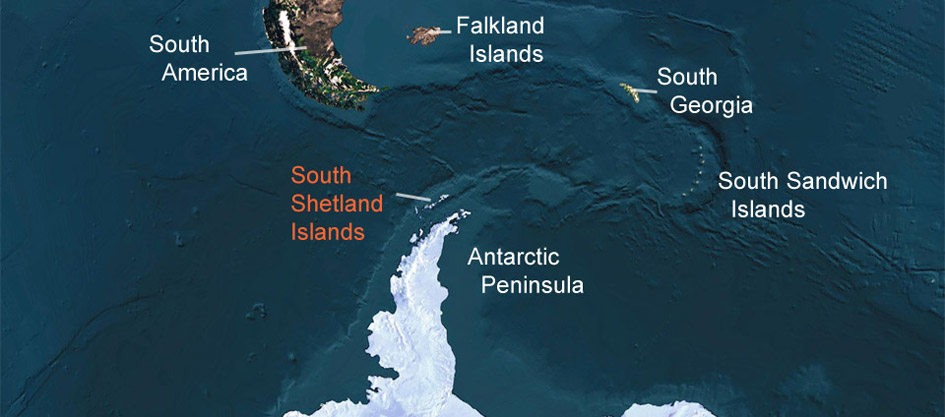 South Shetland Islands
not belonging to or administered by any one nation but currently covered by the Antarctic Treaty where all territorial claims are suspended.

Location - 960 km (600miles) south of Tierra del Fuego across the Drakes Passage, about 160 km (100miles) north of the Antarctic Peninsula across the Bransfield Strait.

Largest population center - King George Island, the unofficial "Capital of Antarctica" with research stations from 12 different nations.

Population - Approx. 600 in the summer, 190 in winter on 9 permanently manned bases and 4 summer only only bases, run by the national Antarctic programs of various countries. All are on King George Island other than 50 summer only on other islands.

Highest Point - Livingstone Island 2400m (7800ft)


---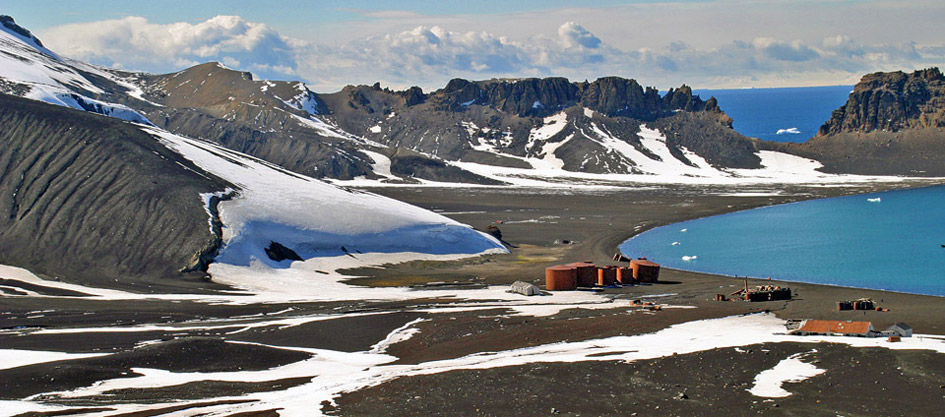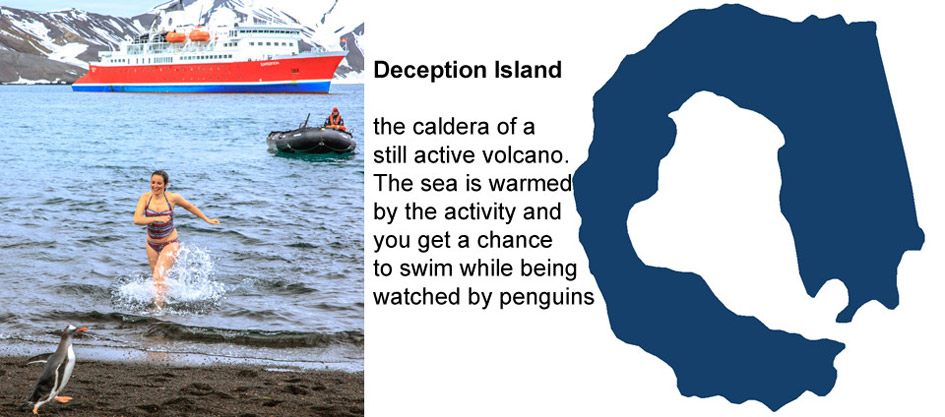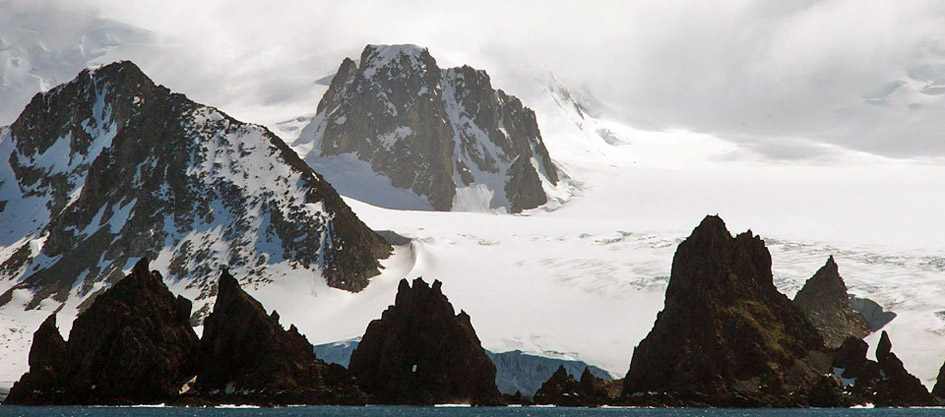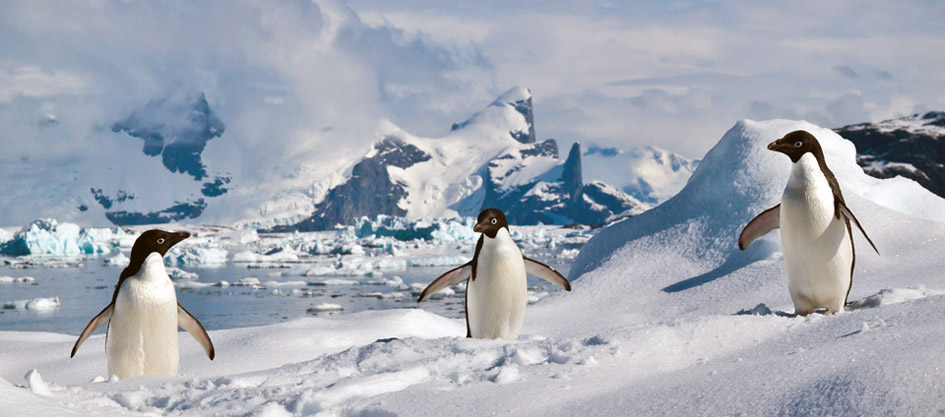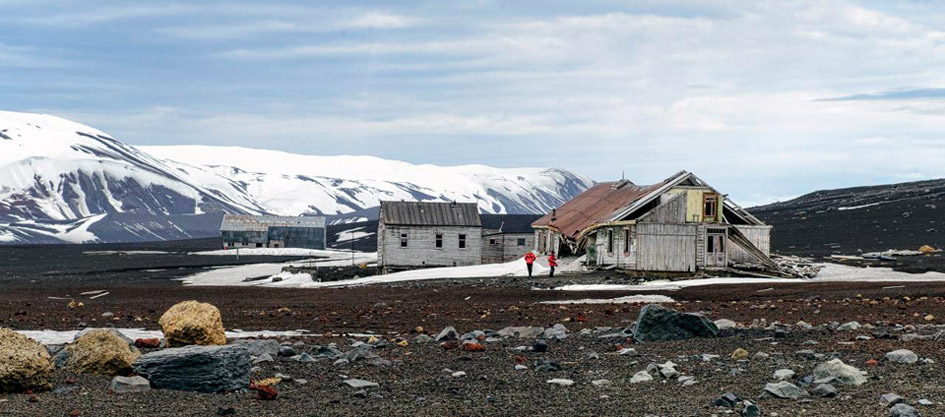 ---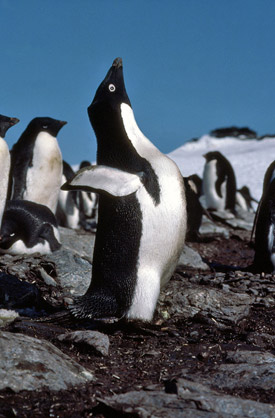 A string of islands running parallel to the north west coast of the Antarctic peninsula. The South Shetlands are almost completely ice covered. About 2-3 percent is ice free, usually along the coast, where all life is found whether penguins, seals, or the human inhabitants of the various bases. You can sail to the South Shetland Islands or fly over the Drakes Passage to meet your cruise ship there, there are options to fly both ways, sail both ways, or sail one way and fly the other.
The main islands are:
King George Island
The largest of the South Shetland Islands and the least isolated and least typical place in Antarctica. Why? because twelve different countries have a base here.
The island is about 1295 sq km, more than 90% of it being glaciated, so the bases are squeezed into quite a small area. Argentina, Brazil, Chile, China, Poland, Russia, South Korea, and Uruguay have year round bases, while Ecuador, Germany, Peru and the US have summer only bases.
If you are on a fly-cruise trip to Antarctica, it will be to the Chilean Presidente Frei station on King George Island that you will fly and where you will board your cruise ship.
The island is quite low and flat and the coast line is broken into many bays and fjords. There is a variety of wildlife found on the island including Antarctic terns, chinstrap and Adelie penguins, blue-eyed shags and southern giant petrels.
---
Elephant Island
A very familiar name to anyone even vaguely versed in Antarctic history as it is where 22 members of Shackleton's Trans-Antarctic expedition were stranded in 1915 after their ship the Endurance was crushed in Weddell Sea pack ice. They spent 135 days on the island while Shackleton and a small group of men set off on a rescue mission to South Georgia in the James Caird, one of the lifeboats from the by then sunken Endurance. This is widely regarded as one of, if not the most incredible small boat journeys ever.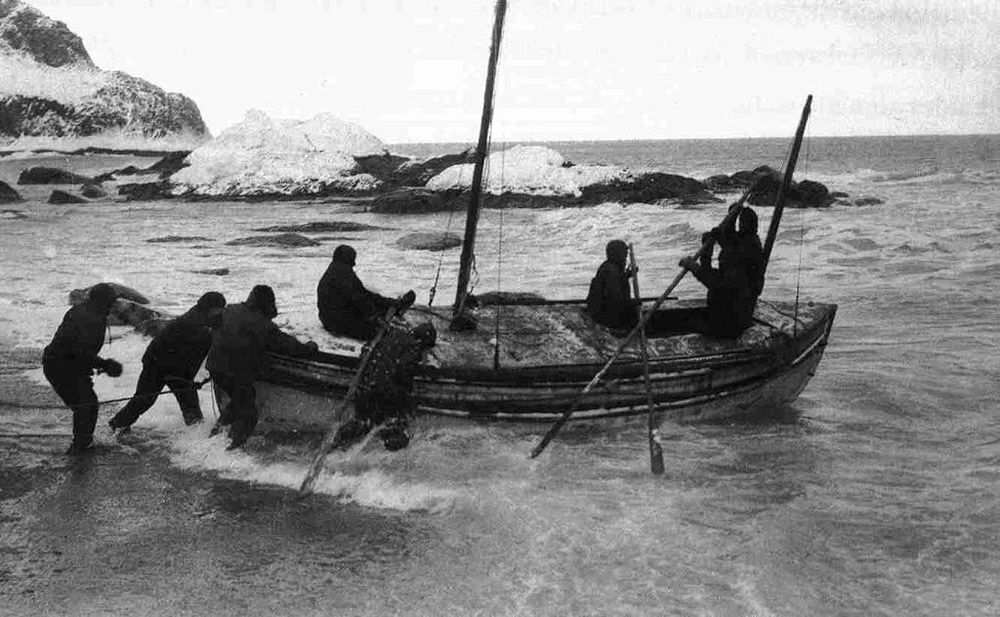 Elephant Island is 60km long and 40km wide, with penguin rookeries (chinstrap penguins) and some very old moss banks (over 2000 years old). On the south western side of the island at Stinker Point, is a place called Wreck Bay, where there is some wreckage from a ship. In 1998 these remains were recognized as being probable flotsam from Shackleton's Endurance. Landings on Elephant island are not common as it is often difficult to approach due to sea and weather conditions.

---
Deception Island
Another famous location in Antarctica is the collapsed (but still active) volcanic cone that is Deception Island. Protected by high cliffs and a narrow entrance (Neptune's Bellows) this 12km wide amphitheater is one of the safest natural harbours in the world. It was first used by sealers as a base for operations and then later by whalers.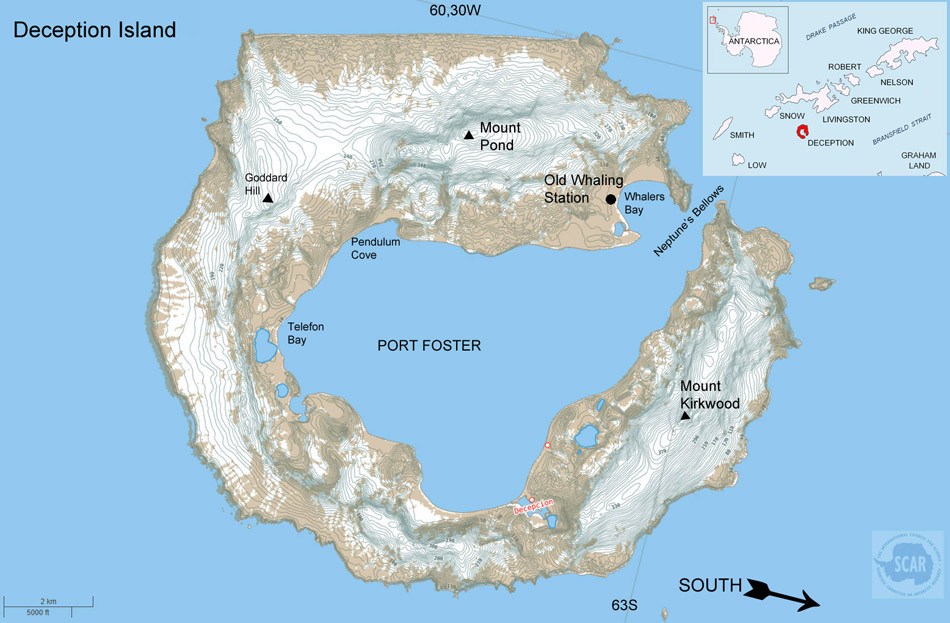 By the 1914-1915 season, thirteen whaling factories had been built here and many relics from this time can still be seen abandoned in various places. Deception Island is a very popular place to stop for tourist ships as you can go "swimming" in the waters of Pendulum Cove that are heated by ongoing volcanic activity about a mile below the waters inside the collapsed caldera. "Swimming" is a relative term as the reality consists of sitting in the shallows between the too-hot volcanically heated waters and the too-cold icy Antarctic ocean waters. If it starts to get cold, stir up some of the black volcanic sand to release some more heat, if it gets too warm, move towards the cooler open sea.
In the 1920-1921 season, the water here boiled and stripped the paint from the hulls of the whaling ships, an eruption in 1969 destroyed the British base which was then abandoned. Deception Island last erupted as recently as 1991-1992 with more activity reported in 1994.
The landscape is very strange, more of a moonscape consisting of dark volcanic sand and rocks, all the more strange for the penguins that are found here in such large numbers in such an unusual location.
There are two summer only bases here, Spain's Gabriel de Castilla and Argentina's Decepcion. Hundreds of thousands of penguins nest on Deception Island.
---
---
Livingston Island
The Byers Peninsula on western end of Livingston Island's is protected as a "SSSI" Site of Special Scientific Interest under the Antarctic Treaty because it contains the greatest concentration of 19th-century historical sites in Antarctica.
In the early years of the 19th century Livingston Island was a major centre for catching seals. Hannah Point, named after the British sealer "Hannah" (from Liverpool), wrecked in the South Shetlands on Christmas Day 1820 is one of the most popular stops in Antarctica. A fantastic place for viewing wildlife at close quarters, there are large chinstrap and gentoo penguin rookeries here (with occasional macaroni penguins), blue-eyed shags, skuas, Wilson's storm petrels, southern elephant and southern fur seals.
The island has the summer only Spanish station, Juan Carlos Primero, and the Bulgarian base, St Kliment Ohridskiy also summer only. Livingston Island has the highest point of the South Shetlands at 2400m (7800ft).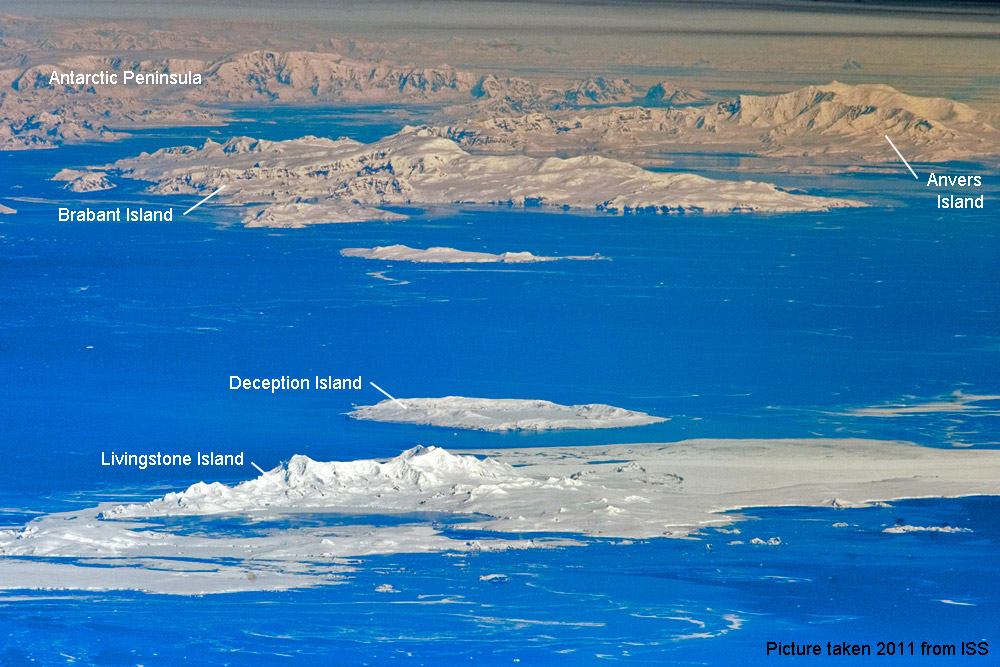 Islands of the South Shetlands group, looking towards the Antarctic Peninsula, picture taken in 2011 from the International Space Station.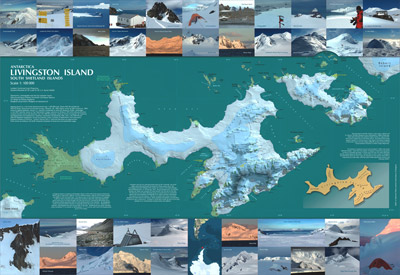 Annotated and illustrated map of Livingston and Greenwich Islands - Full file size - 5.06Mb
---
Penguin Island
One of many Penguin Islands in various places around Antarctica. This one was named by the explorer Bransfield in 1820. A small volcanic island that allows the visitor a (relatively) easy walk up to the highest point Deacon Peak, 170m (544ft) for some excellent views of the surrounding seas. A regularly visited site with chinstrap and Adelie penguins, southern giant petrels, Antarctic terns, skuas, kelp gulls and fur seals.
Volcanic in origin with probable fumarolic activity reported in 1820 though erroneously attributed to nearby Bridgeman Island. The last eruption thought to have been around 1905.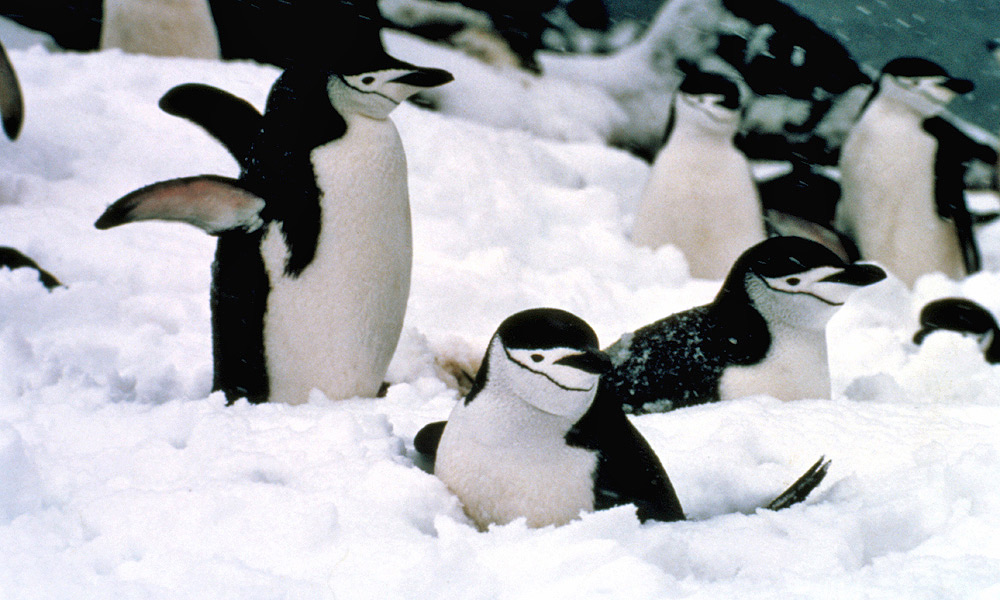 ---
Bridgeman Island
A rarely visited steep sided, nearly circular island volcanic in origin that rises to 240m. The visible peak is the remnant of a much larger volcano cone that lies under the sea.
---
Aitcho Islands
Pronounced as the letters "HO", they were named after the British Admiralty's Hydrographic Office. Gentoo and Chinstrap penguin colonies, extensive moss and lichen beds. First chartered by the Discovery Expeditions in 1935.
---
Greenwich Island
As early as 1820, Yankee Harbour on the southwest side of Greenwich Island was a valuable anchorage for sealers (who knew it as Hospital Cove). Today it remains a common anchorage point because of its protected position.
---
Half Moon Island
As its name suggests a crescent shaped island, very small at about 2 km long. The Argentinean naval base Tenientee Camaraais occupied in the summer months only.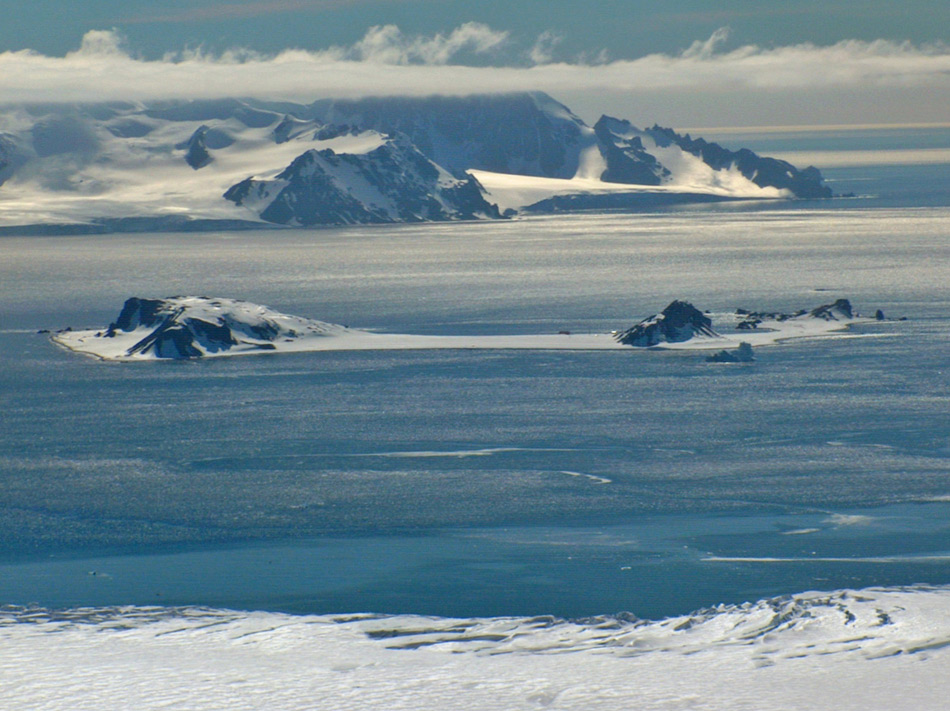 A possible landing place with a sizable rookery of chinstrap penguins as well as nesting Antarctic terns and kelp gulls. Whales may be seen off shore against a stunning back drop of surrounding mountains.
Right - Half Moon Island seen from Livingstone Island with Greenwich Island behind.
Below - A ships visit to Half Moon Island with the small summer base on shore.

---
Why Visit the South Shetland Islands?
One or more places on the South Shetlands will almost certainly be on the itinerary of every Antarctic Peninsula cruise due to the ease of access and variety of interesting places to visit. They are a fascinating place to go and give a great feeling of a variety of aspects of Antarctica.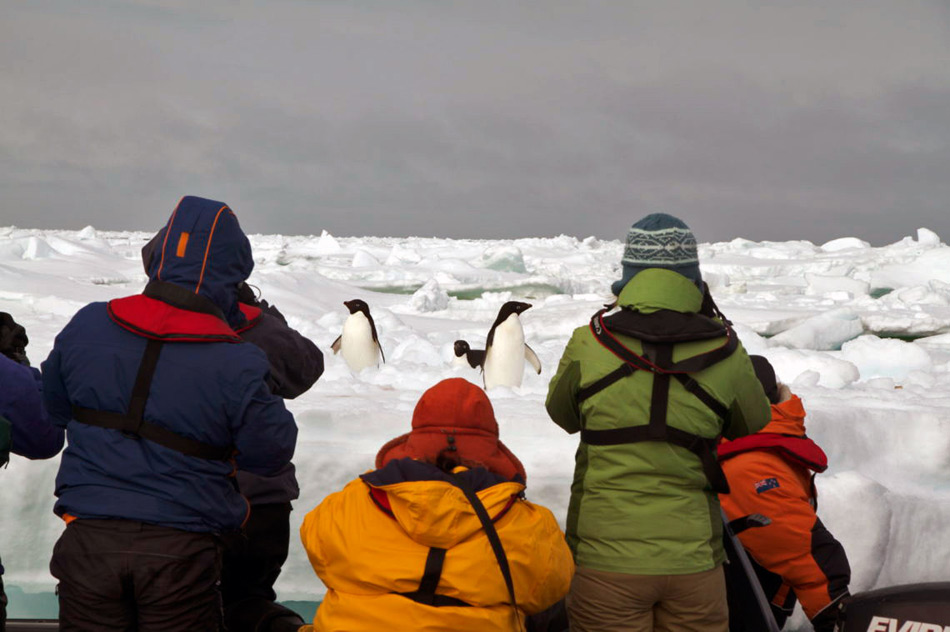 Make sure you take your swimming things if you visit Deception Island, you're bound to regret not having swum in the Antarctic Ocean if you don't. Deception Island is the most comfortable place to swim in Antarctica - far more preferable than jumping into any other bit of the Antarctic Ocean that pretty much hovers around freezing point all year round (been there, done that, didn't enjoy it - something to tell people about though).


There are a whole variety of places of interest in a small area, scenery in the form of mountains, glaciers, icebergs, icecaps and the lunar landscapes of Deception Island. There is history aplenty which is itself outdone by the abundance of wildlife and there are many opportunities for getting off the ship to stroll casually or attempt something a little more challenging.
Verdict
A Must Visit Place.
The South Shetland Islands are "proper" Antarctica, and have a wide variety of Antarctic sights and experiences in good measure.
Antarctic Peninsula - Sample Cruises - 2023 - 2024
Trip
Highlights
Prices USD*
8-22 days

Classic Antarctic Peninsula Expedition
South Shetland Islands, Antarctic Peninsula, Penguin Rookeries, Lemaire Channel.
$4,860 -
$43,995
13 days

Antarctica Peninsula Basecamp

Antarctic Peninsula trip with several inclusive activities on offer such as hiking, snowshoeing, kayaking, mountaineering, and camping out under the Southern Polar skies.
$9,100 -
$11,750
10-16 days

Crossing the Circle

Sail down the Antarctic Peninsula and cross the Antarctic Circle, South Shetland Islands, Wildlife, Scenery.
$7,700 - $25,995
Notes
*
Prices
are based per person, the lowest price is usually for triple occupancy in a basic cabin, the highest for double occupancy in the best available suite.
Options
may be at additional cost and are usually booked when the cruise is booked - it may be too late once the cruise has started.
---
Contact me about my trip to Antarctica!
Please complete the form
and an Antarctic Expert will contact you
Departures from late October to late March
Our partner company, Antarctica Travels, passionately help people to reach their ultimate destination.
All enquiries will be answered from our office in Patagonia, Argentina.
Dozens of trips - unique combinations of ship + itinerary
Choice of ships - 67 to 199 passenger capacity
$5,500 to $43,995
6 to 23 days
Please note - we cannot help directly to find employment in Antarctica, please do not use this form to request any other information than for Antarctic tourist trips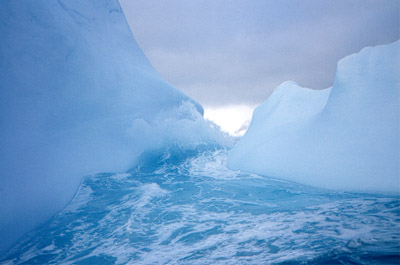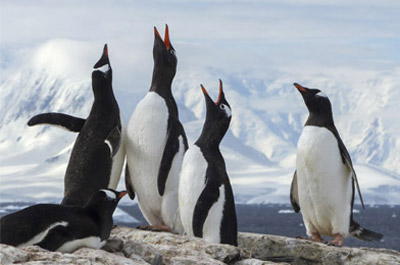 ---
Picture credits:
Top banner - Cuverville island, courtesy of LBM1948 used under CC BY-SA 4.0 licence / Deception island huts - Ulf Gustafsson / Deception Island tanks - Christopher Michel, Creative Commons 2.0 license /
Top slider:
Deception Island Whalers Bay - W.Bulach used under CC BY SA 4.0 licence. / Greenwich Island - Phil Wolpe, used under CC BY SA 2.0 licence. / Penguins - ravas51 used under CC BY SA 2.0 licence. / Whalers Bay - Christopher, used under CC BY 2.o licence. / Half Moon Island - HMS Protector at harbour, UK Ministry of Defence, OGL licence / Annotated and illustrated map of Livingston and Greenwich Islands, published by the Antarctic Place-names Commission of Bulgaria and released by the Commission's Chairman Apcbg for publication under GFDL and CC-BY-3.0.