George Clarke Simpson - Meteorologist
(1878 - 1965) - Biographical notes
Meteorologist Terra Nova 1910-13
---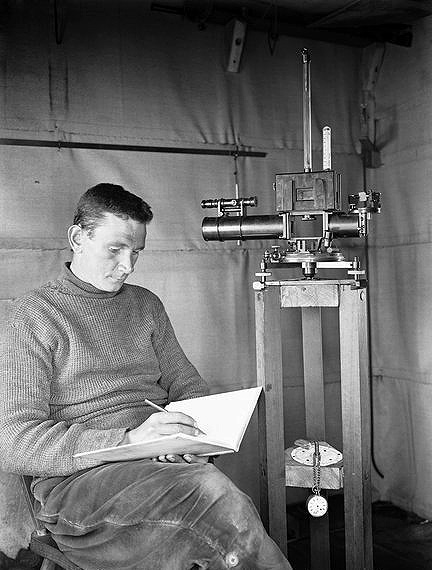 Born in Derby, England, Simpson was the first person to lecture in meteorology at a British university when he was appointed in 1905 in Manchester, in 1906 he joined the Indian Meteorological Service before being appointed by Scott as one of two meteorologists to the Terra Nova expedition.
He was given the nickname "Sunny Jim" because of his resemblance to a character on cereal packets. Simpson spent most of his two years in Antarctica at the hut at Cape Evans to maintain continuity of the meteorological records, he installed and maintained the most sophisticated array of recording apparatus that had been taken to Antarctica at that time producing reports on the weather and atmospheric physics that received wide acclaim.
Simpson, master of his craft, untiringly attentive to the working of his numerous self-recording instruments, observing all changes with scientific acumen, doing the work of two observers at least and yet ever seeking to correlate an expanded scope. So the current meteorological and magnetic observations are taken as never before by Polar expeditions.

- Scott
He accompanied Scott, Bowers and Evans on a sledging trip in October 1911, suffering a frostbitten face from walking into the wind.
On return from the Antarctic he went back to India where he was drafted into military service in WW1.
In 1920 he became Director of the Meteorological Office in London, where he was its longest serving Director until he retired in 1938. He was knighted in 1935. In the Second World War, he served in charge of the Kew Observatory. He was awarded honorary doctoral degrees by the universities of universities of Manchester, Sydney and Aberdeen.
2 September 1878 - 1 January 1965
---
---
Landmarks named after George Clarke Simpson
Feature Name: Simpson Glacier and Simpson Glacier Tongue
Type: summit
Latitude: 71°17'00´S
Longitude: 168°38'00´E
Description: A glacier, 6 mi long, in the Admiralty Mountains. It flows northward to the coast between Nelson Cliff and Mount Cherry-Garrard where it forms the Simpson Glacier Tongue. The latter feature was named by the British Antarctic Expedition (BrAE), 1910-13. The glacier described was mapped by U.S. Geological Survey (USGS), 1960-63, and was so named because (with Fendley Glacier to the east) it nourishes the Simpson Glacier Tongue.
Feature Name: Simpson Peak
Type: summit
Latitude: 67°43'00´S
Longitude: 050°07'00´E
Description: Peak, 1,720 m, just E of Mount George in the SW end of the Scott Mountains. Discovered in January 1930 by the British Australian and New Zealand Antarctic Research Expedition (BANZARE) under D. Mawson. The position of the feature was fixed by J.C. Armstrong of Australian National Antarctic Research Expeditions (ANARE) in 1959.
Biographical information

- I am concentrating on the Polar experiences of the men involved. Any further information or pictures visitors may have is gratefully received. Please email - Paul Ward, webmaster.

What are the chances that my ancestor was an unsung part of the Heroic Age of Antarctic Exploration?