Albert Balson
(1885 - 1950) - Biographical notes
Leading Seaman Terra Nova 1910-13
---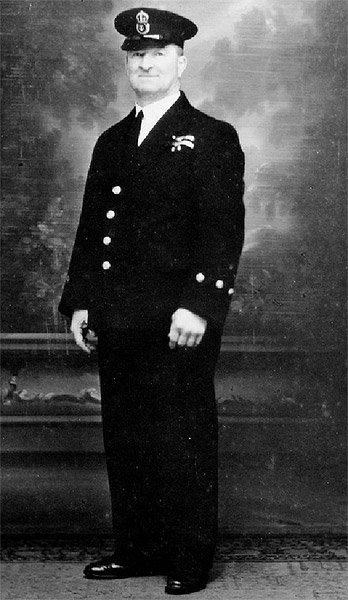 Taken from Antarctic Gold (Edition 22.1 of The Review, Naval Historical Collectors & Research Association) - information kindly supplied by Robert Hughes Mullock.
ALBERT BALSON was born on 12 February 1885 at Allington, near Bridport, Dorset in his grandfather's home. Albert Balson's father was a baker born during 1838 in Allington near Bridport, Dorset. His Grandfather was a master baker baptized 12-10-1810 in Allington near Bridport, Dorset. His great grandfather was a blacksmith/wheelwright baptized 18-04-1784 in Allington near Bridport, Dorset.
He was an unenthusiastic scholar and often skipped school to help a local farmer. When the local school attendance officer found out where he had bunked off to, Albert set the farmer's dog on him. Notwithstanding his affinity with the soil Albert wanted to be a sailor and as a boy he walked to Portland to enlist in the Royal Navy. He was taken into boy service on 2 October 1900, then four months shy of his sixteenth birthday, signing on for twelve years service.
In the 1901 census he is seen to be a RN 2nd. class boy at HMS Boscowen, Portland near Weymouth, Dorset.
By 1911 he was a Leading Seaman in HMS POWERFUL when on 6 December he transferred to the TERRA NOVA at Lyttleton for service with Captain R. F. Scott's British National Antarctic Expedition 1910-13.
Balson was by now a stocky built young man some 5ft 7'½ins tall with brown hair, grey eyes and a fresh complexion. While in TERRA NOVA he took part in her second and third voyages to the Antarctic and as a consequence of his good service received the Polar Medal (London Gazette 25 July 1913). On the expedition's return Albert went back to the RN, became a diver and had an eventful war.
The London Gazette showed Albert Balson had received the Distinguished Service Medal during the Great War, awarded for the Gallipoli landings. He was listed among the petty officers and men who received special recommendations in Vice-Admiral De Robeck's despatch (London Gazette 18 August 1915) that:
"covered the operations carried out on the 25th and 26th April, 1915, during which period the Mediterranean Expeditionary Force was landed and firmly established in the Gallipoli Peninsula"
Balson was in HMS PRINCE OF WALES, part of the squadron under Rear-Admiral C. F. Thursby CMG, that landed soldiers of the Australian and New Zealand Army Corps, north of Gaba Tepe on the Aegean coast of the Gall peninsula. The PRINCE OF WALES was one of three battleships delegated to cover the landings. Admiral De Robeck's dispatch continues:
"The squadron then approached the land at 2:56am at a speed of five knots. When within a short distance of the beach selected for landing, the boats were sent ahead. At 4:20am the boats reached the land and a landing was effected... the beach was very narrow and continuously under shell fire. The difficulties of disembarkation were accentuated by the necessity of evacuating the wounded; both operations proceeded simultaneously. The service was one which called for great determination and coolness under fire, and the success achieved indicates the spirit animating all concerned - Many individual acts of devotion to duty were performed by the personnel of the Navy"
Vice-Admiral De Robeck's despatch announced the award of five VCs, four DSOs, twelve DSCs, four CGMs and twenty-four DSMs in respect of his foregoing despatch, including the DSM for Petty Officer Albert Balson. His next appearance in the London Gazette came on 1 August 1919, included in a short list of men who had been brought to the notice of Their Lordships for valuable services in the prosecution of the war, though the reason remains unclear.
The White Star Liner LAURENTIC (Captain R. A. Norton, RN) had set sail from Loch Swilly at 1700hrs on 25 January 1917. Fifty-five minutes later she ran into a minefield laid by the German submarine U-80 and struck two mines with deadly consequences. The first exploded on the port side abreast of the foremast, the second struck twenty seconds later abreast of the engine room. LAURENTIC sank in forty-five minutes. Most of the crew made it to the lifeboats but only seven of fifteen boats were rescued and there was heavy loss of life.
News of the sinking spread but the public was not informed that LAURENTIC had taken 3,211 gold bars with her to the bottom. Some £5million in gold - being transported secretly to pay for US munitions - was now lying in twenty-three fathoms, off the Irish mainland. The loss was a financial disaster for the British Treasury so the Admiralty took immediate steps to recover the lost bullion. Lt Commander Damant RN was appointed to lead a small, hand-picked team of divers to recover the gold. They quickly found the wreck but had great difficulty scrambling over her steeply sloping decks. During that first summer they recovered £800,000 worth of gold, but by September the weather had deteriorated and they were forced to close down operations. When they resumed the following year the wreck was considerably altered with far more debris littering the decks.
Salvage work continued year on year until 1924 by which time they had accounted for 3,189 of the gold bars. They missed only twenty-two of them. Commander Damant, who had been invested with the Order of the British Empire (OBE) in 1919, was promoted to captain, and the eleven divers, arguably the Royal Navy's best, were each awarded the British Empire Medal and shared a bounty of £6,379.
Consultation of the London Gazette for 9 December 1924 shows Chief Petty Officer Albert Balson DSM (ON 211943 Po.) heading the list of the divers for the award of the British Empire Medal (Civil Division).
He was shore pensioned on 11 February 1925 after twenty-two years adult service and an award of the Long Service & Good Conduct Medal in 1918. He joined the Royal Fleet Reserve the following day and continued to work as a salvage diver around the world. With the advent of the Second World War he was recalled and in 1941 was awarded a gallantry bar to his BEM for volunteering to dispose of an unexploded bomb from the supply ship HMS SANDHURST while that ship was under aerial attack in Portland harbour.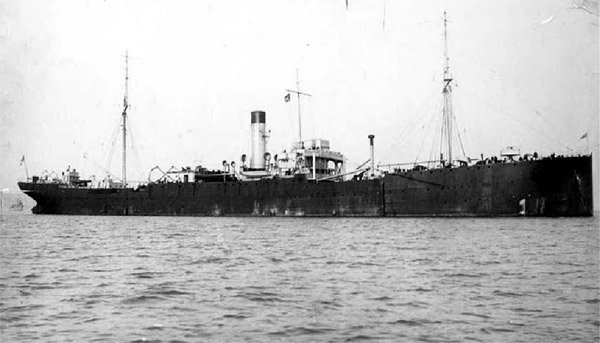 HMS Sandhurst
The London Gazette of 4 February 1941 records the award of a BEM for Meritorious Service, for gallantry in diving work under enemy air attacks. No mention of a previous BEM or his DSM but the service number confirmed this was indeed the same Albert Balson. A subsequent correction of 20 January 1942 read:
The King has been graciously pleased to approve the award of a Bar to the British Empire Medal, for Gallantry in diving work under enemy air attacks. This award is made in substitution for the award of the British Empire Medal (Military Division), which was published in the London Gazette No. 35062, 4th February 1941.
In 1945 Albert Balson once again returned to civilian life, returning to his native Dorset. On 18 December 1950, Chief Petty Officer Albert Balson BEM*, DSM, RN died in the Holly Lodge Nursing Home at Parkstone, Dorsetshire, aged sixty-five. He had served his country in two World Wars, carrying out the dangerous task of bomb disposal. He had braved the harsh Antarctic under Captain R.F. Scott and been challenged by the recovery of thousands of bars of bullion from the wreck of the LAURENTIC. A truly incredible life of naval service
Sources: Antarctic gold: The story of Albert Balson by Herbert J. G. Dartnell, Edition 22.1 The Review, journal of the Naval Historical Collectors & Research Association; Service record at The National Archives (ADM/188/370/211943); Polar Record Volume VI, No. 42; Dictionary of Disasters at Sea during the Age of Steam by C. Hocking (1990); The Guinness Book of Records by E. G. F. Johnson (1986); British Polar Exploration and Research by N.W. Poulson & J. A. L. Myres (2000)
Notes on Balson: In the Polar Record a number of inaccuracies can be found, as it states that "Albert Balsom died on 18 December 1950 after a short illness. In 1910 he joined the Terra Nova as a leading seaman from the Australian Squadron, and was a member of the ship's party. He was later promoted chief petty officer and specialised in diving. He was the senior diver on the difficult operation of recovering the gold from the sunken Laurentic off the northern Irish coast, for which he was awarded the Order of the British Empire."' The Polar record incorrectly list Balson as Balsom, he joined TERRA NOVA in 1911 and was awarded the British Empire Medal rather than the OBE.
Other Crew of the Terra Nova Expedition
Abbot, George Percy - Petty Officer, R.N. - 1, 2, N
Atkinson, Edward L. - R.N. - surgeon, parasitologist - 1, 2, D, P, S
Balson, Albert - Leading seaman, R.N.- 1, 2
Bowers, Henry Robertson - Lieutenant - 1, 2, D, C, Po
Browning, Frank Vernon - Petty Officer - 1, 2, N
Campbell, Victor - Lieutenant, R.N. - 1, 2, N
Cheetham, Alfred B. - Boatswain (Bosun), R.N.R.
Cherry-Garrard, Apsley - Assistant zoologist - 1, 2, D, C, S
Crean, Tom - petty officer, R.N. - 1, 2, D, P, S
Debenham, Frank - Geologist - 1, 2, iW, iiW
Dickason, Harry - Able Seaman - 1, 2, N
Evans, Edgar - petty officer, R.N. - 1, iW, Po
Evans, Edward R.G.R. - Lieutenant, R.N. "Teddy Evans" - second in command, and Captain of the Terra Nova - 1, D, P
Girev (Geroff), Dmitriy - Dog driver - 1, 2, D, P, S
Gran, Tryggve - ski expert - 1, 2, D, iiW, S
Lashly, William - chief stoker, R.N. - 1, 2, P, S
Levick, G. Murray - Surgeon, R.N. - 1, 2, N
Lillie, Dennis Gascoigne - Biologist on the ship
McLeod, Thomas F. - Able seaman - 1, 2
Meares, Cecil H. - in charge of dogs - 1, D, P
Oates, Lawrence - Capt. 6th Iniskilling Dragoons - 1, D, Po
Ponting, Herbert G. - Camera artist - 1
Priestley, Raymond E. - Geologist - 1, 2, N
Omelchenko, Anton - Groom - 1
Scott, Robert Falcon - Commander, R.N. - Expedition leader - 1, D, Po
Simpson, George - Meteorologist - 1
Taylor, T. Griffith - Geologist - 1, iW, iiW
Wilson, Edward Adrian - chief of scientific staff and biologist - 1, D, C, Po
Wright, Charles Seymour - Physicist - 1, 2, iW, P, S
Key:
1 - first winter
2 - second winter
iW - first western party
iiW - second western party
N - northern party
D - depot laying for south pole journey
P - south pole party
C - winter journey to Cape Crozier
S - search party for south Pole party
Po - reached South Pole
Biographical information - I am concentrating on the Polar experiences of the men involved. Any further information or pictures visitors may have will be gratefully received. Please email - Paul Ward, webmaster.

What are the chances that my ancestor was an unsung part of the Heroic Age of Antarctic Exploration?