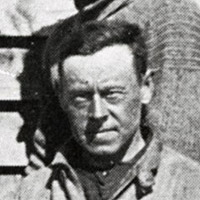 Levick, George Murray - Surgeon, R.N. Zoologist
(1876 - 1956) - Biographical notes
Surgeon, R.N. Zoologist - Terra Nova 1910-13
---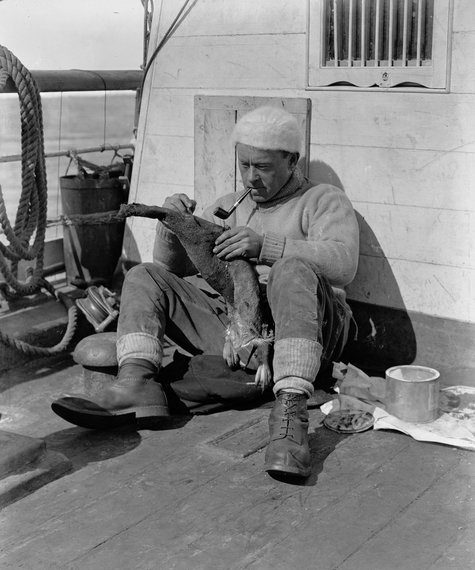 George Levick
30th May 1876 - 30th May 1956
Born in born in Newcastle upon Tyne, Murray studied medicine at St Bartholomew's Hospital and joined the Royal Navy in 1902, a specialist in physical training.
Levick was given leave of absence from the navy in 1910 to join Scott's Terra Nova expedition to the Antarctic a s a zoologist and surgeon. He was a member of the "Northern Party" and spent the austral summer of 1911-1912 at Cape Adare amongst the largest Adelie penguin colony in the world. A part of his studies of this colony were published initially in Greek only, due to what he considered the "depraved" sexual practices of the penguins, they were printed in 1915, but declined for publication in the official reports of the expedition and effectively lost until 2012 until they were rediscovered and published in the Polar Record.
The Northern Party were due to be picked up by the Terra Nova in February 1912, but the ship was unable to reach them due to pack ice, the party of five over wintered in an ice cave on Inexpressible Island in particularly uncomfortable conditions. Levick was known as "Mother" to the men for his compassion and ability to make friends with all, across social boundaries.
---
---
Back in England, Levick returned to the navy and was promoted to Fleet Surgeon in 1915 for his services in the Antarctic and in the First World War.
Between the wars he spent 20 years pioneering rehabilitation and physiotherapy in London, particularly with the blind and against some opposition. He founded the Public Schools Exploring Society in 1932 and was president until his death in 1956.
In the Second World War Levick returned to the navy, age 64 in 1940, in a position in a specialist training centre in Scotland where he taught fitness, diet and survival techniques for commandos in extreme conditions.
A notebook belonging to Levick was found as recently as 2013 at Cape Evans.
EBook of Antarctic Penguins, by George Murray Levick
---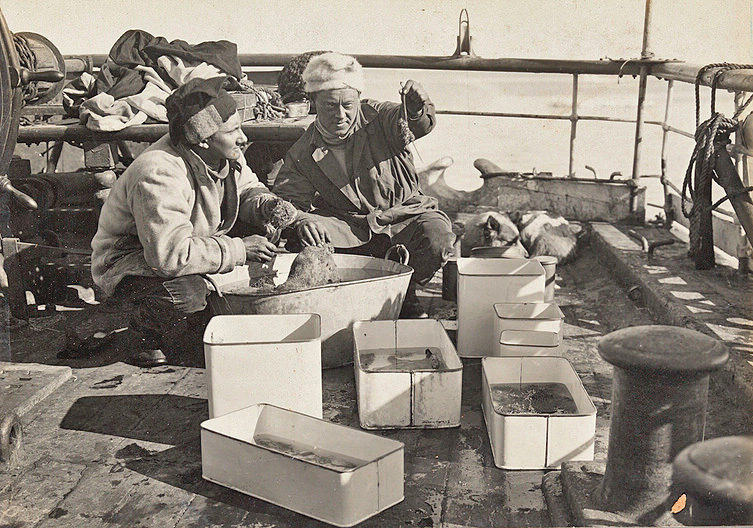 George Levick (r) and Dennis Lillie (l), biologists
- on board the Terra Nova
---
References to George Levick by Cherry-Garrard in "The Worst Journey in the World"
They ate blubber, cooked with blubber, had blubber lamps. Their clothes and gear were soaked with blubber, and the soot blackened them, their sleeping-bags, cookers, walls and roof, choked their throats and inflamed their eyes. Blubbery clothes are cold, and theirs were soon so torn as to afford little protection against the wind, and so stiff with blubber that they would stand up by themselves, in spite of frequent scrapings with knives and rubbings with penguin skins, and always there were underfoot the great granite boulders which made walking difficult even in daylight and calm weather. As Levick said, "the road to hell might be paved with good intentions, but it seemed probable that hell itself would be paved something after the style of Inexpressible Island."

Though it bears little upon this book I cannot refrain from drawing the reader's attention to, and earning some of his thanks for, a little book called Antarctic Penguins, written by Levick, the Surgeon of Campbell's Party. It is almost entirely about Adelie penguins. The author spent the greater part of a summer living, as it were, upon sufferance, in the middle of one of the largest penguin rookeries in the world. He has described the story of their crowded life with a humour with which, perhaps, we hardly credited him, and with a simplicity which many writers of children's stories might envy. If you think your own life hard, and would like to leave it for a short hour I recommend you to beg, borrow or steal this tale, and read and see how the penguins live. It is all quite true.

As Levick describes in his book about the penguins at Cape Adare: "At the place where they most often went in, a long terrace of ice about six feet in height ran for some hundreds of yards along the edge of the water, and here, just as on the sea-ice, crowds would stand near the brink. When they had succeeded in pushing one of their number over, all would crane their necks over the edge, and when they saw the pioneer safe in the water, the rest followed.
References to George Levick by Scott in "Scott's Last Expedition"
Campbell, Levick, and Priestly set off to the old Nimrod hut eight miles away to see if they could find a stove of convenient size for their own hut, as well as any additional paraffin, and in default of the latter, to kill some seals for oil.
---
Landmarks named after George Levick

Feature Name: Mount Levick

Type:
Summit
Latitude:
74° 08'00S
Longitude:
163° 10'00E
Description:
A prominent mountain, 2,390 m, standing at the NW side of Tourmaline Plateau in the Deep Freeze Range, Victoria Land. First charted by the Northern Party of the British Antarctic Expedition (BrAE), 1910-13.
Other Crew of the Terra Nova Expedition
Abbot, George Percy - 12N - Petty Officer, R.N.
Atkinson, Edward L. - 12DPS - R.N. - surgeon, parasitologist
Balson, Albert - 1 2 - Leading seaman, R.N.
Bowers, Henry Robertson - 12DCPo - Lieutenant
Browning, Frank Vernon - 12N - Petty Officer
Campbell, Victor - 12N - Lieutenant, R.N.
Cheetham, Alfred B. - Boatswain (Bosun), R.N.R.
Cherry-Garrard, Apsley - 12DCS - Assistant zoologist
Crean, Tom - 12DPS - petty officer, R.N.
Debenham, Frank - 12iWiiW - Geologist
Dickason, Harry - 12N - Able Seaman
Evans, Edgar - 1iWPo - petty officer, R.N.
Evans, Edward R.G.R. - 1DP - Lieutenant, R.N. "Teddy Evans" - second in command, and Captain of the Terra Nova
Girev (Geroff), Dmitriy - 12DPS - Dog driver
Gran, Tryggve - 12DiiWS - ski expert
Lashly, William - 12PS - chief stoker, R.N.
Levick, G. Murray - 12N - Surgeon, R.N.
McLeod, Thomas F. - 12 - Able seaman
Meares, Cecil H. - 1DP - in charge of dogs
Oates, Lawrence - 1DPo - Capt. 6th Iniskilling Dragoons
Ponting, Herbert G. - 1 - Camera artist
Priestley, Raymond E. - 12N - Geologist
Omelchenko, Anton - 1 - Groom
Scott, Robert Falcon - 1DPo - Commander, R.N. - Expedition leader
Simpson, George - 1 - Meteorologist
Taylor, T. Griffith - 1iWiiW - Geologist
Wilson, Edward Adrian - 1DCPo - chief of scientific staff and biologist
Wright, Charles Seymour - 12iWPS - Physicist
Key:
1 - first winter
2 - second winter
iW - first western party
iiW - second western party
N - northern party
D - depot laying for south pole journey
P - south pole party
C - winter journey to Cape Crozier
S - search party for south Pole party
Po - reached South Pole
Biographical information

- I am concentrating on the Polar experiences of the men involved. Any further information or pictures visitors may have is gratefully received. Please email - Paul Ward, webmaster.

What are the chances that my ancestor was an unsung part of the Heroic Age of Antarctic Exploration?