Antarctica Cruise
Discovering the 7th Continent
Antarctic Peninsula, S. Shetlands, Penguin Rookeries, Lemaire Channel, Optional kayaking and snowshoeing
10 Days | Departures: 11/26/17 | From: $6,595
---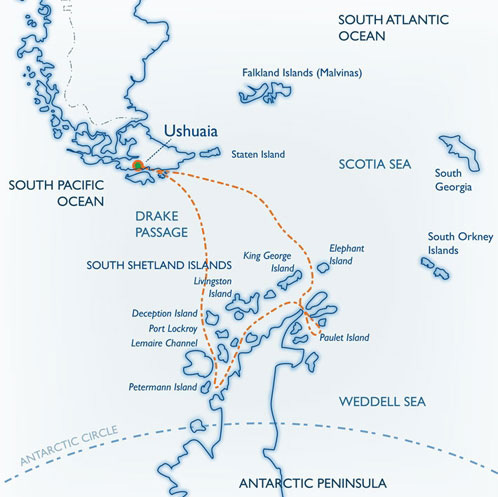 Trip Highlights: This well-established expedition cruise offers you the ideal introduction to Antarctica. Departing and finishing in the port of Ushuaia in Argentina, the itinerary visits prime sites along the Antarctic Peninsula and the neighboring South Shetland Islands. This program will emphasize wildlife viewing, possible visits to scientific bases, and the breathtaking scenery with narrow waterways, glaciers, icebergs and rugged mountains. Experience the beauty and wonder of the White Continent!

Rates: $6,595 - $13,295
Single Rate: 1.7 - 2 times the double occupancy rate, or can match with other solo passengers to share a cabin
Sea Kayaking Option: Available all departures - $995 per person
Snowshoeing Option: Included in cruise rate
Price includes one night pre-expedition hotel accommodation with breakfast in Ushuaia and a parka.
Ship - Sea Adventurer - Expedition Ship
Passengers: 132
---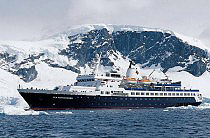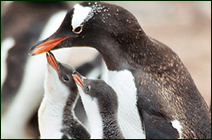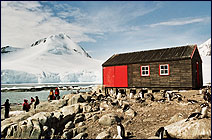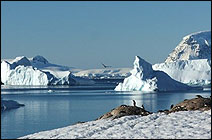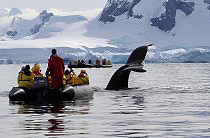 ---
Summary
Traveling to the farthest reaches of the world doesn't mean you can't be comfortable! Embark on this ideal introduction to Antarctica aboard a beautiful expedition ship that combines adventure with service and many amenities of a classic passenger vessel. The outstanding cuisine may vie with the landscape and wildlife for your attention. Depart and finish in the port of Ushuaia in Argentina, and visit prime sites along the Antarctic Peninsula and the neighboring South Shetland Islands. This program emphasizes wildlife viewing, possible visits to scientific bases, breathtaking scenery with narrow waterways, glaciers, icebergs and rugged mountains. Enjoy quality and value at a good price!
---
Itinerary
Day 1 - 2: Ushuaia, Tierra del Fuego, Argentina
Arrive in Ushuaia, a small town at the "end of the world" surrounded by rugged peaks and glaciers, and transfer to your hotel. The following day, in the afternoon, the Expedition Team gets you settled aboard your ship as you sail into the Beagle Channel to start your Antarctic expedition.

Days 3 - 4: Crossing the Drake Passage
Prepare yourself for potentially rough water, but hope for smooth sailing as the Drake is unpredictable and always changing. You'll spend these first days getting to know your shipmates, while provided with safety briefings and insights into what excitement lies ahead.

Days 5 - 7: South Shetland Islands & Antarctica Peninsula
When land is sighted for the first time in two days you know you have reached the South Shetland Islands. This impressive group of islands, lying to the north and roughly parallel to the Antarctic Peninsula, is a haven for wildlife. You visit vast penguin rookeries, land on beaches ruled by Antarctic fur seals and observe wallowing southern elephant seals. You also hope to visit one of the many research bases in the archipelago and look for Antarctica's only two flowering plants which thrive here during the short southern summer.
The Antarctic Peninsula is the most easily accessible part of the "White Continent" but it also has some of the most awe-inspiring scenery and a rich variety of wildlife. This voyage offers ample time to experience the special magic of this wilderness region. Among the places you may visit are aptly named Paradise Harbor, where glaciers fill the calm waters with a vista of icebergs sculpted by wind and weather.

Here, you may set foot on the "White Continent' itself. At Port Lockroy, you will find thriving colonies of penguins and shags and a former British scientific station that has recently been renovated and serves as a fascinating museum.

Cuverville Island and Ronge Island, with their dramatic location, are home to a large colony of nearly 5,000 pairs of Gentoo penguins. Many visitors find the Antarctic scenery as rewarding as the wildlife, and you will be enchanted by such beautiful waterways as the Neumayer and Lemaire channels. Located south of the spectacular Lemaire Channel and separated from the mainland of the Antarctic Peninsula by Penola Strait is Petermann Island, on which we plan to land. Adelie and Gentoo penguins, skuas and blue-eyed shags nest close to the landing site.

Days 8 - 9: Drake Passage
Today, you leave Antarctica and head north across the Drake Passage. Now is the chance to relax and review the adventures of the past week as well as enjoy some final lectures from the expedition staff as you return to Ushuaia.

Day 11: Ushuaia
We'll arrive in Ushuaia in the morning for you to continue your adventure on land or catch your flights home.
---
Notes:
Read this itinerary as a guide only; the exact route and program varies according to ice and weather conditions - and the wildlife you encounter. Flexibility is the key to the success of this expedition.
Mandatory Travel Insurance:
All guests are required to have comprehensive travel insurance coverage. Due to the remoteness of the areas in this itinerary, travelers must have a minimum $50,000 of emergency medical coverage. Proof of coverage is required prior to embarkation. The shipping company will not be held responsible for delays due to force majeure. Any additional costs accrued will be the responsibility of the traveler. ExpeditionTrips strongly recommends at least $200,000 Emergency Medical/Evacuation coverage for Antarctic trips which includes coverage for cancellation, trip disruption, baggage and personal property. ExpeditionTrips can assist you with this.
Camping Option: Available all departures. Not included in cruise rate - $250 per person. Minimum age 16 years. Space is limited; request at time of booking. No camping experience is necessary to participate in this program. Sleeping bags and all safety equipment are provided.
Sea Kayaking Option: Available all departures. Not included in cruise rate - $950 per person. Minimum age 16 years. This is a pre-booked option prior to departure for kayakers with some experience. Places are strictly limited so please advise at time of booking. Please contact us for additional details.
Snowshoeing Option: Included in cruise rate. Anyone can take part, no previous experience necessary. Snowshoes available free of charge for excursions when conditions permit.
Included:
Group transfer from the airport to the pre-voyage hotel on Day 1; one night pre-voyage hotel accommodation with breakfast in Ushuaia; group transfer from hotel to ship on embarkation day; group transfer upon disembarkation in Ushuaia from the ship to the local airport; shipboard accommodation with daily housekeeping; meals on board ship; photographic journal; waterproof expedition boots on loan for shore landings; parka to keep; coffee, tea and cocoa available around the clock; hair dryer and bathrobes in every cabin; miscellaneous service taxes and port charges; luggage handling aboard ship; Emergency Evacuation Insurance for all passengers to a maximum benefit of USD $100,000 per person*. Subject to change without notice.

Not Included:
Airfare; passport and visa expenses; government arrival and departure taxes, Argentina's Reciprocity Fee; any meals ashore with the exception of breakfast at the host hotel before embarkation; kayaking and camping; alcoholic and non-alcoholic beverages, except for ones mentioned as included; baggage, cancellation and medical travel insurance; excess baggage charges; laundry, bar, beverage and other personal charges; phone and internet charges; voluntary gratuity at the end of the voyage for shipboard staff and crew; fuel surcharge may apply.
*Emergency Evacuation Insurance:
Emergency evacuation coverage to a maximum benefit per paying passenger of $100,000 is included in the cost of this expedition. Included coverage is applicable only to travel between the first and last day of the expedition purchased. Additional days of travel prior to the expedition and/or after the expedition are not covered by the included emergency evacuation insurance. We strongly advise all passengers to purchase medical, cancellation and baggage insurance, and additional emergency evacuation coverage.
Antarctic Peninsula - Sample Cruises - 2017 / 2018
Trip
Highlights
Prices USD*
Days
Antarctica Cruise - Discovering the 7th Continent
South Shetlands, Antarctic Peninsula, Penguin Rookeries, Lemaire Channel Optional kayaking, camping and snowshoeing
$6,595 -
$13,295
10
Antarctica Cruise - The Peninsula
Classic Antarctica, pristine scenery, classic sites of scientific and historic interest, experienced naturalist guides. Optional kayaking, camping, cross-country skiing and mountaineering
$7,995 -
$20,695
13
Classic Antarctica Air-Cruise
Fly over the Drake Passage in both directions, Antarctic Peninsula, South Shetland Islands, Wildlife, Scenery, Ice Optional kayaking and snowshoeing
$10,995 - $15,995
8
South Georgia / Falkland Islands / Antarctica - Sample Cruises - 2017 / 2018
Trip
Highlights
Prices USD*
Days
Antarctica, South Georgia and the Falkland Islands
Vast Colonies of King Penguins, Breathtaking Scenery, Historic sites, optional kayaking
$23,790 -
$41,910
24
Antarctica and South Georgia
Two great destinations, anticipate penguins, whales, seabirds and seals as well as scenic highlights
$8,760 - $15,800
20
Notes
*
Prices
are based per person, the lowest price is usually for triple occupancy in a basic cabin, the highest for double occupancy in the best available suite.
Options
may be at additional cost and are usually booked when the cruise is booked - it may be too late once the cruise has started.