Charles Seymour Wright - Physicist
(1887 - 1975) - Biographical notes
---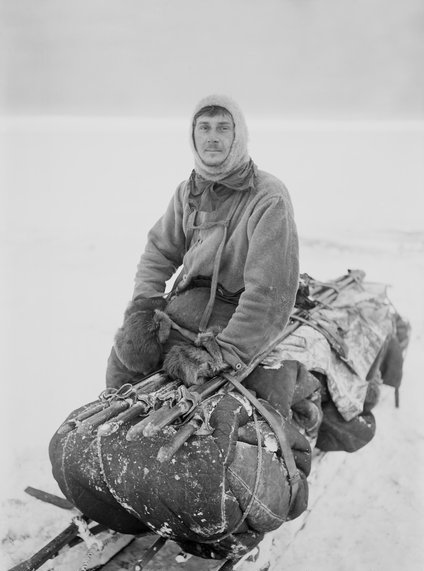 Born in and educated in Toronto, Canada until he won a scholarship for postgraduate studies in Cambridge, England where he met Douglas Mawson just returned from Shackleton's Nimrod Expedition.
He applied to Scott for the Terra Nova was was initially rejected so walked the 65 miles from Cambridge to London to see Scott in person at which point he was accepted. Sometimes known as "Silas" from his middle name.
In Antarctica, Wright carried out numerous experiments and observations on the physics of ice and snow, gravity, the aurora and magnetism, he also assisted in meteorology.
He was part of a four man team who mapped the western mountains of Victoria Land and made geological observations. On the 1st of November 1911 he set off with the Southern Party to the South Pole, like all of those present, he hoped to be one of those chosen to go with Scott to the pole but was part of the first support party sent back with around 300 miles to go. Nearly a year later he was part of the search party that found the tent with the bodies of Scott, Bowers and Wilson who had died on the return journey.
On his return to England, he married the sister of fellow Terra Nova expedition member Raymond Priestley. He served with distinction in WW1 being awarded the Military Cross and the Order of the British Empire (OBE). In 1919 he joined the Admiralty Research Department, rising to become Director of Scientific research from 1934-36.
In the Second World War he was involved in the development of radar and the detection of mines and torpedoes, he was knighted for this work in 1946. He was made the first chief of the Royal Naval Scientific Service on its formation in 1946, in 1951 he became Director of the Marine Physical Laboratory of the Scripps Institution of Oceanography in the USA, returning to Canada again on the Defence Research Board of Canada's Pacific Naval Laboratory in 1955.
He returned to Antarctica in 1960-61 during the 50th anniversary of Scott's expedition working at Byrd Station and elsewhere. While in Antarctica he refused to talk about Scott's expedition, even when refreshed with a few drinks. At the end of the season, as a large crowd gathered to say goodbye, he was about to get on the plane and someone asked how he liked Antarctica after so many years. "Personally, I hate the f--king place!" He then turned and disappeared into the plane, he returned once more however in 1965. He retired in 1969 at the age of 82.
7 April 1887 - 1 November 1975
---
---
Landmarks named after Charles Seymour Wright
Feature Name: Wright Valley, Wright Upper Glacier, Wright Lower Glacier
Type: valley
Latitude: 77°31,46´S
Longitude: 161°52,18´E
Description: Large E-W trending valley, formerly occupied by a glacier but now ice free except for Wright Upper Glacier at its head and Wright Lower Glacier at its mouth, in Victoria Land. Named by the Victoria University's Antarctic Expeditions (VUWAE) (1958-59).
Feature Name: Mount Wright
Type: summit
Latitude: 71°33,00´S
Longitude: 169°10,00´E
Description: A peak over 1,800 m in the N part of the Admiralty Mountains, Victoria Land. It rises between Shipley Glacier and Crume Glacier, 8 mi SW of Birthday Point. The feature was named by the British Antarctic Expedition (BrAE), 1910-13.
Feature Name: Wright Bay
Type: bay
Latitude: 66°34,00´S
Longitude: 093°37,00´E
Description: A small bay formed between the W side of Helen Glacier Tongue and the mainland. Discovered by the Australasian Antarctic Expedition (AAE) (1911-14) under Douglas Mawson.
Biographical information

- I am concentrating on the Polar experiences of the men involved. Any further information or pictures visitors may have is gratefully received. Please email - Paul Ward, webmaster.

What are the chances that my ancestor was an unsung part of the Heroic Age of Antarctic Exploration?