William Lashly - chief stoker, R.N.
(1867 - 1940) - Biographical notes
Chief stoker Discovery 1901-04
Chief stoker Terra Nova 1910-13
---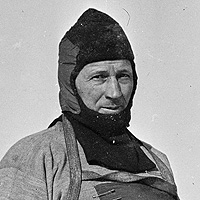 Born in Hampshire, England, the son of a farm worker, he left school at 11 and joined the Royal Navy at 21. Lashly played an active sledging role in Scott's Discovery expedition of 1901-1904, acknowledged by Chief Engineer Reginald Skelton as "the best man far and away in the ship", he was sought out by Scott for the Terra Nova expedition.
Lashly was in charge of one of the motor sledges, he set off in a small party with 2 of them to haul supplies for the pole attempt, within 5 days, they had both broken down and the men had to resort to manhauling. He was a part of the last group of three turned back 160 miles from the pole by Scott after not being selected for the final Pole Party. He set off back to the hut with Crean and Edward Evans, a 730 mile journey. They lost their way at one point and with food supplies low and a long detour around an icefall the safest route, instead decided to sledge uncontrolled down the steep icefall, reaching what Evans estimated at 60mph at times, they stopped by overturning the sledge.
EEvans developed snow blindness after removing his snow goggles while trying to find the route and began to show signs of scurvy, he was greatly weakened, was passing blood and was in constant pain, Lashly and Crean began pulling him on the sledge. On the 18th of February, there was still 35 miles to go and 4-5 days manhauling with just 1-2 days of rations left. They decided that Lashly would stay with Evans while Crean would fetch help. Evans who was close to death and Lashly were successfully rescued, Lashly and Crean were awarded the Albert Medal for his role.
On his return from the Antarctic, Lashly retired from the navy on a pension, though joined the reserves and served again with the navy in WW1, retiring once again afterwards to join the Customs service from which he retired in 1932. He called his house "inna Bluff" after a rocky outcrop jutting out from Mount Discovery, a landmark that on the way to the South Pole.
25 December 1867 - 12 June 1940 more on William Lashly
---
Landmarks named after William Lashly
Feature Name: Lashly Mountains
Type: summit
Latitude: 77°54´00S
Longitude: 159°3300´E
Description: A small group of mountains, the most prominent being Mount Crean (2,550 m), standing S of the head of Taylor Glacier and W of Lashly Glacier, in Victoria Land. Discovered by the British National Antarctic Expedition (BrNAE) (1901-04).
Feature Name: Lashly Glacier
Type: glacier
Latitude: 77°54´23S
Longitude: 159°5106´E
Description: Short, broad glacier lying between the Lashly Mountains on the W and Tabular Mountain and Mount Feather on the E, flowing S into The Portal, in Victoria Land.
Biographical information

- I am concentrating on the Polar experiences of the men involved. Any further information or pictures visitors may have is gratefully received. Please email - Paul Ward, webmaster.

What are the chances that my ancestor was an unsung part of the Heroic Age of Antarctic Exploration?