Tryggve Gran - ski expert
(1888 - 1980) - Biographical notes
---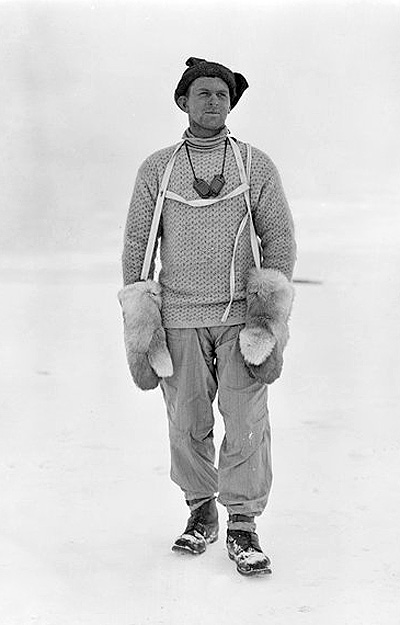 Born in Bergen, Norway to a well to do shipbuilding family. He was recommended by Fridtjof Nansen to Scott as a ski instructor for Scott's upcoming expedition while in Norway to test the motor tractor.
In Antarctica, Gran was involved in depot laying for the South Pole Party, in the journey to the western mountains and was part of the search party that found the dead bodies of the South Pole Party. He wore Scott's skis after collapsing the tent and building a cairn so that at least Scott's skis would make the full journey. Gran took observations of where the tent was found, in a 1974 interview he said:
"We have never given anybody the right latitude and longitude because we were afraid that people would go down and try to find them. As far as I know, I am the only one who's got the figures, because I took the observations and wrote them down".
Before leaving Antarctica, he climbed Mount Erebus and had a near miss when an eruption ejected large pumice blocks.
He became interest in flying on his return from Antarctica and was a pioneer of early aviation, being the first person to fly across the North Sea in a heavier than air aircraft, a Bleriot monoplane. He was rejected from volunteering for the Royal Flying Corps at the outbreak of the WW1 as he was a neutral Norwegian, and so joined under an assumed name posing as a Canadian. He received the Norwegian Order of St, Olav and British Distinguished Service Cross and Military Cross during the war. In 1928 he led the search for Roald Amundsen when his plane went missing, himself searching for the missing Italian aviator Umberto Nobile.
In the Second World War he became a member of a Norwegian fascist party during the German occupation, his status being used for publicity, he was jailed for 18 months for treason in 1948. Sometimes referred to as the last surviving member of the Terra Nova expedition as he died in 1980, though a stoker on the ship, William Burton died in 1988.
20 January 1888 - 8 January 1980
---
---
Landmarks named after Tryggve Gran
Feature Name: Gran Glacier
Type: Glacier
Latitude: 76°56,00´S
Longitude: 161°14,00´E
Description: A glacier flowing S into Mackay Glacier between Mounts Gran and Woolnough. It rises from a snow divide with Benson Glacier to the northeast. Named after Mount Gran by the New Zealand Northern Survey Party of the Commonwealth Trans-Antarctic Expedition (CTAE) (1956-58), which visited the area in November 1957.
Feature Name: Mount Gran
Type: Summit
Latitude: 76°59,00´S
Longitude: 160°58,00´E
Description: Large flat-topped mountain, 2,235 m, standing at the N side of Mackay Glacier and immediately W of Gran Glacier in Victoria Land. Discovered by the British Antarctic Expedition (BrAE) (1910-13).
Biographical information

- I am concentrating on the Polar experiences of the men involved. Any further information or pictures visitors may have is gratefully received. Please email - Paul Ward, webmaster.

What are the chances that my ancestor was an unsung part of the Heroic Age of Antarctic Exploration?