Debenham, Frank - Geologist
(1883 - 1965) - Biographical notes
---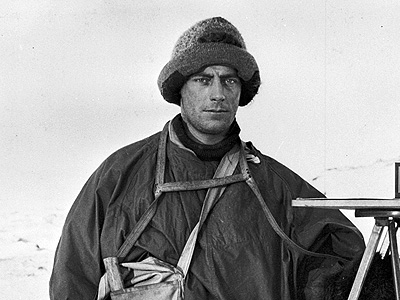 Frank Debenham - Deb
26th December 1883 - 23rd November 1965
Born in New South Wales, Australia, Debenham started his academic career with a degree in English and philosophy from Sydney University and was a school teacher in New South Wales for a short time. He returned to university in 1908 to study Geology in part under Sir Edgeworth David, who had been the Geologist on Shackleton's Nimrod expedition.
He was one of three geologists on Scott's expedition Terra Nova, though didn't take part in the South Pole journey due to a knee injury sustained while playing football in the snow. He took part in two geological journeys to the west of the expedition base. The first of these was a summer and autumn trip which started in Jan 1911 and lasted for 11 weeks, much of it in "Dry Valley", now renamed Taylor Valley after it was found to be one of several dry valleys rather than being the only one.
The second trip took place the following spring, leaving the base hut in Nov 1911 with a scheduled pick-up by the Terra Nova on Jan 15th 1912, though the ship could not reach them because of sea-ice, on the 5th of Feb, they set off across the ice where they were seen and picked up by the ship on the 18th of Feb. When Ponting, the official expedition photographer left shortly afterwards, Debenham took over the role of photographer for the second winter and final summer.
On return from Antarctica, Debenham went to Cambridge university to write up his notes and results from the expedition. He joined a light infantry battalion in the First World War and was severely wounded in 1916.
He returned to Cambridge after the war to continue his work on the expedition reports, becoming a lecturer, in 1920 along with Raymond Priestly, using the remainder of public donations received following the deaths of those in Scott's Polar Party, Debenham co-founded the Scott Polar Research Institute, as a part of Cambridge University. This was as a repository of information and source of expertise for future expeditions to both polar regions. Debenham was the first director (unpaid) of the Institute from 1926 to 1946. Along with Raymond Priestly and James Wordie a scientist on Shackleton's Endurance expedition, he made Cambridge the centre of polar research in the UK.
---
---
---
---
References to Frank Debenham by Cherry-Garrard in "The Worst Journey in the World"
Thus if you felt talkative you might always find a listener in Debenham; if inclined to listen yourself it was only necessary to sit near Taylor or Nelson; if, on the other hand, you just wanted to be quiet, Atkinson or Oates would, probably, give you a congenial atmosphere.

But now Scott became worried and unhappy. We were running things on a fine margin of transport, and during the month before we were due to start mishap followed mishap in the most disgusting way. Three men were more or less incapacitated: Forde with his frozen hand, Clissold who concussed himself by a fall from a berg, and Debenham who hurt his knee seriously when playing foot-ball.

The immediate problem which presented itself was how best to use the resources which were left to us. Our numbers were much reduced. Nine men had gone home before any hint of tragedy reached them. Two men had been landed from the ship. We were thirteen men for this last year. Of these thirteen it was almost certain that Debenham would be unable to go out sledging again owing to an injury to his knee:

October 29 1912: Hut Point. The mule party, under Wright, consisting of Gran, Nelson, Crean, Hooper, Williamson, Keohane and Lashly, left Cape Evans at 10.30 and arrived here at 5 p.m. after a good march in perfect weather. They leave Debenham and Archer at the hut, and I am afraid it will be dull work for them the next three months.
References to Frank Debenham by Scott in "Scott's Last Expedition"
Debenham and Taylor aretaking advantage of the last of the light to examine the topography of the peninsula. In fact, everyone is extraordinarily busy.

To-night Debenham lectured on volcanoes. His matter is very good, but his voice a little monotonous, so that there were signs of slumber in the audience, but all woke up for a warm and amusing discussion succeeding the lecture.

The illustrative slides were made from Debenham's photographs, and many of them were quite beautiful. Ponting tells me that Debenham knows quite a lot about photography and goes to work in quite the right way.

E.R. Evans, Debenham, and Gran set off to the Turk's Head on Friday morning, Evans to take angles and Debenham to geologise; they have been in their tent pretty well all the time since, but have managed to get through some work. Gran returned last night for more provisions and set off again this morning, Taylor going with him for the day. Debenham has just returned for food. He is immensely pleased at having discovered a huge slicken-sided fault in the lavas of the Turk's Head. This appears to be an unusual occurrence in volcanic rocks, and argues that they are of considerable age. He has taken a heap of photographs and is greatly pleased with all his geological observations. He is building up much evidence to show volcanic disturbance independent of Erebus and perhaps prior to its first upheaval.

The photography craze is in full swing. Ponting's mastery is ever more impressive, and his pupils improve day by day; nearly all of us have produced good negatives. Debenham and Wright are the most promising, but Taylor, Bowers and I are also getting the hang of the tricky exposures.

Another trying incident has occurred. We have avoided football this season especially to keep clear of accidents, but on Friday afternoon a match was got up for the cinematograph and Debenham developed a football knee (an old hurt, I have since learnt, or he should not have played). Wilson thinks it will be a week before he is fit to travel, so here we have the Western Party on our hands and wasting the precious hours for that period.
---
Landmarks named after Frank Debenham
Feature Name: Debenham Glacier
Type: glacier
Latitude: 77°10'S
Longitude: 162°27'E
Description: Glacier flowing into the northern part of Wilson Piedmont Glacier on the coast of Victoria Land. First mapped by the British National Antarctic Expedition (BrNAE) (1901-04).
Feature Name: Debenham Islands
Type: island
Latitude: 68°08'S
Longitude: 067°07'E
Description: Group of islands and rocks lying between Millerand Island and the W coast of Graham Land. Discovered and named by the British Graham Land Expedition (BGLE), 1934-37, under Rymill; the British Graham Land Expedition (BGLE) base was on Barry Island, in the center of the group, during part of this time. Frank Debenham served as member of the British Graham Land Expedition (BGLE) Advisory Committee.
Feature Name: Debenham Peak
Type: summit
Latitude: 67°21'S
Longitude: 050°02'E
Description: Peak, 1,140 m, lying S of Amundsen Bay in the Scott Mountains, about 7 mi E of Mount Cronus. Discovered in January 1930 by the British Australian and New Zealand Antarctic Research Expedition (BANZARE) under Mawson.
Other Crew of the Terra Nova Expedition