Thomas Griffith Taylor - Geologist
(1880 - 1963) - Biographical notes
---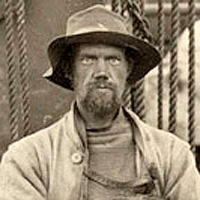 Born in Walthamstow, England, the family emigrated to Australia when Thomas was 13, he attended the University of Sydney, initially in the arts but graduating in mining and metallurgy in 1905. He was awarded a scholarship to Cambridge University in 1907 when he became friends with Raymond Priestley, Charles Wright and Frank Debenham all of whom he recruited to Scott's Terra Nova expedition.
Taylor was the leader of the geological team who made the first geological maps and studies of large areas of Antarctica, leading two expeditions to never explored areas to do so. During the second of these, Taylor's party were due to be picked up by the Terra Nova on Jan 15th 1912, but the ship could not reach them, on the 5th of Feb, they set off across the ice where they were seen and picked up on the 18th of Feb, returning home in March unaware of the fate of Scott and his party.
Taylor's work in Antarctica earned him a doctorate from the University of Sydney and he was made a fellow of the Royal Geographical Society of London and an Associate Professor of Geography at Sydney in 1921 where he was the founding head of the Geography Department. He became a controversial character partly due to his views on race and opposition of the Government's White Australia policy, and partly due to what were seen at the time as his pessimistic views on Australia's arid interior leading for a time to a ban on some of his works, he also wrote widely on human races. While he faced strong opposition at the time from some powerful people who opposed his views, he is now highly regarded for his remarkably accurate predictions.
1 December 1880 - 5 November 1963
---
Landmarks named after Thomas Griffith Taylor
Feature Name: Taylor Glacier, Taylor Valley, and Taylor Dome
Type: glacier, valley and summit
Latitude: 77°45'05´S
Longitude: 161°45'55´E
Description:
Glacier - 1.5 mi wide, lying E of Hayes Peak and flowing N into the sea just E of Cape Bruce. Discovered in February 1931 by the British Australian and New Zealand Antarctic Research Expedition (BANZARE) under Mawson.
Valley - An ice-free valley about 18 mi long, once occupied by the receding Taylor Glacier, lying N of the Kukri Hills between the Taylor Glacier and New Harbor in Victoria Land. Discovered by the British National Antarctic Expedition (BrNAE) (1901-04), it was more fully explored by the British Antarctic Expedition (BrAE) (1907-09) and the British Antarctic Expedition (BrAE) (1910-13). Named after the Taylor Glacier.
Dome - An elliptical ice dome, 43 mi long ESE-WNW and 16 mi wide, rising to 2,400 m, centered c. 29 mi WNW of Mount Crean, Lashly Mountains, Victoria Land. The feature was delineated by the SPRI-NSF-TUD airborne radio echo sounding program, 1967-79. The name was first used by David J. Drewry of SPRI in 1980. The dome is one of the local sources of ice to the Taylor Glacier, from which it is named.
Feature Name: Taylor Glacier
Type: glacier
Latitude: 77°44'00´S
Longitude: 162°10'00´E
Description: Glacier about 35 mi long, flowing from the plateau of Victoria Land into the W end of Taylor Valley, N of the Kukri Hills. Discovered by the British National Antarctic Expedition (BrNAE) (1901-04) and at that time thought to be a part of Ferrar Glacier. The Western Journey Party of the British Antarctic Expedition (BrAE) (1910-13) determined that the upper and lower portions of what was then known as Ferrar Glacier are apposed, i.e., joined in Siamese-twin fashion N of Knobhead. With this discovery Scott named the upper portion for Griffith Taylor, geologist and leader of the Western Journey Party.
Biographical information

- I am concentrating on the Polar experiences of the men involved. Any further information or pictures visitors may have is gratefully received. Please email - Paul Ward, webmaster.

What are the chances that my ancestor was an unsung part of the Heroic Age of Antarctic Exploration?