Antarctica Books
Recommended Titles for Children
---
Winner of the 2015 Kate Greenaway Medal
A New York Times Best Illustrated Book of 2014
Best Children's Book of 2014, Wall Street Journal
Best Children's Book of 2014, Brain Pickings
A 2015 USBBY Outstanding International Book

Young, up-and-coming illustrator William Grill weaves a detailed visual narrative of Shackleton's journey to Antarctica.
Grill's beautiful use of colored pencils and vibrant hues effortlessly evokes the adventure and excitement that surrounded the expedition. His impeccably researched drawings, rich with detail, fastidiously reproduce the minutiae of the expedition.
Children will love examining the diagrams of the peculiar provisions and the individual drawings of each sled dog and packhorse. This book takes the academic and historical information behind the expedition and reinterprets it for a young audience.
---
When the Sun Shines on Antarctica
And Other Poems about the Frozen Continent
Irene Latham, illustrated by Anna Wadham
Ages 8-12
This poetry collection takes readers to the bottom of the world to experience summer as they've never seen it before.
Each double page spread has a poem, a fact box and stunning illustrations.
I meant to list this book here much earlier, but when it arrived my wife borrowed it to take with her when she looks after a neighbour's daughter for a while until her mum gets home from work. It turned out it was one of her favourite books to look at while she was being read to, so it was only after a few weeks that I remembered I hadn't seen it for a while that it came back and it got listed. Highly recommended by Catherine to read to Chloe, highly recommended by Chloe to have read to her. A lovely sharing book or for children to enjoy on their own.
Paul - webmaster
---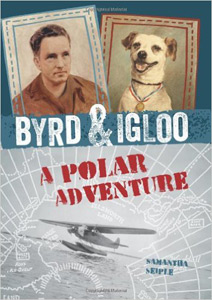 Byrd & Igloo: A Polar Adventure


Samantha Seiple

Ages 8 - 12
BYRD & IGLOO is the first narrative nonfiction book to tell the daring adventures of legendary polar explorer and aviator Richard Byrd and his lovable dog explorer, Igloo. Byrd is known for being the first to fly a plane over the North and South Poles, while Igloo is famous for being the only dog to explore both the North and South Poles. The adventures of Byrd and Igloo opened the door for science and research in the Antarctic. Featuring direct quotes from letters, diaries and interviews, newspaper clippings, expedition records, maps, charts, as well as never-before-seen photos, it will give the complete story of the explorers' journey. Though rooted in history with evidence from many museums and research centers, Byrd & Igloo will be exciting in tone, making it accessible and interesting for young readers.
---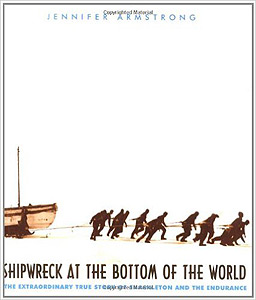 Shipwreck at the Bottom of the World: The Extraordinary True Story of Shackleton and the Endurance


Jennifer Armstrong

Ages 8 - 12
In August 1914, Ernest Shackleton and 27 men sailed from England in an attempt to become the first team of explorers to cross Antarctica from one side to the other. Five months later and still 100 miles from land, their ship, Endurance, became trapped in ice. The expedition survived another five months camping on ice floes, followed by a perilous journey through stormy seas to remote and unvisited Elephant Island. In a dramatic climax to this amazing survival story, Shackleton and five others navigated 800 miles of treacherous open ocean in a 20-foot boat to fetch a rescue ship.
Shipwreck at the Bottom of the World vividly re-creates one of the most extraordinary adventure stories in history. Jennifer Armstrong narrates this unbelievable story with vigor, an eye for detail, and an appreciation of the marvelous leadership of Shackleton, who brought home every one of his men alive.
---
As a boy he preferred reading sea stories to doing homework and, at age 16, became an apprentice seaman. Subsequently, Ernest Shackleton's incredible journeys to the South Pole in the early 1900s made him one of the most famous explorers of modern times. His courage in the face of dangerous conditions and unforeseeable tragedies reveal the great leader that he was. His historic 1914 journey aboard the Endurance has all the drama of an action movie.
---
With more than 20 million copies sold in 41 languages and more than 88 countries worldwide, DK Eyewitness has been the most trusted series in reference publishing for more then three decades. Visually engaging, informative, and lively, the more than 100 titles in the Eyewitness series focus on subjects that complement students' personal interests and areas of study to make learning simple and fun. The most trusted nonfiction series for teachers, librarians, and parents. Perfect for homework help. Combination of pictures and text make the series perfect for reluctant readers and ESL students.
---
Nine-year-old Sophie is going on a month-long voyage to Antarctica, with her dad, the captain of an icebreaker. Sailing the frozen seas round-trip from Australia to Mawson Station in the South Pole, Sophie recounts the adventure of a lifetime in her own words, illustrations, and color photographs. She'll show us icebergs, penguins, seals, and whales! It's a dangerous journey, but Sophie is well prepared for the thrills and chills that await her on top of the world.
This friendly, informative, and beautifully presented picture book is based on the author's own experiences and shows the wonder of Antarctica through a child's eyes.
---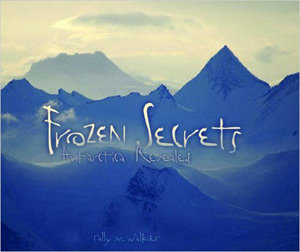 Frozen Secrets: Antarctica Revealed


Sally M. Walker

Ages 10 and up
Antarctica is a land of frozen secrets, with scarcely a handful that have been completely divulged. Join Sally M. Walker as she explores both historical and modern-day scientific expeditions to the continent and examines what secrets might still be locked in the continent's icy cloak secrets that might help scientists understand what the future holds for Earth and its changing climate.
---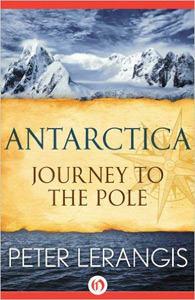 Antarctica: Journey to the Pole (Open Road Media Book 1)


Peter Lerangis

Ages 9 and up
A father and his sons embark on a perilous trek to the ends of the earth.
It is May 1909, and the race to the South Pole is on. For years, Jack Winslow has dreamed of conquering the frozen wasteland, but just before he sets sail, his wife dies suddenly. Rather than cancel the voyage, he brings his two grief-stricken sons, Colin and Andrew, on the adventure of a lifetime.
Although the teenagers have read widely of the Antarctic and the icy, unforgiving sea that surrounds it, no book could prepare them for the journey ahead. Killer whales, temperatures as low as -100°F, and deadly crushing ice floes are only the beginning of their troubles. To survive this trip, the Winslows will have to set aside their grief and come together as a family.
---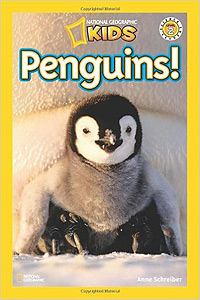 National Geographic Readers: Penguins!

Anne Schreiber

Ages 5 - 8
They waddled into stardom in National Geographic's March of the Penguins film. These guys are now nature's ROCK STARS! If you're age 5, you're probably as tall as an Emperor. But why do they throw up so much? March this way, and find out all!