Winter Hats and Balaclavas
"When your feet are cold, cover your head" - Inuit saying.
Clothing to make you proof against the elements.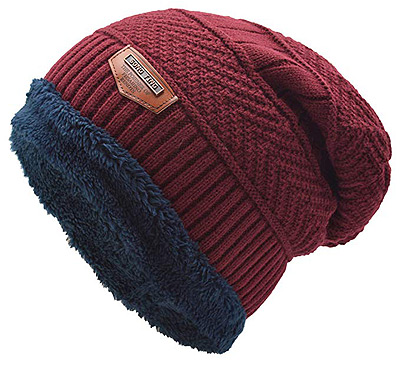 ---
The brain is one of the most metabolically active parts of our bodies, generating heat continually, it is important that it is kept at normal body temperature so that it functions correctly. This means that the head operates like a radiator that can't be turned down, and always loses heat, especially as the external temperature drops.
Wearing a hat is one of the quickest and easiest ways of keeping warm. If you are wearing quite a lot of clothing but still feel cold, particularly at the extremities, putting on a hat is the simplest way to deal with it. We don't really feel the cold in our head like the rest of our body (when was the last time you felt like you had a cold head?) so it doesn't always seem a particularly obvious thing to do. Getting into the habit of putting on a hat when you stop for a break and so stop generating heat by movement is a good one to develop for your comfort and even safety.
In extremely cold weather you will have a shell-garment with an attached and probably insulated hood. Hoods limit visibility and awareness of the world around you and can be quite noisy as they move against your ears. A hat allows you to keep warm with greater freedom of movement without the hood being raised and also acts as an extra insulating layer when increasing wind speed and dropping temperatures become threatening and the hood is raised as well.
---
Features to look for in a hat for extreme cold conditions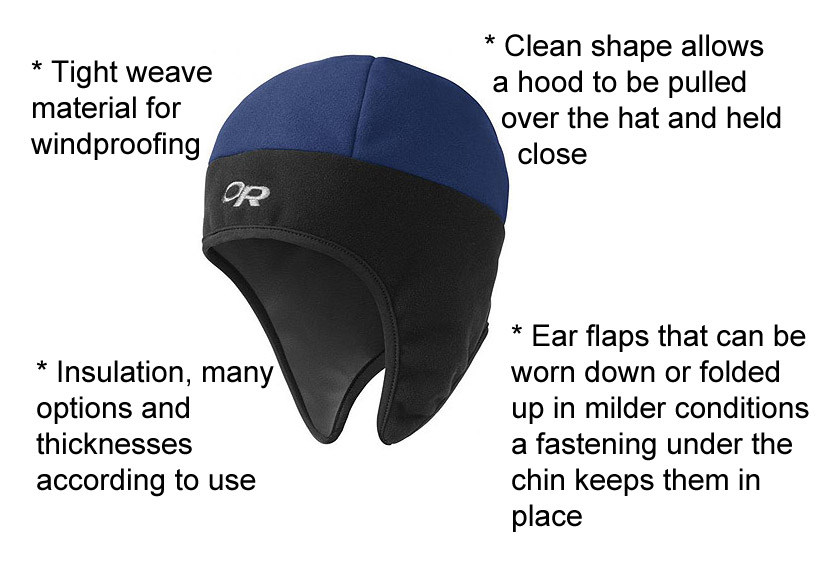 There are an almost endless variety of hats available, all of which will help to keep you warm to some degree. The most effective are close fitting, cover the ears and preferably are without external additions such as pom-poms that prevent a close fit when the hood is pulled up.
A variety of materials are available, my personal preferences are for a synthetic fleece wind stopper hat (as above) which is small enough to take up very little room in a pocket and a shearling trapper style hat that I look forwards to wearing when winter gets cold enough.
---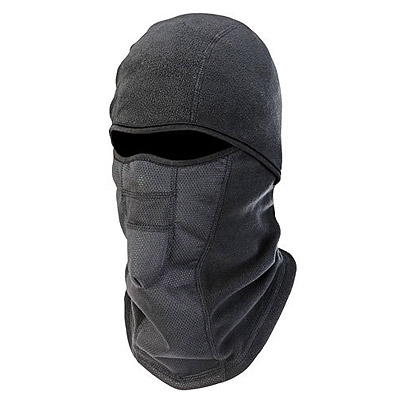 Balaclavas are very effective, worn rolled up as a hat or rolled down as an almost full face covering under your hood. If they cover the mouth and nose, they have the advantage of keeping that area warm, so decreasing the chances of picking up colds and flu which can get a better foot-hold in a chilled upper respiratory tract.
---
Materials - polyester fleece or natural materials such as wool (merino wool is premium), shearling (sheepskin) or fur are very effective and should be chosen for maximum performance.
Thinsulate - a brand name of synthetic insulation that is often found in hats and gloves. Thinsulate is effective and usually fairly inexpensive, preferable to acrylic for a similar price.
Cheaper hats are often made from acrylic which provides less warmth than those materials already listed and are more bulky when stored in a pocket or backpack. This might however be an advantage if you are wearing the hat for fashion purposes as you can still wear it even though it is not so cold without over heating.