Winter Tops
Mid layer insulation
Mid layer tops in cold weather should be insulating with easily adjustable ventilation for versatility. When the sun shines and the wind drops they can become the outer layer even if it's still cold, likewise they should quickly close up to provide vital heat retention when the weather turns again.
---
The mid layers of extreme cold weather clothing are more recognizable as being like "normal clothes" in a way that thermal underwear (foundation layer) and a heavyweight parka (shell layer) aren't so much.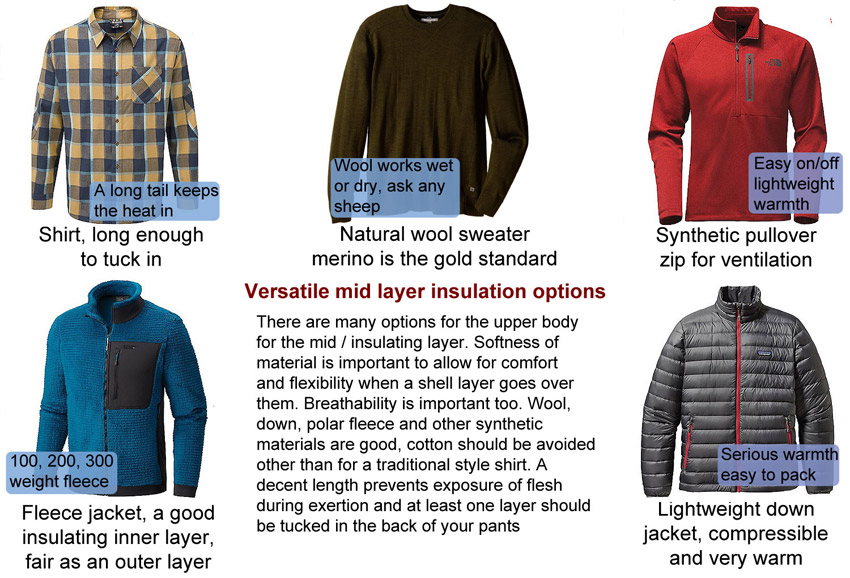 For optimal performance pay attention to the fabric and design, more so than with your normal everyday clothes. More than one mid layer is often worn for comfort and practical purposes, too many become unwieldy and can restrict movement. Two thinner layers will be warmer than one of the same combined thickness and material due to air being trapped between as well as within layers.
The thickness of layers and level of insulation depends on the outside temperature and also on your own comfort level. For me this means two midlayers in cold conditions with another in my backpack in case it gets colder. If the temperature rises, shed the shell layer and/or a midlayer depending on wind chill. Adjustability for ventilation is important, zips, buttons etc.
---
Traditional style over-shirt
A heavyweight long sleeved shirt to go over your base layer, very practical and versatile, long enough to tuck into your pants and prevent draughts.
Such shirts are commonly made from cotton and may have a fleece lining for extra warmth. Cotton is not good as a base layer though, so they are better used as an over shirt with a synthetic or fine merino wool foundation layer next to the skin.
Men's winter shirts: Amazon Moosejaw
Women's winter shirts: Amazon Moosejaw
---
Fleece jacket
"Polar fleece" as it is sometimes called is a polyester velour material, it is very breathable and is soft and comfortable to wear. It doesn't restrict the movement of water vapor, dries quickly, is machine washable, and comes in light, mid, and heavy weights (sometimes called 100, 200 and 300 weights) for a choice of insulation level. The lighter weights are more versatile for layering, the heaviest will often require a somewhat over-size shell layer to go over the top comfortably.
Available in an an almost endless variety of colors and styles, not water proof or wind resistant and will need a shell garment in harsh conditions.
Men's fleeces: Amazon Moosejaw
Women's fleeces: Amazon Moosejaw
---
Wool layer - pullover, sweater etc.
A natural and traditional material for making warm winter pullover, sweaters etc. from, wool provides good warmth for the weight and remains an effective insulator even when damp or wet. Merino wool is a particularly fine and soft grade. Insist on pure wool rather than mixtures with other fibres.
Acrylic or cotton garments can look deceptively similar to those made from wool but are greatly inferior at providing warmth, cotton in particular is cool and miserable when wet, avoid these materials for the insulating layer.
Men's wool sweaters: Amazon Moosejaw
Women's wool sweaters: Amazon Moosejaw
---
Lightweight down jacket
A natural product, the best warmth for weight of any insulating material for clothing. Lightweight down jackets, sometimes called down sweaters or shirts are different garments to those used as outer shell jackets, they are softer, simpler, shorter and much lighter, they usually come with a rip-stop nylon outer and are very compressible (often folding into one of their own pockets) , not particularly abrasion resistant though.
New coatings are overcoming down's biggest shortfall which is performance when wet.
Men's lightweight down: Amazon Moosejaw
Women's lightweight down: Amazon Moosejaw
---
Lightweight synthetic insulation jacket
Similar to the down products outlined above but still warm when wet, they are a little heavier with a little greater bulk. There are a number of brand names for the insulation, one of the best known and most effective is thinsulate.
Men's lightweight synthetic: Amazon Moosejaw
Women's lightweight synthetic: Amazon Moosejaw
---
Best avoided - cotton hoodies and sweatshirts
Forget about that favorite heavyweight cotton sweatshirt you have, even the one advertising your allegiance to your sports team or alma mater. Cotton is a poor insulator for its weight and is a liability when damp or wet from external moisture or sweat, it hangs onto it and feels cold and clammy.