A Reunion to celebrate 60 years of Base H on Signy Island was held at
Peterhouse College, Cambridge on 14-16 September 2007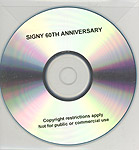 Signy Picture CD:
Over 640 images from Signy from the 1920's to the 2000's arranged as a PowerPoint presentation (no software needed to view) and also as individual files allowing for personal printing, use as desktop background etc.
A few copies left if you'd like one.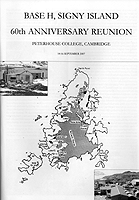 Signy Magazine:
Illustrated A4 magazine collated by Bob Burton.
£2.50 inc postage to anywhere, cheque to:
Bob Burton, 63 Common Lane, Hemingford Abbots, Huntingdon PE28 9AW.
Comments received following the reunion:
In all, a most enjoyable Reunion

The number and range of people attending was impressive; it's a pity we can't have a 60th Reunion every year

A fitting memorial

Can't wait for the 65th!

Interesting to see pictures of how Signy has developed over the years

Remarkable that we all took up again as though the 35 years in between was a mere blip of time

Many congratulations on a tour de force

It was a huge pleasure and a nostalgic delight for me

Many congratulations on a wonderful event.

First of all I couldn't see anybody I knew, then I started to recognise some of those old men waving at me.
Signy Fid Attendees
1950's
1960's
Nigel Bacon 1965, 1966

Andrew Bailey 1963, 1964

John Baker 1966, 1967

Roger Beck 1966; 1967- 68

Malcolm Bedells 1966-67

Doug Bone 1967, 1968

Paul Bregazzi 1968

Mike Burgin 1966

Bob Burton 1964, 1965

John Edwards 1968, 1969

Inigo Everson 1965, 1966

Charles Gimingham 1965-66

Barry Goodman 1964, 1965

Les Graves 1968, 1969

Barry Heywood 1962, 1963 + summer visits

Peter Hobbs 1962, 1963

Martin Holdgate 1961-62, 1963-64

Charles Howie 1965

Nev Jones 1961

Brian Kellett 1972, 1973

Ron Lewis Smith 1966; 1976-77, 1980-81, 1984-85, 1987-88, 1990-91, 1994-95, 1997-98, 1999-2000

Terry Mason 1962

Len Mole 1967

Paul Pilkington 1964, 1965

Martin Pinder 1969

Ron Pinder 1959, 1960, 1961

Robert Smith 1967; 1968-69

Humphrey Smith 1969, 1970; 1983-84

D Allan Spencer 1967, 1968

Russell Thompson 1961

Peter Tilbrook 1962, 1963 + summer visits

Fred Topliffe 1962, 1963

Tony Walker 1964, 1965

Brian Westlake 1961

Eliot Wright 1969
1970's
Chris Amos 1972, 1973

Dave Ball 1975

Bill Block 1971-72, 1976-77, 1979-80, 1981-82, 1986-87

Ian Collinge 1972, 1973

Herbert Dartnall 1974, 1975

Cynan Ellis-Evans 1976, 1977

Tim Hooker 1972, 1973

Peter Jennings 1971, 1972

Jeremy Light 1970, 1971; 1973-74

Gordon Picken 1975, 1976

Julian Priddle 1975, 1976

Mike Richardson 1971, 1972

Jay Rushby 1972

Richard Webb 1971

David Weller 1972, 1973
1980's
Dennis Allsopp 1980-81

Paul Brazier 1989, 1990

Stephen Bridgman 1982

Paul Burren 1985, 1986

Ray Cannon 1983

Andrew Clarke 1986-87, 1990-91,1992-93,1994-95

Martin Davey 1987, 1993, 1994; 1989-90, 1996-97, 1997-98, 1998-99,1999-2000,2000-01

Neil Fitch 1980, 1981

Barry Green 1984, 1985

Paul Harrison 1984

Paul M Harrisson 1981, 1982

Peter Hizzett 1983, 1984, 1987

Tom Lachlan-Cope 1980

Gavin Lishman 1981

Peter Macko 1985, 1986, 1990, 1991

Colin Maiden 1975, 1976

Ali Malik 1981, 1982

Rolf Maslen 1973-74

Richard Parker 1983

Jon Pickup 1986, 1987

Kevin Puttock 1987, 1988

Mike Richardson 1971, 1972

Damien Sanders 1981

Mark Sanders 1983, 1984

Paul Tearle 1984

Andrew Tucker 1985, 1986

Yoav Tzabar 1987

Stephen Vincent 1982, 1983

David Walton 1984-85 and subsequent summers

Paul Ward 1985-86
1990's
Rod Arnold 1990

Pete Convey 1990 and subsequent summers

Mathew Davies 1998-99

Matthew Edworthy 1994, 1995

Helen Edworthy (nee Butler) 1996; 1999-2000

John Everett 1995

Peter Lens 1995

Amanda Lynnes 1996-97, 1997-98, 1998-99, 1999-00, 2000-01

Andrew Marriott 1995-96, 1996-97

William Marshall 1993

David Pearce 1997-98, 1998-99, 1999-2000

Ian Smart 1992, 1995

Matthew Tallents 1995
Ellen Bazeley-Wright (BAS Archivist)
Chris Eldon Lee (BAS archivist and Oral History)
Pictures received from:
Dennis Allsop

A D Bailey

Paul Broady

Charles Gimingham

Peter Hobbs

Peter Jennings

Gordon Picken

Robin Sherman

Allan Spencer

Jim Stammers

Peter Tilbrook

Walter Townsend

Paul Ward

James Young

BAS Archives
Memories of Signy:
Diving off Berntsen, the grey sandy floor of Factory Cove was positively lunar, impressively cratered with large saucer-like depressions where grounded bergs had rocked and turned. And with perfect visibility into the distance, the inky darkness seemed to emphasise this lunar similarity. Suspended weightless there I thought this was as close as I'd ever get to feeling what it would be like to fly weightless over the alien Moon. But then, breaking the surface a Snow Petrel flew around me. To watch him at wave-level, fluttering in his own perfect environment amongst the waves and bergy-bits seemed such an awesome privilege. And all this before morning Smoko - and no camera!
- Tim Hooker
Winter 1972, doing a 3-day trip around Signy - arriving at Cummings, via Foca and Jebsen late in the afternoon, in the mank. The hut then was no more than a dry-stone wall with a metal roof. The door was only a board, and everything inside was buried in snow. We dug out the sleeping bags and primus and had a brew of nutty-bar, dried onions and peas and then tried to sleep. It was -29F and we lay there in the snow, in the dark, with the hoods of the green Everest sleeping bags drawn so tight that only one nostril was exposed for air. I've never felt so bloody cold as that night in a snow drift with the wind blowing through the dry-stone wall. Getting out for a pee and looking at the amphitheatre of black cliffs and snow all around, lit up by the moon, the masses of bergs out in the bay, the utter lifeless winter silence, and feeling that terrific sense of good 'ents', knowing that this is one of those memories that will last for ever.
- Tim Hooker
Winter 1972, a wonderful dingle day for taking the doo far out beyond Outer Island, into the chossed pack-ice, to the grip the big bergs out there. Jan driving, Brian ski-yawing on the tow-rope behind, and the berg immensely huge before us. Signy looked so small and far away and so insignificant in this wilderness of white. Rugged stuff, good grips - and then John trundles along on the red doo, giving it a test drive from the genny shed - and would you believe, 3-4 miles out in the pack and he's still in his shirt sleeves and slippers, and loving it!
- Tim Hooker
1973. Driving the doo through winter Christmas cakes at Mirounga at midnight to sample the poddies in Lake 2. Sitting in the tent over the hole cut in the ice, pumping up water and listening to the hiss of the Tilley lamp - alone at midnight in the middle of nowhere, somewhere in the Antarctic, on a frozen lake, under the black silhouette of Robin, and the stars gently illuminating Coronation Island. And all was completely silent, frozen in time, and so bloody cold, and so utterly utterly wonderful. Thanks for letting me do that sample, Chris.
- Tim Hooker
Christmas 1984, doing night watch at Signy base and watching a young female elephant seal playing in the shallow water between the end of the jetty and an old iron tank left in the shallows, a relic of the old whaling station. Peaceful and quiet, everyone else in bed, a rare clear and calm night, the whole scene lit by the pinkish light from the sun, drifting just above the horizon, at 2am in the morning.
- Ian Johnson
I showed someone an album of prints of Signy I have a little while ago and they commented
"was it always so sunny?"
if only they knew!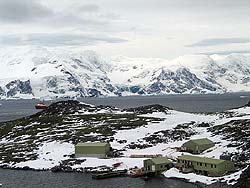 Signy Antarctica 2003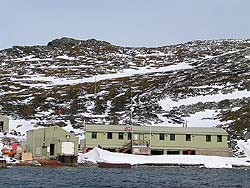 Main Accommodation and Boatshed 2003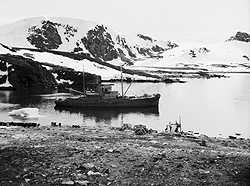 Supply Ship 1953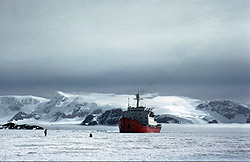 Sea Ice Relief November 1972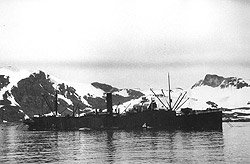 Orwell - Factory Whaler in 1925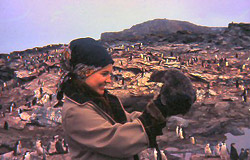 Svetlana - she of the Passage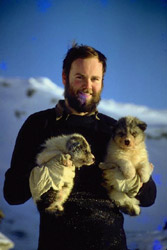 Peter Hobbs and pups 1962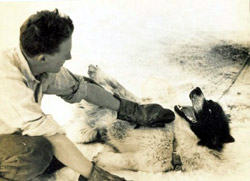 Derek S (?) and dog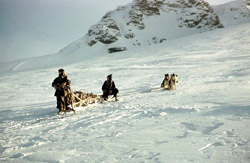 Dogs on the Gourlay Slope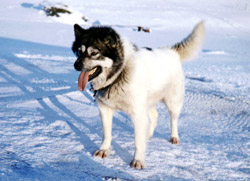 Esme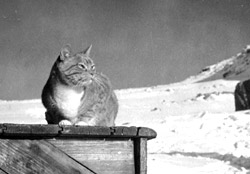 Ginger the Signy Cat 1962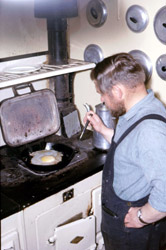 One GP egg's an oeuf for me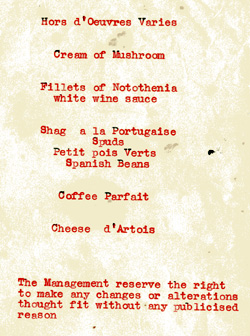 Midwinter Menu 1958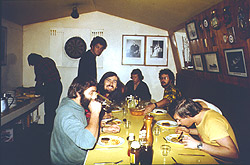 Feeding time in the plastic hut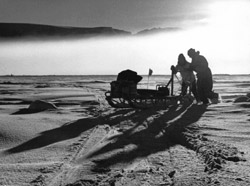 Pushing a sledge on sea ice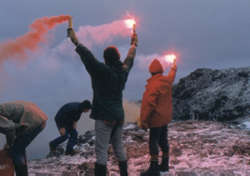 Bye then.... - last call flares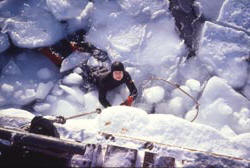 A step too far, climb the rope to finish the race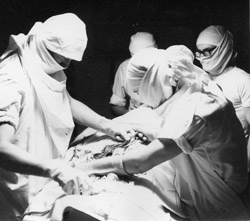 Appendectomy
- aren't you glad this wasn't you?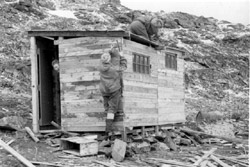 Building Foca hut in 1960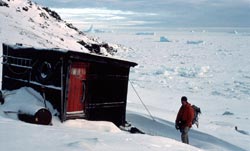 Still going strong in 1986, Foca hut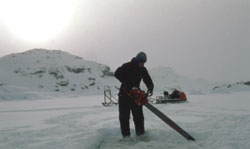 Preparing a diving hole

Having a lovely time, wish you were here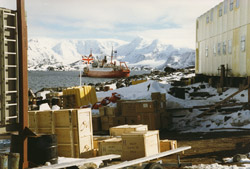 Summer relief at Signy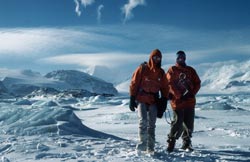 Look mum, me and my friend in Antarctica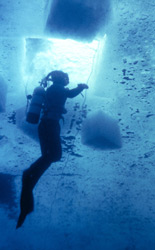 I was that man!