FIDS - Argentine Islands, Faraday - Base F

65°15'S, 64°16'W - occupied 07/01/47 - 22/07/95 | Akademic Vernadsky Ukraine since Feb 1996
Please register to include your details on this page | Database of all BAS winterers | Who runs Cool Antarctica?
---
---
Don Taylor (Rothera, Halley, Signy, Faraday, South Georgia - 1984/85, 1993-2004) Willingham, Cambs
1950's
Harry E. Agger (1959-60) - San Clemente, California
Alexander Graham. (1953 / 55) - Isle of Lewis, Scotland I would like to hear from any surviving members who were at Base F with me during the period 1953-55. Old hands such as Ralph Lenton, Eric Salmond, Sandy Simpson, Buck the wireless op, Ray the diesel mech. and anybody else who is still around. Any way, Regards to all from Alex Graham
1960's
Bill Atkins, (1969/1971) - Mt Riverview, NSW Australia Seconded to BAS from RAF as diesel mechanic. best posting I ever had (except for Nairobi and Cyprus.) Anyone out there wants to chat about old times I'd be happy to hear from them
Robin Chambers (Argentine Ils, Adelaide - 1967-1971) - Nanaimo BC, Canada At Deception for the eruption Dec 1967. On board Shackleton when 2nd. eruption destroyed base B, 21 Feb '69. Ashore 3 days later to salvage personal gear. 1969 Winter @ F, upper-air Met. 1970 moved to Adelaide T, Met. included 10 wks. travel; plus 4 wks. @ KG.
Brian Gilbert. (1968/1969) - Wanaka, New Zealand
Dudley Jehan - Cuddles - Guernsey, Channel Islands Wintered at Base Z Halley in 1961, 1963 and 1964.
Tony Haynes. (1960/61) Sydney Australia.
Graham Jones, Bases B & F & RRS Shackleton (1965 to 1969) - Thame, Oxfordshire DEM at Deception Island 1966, Argentine Island 1967 and third engineer RRS Shackleton 1968/69
Bob (Gnome) Lewis (1962/63) - St.Paul-en-Chablais, France Down on the Kista Dan in December 1961; back to UK on the Shackleton arriving May 1964. Physicist at Base F. Some first climbing ascents on the mainland. Lots of happy memories and stories. I guess that my contemporaries are all over 60 now ;-(((
Barry Murton - Min (63-66) - Aberdeen
Nick Sutton. (1963/1965) Ross on Wye. Would particularly like to contact Clive Slater
1970's
Robert Ashley - "Taffy Maggott" (1979) UK Nice to hear from other FIDS that served in the "Loneliest laboratory in the world".
David Clark (1971) Pembrokeshire
Ron Gill (1971) - Shropshire Interested to hear from any of the FIDs there then.
Dick Hide. (1977) Burgess Hill. The rumble of avalanches, the whales blowing in Penola straights, the grinding of the ice. That was Faraday, what memories.
Kenny Hughson (1972 / 73) - Brae, Shetland
Laurence Howell - "Flo" (Rothera / Faraday 1978-83) Tanggu, China.
Mike Hinchliffe - "Charlie Moon" (1970/1971) Preston UK

Neil Macpherson (Argentine Islands, 1970/1971) - South Uist, Western Isles, Scotland. Happy to hear from anyone who was at F at or around that time.
John Moore (Faraday - 79 and 80) - Selkirk A new e mail address for all of you still wanting to contact me. Good to make contact with so many this year
Clifford Shelley (1976 - 1977) Witney, Oxfordshire
Clive Soutar (1978) - Greenock, Scotland I wintered in 1978 at Argentine Islands ( base Faraday) as an Ionosphericist having been seconded from the Army. In March 2002 all of my Antarctic memories were lost in a catastrophic blaze while my belongings were in storage I am keen now to re-establish any links to anyone with photos of my year there so I can show my kid.
1980's
Len Airey (Faraday & Halley - 80's and 90's) - New Zealand A few names I recognise - how are you all? On Antarctica will be available on Kindle shortly or hard copies of the book direct from me if you are interested in re-kindling a few memories. I lost touch with Joffs, Pint, but if I find his address I will let you know. Best Regards, Len.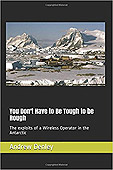 Andy Denley (1979-81, Rothera and Faraday) West Hoathly, Sussex I was a mere lad of 19 when I arrived as a green WOM at Argie. My parents hardly recognised me when I got back after after two summers and winter away. I got the impression at first they would rather I went straight back! Grand times. Possibly the best job I ever had. Andy's book "You don't have to be tough to be rough" is available from Amazon, profits to Sussex Cancer Relief fund.
Lewis Griffiths AKA Biffo (Faraday - 1983 to 1986) - Chester, England
Graham Hurst (1982) - Bakewell, Derbys I went down as base doctor and still have rather mixed feelings about it all. Nice
jolly round south and north Americas at the end though!
Chris Jobber Jeffes (1980-1982) - Itchen Abbas Winchester Hants UK - Hi there to all fellow Faraday FIDS - looking to catch up with Neil 'Runner' Shaw, Len Airey and Geraint 'Pint' Hughes. Great pub just down the road in case any passing FIDS want to while away an evening with some Antarctic tales...
Dave Jobes (Rothera and Faraday- 1988 ish) - Malaysia Spent time at Faraday then went onto Rothera for 18 months for the rebuild, brilliant times. Even 20 years later I still check the web cams every day !!!
Mike Rooksby "Rooky the Cookie" (Faraday - 1983 to 1986) - Leicestershire email An amazing 2 years of my life, working and living with some amazing guys. I have no regrets and continue to bore people to death with 'when I was in Antarctica stories' even now! Happy for any ex colleagues to contact me.
Jerry Smith (86 - 88) - Carndonagh, Ireland I worked as deckhand on Bransfield from 86 - 88, Rothera Base GA for summer 88/89 and wintered as metman at Faraday in 89. Visited Faraday/Vernadsky as lecturer on World Discoverer in 2000 - 2002 and could quite happily have stayed for another winter. Now settled in Ireland. Would like to hear from anybody from that era who remembers.
Mike Whitbread (Argentine Islands + Deception, 1964-67) - Northampton Spent a few months at Signy and Coronation Island on Hi Fix and another 6 months on South G before it became a BAS base.
John Williams (1986 - 1989) - Canada
1990's
Nigel Blenkharn (1995 Faraday), (1998-1999 Rothera) - Greystoke, Cumbria - email
Steven Cuthbertson (1992-96) - Worcester, UK Too long, but hasn't had any detrimental effects on either of me.
Andrew Date (Faraday - 1994 to 1996) - Singapore FIDS welcome to get in touch if passing. It's not cold here.
Mark Dixon - (1992), Norfolk -
Simon Filer - (1990-1992) - Lerwick, Shetland
Billy Gallacher - ''Celtic Billy'' (1990) London, UK Wintered over at Faraday Base in 1990 as the Radio Operator. Looking north towards The Lemaire Channel .... Phew! What a view! Fantastic!
Duncan Haigh (1994/1995) - Andover, Hampshire Maybe one day I'll stop boring people at dinner parties before I have too much to drink and fall asleep
Geoff Knox (Faraday/Rothera - 1992-93 summer only) Plumber on Faraday, general base assistant on Rothera. Married with two young boys, now working as a sports journalist.
James Mead (Faraday - 1992 to 1995) - London UK


2000's
Sergey Ignatyev (Akademic Vernadsky ex Faraday - 6 years) - Russia Sevastopol I am a research worker (marine biologist). I carried out researches in marine expeditions from 1998 and Academician Vernadsky (former English base Faraday) wintered to the Ukrainian station.
---
Trying to find... To use this option, fill in the registration form, but include your own name and email as a contact, requests kept online approx. 2 years.

I'm sure I did this already... every now and then I send out emails, a proportion of these bounce back as "not found", often because it was a former work email or an ISP that no longer exists, as there is no longer any way to make contact I delete the record to keep things as current as I can...