Seabees in Antarctica
Ellsworth, Byrd, Hallet, McMurdo, Plateau
South Pole, Wilkes Stations
---
---
Please register at the bottom of the page to include your details. Who runs Cool Antarctica?
---
Please register to include your details. Who runs Cool Antarctica?
Byrd
Jim Bartley (Byrd 64-65) - Cle Elum Wa. - Electricians Mate 2nd class. What a ride, one of the most memorable times in my life. Wintered over with 28 great guys. Unfortunately was the year our comrad Carl Disch wandered off in a blinding snow storm and was lost forever. Three months later our mascot Gus (Sastrugis) also wandered out of the tunnels and disappeared.
Alan Chandler
(Byrd VLF Substation Longwire - 1969, Summer 68, all 1969 and summer of 1970. Summer 1971 McMurdo) - Woodinville WA -
Chuck Davidson
(Byrd Surface Camp, McMurdo - Byrd 88-89 McMurdo 95-96) - Mt. Pleasant, SC Have very fond memories of my Byrd Surface Camp summer over in 88-89 and the W/O in McTown in 95-96.
David Hirn
(McMurdo Station and Byrd Station - 1971, 1972) - Sturgeon Bay, WI U.S. Navy - Radioman Summer Support 71-72 McMurdo Station. 72-73 Byrd Station. 73 returned to Seattle via USCGC Staten Island (Thanks to Chief Brown). Thanks too to the guys at Scott Base for their Wednesday night phone patches back to Christchurch.
Kellie Justesen
EO (Byrd Surface Camp - 1990-1991) - Virginia - Great memories of Byrd and Mac town.
Paul Kelley
(McMurdo, Byrd - 1977) - Simpsonville South Carolina - 1977 to 1980. US Navy Terminal Ops for 2 years and then Supply for 2 Years. Customs inspector in Chi-Chi one year.
Rober Lynn Dix
(McMurdo Byrd Surface Camp 1971) - Nicholasville, KY I was a radioman at McMurdo in 1971-1972 and helped to establish the first Byrd Surface Camp in 1972-1973
Paul R Martin
(New Byrd Station - 1961) - Seaford DE
Walter K Niggemeyer (deceased - USS Preble, Radioman at Byrd Station 64/65) - Bremerton, Washington Raised German, so most likely still had some accent. Now deceased/passed away in 2010 in Bremerton, Wa. (I am Walter's daughter...He would have loved to find this site!) Walter told us of men wandering off never to be seen again. The story of Gus, wandering off after receiving a "Dear John" letter was told by my father several times. Something about a German Shepard as well, which did make it's way back to the station, just without Gus. I have many photos of Walter and comrades at Byrd Station, from his year there. (Will upload to this site for anyone interested)
Vic Nordmann (Hallett station, Beardmore camp, Byrd station, McMurdo, 1969-70-71), - Louisville, Kentucky Summer support 1969 season. Beardmoore base camp, Byrd station, McMurdo, Hallett station 1970, 71. Station UT.
Jack O'Hearn (CBU 201 - '69, '70, '71) - Knoxville TN USA Alpha Company McMurdo and Byrd Longwire Detachment. Hope to tag up with acquaintances from the Ice
Michael St. Pierre (summer support - 1969 McMurdo, 1970 New Byrd Station) - Hernando, Fl.
Everett Suchland
(1967) - Darlington SC Wintered Over at Byrd Station during Deep Freeze '67. Also, was with Staff, COMNAVSUPPFOR Antarctica from 1958 to 1961 serving with RADM Dufek and RADM Tyree. Rotated between Washington DC and Christchurch NZ.
Rich Urbanak (Byrd/Pole Stations, 1960 & 1971) - Titusville, FL
---
Ellsworth
Jorge A Buero
(Ellsworth Scientific Station - 1963) - Manzanares Pilar Bs As Argentina I remain one year in Ellsworth working for the Instituto Antartico Argentino , with 5 US
Earl F Herring
(Ellsworth Station Antarctica - 1957-1958) - Modesto California My father enlisted in 1948 and retired in 1970 from NAS Alameda as a Master Chief AK. He married in 1959 and had three children. He passed from cancer in 1990 at 59. My mother passed in 2013.
Vic McCord
(1978 to 1981) - Shelby NC, USA I was originally hired for Palmer station but wound up doing Darwin Glacier field camp 1978-1979. Ellsworth field camp 1979-1980 and Siple field camp 1980-1981.
---
Hallett
Earl F Griffith, Griff
(McMurdo, Beardmore, Hallett - 1970-1973) - Helena MT Started out in the firehouse in Sept 1970; made AG3 and went from McMurdo weather to Beardmore for a brief stint. Got pulled from Beardmore to replace AG at Hallett. Spent the next two summer seasons at Hallett and helped close the station in Feb '73.
John Hendrix UT
(Hallett - 1958-1959) - Valparaiso In America Looking for old buds who wintered over with me.
Vic Nordmann
(Hallett station, Beardmore camp, Byrd station, McMurdo, 1969-70-71), - Louisville, Kentucky Summer support 1969 season. Beardmore base camp, Byrd station, McMurdo, Hallett station 1970, 71. Station UT.
---
Plateau
John L Wright
(Plateau Station - 1968-69) - Lyons I was the petty officer in charge of Plateau station for the austral summer of 1968-69, summer support. Scientific leader was George Ruben de la Borbolla. - John L. Wright (then) ETN2
---
Wilkes
Andrew Stanner
(Wilkes 1988) - Kirribilli I made a relatively short trip to Wilkes. Have photos I can share.
---
Sea Bees in Antarctica
Jim Affeldt (McMurdo / Pole / Hallet / Vostok - 1968/69 72/73 75/76) - Rock Stream New York I worked in the McMurdo fabrication shop. Did repairs at the Pole & Hallet. Drank with the Russians at Vostok.
Rowland Bliss (ASA - 1961) - Stafford, CT USA In 1961 ASA stood for Antarctic Support Activities, It was a Seabee outfit, we were summer support based in Davisville, RI. I was stationed at Williams field. We hauled freight off the ships up to McMurdo Station. In February 1962 I broke my leg at McMurdo Station and was flown to Christchurch NZ, then to Oahu ,Trippler Army Hospital. I finally ended up in Newport Naval Hospital.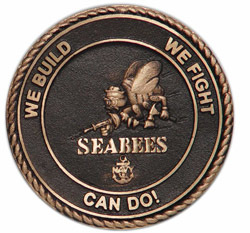 Bronze Navy Seabees Seal or Flag Holder
- 6" diameter - from $39 - Nebraska Seabees
John Clampet (CBU 201, 1968) - Miford - Spent 2 seasons at Palmer 68/69, 69/70. Worked for ASA and Raytheon at McMurdo from 96 to 2008. Miss all the great people.
Barry Gibbs (CBU 201 - Summer '67/'68 & '68/'69) - Averill Park, New York
Earl Griffith - Griff (McMurdo, Beardmore, Hallett - 1970-1973) - Helena, Montana I was assigned to the firehouse gang at McMurdo for a couple of months until I made grade to AG-3, then on to Beardmore Glacier to take weather obs. Finally got sent to Hallett in Jan 71 and spent the next two seasons there. We closed the station in Feb 73. Capt. Van Reeth allowed me to keep the last American flag that flew over the station while still an active US Navy base. The Ice was the best damn tour in the Navy. Good people, good friends.
Howard Hanson - Hans (McMurdo and Hallett Stations, 1967-1969) - West Springfield MA USA I was an ET at McMurdo and then the station ET at Hallett for two summers.
George Hensen - (USN CBU 201 - 1967) - - Palm Bay Florida
Joe Jones (NSFA summer support - 1974) - Lemoore Ca. USA I was a US NAVY SEABEE (EO1) at McMurdo Public Works. Worked a lot with the NSF in scientific explosive needs. Dome Charlie.
Charles Lauter - (Hallett base - 1961) - Miami FL I was also stationed at Little Rockford. Population 6.
P W Lint Base - (ASA and NSFA - 1962, 63, WO 64, 1980, 81, 82, 83) - Ormond Beach
Paul Kelley (76-80) - Greenville SC - Worked in Terminal Operations and Supply summer support. Spent time at Byrd surface camp 77.
Rick Mathieu (Hallett, McMurdo - 1970/1971/1972) - Loudon, TN USA 1970/71 Station electrician at Hallett Station. 1971/1972 Electrician at McMurdo, Penguin Power and Light. EM3. Looking for Hallett Station team members in the summer of 70/71: Vic Nordmann, Al Koeplin, Tom Boggs, Walt Miniard, Dave Pruden or Chief Floyd Stevenson. Also field team leader and great guy EO Sr. Chief Dick Edgerton. Others, Rich Belfari from NYC, Sid Levine from West Haven CT.
Mike Johnson (82/83 - WO) - Milwaukee, WI USN-Retired MR1(SW) 1983 W/O crew. Arrived 10/5/1982, departed 10/5/1983. Worked for the Seebee's Transportation Dept. as the assigned machinist. Would love to hear from anyone who was stationed at McMurdo during this time.
Jim Igor Kaelin (McMurdo & Willie Field - Winterover 1977) - Park Hills, KY CM2 Spent the summer at Willie Field and the winter in McMurdo. Had a great time on the "Ice" and met made friends with some great people.
Bob Manke (Red)UT2 (Byrd Nov '59 - Dec '60) - Pendleton, NY USA Is there any other Seabees or other naval people from those years still around?
Clyde McCauley (Ellsworth station - 1957-58) - Key West FL Spent many days shoveling snow for drinking, cooking, bathing. Did my share of mess duties, Working on D-4, D-8. Helped replace broken track on D-8 with Walt Davis, and my fingers still don't like cold weather. name is on a small rock (over 1,000 m high) over there. Would do it again. Great group of people. Loved to use Ham gear to talk to the outside world during the long dark winter.
Robert J. Moffat "Bob" (Ellsworth Station- McMurdo - 1/58-3/59 10/65-10/66) - Meridian, Id. USA Had a good time at Ellsworth. I WAS A CE1 at the time. There were 6 Seabees as part of the crew, with a Ensign CEC officer in charge. A Navy Lt. was the OIC, Lt Paul Tidd. He was the the helo pilot. There were 30 Navy personnel, supporting 10 civilians. When we departed in March of 59 The station was turned over to the Argentine Navy.
Leo Murawski (w/o 76/77) - Retired - Vernon, FL
CUCM Johnnie Nash (Mc Murdo, Sea Bees - arrived 1974, left 1975) - North Charleston, SC

Willie M. Neely (ASA - Byrd station 1963/64) - Algood, Tn. USA
Vic Nordmann (McMurdo, Hallett, 1969-70-71), UT2 - Louisville, Kentucky
Darrell Richards (CBU201 1967-68) - Watsontown Pa Have many photos from summer seasons. 1 of Lt. Gibbs on guitar with group I believe celebrating Christmas 67.
Carl Ruffer (McMurdo and Pole Station - 1969, 1970) - New Jersey Looking to hear from any of the boys I served with from CBU 201
Mike St. Pierre (McMurdo / New Byrd, 59 / 60 / 61) Hernando, FL. I was sent to Davisville right out of high school. The unit then was MCB special. I had no idea it was operation Deep Freeze. I spent the first summer at McMurdo, and the second at Byrd building the New Byrd.
Rich Spatz (McMurdo & Longwire, 1967-1968) - Pleasant Hill, California USARP W/O McMurdo 1968 spent the summer of 1967 at Byrd sub-station Longwire
William (Bill) Sumrall (Ellsworth Base 1957) - Sherman, Texas Bill's pictures

Ed Tarker (Antarctic Support Activities - 1967) - Berlin, Pa., USA
P.B. Unger (mcb special detbravo - 1957) - Melbourne Fl USA Looking for contacts wintering over LAV
Steve Wendt (Winter over 74) - Indianapolis Indiana, Retired navy in 1993 as a Seabee Diver. Retired from second career on 2016. Would love to go back as a 19 year old kid the experience was tremendous for me.
Thom Wilborn (Antarctic Support Activities (ASA) - 1971-1972) - Washington, DC I was the ASA Journalist who ran the radio station (WASA) and newspaper (ASA Sometimes). I would like to thank all the volunteers who kept the radio station going all-day, everyday during Summer Support. I'd also like to thank the Seabees who helped me with the artwork and cartoon masthead for the "Sometimes." They deserve the full credit for bringing bits of home to all the guys on the Ice. Thanks to Jorge Raviero, Jack Frost and Andy Anderson who made such interesting stories published back home. My deepest thanks and since appreciation to Capt. Eugene Van Reeth and the late Commander Robert "Bouncing Bobby" Balchunus, the best CO and XO anyone could ever have. Also thanks to the galley crew for giving us the best food in the Navy. I can't remember all your names, but for Al Bray and Don Jackson, you were the best shipmates and friends I ever had.
James B Wilbur(Jim - MCBU201 - 1965-66) - Spanish Fork, Utah
---
Trying to find... To use this option, fill in the registration form, but include your own name and email as a contact, requests kept online approx. 2 years

I'm sure I did this already... every now and then I send out emails, a proportion of these bounce back as "not found", often because it was a former work email or an ISP that no longer exists, as there is no longer any way to make contact I delete the record to keep things as current as I can.