McMurdo Station Antarctica
A US research and support facility that was established in 1955 at the southernmost point of Antarctica where bare ground is accessible by ship. It is the largest base in Antarctica by a considerable margin with around 1000 personnel (up to 1250 possible) in summer and 250 in the winter.
Where is McMurdo Station?
The American McMurdo station is built on solid land on the coast of continental Antarctica at the edge of McMurdo Sound, it is situated at the southern end of Ross Island at the end of a spit of land called the "Hut Point Peninsula".
---
---
Ross Island is about 45 miles long and wide at the maximum points. McMurdo shares Ross Island with New Zealand's Scott Base and Mount Erebus, a 12,448ft (3,794m) active volcano as well as emperor penguin, adelie penguin and skua colonies and the inactive volcano Mount Terror.
McMurdo is at 77°51'S, 166°40'E between the Ross Sea and the Ross Ice Shelf. The Ross Ice Shelf is a floating area of freshwater ice fed by glaciers spilling off the continent of Antarctica that fills a huge bay approximately the size of France.
The modern McMurdo Station developed from an encampment on Ross Island at Hut Point in 1955, part of a major series of American expeditions to Antarctica as part of "Operation Deep Freeze". Initially the station was simply a collection of tents before prefabricated buildings were erected. It was originally known as Naval Air Facility McMurdo, being renamed just "McMurdo" in 1961.
---
---
Historical Significance
Hut Point and the Hut Point Peninsula get their name from a wooden building erected in 1902 by Captain Robert Falcon Scott and used as the main base during the 1901-04 "Discovery" expedition. The hut was also used by Ernest Shackleton during the 1907-1909 "Nimrod Expedition (his main base was 20 miles away at Cape Royds) as a staging point during Scott's 1910-1913 expedition (main base at Cape Evans, between hut point and Cape Royds) and again in 1914-1917 by the Ross Sea Party of the Trans-Antarctic Expedition. The hut and surrounding area is protected under the Antarctic Treaty as Antarctic Specially Protected Area 158.
There are also the historic remains of "Vince's Cross" commemorating George Vince a member of Scott's 1901-1904 expedition who died in the vicinity in 1902, and a cross on Observation Hill commemorating Captain Scott's party all of whom died on the way back from the South Pole in 1913.
The region was first discovered by James Clark Ross in 1840 during an expedition from 1839-1843 on the ships Erebus and Terror. Many of the features in the area are named after that expedition. The Ross Sea and Ross Ice Shelf after James Clark Ross himself, Mount Erebus and Mount Terror after the ships. McMurdo Sound and subsequently McMurdo base were named after Lieutenant Archibald McMurdo, an officer on the Terror.
What happens on McMurdo Station, how big is it?
McMurdo is a center for all manner of scientific programs and experiments. It is also a starting-off point for many field parties that travel out to various places in Antarctica to carry out scientific work there. All personnel and cargo that goes to or from the Amundsen-Scott station at the South Pole first passes through McMurdo, most of the flights in and out are to Christchurch in New Zealand.
There are about 1000 personnel on station during the summer months, falling to around 250 in the winter. Many of these summer personnel are scientists, though in the winter, most are support workers. There are now over a hundred permanent structures, three ice runways and even a floating dock (wharf) made artificially of frozen freshwater. The buildings consist of a whole range of scientific laboratories, administrative buildings, workshops, garages, medical buildings, dormitory and sleeping facilities, kitchens, canteens and recreational facilities.
Terrestrial and marine biology, geology, meteorology, upper atmosphere physics, glaciology, sea-ice studies, cosmic radiation, geophysics, petrology, geochemistry and geomorphology are some of the scientific research activities that go on at McMurdo.
---
---
What's around McMurdo?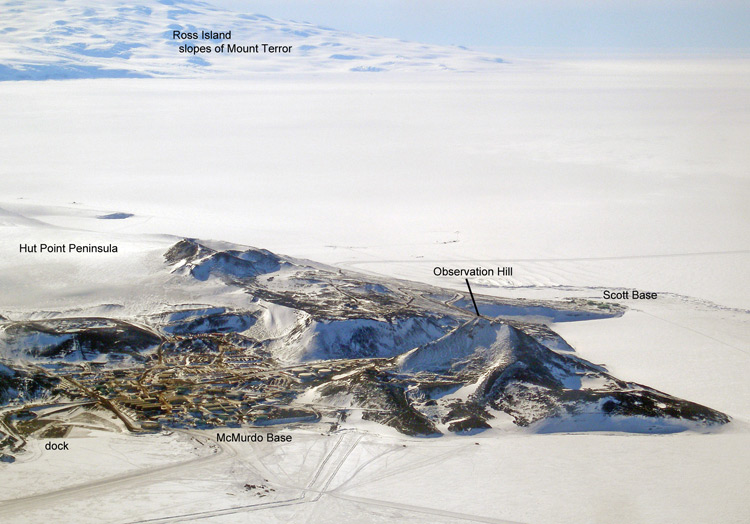 McMurdo and the surrounding area from the air, everything that looks flat and white is sea-ice.
---
---
Just up the coast from Hut Point is the Erebus Ice Tongue, the blue-white jagged projection that is sticking out into the sea-ice in the picture above left. It is fed by a glacier that flows down the slopes of Mount Erebus, large pieces break off rarely, once every 3 to 4 decades.
If you look at the interactive map below, you will see the ice-tongue points to an area to the left that appears brown with no ice cover, these are known as the "Dry Valleys" it is area where glaciers flow, but then prevailing winds cause the ice to evaporate leaving dry permanently frigid land. It is the closest place on earth to the surface of Mars and is where Mars landers and probes have been tested in the past.
Mount Erebus is one of just 5 locations world-wide where there is a permanent lava lake. There is usually enough steam or smoke being emitted to see the wind direction at the summit.
---
Scott Base
Scott Base is a New Zealand run Antarctic base situated about 2 miles from McMurdo. It is much smaller than McMurdo (all other Antarctic bases are much smaller than McMurdo!) with about 25 personnel in the summer and 12-15 over the winter.
Scott has been occupied as a year-round base since 1957.