FIDS - Rothera Base - Rothera Point
67°34.17'S 068°07.20'W occupied 25/10/75 - present
Please register to include your details on this page | Database of all BAS winterers | Who runs Cool Antarctica?
---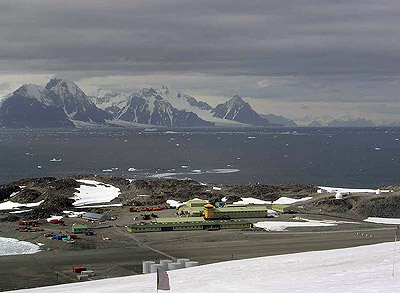 Rothera Station in summer
Photo - User Apacheeng lead, Creative Commons Attribution Share Alike 3.0 Unported license.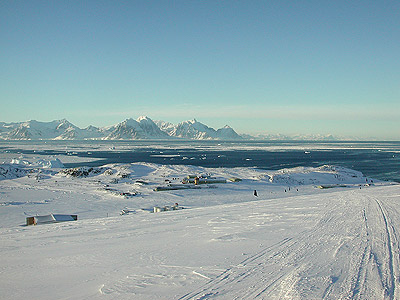 Rothera in Winter
Photo - Jenny Dean,
more of Jenny's pictures
---
Barry Heywood (Signy, Rothera, Halley, John Biscoe, JCR - 1962-1997) email Oundle
Don Taylor (Rothera, Halley, Signy, Faraday, South Georgia - 1984/85, 1993-2004) Willingham, Cambs
1970's
Capt Ric Airey, SG, Adelaide, Rothera, etc. - 1974-1980 - Edinburgh, Scotland Out of the ether, all you lovely people, hello and well met, hope every one still clinging to the wreckage, they finally found me out after 32 years in the air and grounded me, flew south with American cousins but BAS wont have me not surprising with mother superior still in charge grin, she's done well for a primary school teacher with a rubber fetish. Damn it i have missed you all wonder where Mex Merson, Howard Platt, Gerry Lawson are now .ref history being r/o skeletons I can do particularly the funny ones see doggerel BAS club letter 34 , also why is Nigel Leader-Williams not yet prime minster, and Howard my dads still alive and still my hero. Sea ice fast and plateau clear sledge dog days remain most dear xxricxx
Laurence Howell - "Flo" (Rothera / Faraday 1978-83) - Tanggu, China.
Clive Johnson (1975 to 1979, South Georgia, Rothera) - Buxton, Derbyshire
Brian Moore (South Georgia and Rothera - 1976/1977) - Saltcoats N Ayrshire
Jonathan Walton - Bases KG, R (Fossil Bluff / Rothera) (1974, 1975) - Shrewsbury, England email Son of Kevin Walton (Stonington 46,47). Winters & 9 summers down South between 1973 & present. Father, Godfather, 2 brothers-in-law and cousin also have wintered South. Still very actively interested in Antarctic matters.
1980's
Tim Allerton (1983 - 1984) - London Hi I spend 83-84 on Bransfield and Rothera base as Electrical engineer would like to get re-connected with any of the team from that era.
Andy Carter (1984) - Lower Tean, Stoke on Trent Was with the Air Unit 84 and 85. Had a great time and met a lot of good people.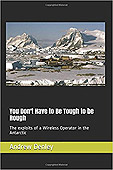 Andy Denley (1979-81, Rothera and Faraday) West Hoathly, Sussex I was a mere lad of 19 when I arrived as a green WOM at Argie. My parents hardly recognised me when I got back after after two summers and winter away. I got the impression at first they would rather I went straight back! Grand times. Possibly the best job I ever had. Andy's book "You don't have to be tough to be rough" is available from Amazon, profits to Sussex Cancer Relief fund.
Tim Godsmark (1980/81) - Buckley I wintered at Halley Bay in 1980 and Rothera 1981. Happy days at Rothera despite the accident etc. I miss those dogs! Hello to anyone who new me.
Chris Jobber Jeffes (1980-1982) - Itchen Abbas Winchester Hants UK - Hi there to all fellow Faraday FIDS - looking to catch up with Neil 'Runner' Shaw, Len Airey and Geraint 'Pint' Hughes. Great pub just down the road in case any passing FIDS want to while away an evening with some Antarctic tales...
David Jobes (1985) - Malaysia. I spent some time at Faraday before wintering at Rothera during the rebuild in the 1980`s. I work in the oil and gas industry now and I am currently living and working in Malaysia as an electrical commissioning engineer.
David Mantripp (1987,1988) - Lugano, Switzerland
Alastair Milne (Metal) (1984-1989) - Den Haag (NL) email 2 summers working E.Coast Graham Land then a summer on Polarstern. Now working for Shell.
Alastair Bruce Moyes (1979-1985) - - Parkinson QLD Australia. Contract geologist, mapping Foyn Coast 1979-80, mapping Arrowsmith Peninsula 1980-81; ship borne party mapping Biscoe Islands 1983-84
Richard Newstead (1981-84) - Macclesfield, England WOM
Dave "Proby" Probert (1985) email - Darlington. Joiner on rebuild
Neil Richardson (1986) Kendal email Glacier fluctuation mapping 1986/7 around the Peninsular. Now running Spatial Data Ltd Chartered Land Surveyors. Three chidren and hoping to get back into sailing soon. Please get in touch if you remember me.
Rupert Summerson (1980-81, 1983-86)- Canberra, Australia I also worked for the Australian Antarctic Division from 1990-1995.
1990's
Nigel Blenkharn (1995 Faraday), (1998-1999 Rothera) - Greystoke, Cumbria - email
Paul Davison (1994/1995) - Shrewsbury, Shropshire - email Still the best view I've had from an office window.
Kevin Dixon (pee wee) (summer 1990-91) - Sherbrooke, Quebec, Canada Worked on installation of airport strip & hangar project.
Nigel Dean (1990)- Turkey email Now have own company managing Yachts in Turkey, married with one child
John Doyle (Rothera - 1998, 1999) - Manchester email Mechanical services technician, summer season.
Rachel Duncan (1997 - 99) Monmouth Now retired as Director of UK Antarctic Heritage Trust (2000-2014)
George Fell (Winter 99, 00) - Aberfoyle, Scotland
John 'JJ' Jones (1994/95) - UK / Turkey Construction Worker for Summer season. Genny Shed, Boat Shed, Water Treatment Room, Concrete bases for Bonner Lab and Accommodation block. After the birth of my son, Antarctica, the next best 'Sight' in my life. Thanks to BAS.
Jules Knight (94 - 97) - Afghanistan
Geoff Knox (Faraday/Rothera - 1992-93 summer only) email Plumber on Faraday, general base assistant on Rothera. Married with two young boys, now working as a sports journalist.
Pedro Montiel (Signy / Rothera - 1994/5, 1998/9) - London I'm not absolutely certain of the specific years as I I arrived around October and left by March.
David Wilson (1990-91) - Southampton email Vehicle mechanic who wintered from 1989 to 1992.

2000's
Paul Best (summer 2003 winter 2005) - UK
Tim Blakemore (2000/01) - Les Houches, Chamonix, Fr
Jo Coldron (2005) - Cambridge email The doctor at Rothera Station over winter 2005.
Jenny "Doctor" Dean (2001) - email Location variable
Danny Edmunds (2009) - Rothera
'Issy' Isabelle Gerrard (2003 & 2005) - Kelmanthorpe Yorkshire
Eirian Jones "Sbonge" (2002/3) - Aberystwyth Summer plant operator on base, dying to get back to Antarctica.
Paul Mann (2005) - email
Tony McLaughlan (Tony Mac) (2009) - Rothera I finish my winter tour in March, when I shall be going home to Luton, Bedfordshire, England after the most amazing and memorable 16 months in Antarctica.
Dave Molyneaux (2001 & 2002) - email Lancaster
Riet Van de Velde (2006) - Brussels, Belgium email Chef at Rothera Research Station over Winter 2006
Matthew "MVT" von Tersch (2008-2011) - Rothera Bonner Lab Manager
Cath Waller (Rothera, HMS Endurance - 2003/2004; 2004/5; 2007/9) - Scarborough N.Yorks 2009 worked with Spanish on Byeres Peninsula of Livingston Island.

2010's
Ludger Zikking (Rothera 2017 and 2018) - Amsterdam the Netherlands Worked as a genny mech during the summer on Rothera.
---
Trying to find... To use this option, fill in the registration form, but include your own name and email as a contact, requests kept online approx. 2 years.

I'm sure I did this already... every now and then I send out emails, a proportion of these bounce back as "not found", often because it was a former work email or an ISP that no longer exists, as there is no longer any way to make contact I delete the record to keep things as current as I can..