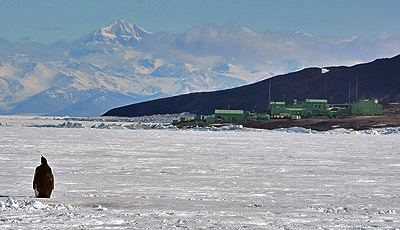 Scott Base
New Zealand
Please register to include your details on this page.
Who runs Cool Antarctica?
Right - Scott Base 2014
Picture - Peter-Rejcek NSF
---
Peter Breen (Scott Base, McMurdo - 1981-1982) - Rotorua Was Scott Base staff spent a lot of time in Mac town working and socialising especially at Jessie Raines bar.
Alan Burt (Scott Base - 1978, 79) - Rutland, England email Lab technician at Scott Base October 1978 to November 1979. Ionosonde and seismic programmes.
Nicki Fairbairn (2000/2001, winter over) - Germany Worked as winter domestic (all year) and then bar/shop manager when Jenna went home over the Winter Months. Hydroponics was a great part of the duties back then.
Robin Foubister (1968 - 69) - Auckland, New Zealand Looking for Dan Nactsheim, photographer with USN, McMurdo 1969/70.
Michael Gilmour (Scott Base, 1978) - Canberra, Australia email Just looking at history of 1978 when l was at Scott Base for the summer season.
Dudley Holmes (1960) - Sarina Beach, Queensland, Australia, email
Bob Isles (1989/2005 - Scott Base/ Terra Nova) - Christchurch NZ. 18 trips from 1989 till 2005, running shop and bar at Scoot Base, also shop at Terra Nova ( Italian ) and Dome C.
Pete PVK van Kampen (3 Squadron RNZAF - 1989) - Aigje, Switzerland Liked the Ice so much I ended up living in the Alps!
Ian Macleod aka Fat Sam (Scott Base - 1975 and 1976) - Qld Australia Looking for US Navy cook, Gene Ripley who wintered over with me in 1975/6, he at McMurdo and I at Scott.
Tony Rayment, Buzz (Scott Base - 1965) - Morayfield Queensland Australia email
Ray Vincent (Scott Base 1978-1979) - Adelaide Australia
Don Webster (Scott Base - 1960 & 1963) - New Zealand Wintered-over in 1960 and 1963
Warwick Williams (Scott Base, Macquarie Island, Mawson - 1977, 1978, 1981, 1982, 1984, 1985, 1986) - East Lindfield, NSW, Australia Winter Scott Base - NZARP Winter Macquarie Island - ANARE Winter Mawson - ANARE Summer Mawson - ANARE
---
Trying to find... To use this option, fill in the registration form, but include your own name and email as a contact, requests kept online approx. 2 years.

John Presland, Scott Base 1978 I am writing family history, John was my brother deceased 2006 love to get info about him at Scott base and any photo's, I am 82 running out of time, any assistance would be gratefully received, Travel Safe, Patricia Duff Nee Presland Feb '17

I'm sure I did this already... every now and then I send out emails, a proportion of these bounce back as "not found", often because it was a former work email or an ISP that no longer exists, as there is no longer any way to make contact I delete the record to keep things as current as I can..