FIDS - Halley Bay - Base Z
75°35'S, 26°34'W - Occupied 15th Jan 1956 - present - Built on the Brunt Ice Shelf - Please register to include your details on this page
Halley pictures: 1960 manhaul journey | 1989 Halley V construction | Halley V | Halley VI and virtual tour
---


Halley VI base - 2016, picture - Michal Krzysztofowicz - Antarctica366 project
---
---
Halley Bay- Base Z - People
Barry Heywood - Signy, Rothera, Halley, John Biscoe, JCR - (1962-1997) email Oundle
Don Taylor (Rothera, Halley, Signy, Faraday, South Georgia - 1984/85, 1993-2004) Willingham, Cambs
1960's
Tony Baker (1964/65/67) - Warrington UK email
Liz Edwards Dave Edwards daughter (Halley Bay, Kista Dan 1960-61) - High Peak Derbyshire UK My Dad was a joiner on the expedition 1960-61 and I am compiling an archive of all his materials from his time in the Antarctic for future generations in our family. e.g.
Dudley Jehan (Cuddles - 1961/64) - Guernsey, Channel Islands email Wintered at Base Z Halley in 1961, 1963 and 1964.
Rod Rhys Jones (1965-66) - London I am working with the Antarctic Monument Trust which has been set up to honour those men and women who lost their lives in British Antarctic Territory in the pursuit of science. We are placing a memorial tablet in the Crypt of St Paul's Cathedral London. We have commissioned a monumental sculpture, part of which will be in the grounds of the Scott Polar Research Institute, Cambridge and the other part will be sited in the South. Most probably in Stanley, Falkland Islands. See more here
Chris Gostick "Ceeje" (Halley Bay - 1966, 1967, 1969) - Harwich UK -
Tony Haynes, (1965/1966) Sydney Australia. email
Richard Keyte (Halley Bay - 1966) - Kessingland, Suffolk, England - Current location, town or city and country
Bjorn Larsen (Kista Dan Halley Base Z - 1960) - Denmark I want contact with people from Falklands island ,and Halley base Z, and people there know ,and had see Kista Dan 1960/61
Stuart Noble (Halley Bay - 1965 and 66) - West Wales -
Dave Petrie "DavemacP" - Halley Bay, Adelaide Island, McMurdo - 1963-65,66/67,69/70,73/74, Yetholm, Scotland Beastie man etc. 2 years Halley Bay. First ice depth radio echo sounding by aircraft, Adelaide island. First Hercules flights radio echo sounding from McMurdo, discovered Lake Vostok. Fleming glacier radio echo glacier velocity experiments.
Martin Pinder (Snoopy at Halley cookie at Signy - 1968-1972) - Shrewsbury Shropshire Fantastic site fond unforgettable memories.
Pop Pitts, (1968) - Penzance Amateur radio G3GYE since 1950. Halley VP8JP 1968. Oman A4XGC 1975- 1987. Interested in news of VP8 from Halley using own Station
Chris Ruffell (1962) - PO Box 415 Bridgetown Wa 6255 phone 0897612504. Mob 0414497011 - Retired good health 70
Mike Skidmore, (1967/69) Stoke on Trent. email Worked as a geologist. Summer visits to South Georgia 1966 and 1969. Whilst at Halley Bay tried to dog sledge overland to Shackleton Range 1967-68 via Theron Mountains but work proved impossible due to distance. Finally got there with US airlift to the Shacks for 8 weeks geological recce in 1968-69.
1970's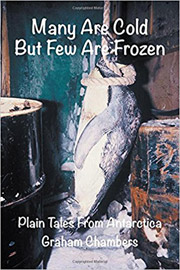 Graham Chambers (1974-75) - Graham's book, "Many are Cold but Few are Frozen: Plain tales from Antarctica" is available from Amazon, profits to BAS club charity.
Steve Chambers (1976/1977) - Ting, UK and Canada. email
David Clark (1970) Pembrokeshire email
Ted Evans (summer 72/73 - South Georgia, Halley, Signy) - Yorkshire Worked on south G slipway with Big Al..then new base at Halley,& then to Signy (genny shed base) where I broke my leg & had a nice voyage back with my leg in plaster.
Ken Lax (1974, 1975, 1977) - Shrewsbury / Tbilisi / Baku email
Clive Palfrey (1972, 73). Adelaide South Australia email
Jay Rushby (70-72) - London email Halley Bay / Signy Island
Andy Smith (1971,1972) Bradwell, Peak District worked for BAS until 2005
Clive Sweetingham (Halley Bay - 1975-1977) - Stratford upon Avon, United Kingdom
Chris Turner (1975/1976) - Kings Langley email
Tony "Winkle" Wincott, (1972 - 1974). Weedon Bec Northants UK Now semi retired running own Project Management Company. Secretary to BAS Club and Treasurer / Organiser for Z60 Celebration. Two grandchildren.
Graham Wright - Genghis (Halley Bay Z and Stonington E - 1969-1970-1972-1974) - Newtown Powys 2 years on Halley and 2 years on Stonington.
1980's
Brad Adams (Halley 5, 1988, 1990) - Doha, Qatar Worked on the construction of Halley V over two summers as surveyor engineer.
Len Airey (Faraday & Halley - 80's and 90's) - New Zealand A few names I recognise - how are you all? On Antarctica will be available on Kindle shortly or hard copies of the book direct from me if you are interested in re-kindling a few memories. I lost touch with Joffs, Pint, but if I find his address I will let you know. Best Regards, Len.
Steve Ault, Salty (Halley IV - 1985 to 1986, 2 Winters) - Derby email
David Maxwell "Maxi" (Halley V and RRS Bransfield, 1989) - Ellesmere Port, Cheshire
Dave George (1988 & 1989) - Cambridge - Halley V rebuild email
Tim Godsmark (1980/81) - Buckley I wintered at Halley Bay in 1980 and Rothera 1981. Happy days at Rothera despite the accident etc. I miss those dogs! Hello to anyone who new me.
Jonathan Herbert (Halley V - 1989-1990) - Milton Keynes email
Tom Lachlan-Cope (1978,1979 - Halley, 1980 - Signy) email Cambridge
Mick Roscoe (1979, 1980, 1986) - Andover, Hampshire email
1990's
James Hurley (Big Jim and Abe) - (Signy, Halley & Bird Island - 1988-1991, 1996, 1997) - Bristol, UK
Jon Oldroyd - JonO (1996 - 1997) Portsmouth. email
2000's
Ahmad Begg aka Miami (Halley V and VI, 4 seasons) - Cape Town, South Africa I worked for Morrison construction company on Halley 6. I was fortunate of being one of the guys to have built Halley 6. I was down in the Antarctic for 4 seasons. This was one of the best life experiences. The 4 years that I been going down there I got to meet so many different nationalities. The place itself is mind blowing. To think that you part of such a historic project and you were chosen out of hundreds of applicants. The travelling over there is an experience on its own. I had the honour and the privilege to voyage with the Earnest Shackleton. The whole project was mind blowing
Joe Corner (Halley, Bird Island, Signy - 2008, 2010, 2011) - Crewe Cheshire I am from Crewe in Cheshire, and wintered at Halley in 2008, Bird Island 2010, and summered at Signy 2010/11. I was electrician on all 3 bases.
Hannah Deakin - 2008 - Gloucestershire
Wayne Ellsmore (Halley 5 - 2000) - Saxmundham I was lucky enough to be a member of the millennium crew 99/2000 on the maiden voyage of RRS Ernest Shackleton, and a summer worker at Halley 5, amazing to be among a very few to have been on the continent for the last days of the 1900s and the first day of 2000 and will never forget my time there.
Richard Turner - (2000 / 2001 - Halley 5) North East England
2010's
Michal Krzysztofowicz (2014, 2016) - After a few months in the real world, I came back to the Halley Station, once again working as the Data Manager. I've kept the blog running - have a look at http://antarcti.co/
Anthony Lister (2014) - Halley VI antantarctic.wordpress.com is my live blog about being down at Halley 6 I am the current Z electrical services tech.
---
Z- Fids - Halley Bay website | BAS Club | Database of all BAS winterers
Trying to find... To use this option, fill in the registration form, but include your own name and email as a contact, requests kept online approx. 2 years.

I'm sure I did this already... every now and then I send out emails, a proportion of these bounce back as "not found", often because it was a former work email or an ISP that no longer exists, as there is no longer any way to make contact I delete the record to keep things as current as I can..

Who runs Cool Antarctica?