FIDS - Closed Bases - before 1980
A, B, C, D, E, F, G, KG, N, O, T, V, W, Y and Stanley
A - Port Lockroy, B - Deception Island, C - Cape Geddes, D - Hope Bay, E - Stonington Island, F - Argentine Islands / Faraday, G - Admiralty Bay, KG - Fossil Bluff, N - Anvers Island, O - Danco Island, T - Adelaide Island, V - View Point, W - Detaille Island, Y - Horseshoe Island
Listed by name of FID as there were lots of small bases that weren't open for long, and many served on more than one base and/or ship.
Please register to include your details on this page | Database of all BAS winterers | Who runs Cool Antarctica?
---
---
---
---
---
Capt Ric Airey, SG, Adelaide, Rothera, etc. - 1974-1980 - Edinburgh, Scotland Out of the ether, all you lovely people, hello and well met, hope every one still clinging to the wreckage, they finally found me out after 32 years in the air and grounded me, flew south with American cousins but BAS wont have me not surprising with mother superior still in charge grin, she's done well for a primary school teacher with a rubber fetish. Damn it i have missed you all wonder where Mex Merson, Howard Platt, Gerry Lawson are now .ref history being r/o skeletons I can do particularly the funny ones see doggerel BAS club letter 34 , also why is Nigel Leader-Williams not yet prime minster, and Howard my dads still alive and still my hero. Sea ice fast and plateau clear sledge dog days remain most dear xxricxx
Adrian Almond (Stonington E, Adelaide T - 1973&4) - RAF Akrotiri/ Cyprus Although Stanley is now home, we are currently living and working in Cyprus.
Barry Armstrong (Adelaide T - 1963 to 1965) - Verbier Switzerland -
John Barlow (Deception Island B, Adelaide T - 1965 - 1968) - Tongue, Sutherland.
Richard Barrett (Stonington E - 1974) St Margaret's Bay, Kent. email
Ray Berry - Deception, Signy, Argentine Islands - (1951, 52, 54) Whitstable
David Bridgen (Deception Island B - 1962) - N.E. Lincolnshire 61,63,64,and 65 in Stanley. Then 18 months on R.M.S. "Darwin", Does anyone know what happened to the Deception scrap-book?
Alan Carroll (Port Lockroy A - 55 - 56) - Byfield
Robin Chambers (Argentine Islands F, Adelaide Island T - 1967-1971) - Nanaimo BC, Canada At Deception for the eruption Dec 1967. On board Shackleton when 2nd. eruption destroyed base B, 21 Feb '69. Ashore 3 days later to salvage personal gear. 1969 Winter @ F, upper-air Met. 1970 moved to Adelaide T, Met. included 10 wks. travel; plus 4 wks. @ KG.
Howard Chapman (Stonington E - 1961) Wellington, New Zealand. email
Chris Edwards (Stonington E - 1972-1975) Nr Inverurie Aberdeenshire. email Still visiting Peninsula but now as a tour lecturer/guide/expedition leader with Quark Expeditions since 1998-1999 season
Frank Elliott (Hope Bay - D - 1948) grand-daughter, Tracy Elliott -
Mike Fleet (Hope Bay D, Stonington E - 1962/1963) Reading. Regularly attend BAS Club, Hope Bay and Marguerite Bay Reunions. Recently returned south on Larsen Memorial and Stonington or Bust Cruises. email
Peter Gale (Port Lockroy A - 191957 / 1958), Inglewood, Taranak, NZ I was at Port Lockroy for IGY and would like to hear from Len Fox, Jim Muir-Smith, Colin Clement, base leader Jack Tinbergen, Gorden Farquar also Peter bunch at Admiralty Bay or others that I know from this period.
George Green (Adelaide Island T - 1965 & 1966) - Miami, Fl USA
Peter Gibbs - (Horseshoe Island Y, Stonington E - 1956-58) Paphos, Cyprus email Retired but active and still have unplanned contact with occasional huskies brought into the Dog Shelter where I help!
Ken Gibson (Admiralty Bay G - 1959) - Gloucestershire Would like to make contact with any 1959 winterers at Admiralty Bay.
Peter Grimley (Stonington E - 1960) - Ontario, Canada - Bases Y and E - email Semi-retired
Ken Hill (Hope Bay - 1956 and 1957) - Kings Lynn Norfolk UK - From radio operator to journalism and editing. Married Jean in 1962 (died 2010), sons Matthew born 1967 (and Samuel born 1970, died 2011). Remarried 2013 to also widowed Clare. At 80, spent ten days of 2014 at 70 degrees north in Canadian Arctic on the shore of North West Passage. My half hour 8mm colour film 'A Season in Antarctica' available on request.
Richard (Dick) Hillson (Admiralty Bay G - 1956-57, Detaille Island W/Y - 1958-59) - Edmonton, Alberta, Canada Anybody have information about Graham Davey, Base G (Admiralty Bay) 1956-59?
Ralph Horne - (Fossil Bluff KG, Stonington E, Adelaide T - 1963) - Dublin, Ireland Was geologist at Fossil Bluff in summers of 62 to 65. Would be pleased to hear from any Fids who knew me in Marguerite Bay/Bluff in those marvelous times.
Ian Joyner Stanley FIDS Radio Station - 1957 - 1961) - currently at Petworth, West Sussex email I was stationed at the Port Stanley FIDS Radio Station.
Graham Jones, (Deception Island B, Argentine Islands F/ & RRS Shackleton - 1965 to 1969) - Thame, Oxfordshire DEM at Deception Island 1966, Argentine Island 1967 and third engineer RRS Shackleton 1968/69
Paul Kirby (Stonington E - 1974) - Sussex Was in Swaziland from 1981 to 1988.
Rod Ledingham (Fossil Bluff KG, Adelaide Island T - 1967/8) - Oyster Cove, Tasmania - Fid travellers welcome
Paul Leek (Port Lockroy A - 1959/1960), New Haven Connecticut USA I'm interested in hearing from anyone who remembers me. It's a long time ago and many of them are no longer with us.
John Leigh (Air Unit - Deception Island B, Adelaide T, Fossil Bluff KG - 1964) - Cardigan WOM for the air unit. Wintered at B.
Peter Lennon (Fossil Bluff KG - /1975) - Tshwane, South Africa
Amanda Lynnes (Port Lockroy - 2002-2003) - Cockermouth, Cumbria Was also at Signy 1996-2001.
Jim Madell (Hope Bay D, View Point V and Detaille Island W - 1956 - 1957) - Waberthwaite, Cumbria.
Neil Marsden (Stonington E - 1965-61965-66) - Deganwy, North Wales
Dave Matthews (Stonington E - 1965/66, Horseshoe Is. Y - midwinter 1965, S. Georgia M - summer 1979-80) - Nr. Inverness, Scotland email Also Numerous summer seasons in Arctic, mainly East Greenland.
Malcolm McArthur - (Stonington E - 1971-1973) Fortrose, Ross and Cromarty email
Tom Miller (Adelaide Island T - 1965-66) - Broughty Ferry, Scotland
Dave Petrie "DavemacP" (Adelaide Island T, Halley Bay Z, McMurdo - 1963-65,66/67,69/70,73/74), Yetholm, Scotland Beastie man etc. 2 years Halley Bay. First ice depth radio echo sounding by aircraft, Adelaide island. First Hercules flights radio echo sounding from McMurdo, discovered Lake Vostok. Fleming glacier radio echo glacier velocity experiments.
David Price (Port Lockroy A - 1958/1959), NSW Australia Interested to contact any Lockroy "inmates" during seasons 1957-60 particularly Alan Cameron, Mike Crockford, Jack Tinbergen.
Tony Quinn. (Stonington E, Argentine Islands F, & John Biscoe - 1959 - 1965) - Christchurch, New Zealand email Interested in hearing from anyone who remembers me from Faraday 1959/60, Stonington 1961/62 and John Biscoe 1962 - 66. Have contact here in NZ with Howard Chapman Stonington/Fossil Bluff 60/61
Bryan Rorke (Adelaide Island T - 1961-64) - Markham, Ontario, Canada Extremely interested in CoolAntarctica. Once I can get organized would be pleased to share photo from my time in Antarctica. Currently working on a book on 'Ships of the Antarctic"
Richard Scoffom (Adelaide Island T, Biscoe - 1969-1971) - Canada
Drummond (Drummy) Small (Stonington E - 1971-73) - Kilmarnock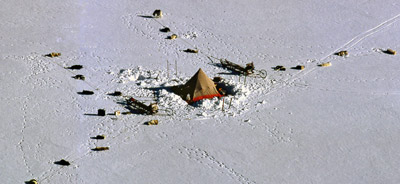 Drummy's pictures and captions
David Allan (Spanner) Spencer - (Deception Island B, Signy Island H - 1966 to 1969 - Blackpool Was on Deception Island at the time of the 1969 eruption
Tim Stewart (Fossil Bluff KG - 1975) - Humberston, North East Lincolnshire UK - Nice to see the old KG hut is still standing, and, being used, occasionally. Now married, for some years, and shortly to live permanently on a narrow boat. Graduated Hull (engineering and mathematics) but failed as teacher! Now designing sailing Yachts and autonomous buildings.
Rolie Summers (Port Stanley Radio and RRS John Biscoe, 1954 to 1962) - Southampton England.
Bill Taylor (Deception, Signy, Adelaide, T, Fossil Bluff - 1967 1968 1969 1970) - Rhydlewis Ceredigion
Jonathan Walton (Fossil Bluff KG, Rothera R - 1974, 1975) - Shrewsbury, England Son of Kevin Walton (Stonington 46,47). Winters & 9 summers down South between 1973 & present. Father, Godfather, 2 brothers-in-law and cousin also have wintered South. Still very actively interested in Antarctic matters.
Michael Warr (Deception Island B, Adelaide Island T - 1964, 1965) - Prince George, BC, Canada Meteorologist and husky chaser for two years. I was on the Marguerite Bay 2005,"Polar Star" cruise / Antarctic historian on the Explorer, Dec. 2006, and I am the author of the book South of Sixty
Mike Whitbread (Deception Island B, Argentine Islands T - 1964-67) - Northampton Spent a few months at Signy and Coronation Island on Hi Fix and another 6 months on South G before it became a BAS base.
Leat Woodhams (Peck) (Port Stanley, FIDS Office, - 1955 - 1961) - Guernsey since 1976 - email
Graham Wright - Genghis (Halley Bay Z and Stonington E - 1969-1970-1972-1974) - Newtown Powys 2 years on Halley and 2 years on Stonington.
Steve Wroe - "Shagger" (1974) Kendal, Cumbria
Bob Wyeth - (Stonington E - 1970, 19711970, 1971, 1973) - Jodhpur, India
Trying to find... To use this option, fill in the registration form, but include your own name and email as a contact, requests kept online approx. 2 years.

I'm sure I did this already... every now and then I send out emails, a proportion of these bounce back as "not found", often because it was a former work email or an ISP that no longer exists, as there is no longer any way to make contact I delete the record to keep things as current as I can..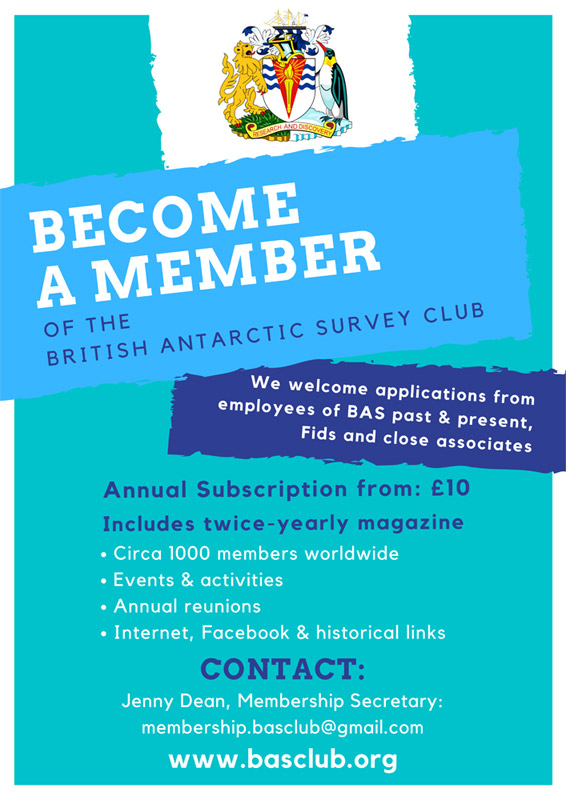 ---
Base / Station
C currently occupied
H historic monument
Geographical
Co-ordinates
Date first
/ last occupied
A -

H

- Port Lockroy
63°49'S, 63°30'W
11/02/44 - 16/01/62
B - Deception Island
62°59'S, 60°34'W
03/02/44 - 23/02/69
BI -

C

- Bird Island
54°00'S, 38°03'W
22/09/82 - present

C - Cape Geddes

60°41'S, 44°34'W
18/01/47 - 17/03/47
D - Hope Bay
63°24'S, 56°59'W
10/02/45 - 13/02/64
E -

H

- Stonington Island
68°11'S, 67°00'W
24/02/46 - 23/02/75
F -

H

- Argentine Islands / Faraday
(Wordie house)
65°15'S, 64°16'W
07/01/47 - 22/07/95

G - Admiralty Bay

62°05'S, 58°25'W
25/01/47 - 19/01/61
H -

C

- Signy Island

- currently summer only

60°43'S, 45°36'W
18/03/47 - 13/04/96
J - Prospect Point
66°00'S, 65°21'W
01/02/57 - 23/02/59
KG - Fossil Bluff
71°20'S, 68°17'W
20/02/61, intermittent
summer only since 1975
M -

C

- King Edward Point, South Georgia
54°17'S, 36°30'W
intermittent from 01/01/50
22/03/01 - present

N - Anvers Island

64°46'S, 64°05'W
27/02/55 - 10/01/58
O - Danco Island
64°44'S, 62°36'W
26/02/56 - 22/02/59
R -

C

- Rothera
67°34' S,68°08' W
25/10/75 - present
T - Adelaide Island
67°46'S, 68°55'W
02/02/61 - 01/03/77
V - View Point
63°32'S, 57°23'W
08/02/53 - 25/11/63

W - Detaille Island

66°52'S, 66°48'W
21/02/56 - 01/04/59
Y -

H

- Horseshoe Island
67°47'S, 67°18'W
11/03/55 - 21/08/60
Z -

C

- Halley bay
75°35'S, 26°34'W
(position has varied due to movement of the ice-sheet and re-building the base)
06/01/56 - present