The American McMurdo base is built on land beside the coast of continental Antarctica at the edge of McMurdo Sound, it is built at the southern end of Ross Island.
Ross Island is about 45 miles long and the same again wide. McMurdo shares Ross Island with the New Zealand Scott base and Mount Erebus, a 12,448ft (3,794m) active volcano as well as emperor penguin, adelie penguin and skua colonies.
McMurdo is at 77°55'S, 166°40'E between the Ross Sea and the Ross Ice Shelf - this is a floating area of freshwater ice fed by glaciers spilling off the continent of Antarctica and is approximately the size of France.
McMurdo base developed from an encampment on Ross Island at "Hut Point" in 1955, part of a major series of American expeditions to Antarctica as part of "Operation Deep Freeze". Initially the "base" was a collection of tents before prefabricated buildings were erected. It was originally known as Naval Air Facility McMurdo, being renamed just "McMurdo" in 1961.
The region was first discovered by James Clark Ross during an expedition from 1839-1843 on the ships Erebus and Terror. Many of the features in the area are named after that expedition. The Ross Sea and Ross Ice Shelf after James Clark Ross himself, Mount Erebus and another nearby, now extinct volcano, Mount Terror after the ships. McMurdo Sound and so subsequently McMurdo base were named after Lieutenant Archibald McMurdo, an officer on the Terror.

photograph courtesy NSF
McMurdo is a center for all manner of scientific programs and experiments. It is also a starting-off point for many field parties that travel out to various places in Antarctica to carry out scientific work there.
There are about 1000 personnel on base during the summer months, falling to around 250 in the winter. Many of these summer personnel are scientists, though in the winter, most are support workers. There are now over a hundred permanent structures, three ice runways and even a floating dock (wharf) made artificially of frozen freshwater. The buildings consist of a whole range of scientific laboratories, administrative buildings, workshops, garages, medical buildings, dormitory and sleeping facilities, kitchens, canteens and recreational facilities.
Terrestrial and marine biology, geology, meteorology, upper atmosphere physics, glaciology, sea-ice studies, cosmic radiation, geophysics, petrology, geochemistry and geomorphology are some of the scientific research activities that go on at McMurdo.

McMurdo and the surrounding area from the air. Ross Island is the raised area to the bottom left, everything that looks flat and white is sea-ice.
Photograph courtesy Sharon Heilman

IR - Ice runway, sea-ice, 3 miles from base, winter use only (melts in summer!)

McM - McMurdo base

OH - Observation hill, about 900 feet high

SB - Scott base, NZ

WF - Willy Field, runway. 50 feet of snow on 100 feet of ice floating on the sea. 10 miles from base.

WI - White Island, about 15 miles away.


McMurdo Base and observation Hill in November 2006,
looking from McM towards OH in the aerial picture above
Photo: Gaelen Marsden, Creative commons licence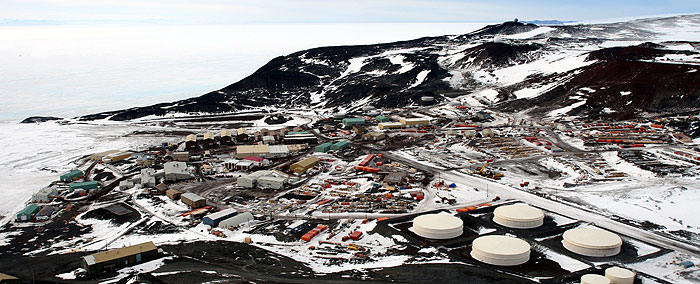 McMurdo Base in November 2006
looking from the top of OH towards McM in the aerial picture above
Photo: Gaelen Marsden, Creative commons licence

George T Vince memorial cross at McMurdo
- this commemorates a seaman who was the first to lose his life on Scott's 1902-1904 Discovery expedition
Photo courtesy Dog Stoneback


Photograph courtesy Sharon Heilman

Scott base is a New Zealand run Antarctic base situated about 2 miles from McMurdo. It is much smaller than McMurdo (all other Antarctic bases are much smaller than McMurdo!) with about 25 personnel in the summer and 12-15 over the winter.

Scott has been occupied as a year-round base since 1957