Biography - The American on the Endurance
Ice, Sea, and Terra Firma: Adventures of William Lincoln Bakewell by Elizabeth Anna Bakewell Rajala - William Bakewell's daughter
William Lincoln Bakewell
The Endurance Expedition
William Bakewell joined the Endurance at Buenos Aires. He was the only American aboard ship, though he posed as a Canadian thinking that the British ship would be more inclined to take on a subject of the British Empire. He was taken on as an able seaman at £8 per month.
The Endurance had become three crew members short after they had been sacked due to misconduct on the passage from England and in port, Bakewell was taken on for this reason. Unknown to Shackleton at the time, Bakewell helped his friend Perce Blackborow to also join the ship unofficially as a stowaway. Bakewell along with Ernie How another able seaman were concerned that the Endurance was undermanned which encouraged them to smuggle Blackborow on board.
Bakewell was well liked and Shackleton regarded him to be;
"... a cut above the rest of the seamen".
Biography
William Bakewell lived an adventurous and romantic maverick lifestyle. His adventures started at the age of 11 when he ran away from his home town of Joliet, Illinois heading down to Missouri, where he found work as a farm hand near Sikeston. By the time he was 15, he started to ride boxcars on the railways which took him as far as Seney, Michigan when he was found and kicked off. Here he worked on lumber camp jobs, moving up into Canada eventually heading West and ending up as a ranch hand in Montana.
By 1914 he had reached San Francisco and joined a British ship as an able seaman, this took him to Newport in South Wales when he joined the "Golden Gate". This ship foundered off the coast of Montevideo (Uruguay) and so Bakewell made his way a little further South to the Argentinean port of Buenos Aires. Here he met and befriended Perce Blackborow who was also stuck in that port without a ship when the Endurance arrived.
After the expedition, Bakewell spent some time in Argentina managing sheep ranches before joining the British Merchant Navy in the First World War. He was twice on ships that were sunk by enemy torpedoes, on one occasion floating on a raft for several days before being rescued.
1921 found him back in his hometown of Joliet, Illinois. Here he built a boat he named the "Shamrock" which he sailed on the Des Plaines river and Illinois canal between Joliet to Chicago. This didn't last long however and by the end of the year, he had left again informing his family by letter that he intended to join Shackleton again on the Quest expedition. On advice from his family, he never joined this expedition, instead heading to the southern states of the USA and the Caribbean working as a merchant seaman.
A lack of a consistency of purpose seemed to have become the only stable factor in Bakewell's life and sure enough by 1923, he was back in Joliet again, this time working for the E.J. & E. Railroad, eventually becoming a towerman for the Rock Island Railroad. By 1925 he had married Merle, and a daughter Elizabeth was born. In 1945, they bought a farm in Michigan where William lived out the rest of his life. He died in 1969 at the age of 80 and is buried in the Lutheran Cemetery in Skandia, Michigan.
For many years after the expedition Bakewell could not be traced and in 1918 when Polar Medals were awarded to the expedition members, he did not collect his. Many years later, someone realised this when contact had once more been made and a special medal was cast just for him, he finally received it in 1964 shortly after he had attended the 50th reunion of the sailing of the Endurance which was held in London with his daughter Elizabeth.
Bakewell became a member of the Antarctic Club of British Expeditions and the Antarctican Society of the United States. He kept in touch with the Blackborow family and Ernie How's family.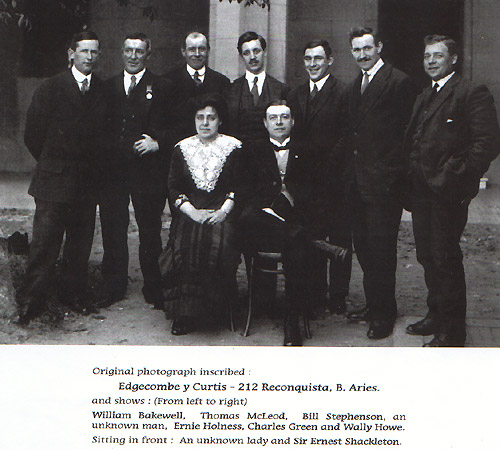 Some of the crew of the Endurance photographed in Buenos Aries 1917
picture courtesy Robin Mackenzie - Stornoway Historical Society
References to William Lincoln Bakewell in Shackleton's book "South!" buy USA buy UK
Although the galley was under water, Bakewell managed to secure three or four saucepans, which later proved invaluable acquisitions. Quite a number of boxes of flour, etc., had been stowed in a cabin in the hold, and these we had been unable to get out before we left the ship. Having, therefore, determined as nearly as possible that portion of the deck immediately above these cases, we proceeded to cut a hole with large ice-chisels through the 3-in. planking of which it was formed.
Landmarks named after William Bakewell
Feature Name: Bakewell Island
Feature Type: island
Latitude: 7450S
Longitude: 01855W
Description: Small ice-covered island near Princess Martha Coast and E of Lyddan Island in the S part of Riiser-Larsen Ice Shelf.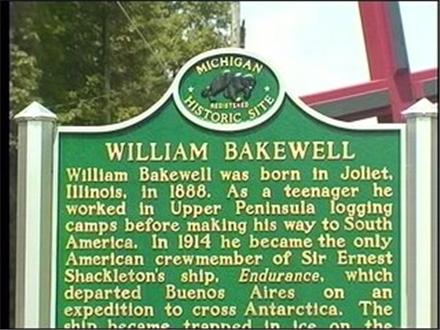 A roadside plaque was put up recently at the Lutheran Church where William Bakewell is buried in Skandia, Michigan.
The Mining Journal Upper Michigans Source

Lat/Long of church: 46 21 08.96N 87 13 14.02W

Bruce Sarjeant
Reference/Documents & Maps Librarian
Lydia M. Olson Library
Northern Michigan University
Endurance
Personnel
Bakewell, William
Able Seaman
Blackborow, Percy
Steward (stowaway)
Cheetham, Alfred
Third Officer
Clark, Robert S.
Biologist
Crean, Thomas
Second Officer
Green, Charles J.
Cook
Greenstreet, Lionel
First Officer
Holness, Ernest
Fireman
How, Walter E.
Able Seaman
Hudson, Hubert T.
Navigator
Hurley, James F. (Frank)
Official Photographer
Hussey, Leonard D. A.
Meteorologist
James, Reginald W.
Physicist
Kerr, A. J.
Second Engineer
Macklin, Dr. Alexander H.
Surgeon
Marston, George E.
Official Artist
McCarthy, Timothy
Able Seaman
McIlroy, Dr. James A.
Surgeon
McLeod, Thomas
Able Seaman
McNish, Henry
Carpenter
Orde-Lees, Thomas
Motor Expert and Storekeeper
Rickinson, Lewis
First Engineer
Shackleton, Ernest H.
Expedition Leader
Stephenson, William
Fireman
Vincent, John
Able Seaman
Wild, Frank
Second in Command
Wordie, James M.
Geologist
Worsley, Frank
Captain