Lt. Bellgrave E. S. Ninnis - Biographical notes
---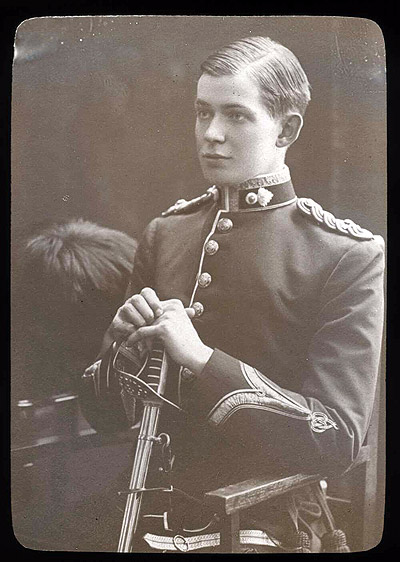 Single, was educated at Dulwich, England (as was Shackleton) and entered His Majesty's Army, having a commission as Lieutenant in the Royal Fusiliers prior to joining the Expedition in London. At the Main Base (Adélie Land) he was assisted by X. Mertz in the care of the Greenland dogs. On December 14, 1912, while on a sledging journey, he lost his life by falling into a crevasse three hundred miles east of Winter Quarters.
From Appendix 1, Mawson - Heart of the Antarctic
---
Landmarks named after Lt. B.E.S. Ninnis
Feature Name: Ninnis Glacier
Feature Type: glacier
Latitude: 6822S
Longitude: 14700E
Description: A large, heavily hummocked and crevassed glacier descending steeply from the high interior to the sea in a broad valley, on George V Coast. Discovered by AAE (1911-14) under Douglas Mawson.
Feature Name: Ninnis Glacier Tongue
Feature Type: glacier
Latitude: 6805S
Longitude: 14745E
Description: A broad glacier tongue which forms the seaward extension of Ninnis Glacier. It was recorded (1962) as projecting seaward about 30 miles. Discovered by the AAE (1911-14) under Douglas Mawson and named after Ninnis Glacier.
Variant Name Ninnis Glacier Ice Tongue
Feature Name: Mertz-Ninnis Valley
Feature Type: valley
Latitude: 6725S
Longitude: 14600E
Description: An undersea valley named in association with the Mertz Glacier/Mertz Tongue and the Ninnis Glacier/Ninnis Tongue. Name approved 12/71 (ACUF 132).
Variant Names: Adelie Depression / Mertz-Ninnis Trough
---
---
---
Biographical information

- I am concentrating on the Polar experiences of the men involved. Any further information or pictures visitors may have is gratefully received. Please email - Paul Ward, webmaster.

What are the chances that my ancestor was an unsung part of the Heroic Age of Antarctic Exploration?