Morton Henry Moyes - Biographical Notes
---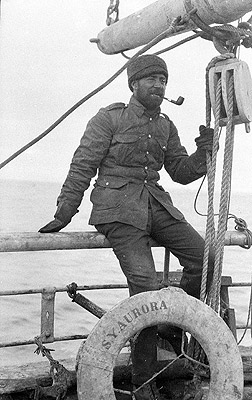 Single, of Koolunga, South Australia, a graduate in Science of Adelaide University. With the Western Base Party (Queen Mary Land) he acted as Meteorologist and took part in several sledging journeys in the autumn and spring of 1912. During the summer of 1912-1913, through an unavoidable accident, he was left to carry on work alone at Winter Quarters for a period of nine weeks.
From Appendix 1, Mawson - Heart of the Antarctic
---
Landmarks named after Morton Henry Moyes
Feature Name: Moyes Islands
Feature Type: island
Latitude: 67°01'S
Longitude: 143°51'E
Description: A group of small islands lying in the W part of Watt Bay, 2.5 mi SE of Cape-Pigeon Rocks. Discovered by the AAE (1911-14) under Douglas Mawson.
Feature Name: Cape Moyes
Feature Type: cape
Latitude: 66°35'S
Longitude: 096°25'E
Description: Ice-covered point fronting on the Shackleton Ice Shelf, 18 mi W of Cape Dovers. Discovered by the AAE under Mawson, 1911-14.
---
---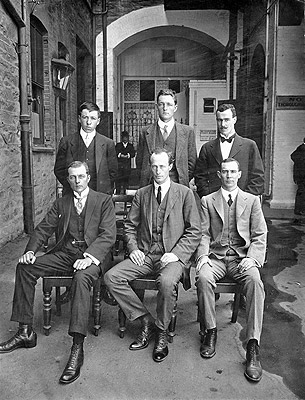 1911 Back Percy Correll Cecil Madigan and Frank-Bickerton Front Alfred Hodgeman Sir Douglas Mawson and Morton Moyes
---
Biographical information

- I am concentrating on the Polar experiences of the men involved. Any further information or pictures visitors may have is gratefully received. Please email - Paul Ward, webmaster.

What are the chances that my ancestor was an unsung part of the Heroic Age of Antarctic Exploration?