Archibald Lang McLean
Biographical notes
Chief Medical Officer, Bacteriologist - Aurora 1911-1913
---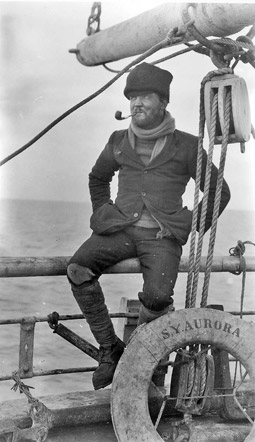 Single, a graduate in Arts and Medicine of Sydney University; New South Wales. He acted as Chief Medical Officer at the Main Base (Adelie Land) and carried out observations in Bacteriology and Physiology during the first year. In 1913 (the second year) he was Biologist, Ice-Carrier and Editor of the `Adelie Blizzard'. He took part in a sledging journey along the eastern coast in the summer of 1912-1913.
From Appendix 1, Mawson - Heart of the Antarctic
---
Landmarks named after Archibald Lang McLean
Feature Name: McLean Nunataks
Feature Type: summit
Latitude: 67°50'S
Longitude: 143°57'E
Description: A group of three nunataks lying within the western part of Mertz Glacier, near the head. Discovered by the AAE (1911-14) under Douglas Mawson.
---
---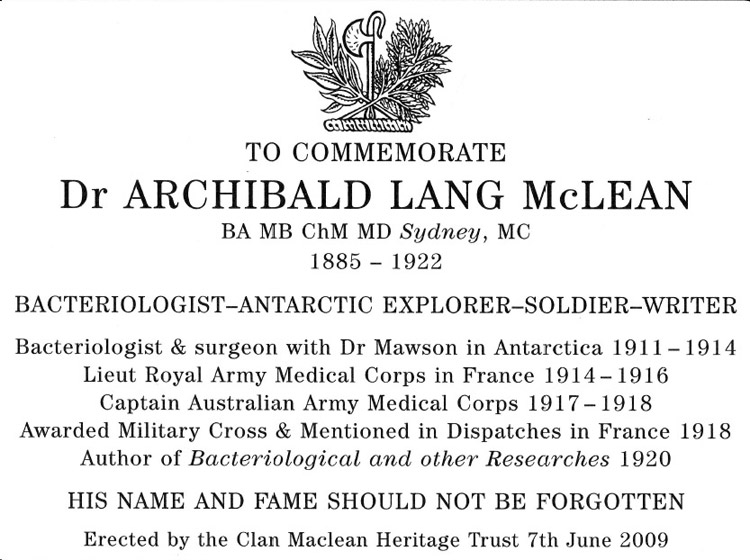 Scan of a plaque dedicated to Archibald Lang McLean in Sydney University. Image supplied by John Bouwer, great nephew.
More from the University of Sydney Medical School website
---
Biographical information - I am concentrating on the Polar experiences of the men involved. Any further information or pictures visitors may have will be gratefully received. Please email - Paul Ward, webmaster.

What are the chances that my ancestor was an unsung part of the Heroic Age of Antarctic Exploration?