Cecil Thomas Madigan
Biographical notes
---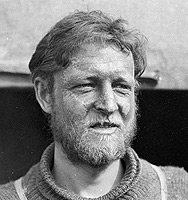 Single, a graduate in Science (Mining Engineering) of Adelaide University, South Australia. Through the courtesy of the Trustees of the Rhodes Scholarship, the necessary leave to accompany the Expedition was granted just as he was on the eve of continuing his studies at Oxford University. A member of the Main Base Party (Adelie Land) he acted as Meteorologist for two years, and during the second year (1913) was also in charge of the Greenland dogs. An important journey in the spring and one to the east in the summer were made under his leadership, and the Party, left in Adélie Land in 1913, was to have been under his charge, but for Mawson's return.
From Appendix 1, Mawson - Heart of the Antarctic
Picture right: Madigan with the marks of frost bite on his face
Landmarks named after Cecil Thomas Madigan
Feature Name: Madigan Nunatak
Feature Type: summit
Latitude: 67°09'S
Longitude: 143°21'E
Description: An isolated nunatak that rises above the continental ice 18 mi S of Cape Gray. Discovered by the AAE (1911-14) under Douglas Mawson.
---
---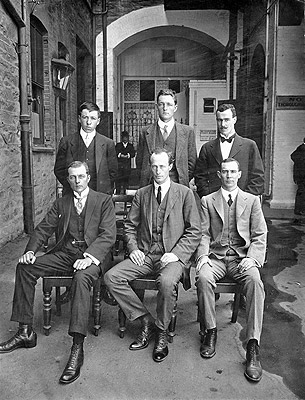 1911 Back Percy Correll Cecil Madigan and Frank-Bickerton Front Alfred Hodgeman Sir Douglas Mawson and Morton Moyes
---
Biographical information - I am concentrating on the Polar experiences of the men involved. Any further information or pictures visitors may have will be gratefully received. Please email - Paul Ward, webmaster.

What are the chances that my ancestor was an unsung part of the Heroic Age of Antarctic Exploration?