Charles Francis Laseron
Biographical notes
Taxidermist & Biological Collector - Aurora 1911-1913
---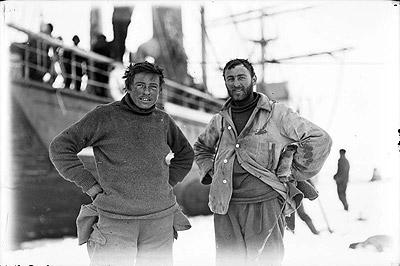 Correll and Laseron, picture taken on floe ice at the Western Base
Single, had gained a Diploma in Geology at the Technical College, Sydney, New South Wales, and for some years was Collector to the Technological Museum. At the Main Base (Adelie Land), during 1912, he acted as Taxidermist and general Collector, taking part, as well, in sledging journeys to the south and east of Winter Quarters.
From Appendix 1, Mawson - Heart of the Antarctic
---
Landmarks named after Charles Francis Laseron
Feature Name: Laseron Islands
Feature Type: island
Latitude: 66°59'S
Longitude: 142°48'E
Description: A chain of small ice-capped and rocky islands lying 3 mi E of Cape Denison in Commonwealth Bay. Discovered by the AAE (1911-14) under Douglas Mawson.
---
---
Biographical information - I am concentrating on the Polar experiences of the men involved. Any further information or pictures visitors may have will be gratefully received. Please email - Paul Ward, webmaster.

What are the chances that my ancestor was an unsung part of the Heroic Age of Antarctic Exploration?