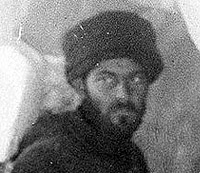 Sydney Evan Jones (1887 - 1948)
Biographical Notes
---
Single, a graduate in Medicine of Sydney University, New South Wales. A member and Medical Officer of F. Wild's Western Base (Queen Mary Land), he took part in several sledging journeys during 1912 and was leader of the party who explored westward to Gaussberg.
From Appendix 1, Mawson - Heart of the Antarctic
---
Landmarks named after Sydney Evan Jones
Feature Name: Jones Rocks
Feature Type: island
Latitude: 6634S
Longitude: 09750E
Description: Coastal outcrops 4 mi SW of Avalanche Rocks, on the E shore of the Bay of Winds. Discovered by the AAE, 1911-14, under Mawson.
Feature Name: Jones Ridge
Feature Type: ridge
Latitude: 6636S
Longitude: 09925E
Description: Small rock ridge, marked by a sharp peak at its seaward end, protruding above the lower reaches of Denman Glacier near the point where the glacier meets the coast. Discovered by the Western Base Party of the AAE under Mawson, 1911-14, who applied the name Cape Jones, believing the feature marked the W end of the prominent rock cliffs at the E side of Denman Glacier. The name Jones Ridge was reassigned on the US-ACAN map of 1955, compiled from aerial photographs taken by USN OpHjp in February 1947, because a substantial portion of the Denman Glacier flowage separates this feature from the rock cliffs to the east.
Variant Name: Cape Jones
---
---
Biographical information

- I am concentrating on the Polar experiences of the men involved. Any further information or pictures visitors may have is gratefully received. Please email - Paul Ward, webmaster.

What are the chances that my ancestor was an unsung part of the Heroic Age of Antarctic Exploration?