Alfred James Hodgeman (1885 - 1964)
Biographical Notes
Cartographer and Sketch Artist - Aurora 1911-1913
---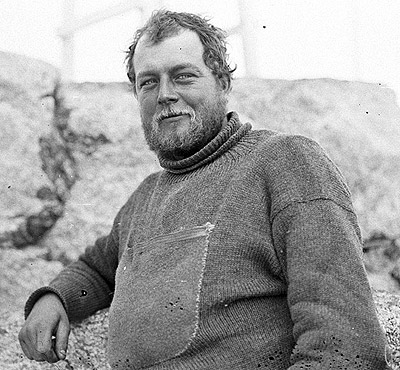 Born on 8 August 1885 in Adelaide, South Australia - died England in January 1964.
Single at the time of the expedition. For four years he was an articled architect, and for five years a draughtsman in the Works and Buildings Department, Adelaide. A member of the Main Base Party (Adelie Land), he took part in several sledging journeys, and throughout two years in the Antarctic acted in the capacity of Cartographer and Sketch Artist, as well as that of Assistant Meteorologist. From Appendix 1, Mawson - Heart of the Antarctic
Hodgeman designed the main hut and later oversaw the construction work of the hut.
He was one of only five main base party members to volunteer and stay for the second year to locate Douglas Mawson and party.
For the second year, AJH was engaged upon the maps, diagrams and plans of the expedition in preparation for the Royal Geographical Society in London and for the publication of the "Home of the Blizzard", the history of the expedition.
Whilst in London, WW1 was declared in August 1914 when AJH transferred his commission in the Australian Militia to the British Army. He later saw active service in Gallipoli and Macedonia as a captain in the 6th Battalion of the Leinster Regiment.
After the armistice in November 1918, AJH did not return to Australia, but resumed his career as an architect and eventually ran his own practice in London, dealing with hospitals, housing, churches etc.
In April 1921, AJH married Vera Le Blonde from Birmingham, they later had three sons, Bryan Pennington born 1924, Gifford Pennington born 1926 and Russell Pennington who was born in 1933 (Pennington is a middle name given to each son).
When WW2 broke out in September 1939 the Hodgeman family were living in Worthing Sussex, this resulted in AJH joining the Naval Dockyard in Portsmouth as a Civil Engineer. He survived repeated heavy German bombing of the dockyard in 1941 and later amongst other duties was involved with repairs and restoration to bomb damaged historic dockyard buildings.
During the war period, AJH was also a part-time member of the Home Guard, a civilian/military organization formed to assist the Armed Forces combat the threatened German invasion of Britain, he was one of the few members of a unique naval observation post on the coast at Worthing.
AJH retired in the mid 1950's and moved to East Grinstead in Sussex, but very sadly his remarkable life came to an end in January 1964. He was survived by his wife Vera until she regretfully passed away in August 1974.
Of the children, Bryan is still living in East Grinstead with his wife Pat, Whilst Gifford and his wife Margaret moved to Australia in 1973 and now live in Wahroonga NSW. In 1959 Russell emigrated to Australia and is currently living in Mosman NSW with his wife Patricia.
Additional material gratefully received from Russell Pennington Hodgeman
---
Landmarks named after Alfred J. Hodgeman
Feature Name: Hodgeman Islands
Feature Type: island
Latitude: 6701S
Longitude: 14414E
Description: A group of small islands lying close to the coast, 4 mi WSW of Cape De la Motte, in the E part of the entrance to Watt Bay. Discovered by the AAE (1911-14) under Douglas Mawson.
---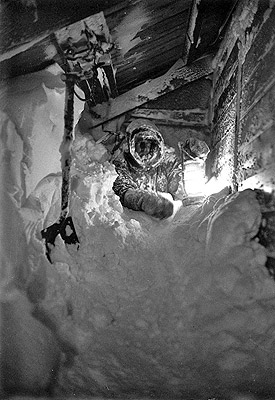 Returning Night watchman Hodgeman pushing his way through snow and into the main Hut after a visit to the Met screen
---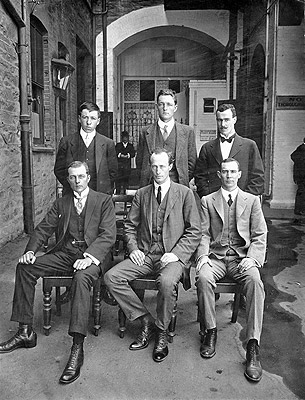 1911 Back Percy Correll Cecil Madigan and Frank-Bickerton Front Alfred Hodgeman Sir Douglas Mawson and Morton Moyes
---
Biographical information - I am concentrating on the Polar experiences of the men involved. Any further information or pictures visitors may have will be gratefully received. Please email - Paul Ward, webmaster.

What are the chances that my ancestor was an unsung part of the Heroic Age of Antarctic Exploration?