Reginald Koettlitz
(1860 - 1916) - Biographical notes
Doctor - Jackson-Harmsworth Arctic expedition 1894




Doctor and botanist

Discovery 1901-04
---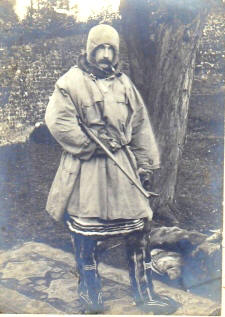 Reginald Koettlitz was a naturalized Briton, the son of a Reformed Lutheran Church minister (his father was from Koenigsburg, then in Prussia) and an English lady who settled at Hougham, Kent near to Dover in the 1860's.
The grandfather had been the chief of police in Konigsburg. The family moved to Germany to the Koln area to escape religious persecution. Reginald's father married an English governess in Germany. They moved to Ostend Belgium where various children were born (Reginald on the 23rd of December 1860). However again due to persecution they moved close to Dover, Hougham and Dover itself. Where they had a doctors surgery. The father on a census was put down as a spy by the enumerator.

Reginald Koettlittz was very studious boy, after early schooling at Dover College, he studied medicine at Guys hospital. Upon qualifying he went to the coal fields of Durham and worked as a doctor there for 8 years. He heard about the upcoming "Jackson-Harmsworth" expedition to the Arctic and gained an interview, he was appointed as doctor and biologist. There was however a requirement to be an English subject. He persuaded the Mayor of Dover and others to petition the home secretary to get British citizenship which he obtained just days before embarking on the expedition.
His position in the Discovery expedition was a condition imposed by Sir Alfred Harmsworth, who donated the very large sum of £5000 toward the expedition, Armitage (also of the Jackson-Harmworth Expedition) was also included as a member of the expedition in the same manner.
Four years away on expeditions seemed to ignite a wanderlust in Koettlitz and on returning from the Arctic, he accompanied other expeditions to Abyssinia, Somaliland and Brazil before joining the Discovery Expedition to the Antarctic in 1901 at the age of 40.
Medical duties were usually expected to be light on such expeditions as the crew and men were chosen partly for their good health and fitness, Koettlitz was also to act as botanist to the expedition. The land flora of Antarctica is very poor, generally consisting of lichens and mosses, though phytoplankton were also studied as part of this botanical remit.
During the Discovery Expedition, Koettlitz removed a cyst from First Lieutenant Royds' cheek, said to be one of the first Antarctic operations.
Later members of Reginald's family took the surname of the mother rather than continue to use Koettlitz. A sister of Reginald married Mesnel the anarchist in France. A brother was a composer and moved to London.
Reginald Koettlitz died in South Africa in January 1916 of dysentery along with his wife.
With thanks to Douglas Dickson for further information.
---
Landmarks named after Reginald Koettlitz:
Feature Name: Koettlitz GlacierType:
glacier
Latitude:
78°15'S
Longitude:
164°15'E
Description:
A large glacier lying W of Mounts Morning and Discovery, flowing from the vicinity of Mount Cocks northeastward between Brown Peninsula and the mainland into the ice shelf of McMurdo Sound.
Feature Name: Koettlitz Neve
Feature Type: glacier
Latitude: 78°27'S
Longitude: 163°00'E
Description:
Named in association with Koettlitz Glacier.
Biographical information - I am concentrating on the Polar experiences of the men involved. Any further information or pictures visitors may have will be gratefully received. Please email - Paul Ward, webmaster.

What are the chances that my ancestor was an unsung part of the Heroic Age of Antarctic Exploration?