Otto Nordenskjöld - Time Line
Swedish Antarctic Expedition 1901 - 1904


the expedition in more detail
A Swedish organized expedition with Swedish scientists, though a largely Norwegian crew.

Set a high standard early on for scientific investigations.

The expedition ship was crushed in the ice in the second season, 3 separate groups were forced to winter in different locations

Only one man died.
---
---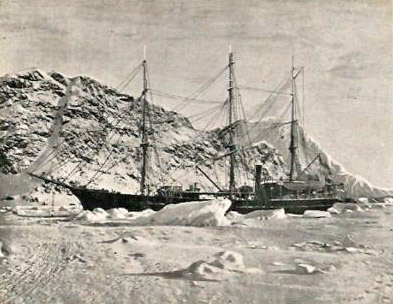 The ship "Antarctic"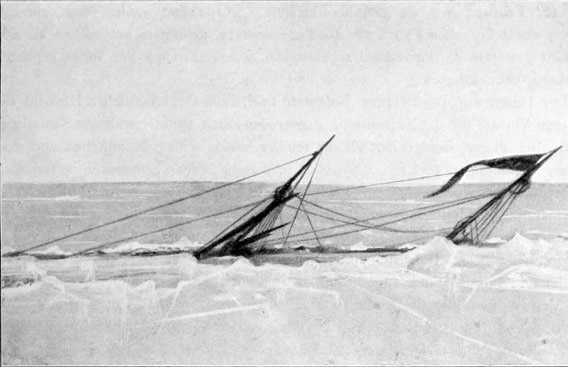 The ship Antarctic sinking in the Antarctic Sound, 25 miles from the nearest land across rough broken sea ice with leads of open water
---
Date
Main Expedition
+ Snow Hill Winterers
2nd Season
+ Hope Bay Winterers
Crew of the Antarctic

---
16th Oct 1901
Expedition leaves Goteborg, Sweden
---
30th Dec 1901
Expedition reaches the Falkland Islands
---
10th Jan 1902
Deception Island, South Shetlands, Antarctic Peninsula
---
12th - 21st Feb 1902
Arrival at Snow Hill, wintering hut established, ship leaves
---
4th Mar 1902
Antarctic reaches Tierra del Fuego, S. America
---
Mar 1902
Start of planned winter
exploratory sledge journeys
5th Nov 1902
Antarctic leaves Falklands for second season
---
5th Dec 1902
Antarctic heads to Snow Hill to collect winterers
---
29th Dec 1902
Antarctic Sound closed by ice, 3 men dropped at Hope Bay to fetch Snow Hill winterers
---
9th Jan 1903
Jonassen climbed hill to see, loose pack ice all round
---
13th Jan 1903
Open sea prevents reaching Snow Hill, 3 return to Hope Bay, await the ship
---
14th Feb 1903
Antarctic is crushed by ice and sinks in Antarctic Sound, 20 crew are alive and well but stranded, equipment and supplies were unloaded before the ship was lost
---
18th Feb 1903
Loose pack ice is frozen in place
---
28th Feb 1903
Antarctic crew arrive at Paulet Island, begin building a stone hut
---
7th Mar 1903
Start of second winter - enforced
Ship fails to return to Hope Bay, start of enforced winter for 3 men
Stone hut complete, start of enforced winter
Winter 1903
In the absence of telecommunications, none of the three wintering parties were aware of the fate of the others
29th Sept 1903
3 Hope Bay winterers set off for Snow Hill in spring
---
12th Oct 1903
Snow Hill winterers meet Hope Bay winterers at Cape Well-Met
3 from Hope Bay arrive at Snow Hill
---
31st Oct 1903
Larsen + 5 leave Paulet for Hope Bay
---
5th Nov 1903
Larsen + 5 arrive Hope Bay
---
8th Nov 1903 (the day of wonders)
Uruguay arrives at Snow Hill to rescue Snow Hill winterers
Larsen +5 arrive at Snow Hill after rowing 180km
---
9th Nov 1903
Uruguay leaves Snow Hill with all the men from Snow Hill and Hope Bay on board
---
10th Nov 1903
Uruguay rescues remaining Antarctic crew from Paulet Is.
---
2nd Dec 1903
Uruguay arrives Buenos Aires
---
10th Jan 1904
Crew of the Antarctic arrive home in Stockholm, Sweden
---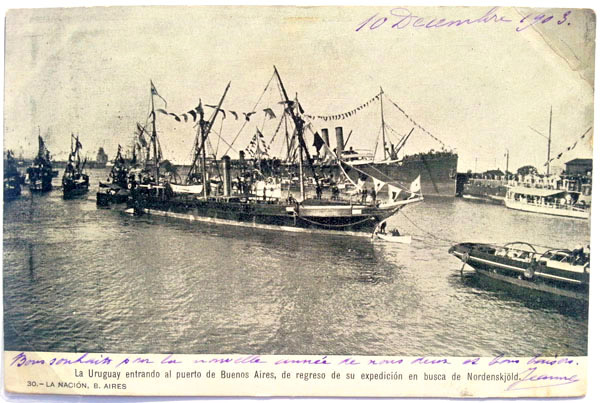 The Uruguay arriving in Buenos Aires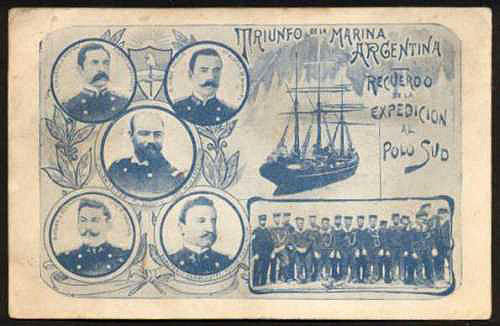 Postcard of the officers and crew of the Uruguay