Antarctic Travel
Practicalities and Modern Vehicles

---
Antarctica is a continent, it is very roughly circular with a diameter of about 2,800 miles (4,500 km). There are no roads for conventional vehicles outside of short non-paved tracks around scientific stations, just a few "airports" that are rough landing strips usually on ice (with the changes and unpredictability that goes with ice) no commercial air or sea ports and no railways.
There is no infrastructure where you can buy fuel, get repairs or overnight accommodation other than as part of a short term tourist package.
Find where you are on the map of your country and a place you have travelled to in the past? how far was it and how long did it take you with all the roads, airports, accommodation and other things we take for granted? Imagine a similar jouurney in Antarctica without any of the transport infrastructure.
---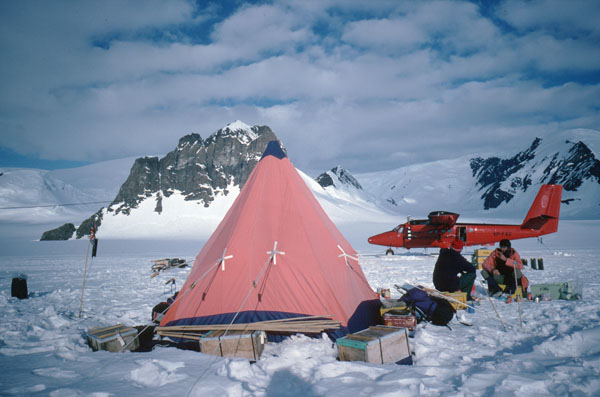 Field parties may camp for up to 100 days in the Antarctic summer months with periodical resupply which is taking place here by air. Food and fuel are dropped off many miles from the nearest base allowing remote and distant areas to be visited, the aircraft will also take out collected rock samples, this field party travel are using snow mobiles and sleds to carry their equipment.
Getting Around Can be Hard
There is no vegetation to soften the landscape across most of Antarctica. Vegetation builds up soils over time and this smooths rocks and boulders which become buried, this doesn't happen in Antarctica, rocks are bare and more often than not (over 98% of the land area) the ground surface is snow and ice which can sometimes make travel easier or sometimes make it more difficult.
Different Speeds on Different Days
In most of the world, we travel at pretty much the same speed at all times of the year at all times of day and in all kinds of weather. This is not the case in Antarctica. There are two main factors that affect how easily and quickly you can travel, if you can travel at all:
1 - The snow or ice surface. This can change over a short time, overnight and from one day to the next. If it snows or blows and sastrugi forms, if the temperature rises and makes the surface softer or even start to melt, if ice flowers form on a hard surface or if a soft part-melted surface freezes hard again it can drastically change how quickly and easily you can move over the surface, both for good and bad.
2 - The weather. Temperatures can fall or rise and even though they are often all below freezing point, there is a big difference between -10C, -20C and -30C and what you can comfortably and safely do at each temperature. The appearance of a blizzard is an ever present possibility and results in having to stop and wait until it passes and you can continue again, this might take a day or two, or even a week, or two. Even on a calm and not especially cold day, low cloud can result in white-out conditions where it is like being inside a ping-pong ball making dangers such as crevasses much harder to see and slowing progress significantly.
"The following day was also bright and sunny, but the sledging was terribly heavy. The sun had thawed the surface of the saline snow and our sledge runners had become saturated with soft water.
- Edgeworth David, 1908.
"The next two days were uneventful, except for the fact that we occasionally had extremely heavy sledging over screw pack-ice and high and long sastrugi. The latter were from two to three feet high, bounded frequently by almost perpendicular sides, and as they trended from west to east and our course was from south to north they proved formidable obstacles to our progress, and capsizes of the sledges were frequent.
- Edgeworth David, 1908.
Hazards
Crevasses - one of the biggest and commonest hazards when travelling overland in Antarctica. These are cracks in the ice up to hundreds of feet deep that can be covered at the top by snow that blows over to form a weak bridge. Anyone passing through such terrain has to be vigilant, trained to spot and avoid crevasses and should know how to perform a crevasse rescue should someone fall in one. Many lives have been lost by people and vehicles falling into crevasses. They can often be large enough to easliy swallow the largest vehicles with lots of room left over.
---
---
Sea ice can be an excellent surface for travelling over if it is hard and strong, it can also be quite treacherous if it isn't and you're not sure. The ice can be broken by a storm or waves resulting in countless separate ice floes which can be taken by wind and tides many miles from where it was. A rare though not unknown event is when a large iceberg trapped in the ice turns over and breaks up the ice for miles around.
On the positive side, sea ice can speed travel up, because there are no hills and it can allow you to go the most direct route avoiding glaciers, cliffs and rocks, it can turn hundreds of square miles into a flat, hard and excellent surface to travel on, though it usually doesn't last long like that before other factors change the surface.
Most of all, don't spend the night camped on sea-ice, and don't travel across it in strong winds.
---
Modern Transportation in Antarctica
---
---
---
---
---
---
Picture credits:
Radar sled and snow mobile - Lora Koenig & NSF / Twin Otter and field party - Tom L.C. CC 3.0 Attribution Share alike Unported licence / Boeing 757 - Crown Copyright 2011 NZ Defence Force CC2 Attribution Generic licence / Helicopters - Thomas Steuer CC-BY-4 licence