Vegan Cold Weather Clothing
Dressing for seriously cold weather without animal products
---
Wholly vegan brands tend not to do extreme cold weather gear, but extreme cold weather brands often do some vegan gear. Here are some suggestions of how to keep warm without any animal products in even the coldest weather.
Boots
Proper cold weather boots need substantial insulated soles as well as insulated uppers as much heat can be lost through the bottom of the foot to the ground. For the coldest weather, boots have soft insulated uppers, and they need to be bulky to be effective, all that insulation takes up space!
---
---
Boots can be one of the hardest items of cold weather clothing to find for vegans, some are almost there but not quite.

Brands: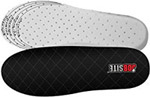 Thermal insoles - A good low-cost way of boosting the footwear you already have, no substitute for dedicated winter footwear though.

Layering - The point of layering is that the different layers have different functions, it's not simply about lots of layers irrespective of what the layers are. It may seem obvious, but layers need to be on the top and legs too, shorts or skirts can't be compensated for by 3 top layers and a parka.
The Outer / Shell Layer
- the first line of defence against the weather. This layer NEEDS to be windproof and may be waterproof, though this is less important below freezing point. It can be simply a "shell" with no insulation or more commonly with insulation built in.

---
Insulating materials: Synthetic insulation has been developed for many decades and has become progressively more effective, lighter, and more compressible while retaining it's major performance advantage over down which is that it is still effective while wet and dries out much more quickly, little compromise needed when choosing vegan here.
Manufacturers like to give their own proprietary insulating material fancy names and show lots of charts and graphs to back it up. All but the cheapest of modern synthetic insulation is good at its job these days. It's not only about the insulation though, look for storm flaps, good hoods, closeable cuffs and waist cords to batten down the hatches when needed and also the ability to open up and ventilate during exertion or when it warms up for a while.
---
---
---
3 in 1 jackets: A waterproof and windproof uninsulated outer jacket with a close-fitting insulated inner, wear them separately or together depending on conditions. Most are insulated with fleece or modern hi-tech synthetics.


100% animal and cruelty free brands:
Foundation / Base Layer
-
Provides Insulation and wicks sweat away from the skin.
---
The foundation layer next to the skin is important because with so much clothing on top, sweat can build up leading to a feeling being cold and clammy, especially when resting after activity. So the foundation layer needs to be made of an effective wicking material as well as providing a good layer of insulation.
The main thing is to avoid cotton which is really bad at wicking and instead choose synthetics such as polypropylene and polyester.
Men's synthetic base layers | Women's synthetic base layers
Mid / Insulation Layers

- flexibility is a major factor here to allow for cooling during exertion or in warmer conditions, with the ability to wrap up warm when the temperature drops.
---
Upper body - thick shirts, sweaters and jackets long enough at the back to avoid exposed skin or lower layers during bending.
---
Lower body - Thick warm pants of heavyweight synthetic material such as polyester/cotton. Pants should be somewhat loose fitting and not tight as this allows a layer of air and doesn't restrict the circulation.. Denim is about the worst possible choice.
Bibs and overalls are particularly good, they add extra core insulation and keep you covered while bending or stretching.
---
The insulating layer/s are variable and flexible and can be added to when cold or removed when not so cold, versatility is provided by zips and buttons
This layer should be soft for comfort, adjustable fastenings are good, the mid layer can become the outer layer during warmer conditions or when there is no wind.
Materials - Synthetics
Polartec fleece is an excellent choice and comes in a range of weights, usually described as 100, 200 or 300.


There are a number of polyester, polypropylene and polyamide fabrics and insulation that are very effective.


Materials to avoid:
Cotton. Heavy cotton can be good for outer layers particularly if coated as it is hard wearing or as a traditional overshirt, but it is inefficient as insulation and a poor base layer as it is very bad at wicking moisture which it grabs hold of eagerly and is reluctant to let go again. This makes it potentially downright dangerous in low temperatures. Leave that thick cotton sweatshirt you've got for less serious cold conditions.


Other plant based materials are also best avoided. Plants don't need insulation, any insulating properties of plant materials are co-incidental to whatever purpose the plant grew those parts for. Plant derived fabrics generally readily soak up water, become heavy, lose their insulation properties when wet and are very slow to dry out again. They do work really well for warm weather garments though!


Acrylic knits. These will keep you warm to a degree but not as much as the equivalent more effective synthetics such as fleece, thinsulate or primaloft. It is good for chunky fashionable garments, hats and sweaters that can be worn without causing overheating.
Extremities - head, hands and feet, ankles, wrists and neck.
---
Feet
One pair of winter weight insulating socks or maybe a thin liner pair and thicker over socks are all you need if you have good cold weather boots too. Acrylic and polyester are effective materials and durable. Don't be tempted to wear too many pairs of socks, this will make your boots tight and squash the insulating air out, as well as making them uncomfortable. Modern cold weather boots have inbuilt insulation and are not intended to be worn with multiple pairs of socks.
Cotton is a bad choice again, it is a poor insulator, and hangs onto sweat (yuck) which will make your feet feel cold.
---
Hands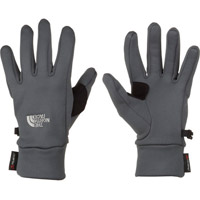 Hands have a high surface area for a low volume so can get very cold very quickly. They don't need to be very cold before manual dexterity worsens. Sensor gloves allow you use your touchscreen device with the gloves still on.
Given the same materials and design, mittens will keep your hands warmer than gloves. Layering should be used when it gets very cold, a light inner glove for handling ability and then a thicker pair of mitts over the top. The outer layer can be additionally insulated or just be a weatherproof shell layer, at least wind-proof and preferably water-resistant too.
There is no magical thin, ultra-warm glove that is going to allow you full use of your hands down to minus stupidly cold, it's all a compromise.
Rechargeable electronic hand warmers - Power packs that can be used for heat or battery back up for your phone
---
Head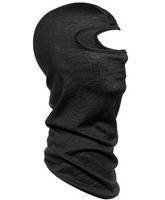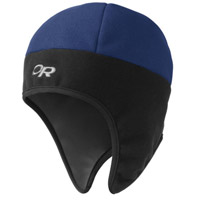 Putting on a hat is quick and easy and a very effective way to keep warm. It's not as immediately obvious an effect as putting on a parka and it doesn't always seem to be so necessary unless you have cold ears. If you are bare headed, you will lose an awful lot of body heat that a hat could hang on to, they are quick to take off again for flexibility, and allow greater freedom of movement and better vision than a hood. In less extreme conditions a hat alone is enough, as the temperature drops and wind picks up, use the hood on your shell garment over the top as well.
Style. Beanies are a very effective shape, they can easily be pulled over the ears. Clean, plain shapes allow a hood to be pulled over and fit closely for better insulation. Bobbles or other "fun" parts make air spaces that reduce insulation. A personal favourite is a close fitting "windstopper" hat with ear flaps, small enough to easily fit in a pocket with a warmth far beyond its size and weight.
Balaclavas are a good choice too, roll them up as a hat alone or pull down over the face and neck when it's time to put the hood up too.
Hats - Beanies | Hard hat liners | Balaclavas | Windstoppers
---
The Neck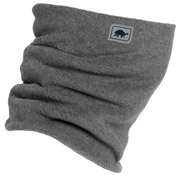 An important area, easily overlooked, warm air can be pumped out of your jacket and lost to the outside to be replaced with cold air coming in. A scarf or "neck gaiter" solves this problem.
Scarves must be of the right material and worn correctly to get the best use from them. Cotton is useless here, and acrylic not good enough, wear the scarf under the shell garment and over the insulating layer immediately beneath (like a turtle-neck) that so that it restricts air movement and snow ingress as well as providing extra insulation. A neck gaiter is a neater version of a scarf, a tube of stretchy insulating material than can be worn like a scarf or pulled up over the lower part of the face.
Neck gaiters
---