Stylish Cold Weather Clothing
Dress warmly with style in winter
Practical ideas to apply when choosing winter fashions, how to ensure that your winter style doesn't leave you cold.
Looking good in cold conditions calls for a focus on style rather than fashion, style is timeless and lends itself to purpose as well as simple appearances.
There are a number of aspects to dressing effectively for the cold, fabrics and materials, garment design, how items integrate with other garments, and how well they trap air that you then warm up. Air is the real insulator, losing warmed-up air makes you cold. Effective design elements in winter clothing help to to retain that valuable warmth.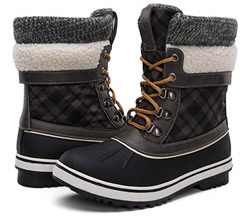 Things to help you stay warm
Footwear - Boots are always warmer than shoes, as they cover up the ankles too. Boots provide an opportunity to spice up an outfit becoming a feature in themselves.
A thick sole is vital in cold weather as you can lose a lot of heat downwards, man-made materials give better insulation than leather. Recent innovations mean that it is now possible to get stylish boots that are seriously warm in well below freezing temperatures.
Winter boots - Women's Men's

---
---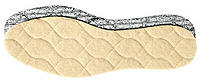 Thermal insoles - Less insulating footwear can be helped with thermal insoles at little cost, they are invisible in terms of your outfit adding extra practicality to any shoes or boots, they are no substitute for proper winter footwear however.
Thermal insoles

---
Outer layer, coats and jackets - there are an awful lot of very good looking stylish winter coats that are not very good at keeping you warm. It's not just about the material, design matters too.


Avoid open fronts - a deep front V is never going to be good at keeping the warmth in, even if you use a scarf. A coat that fastens to the top under the neck (or even better to under the chin) is going to be far more effective, turn-up collars are good at keeping the wind out.


Fastenings down the front - A zip is the most effective closure. 1 or 2 buttons isn't going to work well, you need good closures at least down to the waist, where it's useful to have...


A cinch point at the waist or hips - Good closures and close fittings at the neck along with a closure lower down the body creates a zone from the collar to the waist or hips where warmed air can be trapped and not leak or pump out with movement, this is a good thing. This can be a belt or an internal drawcord at the waist or hem, failing this, the garment should fit close to the body and not too loose (though allow space for extra layers underneath as required).

Winter coats -
Women's
Men's
---
Midlayer - Pants - The legs are too often ignored in cold weather, despite the time and effort given to coats and boots, many people just end up wearing similar things to the rest of the year with little or no concession to the weather despite the fact there is usually just one layer over them even when outdoors.
Pants are warmer than a dress or skirt, tight fitting isn't good, a little loose is always better for retaining the warmth and not constricting circulation. Heavier material is better (obviously) wool or wool mix is warmer and cotton is generally a bad choice other than moleskin (standard Antarctic issue with a very pleasingly soft texture) or unless they are fleece lined.
Wool pants - Women's Men's Moleskin - Women's Men's
---
Midlayer - Tops -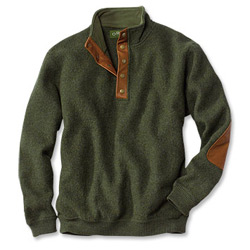 Under your favorite outer coat when it's cold, or as an outer layer itself in not so cold, calm and dry conditions, there are many options for different weather conditions and endless choices within those options.
Knits - Wool is the best insulator and is best for warmth, merino is an increasingly popular very soft option. Part or full cashmere adds extra comfort and luxury, though such garments tend to be quite lightweight.
Women's Men's
Traditional over shirt - A heavyweight long sleeved shirt to go over your base layer, very practical and versatile.
Women's Men's
Vest / Gilet - Over a sweater, jacket or thick shirt. Surprisingly effective despite the lack of sleeves and good for freedom of movement if you are doing something at all active.
Women's Men's


---
Foundation layer - The base layer next to the skin has two jobs, the obvious one of keeping you warm and the less obvious (and slightly icky) one of wicking sweat away from your skin so keeping you dry, comfortable and also warmer too.
Merino wool - The gold standard of thermal underwear. Wool from merino sheep, a soft, fine naturally odor resistant organic product.
Women's Men's
Silk - in a complimentary or contrasting color if visible, can provide good warmth.
Women's Men's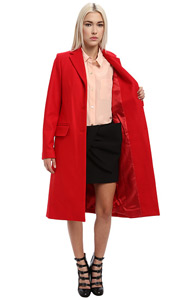 Things to avoid if you want to stay warm





Thinly insulated regions and bare skin - You lose heat quickest through the least insulated part, 4 layers on your top does not make up for 1 layer on the bottom, and bare legs are even worse. Your legs might not feel especially cold, but they will be making your whole body colder by radiating heat, improve your leg insulation and you'll be able to lose at least one of the upper layers.

Close fitting pants

close fitting inner layers = good
close fitting outer layers = bad


...those figure hugging skinny jeans you just know you look so good in are going to make you colder than the slightly looser pair that you could wear instead.

Don't be fooled by long loose coats - stylish but frequently not fastened very far below waist level and often with a large vent at the back, which means that they are going to be little more insulating than a short jacket.