Travel clothes for cold weather. Travel light, stay warm and weatherproof.
Cold Weather Travel Clothing
dress warmly, pack light
Winter travel to the cold climates of Northern Europe, North America and similar regions doesn't have to mean wearing bulky and heavy clothes.
Layers are the answer to providing warmth with low bulk and flexibility when dressing for the cold - this way you can travel light and be prepared for a wide range of temperatures and weather conditions. Choose your clothes carefully before you go, for the material they are made of and the design.
Outer Layer, Coats and Jackets

- there are an awful lot of very good looking winter coats that are not so great at keeping you warm. Materials and design are both important.
---
Windproof is vital - As the temperature falls, the cooling effect of the wind increases, the outer layer doesn't need to have great insulation, but it does need to be windproof.


Avoid open fronts - A deep front V is never going to be good at keeping the warmth in, even if you use a scarf. A coat that fastens to the top under the neck (even better to under the chin) is going to be far more effective, turn-up collars are good at keeping the wind out.


Don't just rely on a heavy coat to provide most of the warmth. Layering gives flexibility and avoids carrying bulk and weight everywhere. Layering doesn't just mean lots of layers for the sake of it, but a few layers with each selected for a particular purpose.


Front fastenings - A zip is the most effective closure. Just 1 or 2 buttons doesn't work well at all, you need good closures at least down to the hips.


A cinch point at the waist - Good closures and close fittings at the neck along with a closure lower down the body creates a zone from the collar to the waist or hips where warmed air can be trapped and not leak or pump out with movement, this is a good thing. This can be a belt or an internal draw cord at the waist or hem, failing this, the garment should fit close to the body and not too loose (though allow space for extra layers underneath as required).


3 in 1 Jackets - These are great for cold weather travel, they consist of a breathable waterproof and windproof outer jacket with an insulated liner, either can be worn alone, or both together for maximum weather protection. Men's Women's



Materials



Down - The warmest insulating material for a given weight not good if you get it wet but hydrophobic coatings are addressing this issue. Down is particularly good at being compressed, lightweight down jackets will often fold up into their own hood or a pocket so taking little space in your luggage and providing significant warmth.

Quality synthetic insulation is very effective and still good when damp, generally a little heavier but cheaper than down.

Cotton - Avoid - Cotton feels cool to the touch (hence its wide use for warm weather clothing), it can be quite miserable and clammy when damp or wet and provides little in the way of insulation. Instead, look for polyester, or polycotton with a high polyester % (50%+) for outer shell materials.

Wool - Avoid - though very widely used for winter outerwear for its feel and look, wool performs quite poorly as a serious cold weather outer layer. If substantial enough to provide enough warmth and wind resistance it will be relatively stiff, heavy and bulky as a consequence . The stiffness makes it gape at the cuffs and collar allowing draughts. It is not fully windproof and certainly not waterproof. It will simply soak up water if it gets wet. On the plus side, wool is still a good insulator when damp or even downright wet (ask any sheep). It is however really great for inner insulating layers.


Winter coats -
Women's
Men's
A Word on Layering

TThe function of layering in cold weather does not simply mean lots of layers, 3 cotton shirts for instance aren't going to be good at all. They are not a good insulating material, they will be around the same size and so won't fit well on each other and give you far more laundry to do! Layering means that each layer does a different job. A little planning and strategic buying is more effective than simply throwing more clothes on or getting a particularly thick outer coat. Up to three layers should be fine most of the time, sometimes going to four by adding an extra mid layer.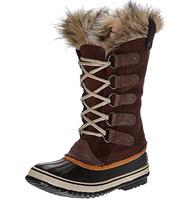 Footwear and socks

Boots are always warmer than shoes, as they cover up the ankles too. Boots are great for travelling as even if you are on a city-break rather than a hiking trip, you're probably going to be doing some amount of walking.
---
A good insulating sole is vital in cold weather as you can lose a lot of heat downwards, man-made materials for the sole give better insulation than leather. If you're packing other footwear too make sure it also has a good sole and a tread pattern that puts some space between your foot and the ground. Laces allow some flexibility of sizing for wearing thicker socks.
---
---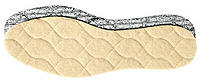 Thermal insoles - Less insulating footwear can be helped with thermal insoles at little cost, they are invisible in terms of your outfit adding extra practicality to any shoes or boots, though are no substitute for proper winter footwear.
Thermal insoles
---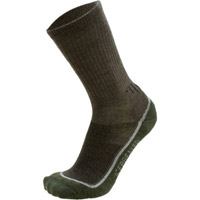 Socks
If you've got some decent boots, then your usual socks will be fine in them for much of the time in colder weather than you're used to. Wool hiking socks are a good thing to carry with you too if it's going to get colder, and wool is definitely the material to go for. There are a great many budget synthetic socks described as "thermal" that don't really do the job, being synthetic they tend to make your feet sweat and hold on to the moisture too, wool is much better at wicking it away.
Wool hiking socks will be warmer than the ones you usually wear, they can worn on their own or as a second pair over inner socks which means you don't need so many as you won't need to wash them so often. Remember to loosen your boots laces somewhat to take the extra bulk, squeezing in socks can push all the air out and make you colder as well as less comfortable.
Midlayer - Pants - The legs are too often ignored in cold weather, despite the time and effort given to coats and boots, many people just end up wearing similar things to the rest of the year with little or no concession to the weather despite the fact there is usually just one layer over them even when outdoors.
---
Pants are warmer than a dress or skirt, tight fitting isn't good, a little loose is always better for retaining the warmth and not constricting circulation. Heavier material is better (obviously) wool or wool mix is warmer and cotton is generally a bad choice other than moleskin (standard Antarctic issue with a very pleasingly soft texture) or unless they are fleece lined.
Skinny jeans are not good in cold weather, the ones you have can be made better by wearing thermal leggings under them or you could get them with a fleece lining.
---
Midlayer - Tops -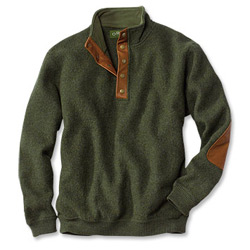 Under your outer coat when it's cold, or as an outer layer itself in not so cold, calm and dry conditions, there are many options for different weather conditions and endless choices within those options.
---
Knits - Wool is an excellent material for a mid insulating layer, when knitted it is soft and flexible unlike when felted as an outer layer, used in conjunction with a performance outer layer it becomes an ideal cold weather material. Cotton can look good but is a poor insulator and acrylic while cheap is bulky and heavy, both are best avoided for the insulating layer.
Women's Men's
Traditional over shirt - A heavyweight long sleeved shirt to go over your base layer, very practical and versatile as buttons can be opened or closed and sleeves rolled up or cuffs closed down.
Women's Men's
Fleece - A light or mid-weight fleece gives great versatility as an additional insulating layer under your shell jacket or on its own.
Women's Men's
Vest / Gilet - Over a sweater, jacket or thick shirt. Surprisingly effective despite the lack of sleeves and good for freedom of movement if you are doing something at all active. Watch you don't end up with three layers on the torso though and just one thin layer on the arms or you'll feel cold.
Men's Women's


Foundation Layer - The base layer next to the skin has two jobs, the obvious one of keeping you warm and the less obvious (and slightly icky) one of wicking perspiration away from your skin so keeping you dry, comfortable and also warmer too. Light or mid weight is most useful.
---
Merino wool - The gold standard of thermal underwear. Wool from merino sheep, a soft, fine naturally odor resistant organic product.
Women's Men's
Synthetic - A less expensive but highly effective thermal layer
Women's Men's


Protect the Extremities with Accessories


Head, hands, fingers, not forgetting ankles, wrists and neck.

---
Hands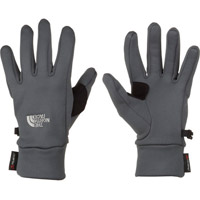 A lightweight pair of gloves can make a big difference to your comfort and happiness in cold weather. Sensor gloves allow you to use touch screen devices like your phone without taking the glove off. Woven synthetic materials are less bulky than knits and so can be stored in pockets more easily.
Men's Women's



In colder weather mittens are much warmer than gloves.
Men's mittens Women's mittens
---
Head - When your feet are cold, cover your head." - Inuit saying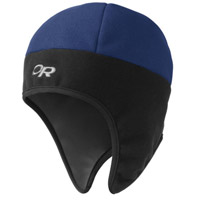 You can lose about 20% of your body heat through your head, the quickest way of warming up your whole body is to put on a hat. Having a hat in your pocket is always a good idea in cold conditions so that you can put it on when you stop walking to maintain your temperature when your exertions have reduced and it can be taken off again just as easily.
Your hat should cover your ears which can very quickly become painfully cold in biting wind. It can be a beanie type that you can pull down, or have ear-flaps that can be pulled or rolled down when needed. My preference is for a fleece hat in wind-stopper fabric with fold down ear-flaps like the one to the left, small enough to easily slip into a pocket with a warmth far better than you'd expect for the size.
If you have a hood on your coat which should be wind-proof, you don't necessarily want to have it up all the time, a wind-proof hat can be far more convenient and give better visibility and freedom of movement, saving your hood until it is really necessary.
Hats are the most personalized piece of cold weather clothing you can get with lots of fancy colors and designs, be careful not to get carried away by form over function. Those cute dangly pom-poms can get mighty irritating when the wind starts whipping them against your face, and hats with excessive material are bulky, not so close fitting and ultimately not so warm.
---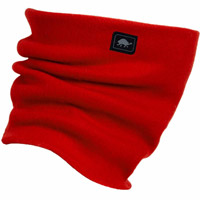 In-between Bits
In warmer temperatures we don't think about our wrists, ankles and the neck region as needing covering as they don't get cold, they can however soon become very cold and uncomfortable in winter weather, losing a lot of heat if not wrapped up as they pass warm blood between other well insulated areas.
The answer is:


A scarf or neck gaiter to insulate the neck and also to stop warm air from being pumped out of the body region and replaced with cold when you move about.

Boots that cover the ankles to provide warmth and support too.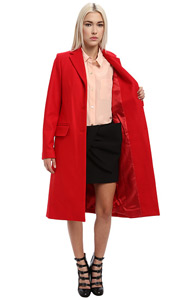 Things to Avoid





Thinly insulated regions and bare skin - You lose heat quickest through the least insulated part, 4 layers on your top does not make up for 1 layer on the bottom, bare legs are even worse. Your legs might not feel especially cold, but they will be making your whole body colder by radiating heat, improve your leg insulation and you'll be able to lose at least one of the upper layers.

Don't be fooled by long loose coats - stylish but frequently not fastened very far below waist level and often with a large vent at the back, which means that they are going to be little more insulating than a short jacket.

Large extravagant scarves, especially cotton - You don't need to actually avoid these to stay warm, just be aware they are items for style only and will make little difference to keeping the cold out. A neck gaiter made of thick insulating fleece material or a short wool scarf correctly tied will keep your neck warm, keep out blowing snow and prevent air pumping in and out of your jacket. They will be more effective at all of these tasks than some large loosely worn scarf while being compact enough to fit in a pocket when not in use.
---
Picture credit: Top banner - Lviv cathedral, western Ukraine, picture courtesy Rbrechko, trimmed, published under CC4 Att Sa Int licence.