Ansel Adams Time Line
Ansel Adams: 1902 - 1984, American photographer and environmentalist
---
1902 - Born in San Francisco on February the 20th, only child of Olive and Charles.
1906 - Aged 4 the young Ansel is thrown to the ground during an aftershock of the San Francisco earthquake, breaking his nose and scarring him for life in the process.
1907 - Family fortune is lost, never to be recovered despite Charles Adams efforts for the rest of his life.
1914 - Aged 12 teaches himself to play the piano, parents arrange lessons
1915 - Removed from mainstream schooling, taught by parents, tutors or himself.
1916 - Ansel's father buys him a season pass to the "Panama-Pacific International Exposition" an event which celebrated the opening of the Panama Canal. Ansel goes almost every day for a full year. On a family vacation to Yosemite National Park, California his parents bought him a Kodak Box Brownie camera.
1917 - Begins part-time work at Frank Dittman's photo-finishing business.
1919 - Joined the Sierra Club and became the "keeper" of the Sierra Club's Le Conte Memorial Lodge in the Yosemite Valley, a position that lasts for four years.
1921- - In the second summer in Yosemite, finds a piano for practice at "Best's Studio", a Yosemite concession selling paintings, photographs, books, and gifts. Meets future wife, Virginia, the daughter of the owner, Harry Best.
1922 - First published photographs and writings appear in the Sierra Club's "Bulletin".
1925 - Buys a grand piano as a part of planned future career as a concert pianist
1927 - Takes first publicly acclaimed photograph "Monolith, The Face of Half Dome" his first conscious Visualization.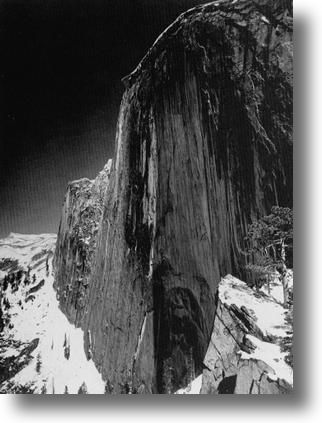 Monolith, the face of half dome, 1927
The making of this picture
price and framing options
Meets San Francisco insurance magnate and patron of the arts, Alfred M. Bender. Bender's patronage, friendship and financial support eventually change Adams life by allowing him to have the freedom and confidence to concentrate on his photography.
First portfolio published:
Parmelian Prints of the High Sierras
Meets photographer Edward Weston
1928 - Marries Virginia Best in January.

Becomes official photographer for the Sierra Club.
1930 - Adams published his first book in 1930 after five trips to New Mexico, Taos Pueblo.

Meets photographer Paul Strand in Taos, this helps fix Adams on the course of photography rather than as a pianist.

Begins accepting commercial photography assignments, one of his first being catalogue pictures for Gump's, the San Francisco specialty store. Commercial work continues into the early 1970s.
1932 - Forms f/64 photographic group with Willard Van Dyke, Imogen Cunningham, Edward Weston, Henry Swift, Sonya Noskowiak, and Jon Paul Edwards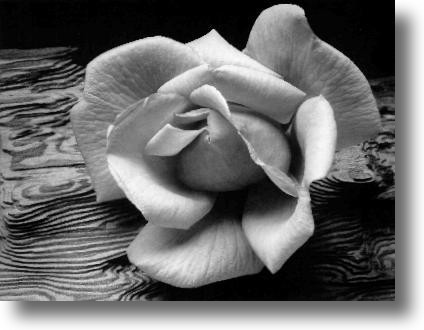 Rose and Driftwood, 1932
The making of this picture
price and framing options
1933 - Travels to New York to meet the photographer Alfred Stieglitz whom Adams admired enormously and with whom he was to develop a deep and intense relationship.

First New York exhibition.

Begins a gallery in San Francisco, "The Ansel Adams Gallery."
1934 - Elected to the Board of directors of the Sierra Club.
1935 - The first of the books dealing with the mastery of photographic technique, Making a Photograph, published.

Daughter Anne born
1936 - Puts on a one-man show in New York with the aid of Alfred Stieglitz.
1937 - Moves to Yosemite National Park to take over the management of the studio that Virginia's artist father, Harry C. Best founded in 1901.

Fire in the darkroom20 percent of his negatives destroyed. (5,000)
1938 - Publishes Sierra Nevada: The John Muir Trail.
1940 - Teaches first Yosemite workshop, the U. S. Camera Photographic Forum, in Yosemite with Edward Weston.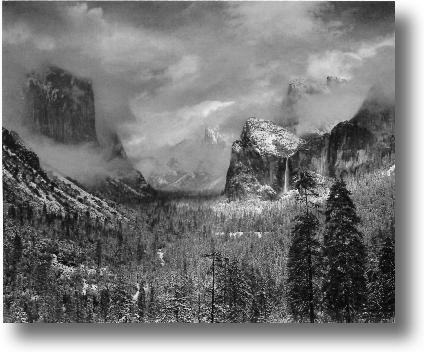 Clearing Winter Storm, 1940
The making of this picture
price and framing options
1941 - Develops Zone System of photography a technique incorporating exposure and subsequent development of the negative.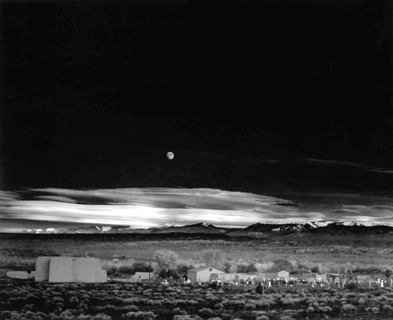 Moonrise, Hernandez 1941
The making of this picture
price and framing options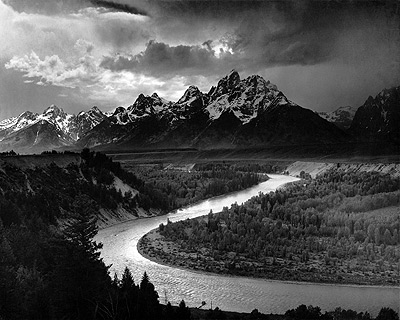 Tetons and Snake River, 1941
price and framing options
1944 - Work from a wartime photo essay on the plight of interned Japanese-Americans exhibited at the Museum of Modern Art (MOMA) in 1944 under the title Born Free and Equal. This is badly received by those who only wanted to see the Japanese as the enemy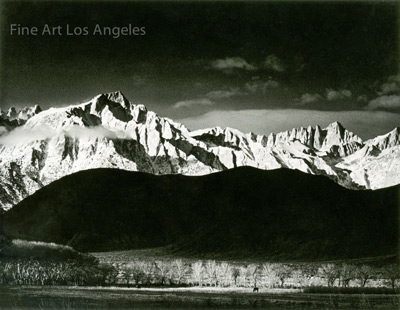 Winter Sunrise, 1944 - price and framing options
1944-1945 - Lectures and teaches courses at the Museum of Modern Art.
1946 - Involved in the establishment of the department of photography at the California School of Fine Arts (later the San Francisco Art Institute) at the time one of the first of its kind.

First Guggenheim Fellowship, results in publication of: Portfolio 1: "In Memory of Alfred Stieglitz" in 1948.
1947 - Leaves Yosemite National Park to set up studio in San Francisco (a business could not legally be run within the confines of the park).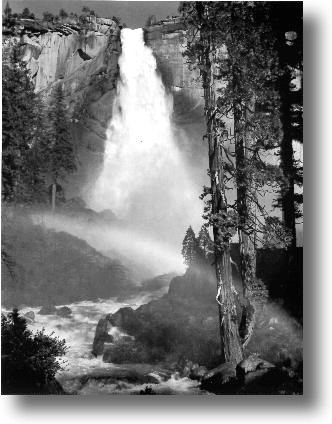 Nevada Fall, Rainbow, Yosemite Nat'l Park, 1947
The making of this picture
price and framing options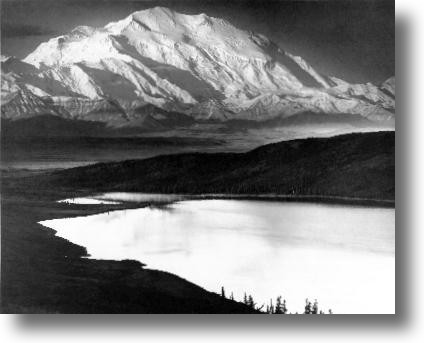 Mt. McKinley, Wonder Lake, 1947
The making of this picture
price and framing options
1948 - Second Guggenheim Fellowship, results in publication of: Portfolio 2: "The National Parks and Monuments." in 1950

Publishes Photo Series I: Camera and Lens and 2: The Negative.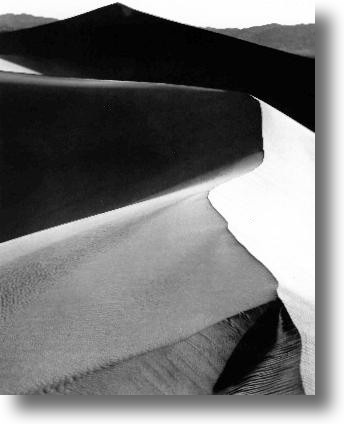 Sand Dunes Sunrise, 1948
The making of this picture
price and framing options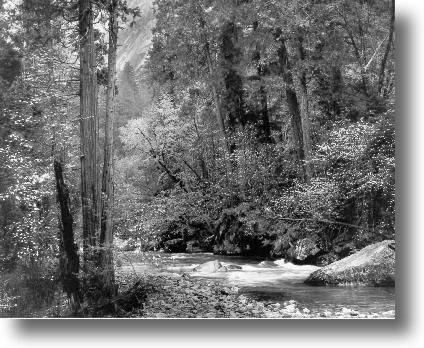 Tenaya Creek, Yosemite National Park 1948
The making of this picture
price and framing options
1949 - Becomes consultant for Polaroid.
1953 - Collaborates with Dorothea Lange on a Life magazine commission for a photo essay on the Mormons in Utah.
1958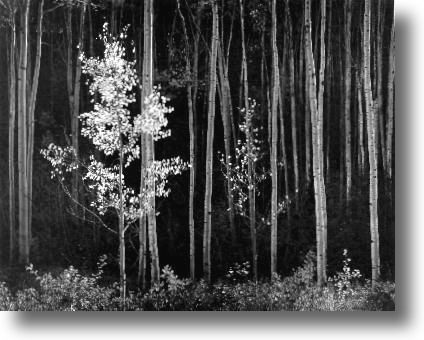 Aspens New Mexico 1958
The making of this picture
price and framing options
1959 - Third Guggenheim Fellowship, results in in 1960.
1960 - publication of: Portfolio 3: "Yosemite Valley"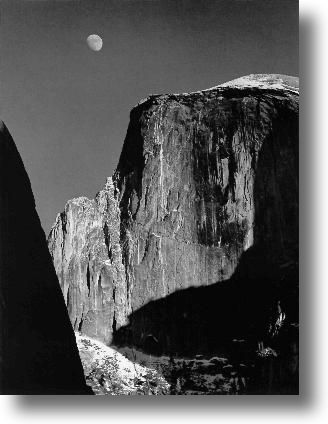 Moon and Half Dome 1960
The making of this picture
price and framing options
1962 - Moves to Carmel, California
1965 - Named to President Johnson's environmental task force.
1966 - Elected a "Fellow of the American Academy of Arts and Sciences"
1967 - Influential in the foundation of the "Friends of Photography" became president of this body.
1968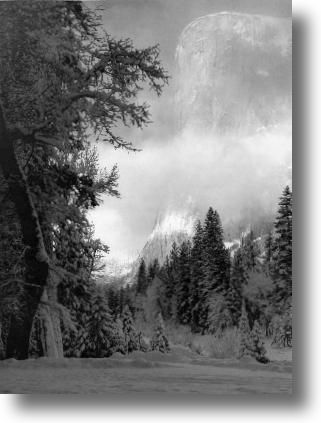 El Capitan, winter sunrise, 1968
The making of this picture
price and framing options
1975 - Helps found "Center for Creative Photography" at University of Arizona. Adams archives established there.
1979 - "Yosemite and the Range of Light", book published which was to sell over two hundred thousand copies.
1980 - "The Ansel Adams Conservation Award" established by the Wilderness Club. Adams himself named as the first recipient. Citation reads "...Ansel Adamsfor your deep devotion to preserving America's wild lands and to caring that future generations know a part of the work as it has been...".

Awarded Presidential Medal of Freedom from President Carter.
1982 - At eightieth birthday celebration is presented the Decoration of "Commander of the Order of the Arts and Letters", the highest cultural award given by the French government to a foreigner.
1984 - Dies on the 22nd of April 1984 aged 82
California Senators Alan Cranston and Pete Wilson sponsor successful legislation to create an Ansel Adams Wilderness Area of more than 100,000 acres between Yosemite National Park and the John Muir Wilderness Area.
1985 - Official naming of "Mount Ansel Adams", a 11,760 foot peak located at the head of the Lyell Fork of the Merced River on the southeast boundary of Yosemite National Park, on the first anniversary of his death.
1989 - "The Ansel Adams Center", headquarters of The Friends of Photography, opens at 250 Fourth Street, San Francisco, with one of its five galleries permanently dedicated to exhibiting his photography.
---