Ansel Adams Biography
Ansel Adams: 1902 - 1984 American photographer and environmentalist
---
"At one with the power of the American landscape, and renowned for the patient skill and timeless beauty of his work, photographer Ansel Adams has been visionary in his efforts to preserve this country's wild and scenic areas, both on film and on earth. Drawn to the beauty of nature's monuments, he is regarded by environmentalists as a monument himself, and by photographers as a national institution. It is through his foresight and fortitude that so much of America has been saved for future Americans."
President Jimmy Carter presenting Ansel Adams with the Presidential Medal of Freedom.
A good photograph is knowing where to stand
- Ansel Adams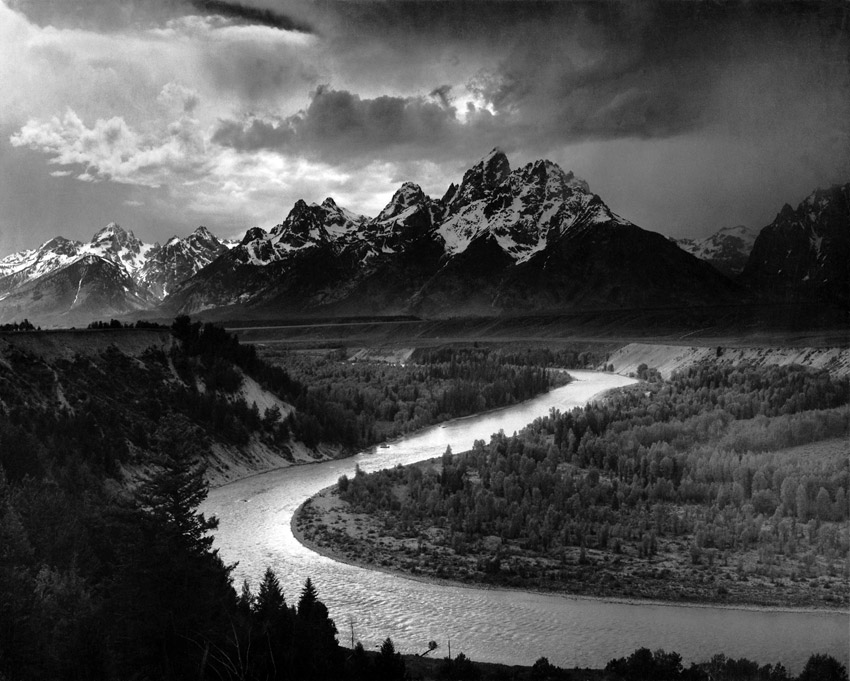 The Tetons and Snake River - art print
Ansel Adams was born in San Francisco on February the 20th 1902,the only child of Olive and Charles. The family was initially very well off, but the fortune that originated from Charles' father a timber baron, was lost in 1907. Despite spending the rest of his life trying, Charles Adams was unable to regain the former wealth.
In 1906 at the age of 4, Ansel was thrown to the ground during an aftershock of the great San Francisco earthquake and broke his nose, scarring him for life in the process. This physical characteristic along with a natural shyness also led to the young Ansel having problems in fitting in at school.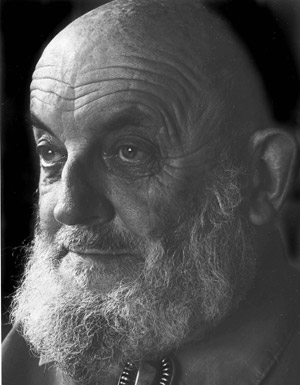 After trying several establishments with little success, his parents took him out of main stream schooling in 1915 and Ansel received home tutoring from an aunt and his father. The year after in 1916 Ansel's father bought him a season pass to the "Panama-Pacific International Exposition" an event which celebrated the opening of the Panama Canal. This contained exhibits and displays from around the world that fascinated young Ansel for a full year of almost daily visits and added greatly to his informal schooling.
He had taught himself to play the piano at the age of 12 and took lessons, for a long time in his early years it was his intention to become a professional pianist.
As a result of not attending school, the young Adams had a lot of time to himself and he used much of this on long walks around the still wild Golden Gate area. It was here that his life-long love of nature was nurtured and it was possibly this that set him on his path to becoming a landscape photographer. Again in 1916 there was another event that was to be pivotal in shaping Adams future. On a family vacation to Yosemite National Park, California his parents bought him a Kodak Box Brownie camera. He was to visit Yosemite again every year for the rest of his life.
In 1919 Adams joined the Sierra Club and became the "keeper" of the Sierra Club's Le Conte Memorial Lodge in the Yosemite Valley. He was to spend four summers in this position, during which he met and befriended many of the club's leaders and founders of Americas emerging conservation movement. His first published photographs and writings appeared in the Sierra Club's "Bulletin" in 1922.
Still during this time it was the intention to pursue a career as a concert pianist and as late as 1925 he bought himself a grand piano to this end. In 1927 however he took what was to become his first publicly acclaimed photograph "Monolith, The Face of Half Dome".
Sometimes I do get to places just when God's ready to have somebody click the shutter
- Ansel Adams
In the same year Adams met a San Francisco insurance magnate and patron of the arts, Alfred M. Bender. Bender's patronage, friendship and financial support were to change Adams life by allowing him to have the freedom and confidence to concentrate on his photography. The shift from pianist to photographer was not immediate but was profoundly influenced by Bender. Others such as the photographer Edward Weston whom Adams met in 1927 and with who he would go on to form the famous Group f/64 in 1932 also had a part to play.
By 1930 Adams was becoming established. He was supporting his family (he had married Virginia Best in January 1929 after a long courtship) by working as a commercial photographer accepting commissions from wherever they were likely to come.
Adams published his first book in 1930 after five trips to New Mexico, Taos Pueblo.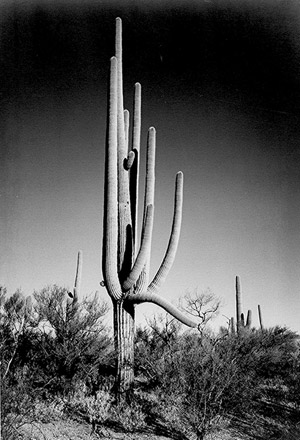 As with many artists critical acclaim was not hand-in-hand with financial reward and Adams felt throughout much of the 1930's that the necessities of paying the bills was stifling his creativity at least in taking time away from his artistic photography. Finances being tight meant that he did not have as much to spend on his art as he would have liked.
A meeting with photographer Paul Strand in 1930 helped fix Adams on the course of photography and help to finally break with ideas of being a pianist. In 1933 he traveled to New York to meet Alfred Stieglitz a photographer that Adams admired enormously and with whom he was to develop a deep and intense relationship. Adams had his first New York exhibition in 1933 and with the aid of Stieglitz Adams put on a one-man show in New York in 1936
In the 1940's Adams developed his zone system, a highly complex system - much copied, rarely mastered - of controlling and relating exposure and development. His technical mastery is legendary. More than any other photographer before or since he could control the theory and practice of exposure of the negative, of the wet chemistry of development and also of the composition of the photograph.
Adams saw photography as a means of bringing a "visualization" to fruition. Images formed in the mind from the landscape and lighting of a scene would be molded by the camera and darkroom to bring that vision to reality, every step of the process was a tool to be manipulated and nothing was left to chance.
There are always two people in every picture: the photographer and the viewer
- Ansel Adams
He was consulted on technical matters by photographers Edward Weston and Paul Strand and also by professional photographic businesses such as Polaroid and Hassleblad. He produced a whole series of technical books on photography that are still in print and widely purchased almost 50 years after their first publication.
Adams always used "large format" cameras for his photographs, the pin-sharp realism advocated by his approach to capturing images and also by the f/64 group meant that only large negatives could deliver the necessary quality of image. Pictures of Adams with his chosen tools therefore frequently make his equipment look very Victorian and old-fashioned. Large format cameras are physically large and heavy, require a substantial tripod, take time to set up and set a limitation on how many pictures can be taken on account of the physically large size, bulk and not to mention cost of the negatives. A single 10" by 8" negative that Adams exposed to capture his famous "Moonrise Hernandez" picture for instance has an area almost 60 times larger than a standard 35mm negative.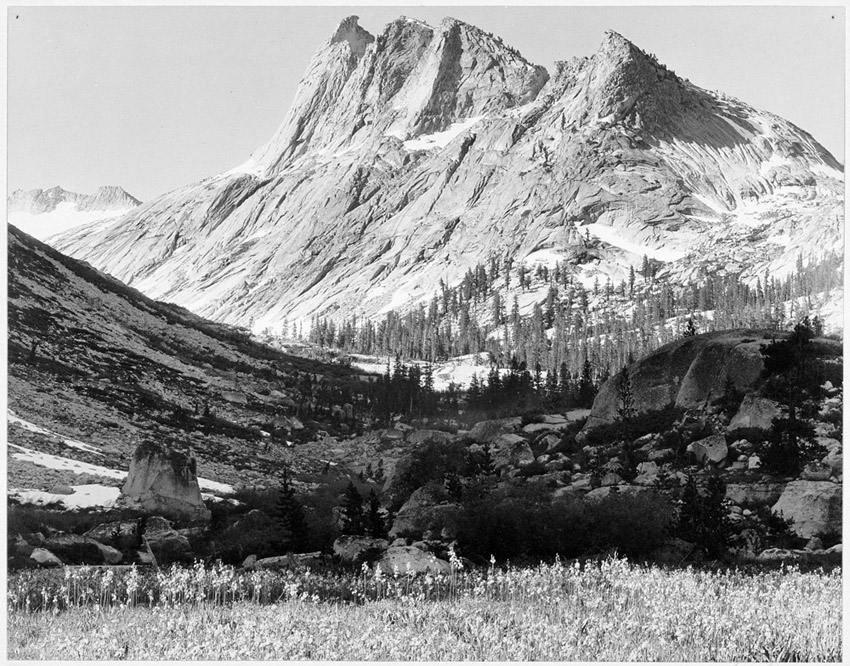 Such equipment imposes upon the photographs themselves. With a smaller format camera an image is the work of seconds and instantly repeatable. With large format the setting up and preparation takes much longer and a negative once exposed is one of only relatively few that may be captured. This focuses the mind as it does the camera, Adams would sometimes wait for hours or even days to capture a scene waiting while the lighting and the elements of the view fell into exactly the right position. Another result of using large format equipment meant that Adams could work individually on a particular negative, aiding his "visualization" of an image and bringing it to a real print. Such large negatives blown up to 30" x 40" would require only a 4 times magnification as opposed to 28 times for a standard 35mm negative. The difference in the quality of the final image is enormous.
Ansel Adams was at times a workaholic, he worked for 18 hours or more a day for weeks on end before eventually going home and taking to his bed. He also consumed large amounts of alcohol, had an intense and hectic social life, had affairs and was for a lot of the time an absent father. He felt that he had to promote photography as a fine art. He took photographs in order to express his creative nature, his inner emotions and not simply to record a scene.
In 1940 Adams Taught his first Yosemite workshop, the U. S. Camera Photographic Forum, in Yosemite with Edward Weston. He lectured and taught courses at the Museum of Modern Art in 1944-1945 and the next year in 1946 he was involved in the establishment of the department of photography at the California School of Fine Arts (later the San Francisco Art Institute) at the time one of the first of its kind.
A Guggenheim Fellowship (a grant for artists to pursue their talents) was awarded in 1946 (one of three awarded, in 1946, 1948 and 1959) to photograph National Park locations and monuments. Some very productive years followed and a number of portfolios were produced beginning with Portfolio 1: "In Memory of Alfred Stieglitz "in 1948. He made trips to Hawaii, Alaska, and Maine in 1950 and published Portfolio 2: "The National Parks and Monuments."
In 1953 he collaborated with Dorothea Lange on a Life magazine commission for a photo essay on the Mormons in Utah. Portfolio 3: Yosemite Valley was published by the Sierra Club in 1960.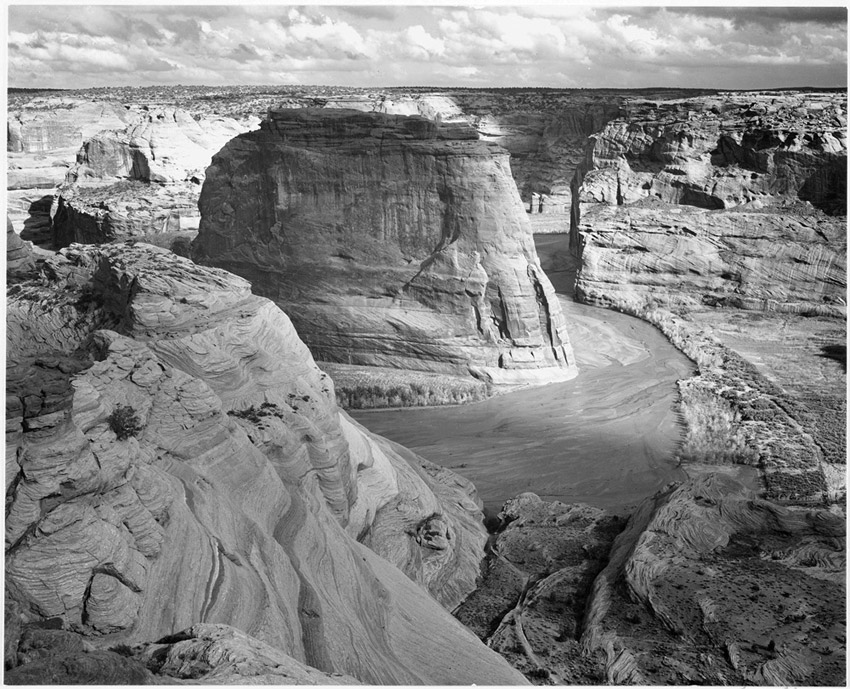 Adams moved to Carmel, California,1962. In 1967 he was influential in the foundation of the "Friends of Photography" of which he became president. By 1966 he had been elected a "Fellow of the American Academy of Arts and Sciences".
By the late 1970s his pictures and skills had gained much public attention and Ansel Adams prints were selling to collectors for prices never before achieved by a living American photographer. He had given up active photography by now and was dedicating himself to revising his technical photographic books, publishing books of his life's work, and preparing prints for a variety of exhibitions.
Adams was an ardent environmentalist in the days before such a term meant anything. He wrote to anyone he thought he might influence by his conservation philosophy - politicians, bureaucrats, newspaper editors and fellow members of the Sierra Club. His greatest influence however was through the lens rather than the pen. The beautifully crafted powerful images of the unspoilt American outdoors carried more weight than any letter ever could and reached far more people far more quickly and more viscerally. His photographs were his greatest contribution to the environment that he loved so deeply.
The key issues to Adams were Yosemite National Park in particular, the National Parks system in general and the preservation of wilderness. He resisted the notion that the National Parks were "resorts" and abhorred their development. The range of his environmental concerns was legion.
It is horrifying that we have to fight our own government to save the environment
- Ansel Adams
Ansel Adams died on the 22nd of April 1984 in his 83rd year
Ansel Adams has been hailed a genius and few would contradict that assessment. His photographs have been criticized in that they don't not generally contain people or even any indication of human influence. The great French photographer Henri Cartier-Bresson made the oft repeated comment that "The world is falling to pieces and all that Adams and Weston photograph is rocks and trees".
This is perhaps unfair as during the years of the second world war Adams made a photographic study of interned Japanese whose only crime was to be living in America with American values and life-styles when America was then at war with Japan. These photographs themselves were not received well at the time as perhaps they showed an embarrassing aspect of the war that some authorities would have preferred to have kept hidden. This was exhibited in 1944 under the title Born Free and Equal.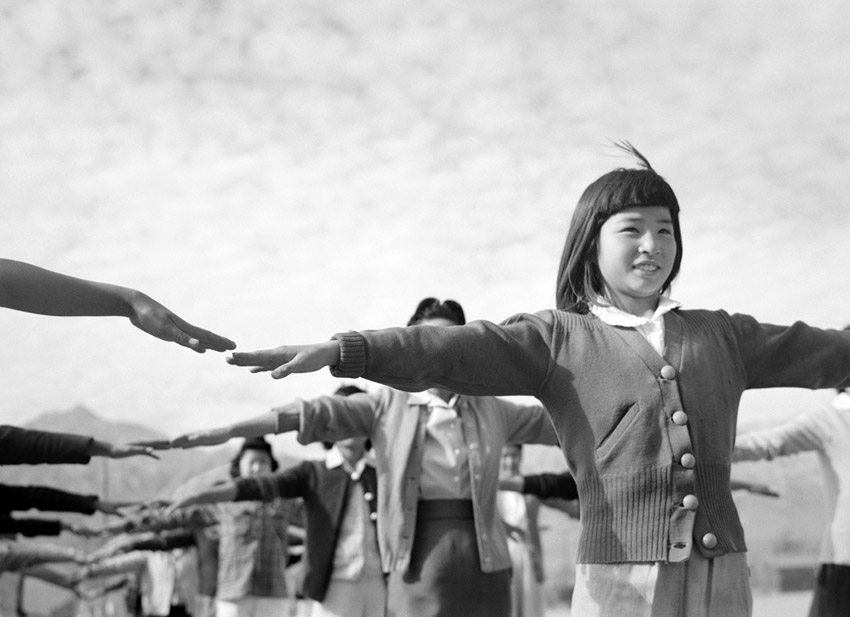 It is often said that Ansel Adams could only have been the product of America, and certainly in his latter years and possibly even more so since his death he has been taken to the heart of the American people as their own unique product.
Writing this as I am, a non-American, I think of Ansel Adams not as belonging to any nation at all.
In the same way that all races the world over understand the writings of Shakespeare, Homer and folk legends and stories that cross all cultural boundaries and speak to every one of us. So the photographs of Ansel Adams speak of nature, of beauty and of why they are important to the soul of man.
---
Copyright pictures used by permission - Portrait of Ansel Adams - Richard Byrd Photographer, used under Creative Commons 4.0 Share and Share Alike International licence
---
---